Firefly Wheat
| Sun King Brewing Company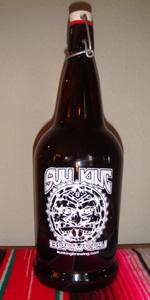 BEER INFO
Brewed by:
Sun King Brewing Company
Indiana
,
United States
sunkingbrewing.com
Style:
Witbier
Alcohol by volume (ABV):
5.20%
Availability:
Rotating
Notes / Commercial Description:
No notes at this time.
Added by howardf on 08-30-2009
Reviews: 7 | Ratings: 29
3.75
/5
rDev
+1.1%
look: 3.75 | smell: 3.75 | taste: 3.75 | feel: 3.75 | overall: 3.75
Growler
A - Clear golden yellow, with visible carbonation, and a firm white head that fades to a rim edge. Mild lacing.
S - A nose full of yeast and grain, some funky sourness. Slight hints of honey and sugar, spice.
T - Out front is the sweetness of honey and sugars, which turns toward a subtle bitterness, but which closes with a more sour end. The sweetness is dialed way up, more than most Witbiers I've had, but it is not an unpleasant element, just a stylistic choice.
M - Very brisk, somewhat tart on the end, and quite a quick drinker if you are in the right mood.
O - I enjoyed this option. It is not among the top tier of American-made Belgian pales and whites, but is a pleasant drinker for the weekend.
724 characters

4.53
/5
rDev
+22.1%
look: 4.5 | smell: 4 | taste: 4.5 | feel: 5 | overall: 5
Poured a wonderful semi-deep golden color with wonderful head, and near wonderful lacing. Very deep wheat aromas, great straw tinges, and a nice pepperiness at the end. Great thick malty wheat flavors with a nice balancing spiciness at the end that didn't overpower it, making sure it was an excellent summer brew. Went down fantastic, very smooth, while being rich and thick.
376 characters
2.18
/5
rDev
-41.2%
look: 2.5 | smell: 2 | taste: 2 | feel: 2.5 | overall: 2.5
A: Appearance is slightly hazy yellowish-orange color with light head.
S: Aroma is fairly simple with wheat and grassy notes prevailing.
T: Taste is also pretty straight forward - some cereal malts but mostly a grassy hop character. Not much tartness to speak of so it's definitely not in line with the Belgian style.
M: Palate is slightly thin, good carbonation and mild bitter finish.
O: Definitely more an American Wheat Ale and a below average one at that.
470 characters
4.35
/5
rDev
+17.3%
look: 4 | smell: 4 | taste: 4.5 | feel: 4.5 | overall: 4.5
Growler poured at the brewery, consumed ~30 hours later.
Filtered, nice white head. Very fruity profile. It's definitely a Belgian Wit--the yeast is whitepepper spicy up front and it gives you that nice tonguenumb feeling on the backend. But like I said, it's mostly fruity.
Good wits usually offer little bits of flavor alongside the malt. Sometimes added fruits or spices take over the show, and other times the yeast imparts nodes of lemon or citrus. Here most what you taste it yeast, and that yeast tastes strongly of apples and cherries.
Although it's quite pronounced and striking in its uniqueness, the fruitiness isn't especially intense; I'd never describe it as tart or sour. It's just there, and it's there in very fine concert with the peppery chewiness of the wheatmalt.
This is like the halfway point between a spiced wit and berliner, and it is remarkably able to fold those two together into a blend that intensifies, through complementation, the strength of each style.
994 characters
3.58
/5
rDev
-3.5%
look: 4 | smell: 3.5 | taste: 3.5 | feel: 3 | overall: 4
Poured from 64oz growler.
A- Pours a murkey orange/brown color. One and a half finger light tan/off white head. Retention is alright but dies a little too fast for me. Spotty lacing on the sides of the glass.
S- Nice grassy aroma in the front of this. Some light fruity aroma like banana and maybe a light cherry. Clove and some spicing in the backing. Some light wheaty notes throughout the entire nose overall.
T- Nice light spicing on the front end of the beer. Some light wheaty flavors overall throughout the entire beer which is to be expected. Clove kicks in middle of the beer in a small dose. Citrus overtones in the backend of this beer makes for a interesting flavor in the beer. Lots of doughy notes all over the beer that pop up here and there.
M- Medium mouthfeel. Carbonation is a little lacking but enjoyable throughout the experiance. Doughy wheaty flavors left on the palate. Some spicing left on the aftertaste. Flavors were a little muddled but well...I expect it for the style.
D- This was a nice drinkable beer. It was interesting take on everything in the style. Sun King still to me is an amazing brewery that will make great beers.
1,164 characters

4
/5
rDev
+7.8%
look: 4 | smell: 4 | taste: 4 | feel: 4 | overall: 4
Served in a Sun King tulip pint glass.
Big thanks to brundo4 for this guy (and the glass)!
An Aztec face (or is it Olmec? Incan? I know it's not Mayan... Is there a Chipoltec? I like Chipotle...hrrmm, back to-->) sternly watches me pour this brew into a glass bearing a facsimile visage. He sees an amber-blood orange haze crowned by a finger of wide ecru bubbles, which sacrifice themselves almost immediately in the name of good beer (I assume that was the cause). The craggily chiseled beak, were it functional, would sense a strong contingent of orange peel, coriander, and ruby red grapefruit. I wanna say some citrus hops are lurking in the background, but I can't be sure. The King's rock-hewn tongue would be greeted by a wave of bitterness springing from orange pulp and hops; some mild, semi-watered-down citrus; and, buried deep within the bowels of flavor, a nip of fluffy butter. Eternally closed in some sort of grimace, the mouth is unable to experience the brew's journey. If it could, it would feel a weighty, though still somehow light, body make its way through, buoyed by a strong (but not overpowering) carbonation, coming to a semi-arid, yet ultimately refreshing finish. A fine wit, fit or a King.
1,225 characters

3.86
/5
rDev
+4%
look: 4 | smell: 3 | taste: 4 | feel: 4 | overall: 4.5
poured a deep golden brown from a sun king brewing growler to a dogfish head signature glass with a full finger short-lasting white foamy head that leaves a small bit of lacing.
a mildly fruity nose. slightly spicy from the first sip, nicely balanced with a citrusy follow up. brown sugar and malty. interesting take on a light brown belgian wheat.
very enjoyable summer beer. I'll grab another growler next week.
thumbs up to sun king.
439 characters
Firefly Wheat from Sun King Brewing Company
3.71
out of
5
based on
29
ratings.