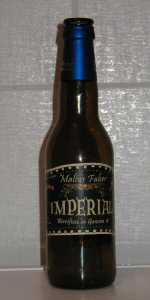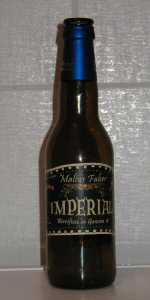 BEER INFO
Brewed by:
Maltus Faber
Italy
maltusfaber.com
Style:
Russian Imperial Stout
Alcohol by volume (ABV):
7.80%
Availability:
Rotating
Notes / Commercial Description:
No notes at this time.
Added by stcules on 08-29-2011
HISTOGRAM
Ratings: 4 | Reviews: 4
Reviews by Hellrob:
5
/5
rDev
+17.6%
look: 5 | smell: 5 | taste: 5 | feel: 5 | overall: 5
THIS IS THE BEST IMPERIAL STOUT in the world! of course dark with a nice foam. Very very very drinkable as no other. Here you have the real meaning of the word "balanced". A lot of coffee/espresso but incredibly well played with the malts. Complex beer. full creamy body. A MUST TO TRY & HAVE AT HOME! no words...
313 characters
More User Reviews:

4.35
/5
rDev
+2.4%
look: 4 | smell: 4 | taste: 4.5 | feel: 4.5 | overall: 4.5
Poured into a Gouden Carolus chalice. Picked up two 12 oz bottles from the Bir & Fud bottle shop in Rome in May 2011. Now getting to taste this.
Nose has notes of coffee, burnt wood, dark fruit, dark chocolate.
Body is jet black, opaque. Just a tinge of brown on the top when held up to a bright light. Poured to a half inch head, the head is at first tan and foamy, but then dissipates to a ring. Does not leave any lacing, just motile clouds of foam that slink back into the brew.
Tastes much better than the nose. There is chocolate, coffee, dark fruit--raisins, vanilla, creme brulee. Not a wild RIS, but a very nice tasting and balanced one. There is a little sweetness and lacto at first. Finish is dry, charred, and slightly bitter with lovely dark chocolate bitter notes throughout. Brewer says 12 different malts are used, and the beer is aged 3 years in the bottle before release. That probably accounts for its smoothness and mild oxidization. Gee, what barrel aging could do for this one!
Body is medium and the carbonation is sufficient to give this a slightly creamy mouthfeel, although it is just a bit light in body for the style. There is a bit of a char/hop burn on the tongue, but utterly enjoyable.
Despite being a bit light in body, this beer delivers huge RIS flavors. Probably one of the best RIS at this level of alcohol--7.8%. It is reminding me of FiftyFifty Totality Imperial Stout, although that is about 9.5%. This is a really drinkable beer, very smooth and complex. Very nicely done. If I could get this regularly, it would be a go to RIS.
1,579 characters

3.73
/5
rDev
-12.2%
look: 3.5 | smell: 3.5 | taste: 4 | feel: 3.25 | overall: 3.75
I've never opened a quieter beer than Maltus Faber Imperial. A pin falling to the ground makes more sound than did prying off that cap. Bubbles have gone entirely extinct. The correspondingly flat texture intensifies the inherently dense, inky black appearance; it looks hard as marble.
This aroma doesn't have the bounty of flavours most imperial stouts do. In no sense is it particularly rich or intense. Then again, weighing in at a modest 7.8% alcohol, it is technically speaking a relatively weak example of the style to begin with. Oxidation is also apparent and detracts from the potency.
Speaking of, I'm curious to know how old this bottle is. I purchased it in Rome 10 months ago. Unfortunately I can't make sense of the 'best before' of "MAG17-260". At least one online review says it's aged at the brewery for three years before release. That seems imprudent, though possible...
Italians have the sensible habit of holding their wines back for several years until they've begun maturing and developed the desired characteristics of the style or region. In fact, they have regulations that actually dictate by law how long wines must be aged. For bold, tannic Brunello or Barolo it makes sense.
A beer like this, however, not so much. While imperial stouts are big by design, Maltus Faber's Imperial is, as we've already covered, relatively light and thin. I can't imagine it would (has?) benefited from maturation. Regardless, the light licorice and dried fruit esters are fairly flattering to the dark malty taste.
Indeed, although texture may be gone, the flavours are still there. Fans of gelato will recognize classics like cioccolato, nocciola, and caffè; it is a beer coated in dark chocolate with swirls of hazelnut sweetness ("baccio" in other words). And being Italian it's no surprise that espresso factors in as well.
Maltus Faber Imperial is an incomplete yet tasty stout. I suspect this bottle's age has done it no favours, but it was still enjoyed and lived up to its billing as a "meditation" beer. An honest representation of the progress of Italian craft beer, it shows there's still a ways to go but that the future is promising.
2,172 characters
3.9
/5
rDev
-8.2%
look: 3.5 | smell: 3.5 | taste: 4 | feel: 4.5 | overall: 4
Black. Black. With a veil of light brown colored foam.
Intense smell, malt, chocolate, coffee.
Almost liquerous taste. Important beer, full. Notes of chocolate, wood, hints of rhubarb. Malty, robust. Plums. Raisins.
Complex, with bitter roots, almost artichoke.
And, despite this, it is relatively easy to drink.
Toasted aftertaste, liquorice, bitter roots. Artichoke.
Impressive.
380 characters
Imperial from Maltus Faber
Beer rating:
4.25
out of
5
with
4
ratings