Silures
| The Celt Experience
BA SCORE
84
good
13
Reviews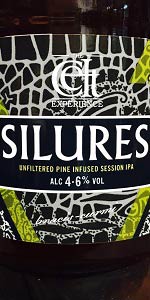 BEER INFO
Brewed by:
The Celt Experience
Wales
,
United Kingdom
theceltexperience.co.uk
Style:
American Pale Ale (APA)
Alcohol by volume (ABV):
4.60%
Availability:
Year-round
Notes / Commercial Description:
No notes at this time.
Added by Weli on 11-30-2013
Reviews: 13 | Ratings: 37
3.39
/5
rDev
-8.4%
look: 3.5 | smell: 3.25 | taste: 3.25 | feel: 3.5 | overall: 3.75
Cloudy appearance, due to it being an unfiltered beer. citrusy aroma with a good bout of hops. flavour is quite bitter yet pleasant at the same time with lingering tropical notes. a good IPA yet not the best.
208 characters
3.7
/5
rDev 0%
look: 3.5 | smell: 3.5 | taste: 3.75 | feel: 4 | overall: 3.75
An orangey-amber coloured beer with a white head. It smells hoppy and fresh. It has a light-body alongside crisp biscuity malts and subtle citrus and piney hops. A great session beer.
183 characters
3.33
/5
rDev
-10%
look: 3.5 | smell: 3.5 | taste: 3.25 | feel: 3.25 | overall: 3.25
An orange color, slightly hazed. Beautiful foam hat, whit ein color, good.
Tropical hop in the smell, pineapple. Then malty notes, and some grassy hop.
In the taste, again tropical and maltiness.
Quit ebitter, and, after all, good and drinkable. Some resinous note in the aftertaste.
A bit too tropical, but non bad.
316 characters
4.36
/5
rDev
+17.8%
look: 4 | smell: 4.75 | taste: 4.25 | feel: 4.25 | overall: 4.25
Bottle: Poured a light amber color ale with a large off-white foamy head with very good retention and some excellent lacing. Aroma consists of huge floral hoppy notes with some citrusy and fruity hops. Taste is also dominated by huge green citrus notes and some light cereal malt notes. Body is about average with excellent carbonation. I did not have any significant expectation but this pale ale what just about world-class.
426 characters

3.54
/5
rDev
-4.3%
look: 3.75 | smell: 3.5 | taste: 3.5 | feel: 3.75 | overall: 3.5
500 ml bottle purchased from LCBO for $3.50 CDN. Hadn't seen this around so figured it was worth a shot. Advertised as 5.5 % ABV. Served fairly cold into glassware.
Appearance - pale golden color with some richer orange hues. A nice finger and a half of the fluffy stuff rests on top, leaving behind some streaky lacing as it descends towards the glass. Lots of lively carbonation makes a sprint for the surface. Pretty decent retention time on the head too.
Smell - not a pungent aroma but there is some grainy sweetness blended with hints of tropical fruits, of which pineapple is most prevalent.
Taste - there is some faint graininess there before giving way to tropical fruit for just a moment before becoming earthy and bitter. The bitterness lasts throughout and remains the only flavour through the aftertaste. While not bad, it's a little too bitter through to the conclusion for my liking. A balance with some more sweet malts may have made this more to my liking.
Mouthfeel - well carbonated, lively feel. Lighter than average body and a taste that sticks to the mouth. Very crisp.
Overall - a pretty good pale ale at a reasonable price point, especially for something not usually accessible. Too bitter for my tastes, but if that's your thing then I fully recommend it. I also think this beer was actually better when it was colder, since the crispness shone through better.
1,390 characters
3.83
/5
rDev
+3.5%
look: 3.75 | smell: 3.75 | taste: 3.75 | feel: 4 | overall: 4
Coming in a 500ml brown bottle, not bottle-conditioned; BB 16/03/2015, served cool in a straight imperial pint glass. Note: "Pacific and Atlantic" hops are used in this brew, according to the back label.
A: pours a pale golden colour with very good clarity, coming with fairly smooth carbonation and a 0.5cm off-white frothy head lasting throughout the drink.
S: aromatic and light, the juicy honey-ish malt backbone with an intriguing edge of vanilla and salted cream supports the mixed fruity aroma upfront, featuring elderflower, pears, citrus, and grapefruits mainly.
T: on the softly carbonated entry, the mixed citric, lychee-shell and floral flavour is very closely ensued and taken over by the grapefruity tannic bitterness with a spicy tang, which deepens and expands on the palate to render a fantastically lingering, tannic and bitter finish benefiting from a sound fruit acidity as well. Malts remain very muted throughout the drink, leaving the stage generously for the hops and hop bitterness to shine.
M&O: softly carbonated and fairly refreshing at the same time, this medium-bodied, hop-full Pale Bitter is very well made and provides wonderful drinkability due to the tangy bitterness as far as I'm concerned.
1,235 characters

3.65
/5
rDev
-1.4%
look: 3.75 | smell: 3.75 | taste: 3.5 | feel: 3.75 | overall: 3.75
From a 500 ml bottle to a pint glass.
A: pours a golden color with about a finger of head. A very slight haze created by particles floating in the beer... Nothing to worry about though. Lacing is pretty good.
S: hops - some citrus but faint. The bready malts are pretty strong on the nose.
T: bitter hops, resin, malts and grains.
M: average carbonation and medium body.
O: not a bad beer, but not my favorite by any stretch. I found the resin and bitter to be a little too prominent for my liking.
508 characters
3.98
/5
rDev
+7.6%
look: 4 | smell: 4 | taste: 4 | feel: 3.75 | overall: 4
A: Golden with a light orange tinge, little carbonation, some floaties but relatively filtered, 4 fingers of off white head leaving a chunky lacing.
S: Very hoppy with a hot pepper heat, candied lime peel, citrus, pineapple, mango, balsam fir.
T: Hot pepper heat, lime peel, light sweetness, onion, solid white grapefruit pith bitterness that lingers on the tongue. Floral hops.
M: Medium resinous body, medium carbonation. Relatively dry, but some sweetness.
O: Well crafted beer, lots of interesting floral hops, hopped to the hilt really for a UK beer, but typical to this brewery's style.
598 characters

3.94
/5
rDev
+6.5%
look: 4 | smell: 3.75 | taste: 4 | feel: 4 | overall: 4
Silures may be named after an ancient warlike tribe but it looks like it was crafted with relaxation and patio drinking in mind. This fare yellow beer has a lightly hazy complexion and light, sunny disposition. Its head is plump as a sofa cushion and wraps the glass in thick blankets of lacing.
Given the traditionally mild and malt-forward profile of most British ales, I was understandably surprised to discover that Silures has the makeup of a San Diego pale ale - not one from Burton-upon-Trent. It is endowed with loads of hoppiness and smells like a garden after a summer rain.
Indeed, while it may not have a huge quantity of citrus, it has a neighbourhood's worth of lawn clippings, the perfume of a rose bush, a heap of twigs and branches, and the juice of at least two lemons. It's aggressively, unapologetically hoppy and has a bitterness that leaves a strong, lasting impression on the palate.
Even discounting the ultra-leafy and pine resin-drenched 61 IBUs, Silures is one big, broad shouldered offering; it also has a substantial, bready malt bill and water minerals that are heavy as a herd of elephants. It's refreshing but also dense and filling - not quite the light and cordial ale it appears to be. It's also likely far too bitter for mainstream (and most British) palates...
But it's perfectly suited to mine! While I very much enjoyed every Celt Experience beer I've tried to this point, this one really impressed me. A scratchy-bitter and intensely herbal pale ale, it's ideal for those early days of spring when it's warm but not yet too warm, the sky again blue but the ground still muddy-brown. Or at least I found it perfect in that weather.
1,677 characters

3.77
/5
rDev
+1.9%
look: 4 | smell: 3.75 | taste: 3.75 | feel: 3.75 | overall: 3.75
500ml Bottle from the Orleans LCBO for $3.50
Appearance - Gold colour with an average size white coloured head. There is an average amount of carbonation showing and there is some good lacing. The head lasted for around 4-5 minutes before it was gone.
Smell - Hops, breads/grains, grapefruit, apricot, floral/pine
Taste & Mouth - There is an average amount of carbonation and I can taste caramel, grapefruit, and hops. There is also some apricot, breads/grains, and lots of floral/pine.
Overall - A very solid APA. Lots of hoppy floral notes with a nice touch of fruity sweetness and a hint of malt. I'll buy a few more of these as they are fairly interesting and tasty for the price.
688 characters

3.73
/5
rDev
+0.8%
look: 3.75 | smell: 3.75 | taste: 3.75 | feel: 3.5 | overall: 3.75
Beer bottle (50 cl.) purchased from Bières & Chopes, and tasted in 2014.
Appearance : golden orange color with a small white head.
Smell : herbal and hoppy aromas.
Taste & mouthfeel : malty, herbal with a bitter finish.
Overall : a good beer in the style British Golden Ale.
278 characters

2.58
/5
rDev
-30.3%
look: 3 | smell: 2.5 | taste: 2.5 | feel: 3 | overall: 2.5
Amber in the glass.
Sourdough and cream cheese on the nose.
Again slight cheese on the palate, and tastes stronger than the 4.6% ABV would suggest.
I thought about what food this could be paired with, and came up empty. Wouldn't rush back to this.
Thanks to Jeff of Hop Leaf HK for sharing this at a tasting.
312 characters

4.04
/5
rDev
+9.2%
look: 4 | smell: 3.75 | taste: 4.25 | feel: 4 | overall: 4
A-Slightly hazy deep amber with a thick and very persistent light tan head
S-Dank and piney with some malt aroma as well
T-Quite bitter, dank and resinous, with just a hint of malt sweetness for balance
M-Medium bodied medium-high carbonation
O-A solid pale ale, highly recommended
285 characters
Silures from The Celt Experience
3.7
out of
5
based on
37
ratings.