Dismiss Notice
Extreme Beer Fest:Los Angeles
Join us December 9th in Los Angeles for the ultimate throwdown of craft beer creativity!
Learn more...
Dismiss Notice
Kuhnhenn Nine Syrah Cask Aged
| Kuhnhenn Brewing Company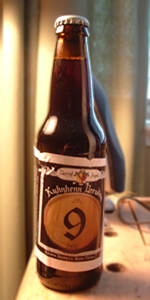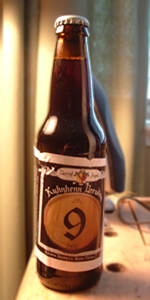 BEER INFO
Brewed by:
Kuhnhenn Brewing Company
Michigan
,
United States
kbrewery.com
Style:
Dubbel
Alcohol by volume (ABV):
10.50%
Availability:
Limited (brewed once)
Notes / Commercial Description:
No notes at this time.
Added by ggaughan on 02-24-2007
This beer is retired; no longer brewed.
HISTOGRAM
Ratings: 13 | Reviews: 10
Reviews by HopStoopid120:

More User Reviews:
3.72
/5
rDev
-7.7%
look: 3 | smell: 3.5 | taste: 4 | feel: 4 | overall: 3.5
Reddish amber color, head quickly dissipates into nothingness. Grapes, tannins, caramel, oak, and maybe even some chocolate in the aroma. Dark fruit plays a major role in the taste, but it's also got oak, sweet malt flavors, and tannins in there too. Medium carbonation and light bodied. Thanks to pepsican for the sample.
322 characters

4.37
/5
rDev
+8.4%
look: 4 | smell: 4.5 | taste: 4.5 | feel: 4.5 | overall: 4
Sampled at the Hop Devil in NYC for their Kuhnhenn tasting. The beer poured a dense brown color with a medium thickness tan head. The nose had touches of a caramel sweetness and some fruit notes as well. The body had little carbonation which let the flavors come through very well including some nice caramel and banana tones and a strong malt backbone. There were also some vinous qualities to this beer due to the Syrah barrel aging. All leading up to a creamy and smooth beer.
479 characters
3.5
/5
rDev
-13.2%
look: 3.5 | smell: 3.5 | taste: 3.5 | feel: 3.5 | overall: 3.5
Ditmier busted this out at the end of an epic tasting... I do appreciate this one... very cool.
Thin lite tannish head head.. the brew is very clear chestnut brown.. okay retention.. nice head.
Lite caramel and some background spicy phenols.. hints of clove and white pepper with bunches of fruity notes.... dark cherries and grapes.. vinous dark skinned plums...
The "Dubbel" aspects are pretty present but get bombarded by pit fruits and weird winey notes... cherries and dark plums.. a bit of background tannic funk..
I can see "beer", but the wine components really are pretty heavy a couple years later.. the base beer is pretty much blasted out of the park.
3.5/3.5/3.5/3.5
I would have loved to have tried this one fresh... but I doubt it would have been any better. The "Belgian" notes are too light for the wine characteristics....
Despite my above negatives, I did enjoy this one... thanks Eric.
914 characters
4.27
/5
rDev
+6%
look: 4 | smell: 4.5 | taste: 4 | feel: 4.5 | overall: 4.5
12oz bottle acquired in trade.
Poured a medium reddish/brown color with a very small sized off white head. Aromas of oak, vinous, dark fruits (cherries), wood, caramel, and some vanilla. Nice. Tastes of wood, vanilla, lighter vinous quality, caramel, and some dark fruits. Light alcohol in the finish but overall well hidden.
Notes from 5/17/08
347 characters


4.2
/5
rDev
+4.2%
look: 4 | smell: 4 | taste: 4.5 | feel: 4 | overall: 4
A soft, steady pour into my large Tripel Karmeliet tulip produces a half finger thick, lightly browned head of foam. The beer is a dark, deeply burnt, amber color (approaching black even), that shows a brilliantly clear, deep ruby color when held up to the light. The aroma has a sweet fruitiness of raisins and figs up front, but then starts to pick up some buttery oak components as well as some wine-like notes towards the finish. The nose is fairly fruity smelling with lots of esters; it definitely leaning towards the rich, dried fruit side of the spectrum with the combination of barrel and malt / yeast character of the base beer. This definitely reminds me of a buttery red wine at times in the nose and there is also a touch of warming and spiciness from the alcohol. The barrel also contributes a nice spicy oak character (just a hint of bourbon) that melds in with the light spiciness of the base beer (hints of clove, a touch of pepper, and perhaps some ginger). As the beer warms the buttery note gets a bit musty and perhaps even rancid, there is also a curing plastic, phenolic type note that just starts to become noticeable and the alcohol can become a bit hot and dominant at times. This is still a nicely complex nose and is one that is fun to spend some time dissecting.
Lightly sweet up front with notes of sweet / tart plum and raisins. Towards the middle the fruitiness takes a turn towards banana notes as well. The beer finishes with a touch of spicy alcohol, some astringent, spicy oak character, a red wine tannic grape skin note (really more on the palate than anything) and a carbonic bite. The barrel and fruit definitely evokes thoughts of a fruity, oak aged red wine, though this has a bit more sweetness than that (though not all that much given the strength of this beer). The buttery oak is subdued compared to the aroma, though it still softly contributes to the flavor here. This beer feels pretty light bodied, but still has a certain viscousness to it as well as some tannic structure that influences the body as well. As the beer warms a solid syrah-wine flavor starts to become much more noticeable with a fruity, berry-like note, a touch of tobacco towards the finish, some black pepper and a solid, tannic oaky finish that just anchors this beer quite nicely in the finish. A touch of cocoa also starts to come out as well.
Quite an interesting beer, it really evokes thoughts of a nicely oaked, red wine married with a mellow Belgian strong beer. It could perhaps use a bit more fermentation character (more spiciness would be nice), but it still interesting and complex enough that I feel like a 12oz bottle was not enough to really grasp, much less fully enjoy this beer. The flavor definitely grew on me the more it warmed up and the more worked my way through my glass, though the aroma perhaps becomes a bit to alcoholic and hot at times (at others, such as just now, it is still quite complex and interesting with even a touch of cocoa, tamari and tamarind noticeable).
3,022 characters
3.1
/5
rDev
-23.1%
look: 3.5 | smell: 3.5 | taste: 3 | feel: 2.5 | overall: 3
Dark brown colored ale with a well developing lightly tan head. Very aromatic, with notes of dark malt (caramel, dark fruit,) along with some notes of coconut, syrah and wood. There is also some unpleasant medicinal qualities as well in the nose. Lots of taste, with some interesting and pleasant flavors of syrah, tawny port, chocolate and wood. Nice finish as well, but I don't like the fattiness to the mouth feel and it seems a bit out of balance and a touch sour. Overall, a quality beer, but honestly didn't enjoy it.
523 characters

3.97
/5
rDev
-1.5%
look: 3.5 | smell: 4 | taste: 4 | feel: 4 | overall: 4
12oz bottle from 2005, poured into a 25cl Duvel tulip. Huge thanks to Chris and Tony for sharing this rarity alongside both regular Nine and Nine Braggot. Good times.
A: Clear dark brown body under a brief cap of fine tan bubbles. Very lightly carbonated, but not flat - which is good to see on such an old beer. Not bad.
S: Very old and musty (in a good way), with some vinous, tannic oak on top of sweet caramel malt and dark fruit. Quite nice.
T: Follows the nose, with more wine up front and the sweet, fruity malts leading to a dry, tannic finish. Light mustiness on the aftertaste. Tasty.
M: Lightly carbonated medium body. Pleasant.
O: I definitely wouldn't recommend aging this one any longer, but it's held up quite nicely. The barrel presence was faint but enjoyable, and the sweet/musty combination worked well in its own right. Good stuff.
Cheers!
865 characters
4.69
/5
rDev
+16.4%
look: 4 | smell: 5 | taste: 4.5 | feel: 4.5 | overall: 5
I rarely give shout outs to the people who send me beers because I am lazy but I have to give hoppymeal kudos for sending me this gem.
A- Pours a deep reddish brown with a thin, eggshell head. Cloudy, not a lot of carbonation visible.
S- Smell is absolutely amazing. Up front it's a lot like your average dubbel, raisins, figs, thick caramel however at the end there is a distinct syrah fruitiness.
T- Taste is pretty much what I pictured to start out with but extremely well balanced. The syrah flavor is very prevalent throughout, raisins, tart raspberry, a bit of a sour tinge at the end. Very sweet throughout, approaching cloying but complements itself well with a bitter hop and sour grape, extremely finish.
M- A bit low on the carbonation, a bit more viscous than your average dubbel.
D- I would be lying if I said this wasn't an absolute treat to drink. If you can get your hands on this, try it, you won't be disappointed.
937 characters
4.35
/5
rDev
+7.9%
look: 4 | smell: 4 | taste: 4.5 | feel: 4.5 | overall: 4.5
Bottled, 12 oz. Purchased at Kuhnhenn Release, 12/21/2007.
Pours ruddy dark brown with burnished orange glowing highlights. Quite effervescent at first and that never dies completely; long lasting lacy ring. The smell is total oak, thin and reedy, intense wet wood, and moderate wine: sharp and so earthy, natural, like stinky cheese folded into long rotting grapes. The flavor is sweet and winey at the same time, with waves of leathery tannins washing over your tongue. Jeez...I haven't felt like this about a beer in a few months at least. Loads of sediment in the bottle so I suspect it will age and mellow nicely, but seriously it is not over the top wine acidic now (though in fairness it teeters near the edge!). A bit thin bodied. Incredibly drinkable. Has to be a top 10 beer of 2007 easily for me.
809 characters
4.22
/5
rDev
+4.7%
look: 4 | smell: 4.5 | taste: 4 | feel: 4 | overall: 4.5
Appearance: Pours a dark brown body crowned with a thin ring of off-white bubbles.
Smell: Beyond the strong dark maltiness, there's plenty of juicy red grapes, along with lesser notes of dark fruits, caramel, and a bit of oak.
Taste: Sweet dark malts battle it out with a tart, vinous wine flavor. Some dark caramel midway. Distinct tannin character throughout, especially on the dry, winey finish.
Mouthfeel: Medium-full body. Mild carbonation.
Drinkability: Very nice! Seriously, it's a great Saturday night beer. Now, it's time to kick it old-school, rip it apart, and go out to bangin' parties all night long!
617 characters
Kuhnhenn Nine Syrah Cask Aged from Kuhnhenn Brewing Company
Beer rating:
4.03
out of
5
with
13
ratings