Bièropholie - Un Gros Merci!
| Brasseurs Illimités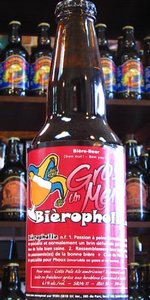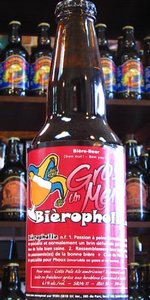 BEER INFO
Brewed by:
Brasseurs Illimités
Quebec
,
Canada
brasseursillimites.com
Style:
American Pale Ale (APA)
Alcohol by volume (ABV):
6.10%
Availability:
Limited (brewed once)
Notes / Commercial Description:
No notes at this time.
Added by papat444 on 10-31-2009
This beer is retired; no longer brewed.
HISTOGRAM
Ratings: 12 | Reviews: 10
Reviews by notdan:
3.71
/5
rDev
+2.5%
look: 4 | smell: 3 | taste: 4 | feel: 3.5 | overall: 4
I was hoping to pick up a six pack of the Imperial Stout but Jovi was sold out. Grabbed this instead as I figured I wouldn't likely have another chance to try it down the road.
Poured a nice copper with medium off-white head. The first thing I notice in the smell is the hops, definitely the cascade. There's also a bit of sharpness in the nose, almost astringent. First sips revealed that taste is definitely better than the smell. Got some lemon/grapefruit hops and toffee malts going, making it pretty well balanced, along with a few fruity flavours (I swear I picked up blueberry for a second, maybe some grape). Drank the first half by itself and enjoyed it, then finished it off with my pizza for dinner and worked out just fine.
I'm happy I tried this. I am a fan of APAs and this one was a bit different, and definitely enjoyable, though nothing I am going to miss (assuming it's not going to brewed in the long run).
927 characters
More User Reviews:
3.65
/5
rDev
+0.8%
look: 4 | smell: 4 | taste: 3.5 | feel: 3.5 | overall: 3.5
Thanks Ken for bringing back this pleasant pale. Noticeably hoppy flavour. Some C-hop aroma from a grapefruit coloured body, with siginificant off-white foam and some head. Good drinkability.A somewhat astringent finish. Not well balanced overall, but worth trying.
265 characters

3.1
/5
rDev
-14.4%
look: 3.5 | smell: 3.5 | taste: 3.5 | feel: 2.5 | overall: 2
341ml poured into pint.
L- Cloudy brown. Nice thick but patchy lacing. Chunky head settles to a 5ml layer but remains appetizing.
S- Hops. Honey candy and beets. A bit of sourdough.
T- Hops and malt
M- Kind of has the mouthfeel of a stout.
D- Not too refreshing. Pretty heavy.
This is good but that is all. If I had only a few options I would drink it again. BUt would not recommended it to a drinking buddy.
410 characters
3.83
/5
rDev
+5.8%
look: 4 | smell: 3.5 | taste: 4 | feel: 3.5 | overall: 4
Bottle: Poured a deep copper color ale with a rather large foamy head with good retention and some lacing. Aroma of citrus hops are more pronounced then expected but also very enjoyable. Taste is also a very refreshing mix between some bitter and citrus-like hops and a nice dry caramel malt backbone. Body is about right for the style with good carbonation. Very well done and easily drinkable.
395 characters
3.31
/5
rDev
-8.6%
look: 4.5 | smell: 3.5 | taste: 3 | feel: 3 | overall: 3.5
341ml bottle sent in a trade with Luk13, stand up guy. Thanks man!
Pours a beautiful burnished orange with a couple fingers of off white head that maintains some beautiful bubbles on top throughout the whole beer - very nice.
Nose alerts me to something different in this one, not your typical hop profile. A grassy floral hops are drowned by a hefty caramel, toasty malt base with a hint of spiciness. Touch of melons, hint of lemons.
This is an odd duck. Grassy hops with a hint of grapefruit rind and lemons, a hefty sweet caramel malt, an odd bittering quality that leaves your mouth feeling funny. The malt profile almost reminds me of a barleywine except the mouthfeel is much lighter, feels disjointed and out of place. Sweet, oily finish.
Odd beer, not sure what to make of it. Pretty hefty for an APA, certainly not an IPA with the limited hop profile, not the ABV for an American Strong Ale which perhaps best fits the beer IMO. Not bad but not something I would jump at again. Thanks for the beer Pier-Luc!
1,021 characters
3.53
/5
rDev
-2.5%
look: 4 | smell: 3.5 | taste: 3.5 | feel: 3.5 | overall: 3.5
This beer is like a love letter to the faithful that have been with Bièropholie since the beginning (not me, i came on a bit later). It acts as a type of bridge between leaving Bièropholie and starting up Brasseurs Illimités. The label is quite humorous with the "Government Warming".
Enjoyed this with some tacos for supper last night.
Poured from a 341ml. bottle.
Appearance: A somewhat hazy copper, orange body with a steady 2 finger head that's slightly tan.
Smell: A decent amount of hops but with a more grassy & herbal feel to it than fruit-like. A bit hard to coax.
Taste: Big fleshy grapefruit pulp with some orange rind. An earthy feel to it but this is all about the grapefruit. Kind of like licking the lining of a grapefruit after having eaten the pulp. Not overbearing yet quite present. I can't put my finger on it but though it tastes good, it kind of gets to me a little bit.
Mouthfeel: Full-bodied if not a little coarse with an active carbonation. Quite alright.
Drinkability: Drinks well though the present grapefruit takes some getting used to but i liked it in the end. Having a six-pack of it will help me appreciate it.
Overall: Not your typical pale ale at all but fairly forceful for the style. Blurs the line a little between an APA & an IPA. An odd duck that i ended up liking.
1,317 characters
3.88
/5
rDev
+7.2%
look: 4 | smell: 3.5 | taste: 4 | feel: 4 | overall: 4
341ml bottle poured into an American pint glass.
A - Clear dark amber/copper body, with some lively bubbles and a foamy beige head. Good lacing and impressive head retention. Looks more like and English pale ale or an ESB, as far as the colour goes.
S - Fairly hoppy, with a floral feel to it. Some resinous piney notes; a hint of citrus, and a pretty good caramel maltiness. A touch of dark fruits, maybe cherries or plums.
T - Starts out with a decent hop bite, I think I'm picking up that Centenial hop taste. There is a moderately strong, caramel-like sweetness, with a touch of grain. The finish is bittersweet and floral, with a little bit of woodiness to it.
M - Medium body to it, maybe a bit lighter than medium. Very crisp. Some very nice lively carbonation, which only enhances the drinkability in my opinion. The alcohol isn't noticeable, considering it's 6.1%
D - Very high. There is just enough hops to be enjoyable and yet sessionable. I liked the sweetness, which sort of acted as a counter-balance.
Overall, this is a very tasty session ale that is quickly becoming my go-to local APA!
1,110 characters

3.91
/5
rDev
+8%
look: 4.5 | smell: 3.5 | taste: 4 | feel: 4 | overall: 4
Big thanks to papat444 for this one. Served in a pint glass - guessing it's about 2 months old.
A - Pours with two fingers of orange-tinged off-white foam that dissipates to a thick cap. Lacing is sticky and glass-coating. Lovely transparent copper-amber color with lots of tiny bubbles lazily making their way upwards. There's a nice glow to it.
S - Pretty typical APA smell - nice malt backbone with some spiced toffee and multi-grain bread. The hop character is grassy and floral, even though Centennial is listed as one of the primary two hops (the other is Cascade) - I expected a little more citrus from the description.
T - The taste is more grapefruit mixed with fresh bread. I actually prefer it to the smell. Nice bitter kick that lingers into the aftertaste, even after only a few sips. Not the most complex beer, but it is still quite refreshing.
M - Sticky and oily finish, low carbonation, a little thin for 6.1%.
D - I'm really digging the strong bitterness, but I can imagine it would get fatiguing after a few bottles. Still, this is a nice refreshing APA that verges into IPA territory with the 56 IBUs and the higher ABV.
1,145 characters
3.68
/5
rDev
+1.7%
look: 4 | smell: 3.5 | taste: 3.5 | feel: 4 | overall: 4
12oz bottle courtesy of Luk13, drank before heading out to a party.
Pour a wonderful light copper with an creamy off-white head that left some streaks of lace as it dropped to a film. Nice radiance to the body, which I dig. Lots of caramel and biscuit in the aroma, along with some grassiness and citrus. Not really traditional for a pale ale, but pleasing nonetheless.
Not all that hop-forward in the flavour despite the listed IBUs, and a big malty profile asserts itself. Again, the caramel and biscuit comes to the fore, delivering a pleasant sweetness. The hopping is mostly floral and grassy, and only occasionally hints that its really a result of C-hops. Slightly candyish, with occasional hints of alcohol, and a slickness that brings barleywines and strong ales to mind more than APAs.
This is an enjoyable beer, but there's nothing exceptional about it. This brewer knows his stuff, and he's crafted an eminently drinkable beer with this one, but I feel that I may enjoy the bottles of barleywine and imperial stout more. Thanks again, Pier-Luc.
1,059 characters
3.12
/5
rDev
-13.8%
look: 4.5 | smell: 2.5 | taste: 3 | feel: 4.5 | overall: 3
341 mL brown bottle.
Pours a bright copper orange with a thin white head.
Very bready aroma, slightly musty.
Sweet and biscuity with notes of green grapes. Bitter black tea comes in towards the middle and stays throughout the finish. Very faint alcohol bite. Silky mouthfeel with low carbonation.
Overall, it seems a bit unbalanced to me and I'm not crazy about the hop character.
384 characters
Bièropholie - Un Gros Merci! from Brasseurs Illimités
Beer rating:
3.62
out of
5
with
12
ratings