La Magouille
| Brasseurs Illimités
BA SCORE
83
good
11
Reviews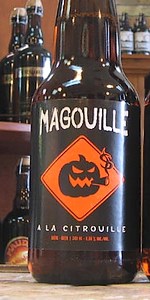 BEER INFO
Brewed by:
Brasseurs Illimités
Quebec
,
Canada
brasseursillimites.com
Style:
Pumpkin Ale
Alcohol by volume (ABV):
6.60%
Availability:
Fall
Notes / Commercial Description:
No notes at this time.
Added by francisfilion on 10-25-2011
Reviews: 11 | Ratings: 21

3
/5
rDev
-16.4%
Amber color, perfect for the style.Very clear in color no visible sediment. A bit of fast fading head with little to no retention. On the nose somewhat bready, a bit of pumpkin, no real spice detected. On the palate: out right boring. Its basically just a stronger amber ale with some mild pumpkin flavor. When I say pumpkin I mean the gourd, there's no spice, no cinnamon, but maybe just a bit of clove that seems almost Belgian-esque.Carbonation was on the low side. This was a pretty big disappointment overall. Not a bad beer but I might have never known it was a pumpkin ale unless someone told me.
603 characters
3.75
/5
rDev
+4.5%
look: 3.5 | smell: 3.5 | taste: 4 | feel: 4 | overall: 3.5
Thanks to Papat444 for the bottle.
Bottle lists ABV at 7.2%, so clearly there has been a tweak to this beer. Different label than what is displayed on this site as well.
Beer is amber in colour, with reddish hints. A smallish white head dissipates quite quickly.
Smell is interesting. Lots of pumpkin but also malt scents, bready and some caramel. Spices, particularly clove. On top of all of that is a herbal, vegetal-like smell that I cannot place.
Taste contains lots of pumpkin, some spices (again, clove sticks out for me) and bready malt with some caramel. As pumpkin beers go, this is certainly one more focused on the pumpkin than the spice (ie, not really a pumpkin pie beer).
Medium bodied, moderate to strong carbonation level. Chewy.
Overall. pretty good pumpkin ale. A different approach than many out there.
831 characters
3.85
/5
rDev
+7.2%
look: 3.5 | smell: 3.5 | taste: 4 | feel: 4 | overall: 4
Thank you papat444!
Appearance. Pours a pretty clear amber-gold with a finger of off-white head.
Smell. Nutmeg, caramel malts, bubblegum and dark fruits with some belgian-like fruity yeast.
Taste. Pumpkin pie spices, caramel, bubblegum and a little fruity yeast. Not too shabby and I don't usually dig this type of beer. Alcohol is well hidden.
Mouthfeel. Medium body, medium+ carbonation.
Overall. Not bad at all. Tasted like a less sweet version of Pumking with a touch of Belgian.
489 characters
3.72
/5
rDev
+3.6%
look: 3 | smell: 3.5 | taste: 4 | feel: 4 | overall: 3.5
Poured into a flute type glass.
A: Pours a clear amber orange colour, not much fizz with light off white head that doesn't stay around long.
S: Aromas are very light; light malt smells and very earthy, though general earthiness/vegetable smells, not specifically pumpkin. In the 2012 batch, I don't get much of the spice smells that others are noting from the past years batches.
T: Right off the bat, lots of dark malts, slightly roasty and caramels...maybe even a bit of tobacco.. not sure. As it finishes you really start to get into the earths again, underlying tones of sweet pumpkin, with perhaps some other ruffage thrown in ;) If you had to visually sum up the experience of drinking this, it'd be like rolling around in the pumpkin/squash patch after a storm passed through dumping rain &leaves, and then a tractor tilled the entire thing.
M: Light carbonation, fairly full body underlying the 7.2% abv (a step up from the previous years it seems).
O: Overall an interesting release, which from reading others reviews it would appear that took a different direction from the past (a down side to BA, when overall ratings are based on beer styles that for sure change over time). This one is definitely more meaty, something you can chew on for awhile, unlike the pumpkin pie offerings of others that you just want to throw some whip cream into and pile it into your mouth. My comments on the taste echo this and aren't meant to be off putting but simply a visual clue to the experience in drinking this. That said, it's almost too much pumpkin patch (whatever was in there), and not enough pumpkin. Seeing that I've seen photos of them dumping in the pumpkins, I know they were there, but perhaps the extra high malt content which does give it some depth, over powers a bit the pumpkin flavours. If they could somehow drag some more complexity out of all that malt and get the pumpkin to stand out more I'd say this could be an excellent beer, without needing all the extra spice(which is sometimes too easy if you ask me). Some people really like pure pumpkin beers, other really like the spice explosions of pumpkin pie... I'm not sure if one is better than the other, but this one is trying to be a deeper, darker version of the first. Perhaps it is trying to stick more to its protest roots (or taste more like the oil development in Quebec it is protesting against) Either way, one to try for sure. It's not the best I've tried, but obviously they've changed the recipe and perhaps it just needs more time. Would try it again, though perhaps next year.
2,572 characters
3.28
/5
rDev
-8.6%
look: 4 | smell: 3.5 | taste: 3 | feel: 3 | overall: 3.5
Cask Days 2012. Big bubbly head on a cloudy golden body. A little astringent. Spicy, though not the usual spices of a pumpkin beer, cloves were offputting. Vegetable, a little off cabbage flavour, not the best pumpkin but still drinkable. Caramel, nothing special.
264 characters

3.41
/5
rDev
-5%
look: 4 | smell: 3 | taste: 3.5 | feel: 3.5 | overall: 3.5
Probably my last pumpkin beer until fall, not sure when this was bottled, got it in Montreal.
A- Poured into a pint glass with a slightly hazy orange body. A creamy white head forms to a nice size. Good head retention and nice webs of lace.
S- Slight fall spice and pumpkin feel. A bit of a caramel, vanilla, nutmeg and bread profile.
T- An addition of a fruity tart apple flavor here. The rest of the beer is a lighter pumpkin ale not forcing a ton spice into the taste. Notes of light caramel malt, brown sugar, bread, nutmeg, clove, vanilla and pumpkin.
MF- Crisp and highly carbonated light body. Finishes just a little bitter and somewhat tart.
Balanced ale with good pumpkin and spice flavors.
704 characters

3.77
/5
rDev
+5%
look: 3.5 | smell: 4 | taste: 4 | feel: 3 | overall: 3.5
Bottle from Phyl21ca
Slightly hazy copper blonde colour, ring of soapy white head, no lace lace to speak of. Smell is of nutmeg, pumpkin, biscuity malt, little bubblegum and banana notes that were nice, spicy and mild cinnamon. Taste is quite spicy, lots of nutmeg floavours come out, pumpkin, fairly bready especially in the aftertaste. High carbonation with a light-medium body, medium feel, quite dry feeling also. Not bad a fairly straight forward pumpkin beer, apreciate the slightly higher ABV in this one.
513 characters
4
/5
rDev
+11.4%
look: 4 | smell: 4 | taste: 4 | feel: 4 | overall: 4
Poured from a 341ml. bottle.
Appearance: Lots of tiny bubbles racing up a pale gold/light orange body. A thick off-white head forms et makes itself at home.
Smell: Mild cinnamon and pumpkin pie.
Taste: Nutmeg, pumpkin is more spice-like at first but changes to chunks of pumpkin pie filling in the finish through the aftertaste. A sharp spice presence is felt.
Mouthfeel: Very malt forward with a smidgen of spice edge. Smooth and takes its time passing through the palate.
Overall: Very pleased with this ale. Authentic flavors and quite good.
549 characters
3.5
/5
rDev
-2.5%
look: 3.5 | smell: 3.5 | taste: 3.5 | feel: 3.5 | overall: 3.5
Bottle: Poured a light amber color ale with a large foamy head with good retention and some light lacing. Aroma of light pumpkin with light cinnamon notes. Taste is more focus on pumpkin then spices which is nice and malt backbone is quite solid with great balanced and subtle sweet undertones. Body is full with good carbonation. Very solid offering with great balanced and not totally over-spices which is often the case with pumpkin beers.
442 characters
3.88
/5
rDev
+8.1%
look: 4 | smell: 3.5 | taste: 4 | feel: 4 | overall: 4
Slightly-hazy light-amber body with a good cover of off-white head. Some lacing.
Light nose: a little caramel, earthy hops, a touch of citrus, pumpkin is perceptible, wheaty grain, subtle spices.
Some pumpkin ales feature spices more than pumpkin (McAuslan) while others, such as this example, put more of the focus on the pumpkin. Spices are barely there but I don't mind that at all here. Pumpkin really comes out as part of a simple but well-made ale, clearly taking the leading role. Buttery caramel malt and earthy hops serve as a nice base. The bit of extra alcohol isn't noticed.
Full medium body with moderate carbonation. The substantial body really holds the pumpkin well.
My opinion on Brasseurs Illimites is mixed but this one is more than good enough to hold my interest. A respectable pumpkin ale that I might have bought a sixer of had I tried it earlier in pumpkin season. For pumpkin ale in Quebec I do enjoy McAuslan's but this one is a whole other take; next year I'll be buying both.
1,011 characters
3.38
/5
rDev
-5.8%
look: 3.5 | smell: 3 | taste: 3.5 | feel: 3.5 | overall: 3.5
I bought a 6-pack directly from the brewery (very nice guy!!) First time they release this beer but it should become a fall seasonal.
It is orange/red in color it's very clear and has a very thick cream color head and good carbonation
It clearly has aroma's of pumpkin and sweet malts with a hint of nutmeg and clove, it even has a citrus hop aroma's.
Upfront is the pumpkin and sweet malts and as you swallow you get the spices taste, very enjoyable taste. (alcohol presence)
It is has a velvet feel to it, very smooth it almost has the texture of a cream ale.
Overall a very nice fall seasonal that I will seek out again next year!!
636 characters
La Magouille from Brasseurs Illimités
3.59
out of
5
based on
21
ratings.