Dutch Republic 1581

World Brews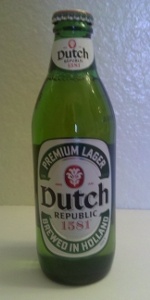 Write a Review
Beer Geek Stats:
Style:

ABV:

4.8%

Score:

Avg:

2.98

| pDev: 13.09%

Reviews:

7

Ratings:

From:

Avail:

Year-round

Wants

Gots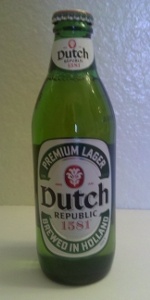 Notes:
Reviews: 7
3.55
/5
rDev
+19.1%
look: 4 | smell: 2.75 | taste: 3.75 | feel: 3.5 | overall: 4
For what this beer is selling for u can not beat the price. I'm not going to talk about the feel of a beer that is 50 cents a 16 oz can. After a few sips it is very easy to drink I had 8 16oz in one night and I am prone to hangovers after that kind of drinking but felt just fine today. Looking forward to getting more soon.
324 characters

2.41
/5
rDev
-19.1%
look: 3.5 | smell: 2.5 | taste: 2 | feel: 3 | overall: 2.5
530th Review on BA
Bottle to Pint
To preface: I was given this by my wifes cousin at a Memorial Party to try. Only had 1/2 a pint
App- A little bit in the middle of dark vs. light yellow. Had a good two finger head, although no cling.
Smell- Take some "other classic dutch" beer and add some water and artificial sugar. Voila!
Taste- It went all down from here, I can stomach a Heineken(oops) but this I took 2 sips and I was done. Just not very good.
Mouth- An average feel, but the residual taste was not pleasant. Medium and a attempt at high carbed.
Drink- Not again. One and done.
591 characters

2.72
/5
rDev
-8.7%
look: 3.5 | smell: 1.5 | taste: 3 | feel: 2.5 | overall: 3.5
Pours a clear golden color with a big white head that disappears quickly. Scent is very "Heinekinish..."... a bit of malt with a slight skunky smell. Taste is better than it smells. No skunkiness and a somewhat pleasing malt flavor with almost no hoppiness. Mouthfeel is crisp and watery with high drinkability (because it's like water).
337 characters
3.35
/5
rDev
+12.4%
look: 3 | smell: 3 | taste: 3.5 | feel: 3.5 | overall: 3.5
Appearance: clear yellow with a white head
Smell: Malty and sweet with a very slight earthy tone
Taste: Malts with some sweetness not the bitterness i expected for a lager
Mouthfeel: light bodied good carbonation with clean aftertaste
Drinkability: easy drinking something to drink on a hot day in mass quanties
Found it on sale at Fresh n Easy for 3.99 then it went up to $6 a six pac another offering from F-n-E to put up againest other imported lagers.
460 characters

3.3
/5
rDev
+10.7%
look: 3 | smell: 3 | taste: 3.5 | feel: 3 | overall: 3.5
First off, let me just state that I am a sucker for cheap green bottle beer and this little gem I found for $3.99 a 6-pack (granted the bottles are only 11.2 OZ's) so I obviously bought one.
A: Nothing special, typical lager look - yellow and fizzy (like Heineken, Amstel, etc). I drank it straight out of the bottle, so I can't tell you about the head - I doubt it would have much of one though.
S: Not as bad as I expected it to be - kind of sweet and malty, absolutely no hop.
T: Better than average as far as cheap Dutch lagers go. Somewhere just above the quality of 3 Horses or Peter's Brand and somewhere just below the quality of Grolsch. Sweet and malty with kind of an odd but nice apple/yeast flavor at the end. Finishes pretty smooth overall with not much of an aftertaste.
M: Light carbonation, light bodied - I could crush these little guys all day.
D: Goes down like nothing. Great all-day summer time beer.
Side note - thought this was worth mentioning (pretty cool):
"Dutch Republic 1581 originates from an eco-friendly brewery that invests in innovative technology to reduce its energy use and impact on natural resources. The Brewery is dedicated to sustainability crafting this premium beer in the traditional Dutch Pilsner style. 1581 commemorates the year the Dutch Republic was founded. Centuries later, this beer brings a taste of Holland to you."
The breweries description of their beer - "Dutch Republic is a lager beer brewed in the traditional Dutch Pilsner style. The beer pours a light golden color and features a rich, malty aroma, with a hint of sugar balanced by slightly bitter hops. The taste is full-flavored, smooth, and easy to drink with a crisp, clean finish. Dutch Republic is highly drinkable and utterly refreshing."
1,768 characters
2.79
/5
rDev
-6.4%
look: 3.5 | smell: 2 | taste: 2.5 | feel: 3 | overall: 4
11.2 oz. bottle poured into a pint glass.
Appearance: Pours a clear pale gold color with a good amount of visible bubbles rising to the top. 2-finger fluffy white head dissipates to a film but leaves a bit of lacing.
Smell: Some grasses, a hint of sawdust, and a good dose of sweetness. A bit honey-like, but in an artificial sort of way.
Taste: Malty flavor up front, with that artificial honey and a bit of grass. Some bitterness and hops come in later, then a bit of that sawdust at the finish. The aftertaste is pretty much a blend of everything, with honey taking the front seat.
Mouthfeel: Light- to medium-bodied with moderate tingly carbonation. Pretty smooth. Seems to coat the mouth and stick to it in a weird sort of way.
Drinkability: It actually is a pretty drinkable beer, despite the defects. Easy to drink, presumably low ABV, and the oddities in the flavor aren't particularly distracting.
This is one of Fresh & Easy's 6-packs available for less than the price of a typical bomber. Not sure how they make it that cheap, but somehow they do. I was expecting a Heineken clone, so this exceeded my expectations (and, hey, it wasn't skunked!). Basically a so-so Euro pale lager with a bunch of honey dumped in, is how I'd describe it. Cheap enough to give it a try if you're bored.
1,301 characters

2.73
/5
rDev
-8.4%
look: 2.5 | smell: 2 | taste: 3 | feel: 3 | overall: 3
A new Fresh & Easy cheap beer special, spent $3.99 for the six-pack of green bottles.
Bottle says it was actually brewed by "H-West B.V., PO Box 1638, 3600 BP Maarssen, Holland." That company isn't listed in the BA Database.
From the start is pretty obvious this is supposed to be a lower cost Heineken.
Poured in a Lager glass this is nothing special, fizzy yellow beer with a bare wisp of a head.
Smell is strongly sweet with a powdery yeast aroma like a Belgian Witbier, wonder if they tossed in the wrong yeast strain? Slight lemony hop aroma.
Starts out sweet with a little lemon pie flavor and a slight vanilla taste. Decent hop level for cheap lager, Nobel hop and no real bitterness. Hop is herbal and decently there. The sweetness abates quite a bit after 3-4 sips and it does start to taste something like Heineken. The taste isn't bad at all, but you are not going to mistake this for the good stuff.
Decent mouthfeel just a guess something wasn't optimal in the malting process.
Decent cheap beer, hey for $3.99 a Six Pack you aren't going to get a world-class beer. Still for just beer type beer this isn't bad. Only flaw here is that it starts out on the sweet side of Lager Land.
1,215 characters
Dutch Republic 1581 from World Brews
Beer rating:
2.98
out of
5
with
7
ratings