Double Take Amber Ale

World Brews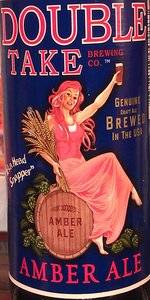 Write a Review
Beer Geek Stats:
| Print Shelf Talker
Style:

ABV:

5.1%

Score:

Avg:

3.03

| pDev: 12.87%

Reviews:

10

Ratings:

From:

Avail:

Year-round

Wants

Gots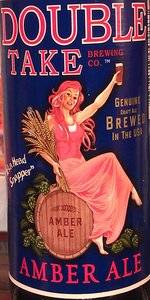 Notes:
Reviews: 10 | Ratings: 18
3.39
/5
rDev
+11.9%
look: 3.25 | smell: 3.5 | taste: 3.25 | feel: 3.5 | overall: 3.5
12 oz. bottle:
Pours slightly hazed amber. Little head. Little lacing.
The smell is of caramel with some subtle earthy tones.
The taste is of sweet caramel. Just enough taste and a slight hint of grass so that it is not overly sweet. Smooth, a bit on the thin side, but it holds together.
A decent, malt-forward, standard/basic, American Amber Ale.
352 characters

2.53
/5
rDev
-16.5%
look: 3 | smell: 3 | taste: 2.25 | feel: 2.25 | overall: 2.5
Amber colored amber. Full 1" of head, off white. Aroma was bitter earth and peat.
Pretty much like the ipa, flavor is all bitterness and not in the good way. Slightly more body for absorbing said bitterness. Lots of metallic mouthfeel and acrid red malt. Not a fan.
274 characters

2.06
/5
rDev
-32%
look: 3 | smell: 2 | taste: 2 | feel: 2 | overall: 2
Mix o twelver from Von's. Pours a medium copper in color and rather light for an amber. Half inch of whitish foam shows moderated retention. Pour clear with a light hint of haze.
Nose of old hops and some cereal grain. Amber my ass. No caramel notes at all but just a wondering waif of a pale ale. Taste follows with a dry pale malt sense. Not quite acrid but again no amber love either. Feel is dry and a bit coarse. In the end a most unremarkebale and quite forgettable offering.
491 characters

3
/5
rDev
-1%
Generic, big company brew extremely half-ass trying to copy craft brew styles. I tried their IPA and it was comically terrible. Seriously, I kept some bottles around for my buddies to try just to show them how bad it was cause they didn't believe me.
This one is a little better. About on the same level or lower than PBR. I only bought it cause it was $4.99 a 6 pack here in LA and I wouldn't pay a dime more for it.
TL;DR Unless it's cheaper than Bud/Miller/Cooers, don't bother.
489 characters

3
/5
rDev
-1%
look: 3.5 | smell: 3.5 | taste: 2.5 | feel: 3.5 | overall: 3
Poured from bottle into a pint glass
Appearance- The beer pours a caramel color with a one finger thick white head. The head fades slowly over time leaving a decent level of lace on the sides of the glass.
Smell- The aroma is bready and sweet with smells of caramel and toffee. Mixed with these smells is a little bit of citrus as well as some nut producing a rather nice smell overall.
Taste- The taste starts out with the caramel sweetness and breadiness detected in the nose with a bit of the citrus developing more toward the middle of the taste. Toward the end some flavors of nut and roasted malt come to the tongue bittering the taste ever so slightly. This mixed with an increase in the citrus end up leaving a more off and bitter flavor to linger on the tongue.
Mouthfeel-The body of the brew was on the lighter side in its thickness and creaminess with a carbonation level that was rather average. Both suited the brews flavors and profile rather well and made for a rather refreshing and crisper brew overall.
Overall – A little too bitter on the back end for an amber ale in my opinion, but nothing all that bad. Just alright I suppose.
1,155 characters
3.38
/5
rDev
+11.6%
look: 3.75 | smell: 3.25 | taste: 3.5 | feel: 3.25 | overall: 3.25
Appearance: Amber with a nice head of foam and decent lacing.
Smell: Malty, and maybe a touch of grassy hops if you concentrate.
Taste: Sweet and bitter, with just enough bready malts to give it a semblance of balance.
Mouthfeel: Thin and bitter.
The Verdict: Drinkable. Filled with bitterness just like the IPA, but better balanced and flavorful.
This is another brew from the same company that makes many generic beers masquerading as craft brews with names like Cable Car, Tap Room No. 21, RJ King Wingwalker, and Barrel Trolley.
539 characters
2.65
/5
rDev
-12.5%
look: 3 | smell: 3 | taste: 2.5 | feel: 2.5 | overall: 2.5
True to form, this amber beer is amber colored. 1" white head, looks the part here. Aroma, some peatyness, some bitterness, nothing mind blowingly awesome or awful going on here.
Much like their ipa, this beer is pretty much led by a bitter flavor profile and no more. The lines of flavoring, bittering and aroma (dry) hopping are blurred, it just seems like they went with 3x bittering hops and nothing more. I guess there's a little more of a body on this one to try and absorb the bitterness, but it doesn't really pull it off all that well. Its like, hey, let's put out a "craft" brew, find the highest alpha acid hop we can find, that way the total oz./$$ per barrel in terms of hop cost is low, but it will taste bitter, ipa's are all the rage right? That's all they care about those simpletons is bitterness, they need no hop flavors! Better like your beers metallic and bitter, because that's about all these guys offer up.
933 characters
3
/5
rDev
-1%
look: 3 | smell: 3 | taste: 3 | feel: 3 | overall: 3
Over all this is a very average ale, not bad at all just really nothing to distinguish it at all. It had a good pour, good head, smelled of hop, taste of hop, bit fizzy, went down alright would have gone way better with food like pizza or hamburgers but yeah really not much here.
280 characters
3.06
/5
rDev
+1%
look: 4 | smell: 3 | taste: 3 | feel: 3 | overall: 3
Pours a light clear copper color with a big 2 inch off-white head that fades to a thin cap. Nice latticework of lacing forms on the glass on the drink down. Smells of bready malt, slight citrus zest, and some metallic smells. Taste is of biscuit/bread, citrus zest, and just like the smell there is some metallic taste. Mild bitterness lingers on the palate after each sip. Low carbonation makes for a slightly flat and thick mouthfeel. Overall, this is a pretty average beer, like a poor man's Fat Tire. I had never seen this brand before and my brother-in-law picked some up to share with me. Nothing too offensive, but nothing to great either.
646 characters

3.35
/5
rDev
+10.6%
look: 3.5 | smell: 3.5 | taste: 3.5 | feel: 3 | overall: 3
Clear Amber colored ale with a tall off-white head.
Smells malty with that scorched malt smell that fat tire ale has. Herbal hop aroma that is a bit soapy. There is some toasted bread in here and a slight whiff of citrus.
Starts out mildly sweet but surprising bitter. The bitterness abates a bit as you drink it. More C type hops in this than you would think by the smell. Pretty much just a highly hoped Amber ale, no subtle flavors to mention.
Mouthfeel is thin.
Drinkability is OK. Pretty much just another contact brewed Amber Ale, no intentions of buying it again.
582 characters
Double Take Amber Ale from World Brews
Beer rating:
77
out of
100
with
18
ratings