Four In Hand Winter Brew

World Brews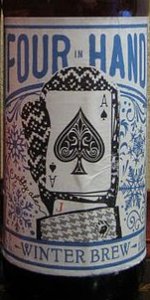 Write a Review
Beer Geek Stats:
| Print Shelf Talker
Style:

ABV:

6.2%

Score:

Avg:

3.18

| pDev: 14.78%

Reviews:

12

Ratings:

From:

Avail:

Winter

Wants

Gots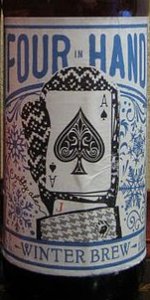 Notes:
Reviews: 12 | Ratings: 26

2.7
/5
rDev
-15.1%
look: 3.5 | smell: 2.75 | taste: 2.5 | feel: 2.75 | overall: 2.75
Virtually no nose to speak of, toasted malt and caramels can be eventually coaxed out of the glass. Taste is pretty neutral and bland, with toasted malt and hints of caramel in the background and dried herbal hops in the front. Mediocre.
239 characters
3.85
/5
rDev
+21.1%
look: 3.75 | smell: 3.75 | taste: 4 | feel: 3.75 | overall: 3.75
dark copper color, minimal head...
smell is of some malts, but a generioc type of brew aroma.... very little spice.
strong smell of alcohol. this stuff is not professional level beer, i fear....
taste is... some alcohol. another said smell of puke??? where did you get THAT ? ? ? ? it's definitely NOT a great brew, but it's decent.
got it from Whole Foods market- thay have a great price on chimay red at $7.99- and have been trying to unload this stuff for several months. it's not the greatest, but it's certainly not 'puke'. decent malt taste behind it all.
562 characters

3.15
/5
rDev
-0.9%
look: 3.5 | smell: 3.5 | taste: 3 | feel: 3 | overall: 3
Pours a clear copper amber color with a fleeting ivory half inch head.
Aroma is toffee, sweet caramel malt, brown sugar, cinnamon, and nutmeg. There's a bit of ginger and toasted bread.
Flavor reveals caramelization, with melanoidin toffee character leading into toasted breadcrust and a touch of estery fruit.
Body us a touch thick, with moderate carbonation and significant alcohol warmth.
Aroma was more reminiscent of winter ale than flavor. There's a bit of astringency that overwhelms the palate, along with the almost fusel alcohol heat.
548 characters
3.26
/5
rDev
+2.5%
look: 3.5 | smell: 2.5 | taste: 3.5 | feel: 3.5 | overall: 3.5
This beer now smells like puke, after I have finished the whole thing (there are barely three drops left in the glass at this point). How lovely. I wish I was joking. Well, from what I can recall through this haze of disgustingness, the beer was quite malty sweet with a woody kind of thing on there as well. Overall, not too shabby a drinker really. Though I wish Whole Foods would stop selling this faux-craft beer.
417 characters

2.63
/5
rDev
-17.3%
look: 4 | smell: 3.5 | taste: 2 | feel: 2.5 | overall: 2.5
Shared a 12 oz bottle. Reviewed from notes.
A- Good appearance. Nice thickness and retention in the head.
S-Hoppiness and some farmhouse malts as well. Smells like a red ale.
T- Some hoppy tastes, strange malty redness. Not my favorite.
M- Light bodied, not great.
O- Real meh kind of beer. Wouldn't want again.
316 characters
2.76
/5
rDev
-13.2%
look: 3.5 | smell: 2.5 | taste: 2.5 | feel: 3.5 | overall: 3
A- Pours a half-inch dense light tan head on a clear dark amber/light red body. Average head retention and some lacing left behind.
S- Cinnamon, spices. malt. Very subtle.
T- Real malty, caramel/"nuttiness". Finish is a big turn off although hard to describe. Balance is there.
M- Medium mouthfeel, medium carbonation.
D/O- Drinkability is there if you'd want more than one of these. Me? I may drainpour this one before I finish the glass as I'm sure every option I have in the fridge is better. Pleasant enough label. Pass on this one.
540 characters

2.88
/5
rDev
-9.4%
look: 3.5 | smell: 3 | taste: 3 | feel: 2.5 | overall: 2.5
12 fl oz brown glass bottle with standard pressure cap served into a Weizen glass in low altitude Orange, California. Reviewed live. Expectations are average. Acquired as a six pack at Ralph's in Los Angeles.
A: Pours a two finger head of nice cream, good thickness, and good retention. Colour is a clear dark copper.
Sm: Caramel, light spices, and malts. A light to mild strength aroma.
T: Malts - perhaps lightly toasted - are dominant. Some light cream. No real spices are detectable. All around, it's simple and boring. It isn't particularly well balanced, but there are no egregious transgressions. Meh.
Mf: Smooth and wet. Entirely too thick for the relative lack of flavour.
Dr: Drinkable but unremarkable. Another forgettable brew I won't ever have again.
773 characters

3.23
/5
rDev
+1.6%
look: 3.5 | smell: 3 | taste: 3.5 | feel: 3 | overall: 3
Same label, but my bottle says it was brewed by World Brews in Rochester, NY, not CA.
12oz bottle poured into a pint glass.
A: Light caramel brown, 1/2 finger head.
S: Light; malt, brown sugar and nondescript spice.
T: Spice, caramel and toasted malt. Nothing complex, but pleasant.
M: Light to medium bodied; again simple but pleasant.
O: While I wouldn't get this again, this was a nice & simple beer that would be good to drink during a winter playoff/bowl game where you'll be concentrating more on the tv than what you're drinking, but you don't want to drink BMC.
569 characters

3.58
/5
rDev
+12.6%
look: 4 | smell: 3.5 | taste: 3.5 | feel: 4 | overall: 3.5
12oz bottle; about $7/6 pack from Whole Foods. Poured into a pint glass.
A: Dark copper with great clarity. 2 fingers off white head, nicely fill the pint glass. The head has decent retention and moderate lacing.
S: Light aroma. Malty with caramel and a touch of spice (mainly cinnamon).
T: A bit light in flavor too; not in keeping with the "winter ale" label, IMO. On the other hand, the spicing is under control and adds nicely to the 'winter' flavoring, especially after the beer warms a bit. Spicing is mainly nutmeg and cinnamon, and there's a bit of caramel and nuttiness too. Good bitter/sweet balance. Nice, lasting, spiced finish. Approaches 4.
M: Medium-light body; medium carbonation. Very slightly dry in the finish.
O: A decent beer for the holidays, particularly for the less adventuresome.
810 characters
3
/5
rDev
-5.7%
look: 3 | smell: 3 | taste: 3 | feel: 3 | overall: 3
A: Pours a dark copper color with a decent head and some lacing.
S: Mild aroma of malt, cinnamon, dark fruit and bit of spice.
T: Flavor is quite mild also. Some cinnamon, caramel and bit of spice. Mild bitterness with a clean finish.
F: fairly medium body, decent balance.
O: Fairly bland beer. Not a beer I would go out of my way for. Part of a 6-pack mixer. Liked the label.
381 characters

3.11
/5
rDev
-2.2%
look: 4 | smell: 3 | taste: 3 | feel: 3.5 | overall: 3
12oz bottle poured into a pint glass.
A: Dark copper with great clarity. Fluffy one and a half finger off white head with good retention and alright lacing.
S: Very light nose. Malty with toffee. Bready and biscuity. Faintest touch of spice.
T: Very light in flavor also. Touches of caramel and toffee upfront. Spicy bready flavors in the middle. Touch of nuttiness and cinnamon in the finish.
M: Light body with medium carbonation. Slightly slick.
O: It's alright. Would be good for some regular beer drinkers to have something special for the holidays.
559 characters

3.32
/5
rDev
+4.4%
look: 3 | smell: 3.5 | taste: 3.5 | feel: 3 | overall: 3
Fresh Six pack bought at Whole Foods....not seen this one ever before, and at $6.99, thought I would give it a try....not positive, but I think this is contract brewed by Genesee, as it has Rochester NY on the poker'ish label, and ace of spades cleverly laying on a mitten covered hand, with snowflakes all around...cute. Pretty low budget label....
The beer pours a decent dark amber, some lacing and small foamy head, which fades pretty quickly...not bad.
The smell is pretty muted, typical, but muted winter warmer spices, of cinnamon and ginger, some dark fruit and bready malt in there as well
Taste is not awful, not great, but ok for a beer at this price point. I have had so many good winter warmers this season, I should keep my expectations low for a $6.99 / sixer beer. Pretty drinkable and low (6.2%) abv, so you could down a few of these if you were so inclined on a cold winters night...
Mouthfeel also not bad, light carbonation, medium bodied, not too heavy for a beer of this style
Overall, this is an ok beer, I suppose it is designed to compete with the Trader Joes low price offerings, but I would prefer most of the TJ's brews over a re-named Genny Winter Brew! Worth trying, and the price is certainly attractive....
1,253 characters
Four In Hand Winter Brew from World Brews
Beer rating:
80
out of
100
with
26
ratings