Barrel Trolley IPA

World Brews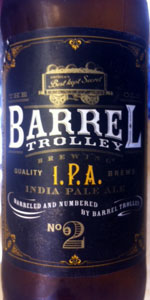 Write a Review
Beer Geek Stats:
| Print Shelf Talker
Style:

ABV:

6.3%

Score:

Avg:

3.02

| pDev:

18.21%

Reviews:

15

Ratings:

From:

Avail:

Year-round

Wants

Gots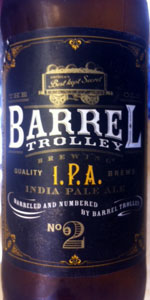 Notes:
Reviews: 15 | Ratings: 84

2.65
/5
rDev
-12.3%
look: 3.5 | smell: 3.5 | taste: 2.25 | feel: 2 | overall: 2.5
May call this the bud light of IPAs...nothing original here. It's just okay. In retrospect, would have much rather spent the extra 50 cents to grab New Belgium or Sierra Nevada.
179 characters

1.9
/5
rDev
-37.1%
look: 2 | smell: 2 | taste: 2 | feel: 1 | overall: 2
A dark gold color with a strong booze smell. Taste was strong of alcohol and had no relation to an IPA. Mouthfeel was like that of a weak pilsner. I was very disappointed in this beer. The smell, mouthfeel and taste were all below average. I would not recommend this and will not be fooled by the fancy label again.
315 characters
3.49
/5
rDev
+15.6%
look: 3.75 | smell: 3.5 | taste: 3.5 | feel: 3.25 | overall: 3.5
12-oz bottle into Belgian ale glass
A - 4-finger off-white head over a cloudy body of golden/orange; head sticks around leaving a nice trail of lace
S - floral and citrus
T - floral and citrus notes, wheat bread in the background, nice hop bitterness, bone-dry finish
M - light/medium body, medium/high carbonation
O - It has a good taste, but not remarkable. Also it could use more body.
393 characters
3.61
/5
rDev
+19.5%
look: 4.25 | smell: 3.75 | taste: 3.5 | feel: 3.5 | overall: 3.5
Poured from a 12 oz bottle into a 14 oz "pint" glass. Pours a reddish amber with a white head that has lots of staying power. Smells of floral and citrus hops nice aroma. Tastes of floral and citrus hops, but a tad watery. Beer is heavily carbonated but is still very drinkable. Overall, an above average beer.
310 characters

3.8
/5
rDev
+25.8%
look: 3.75 | smell: 3.75 | taste: 3.75 | feel: 4.25 | overall: 3.75
Paid $7.99 for a six-pack; I thought the label had a great old-timey feel to it and it intrigued me enough to try it. This was a good but not great beer. There was enough flavour and bitterness for it to be an assertive IPA, but there was nothing distinct or "signature" about it, like the signature tastes of Sierra Nevada Torpedo Extra IPA, or Ballast Point's Sculpin IPA. There was a "nice" IPA; made to style and tasty, but it lacked the "X" factor that would have made it stand out on the already overcrowded shelves.
522 characters
2.53
/5
rDev
-16.2%
look: 3 | smell: 2.5 | taste: 2.5 | feel: 2.5 | overall: 2.5
Appearance: Brownish orange in color. Very clear. Pours with about an inch of sudsy head. Mild effervescence present.
Smell: Faint, honey sweet malts and bread. Kind of flat and earthy. Either my senses aren't getting everything today or there's just not much there.
Taste: Bitter hits first, with some of the bready malts following up. The bitter hops hits hard to begin and doesn't really let up, finishing like dark chocolate. There's a faint trace of metal.
Mouthfeel: Sort of on the thin side, and not much carbonation.
Overall: Drinkable for sure but not really all that memorable. It's ok but I've had too many other great IPAs to give this one a future shot. I actually used one of the six to make beer bread without trying it first … there were probably better options out there for that as well.
827 characters

2.74
/5
rDev
-9.3%
look: 3.5 | smell: 2.5 | taste: 2.75 | feel: 3.25 | overall: 2.5
Served in a Lagunitas mason jar.
Gotta love asking local employees how this stuff is/is selling...gold... Anyway, this stuff pours a clear amber topped by a finger of lightly off-cream-white foam. The nose comprises biscuit and rather light grass. The taste holds notes of orange rind, light lemon rind, grass, and a touch of dried honey. The body is a light medium, with a light moderate carbonation and a fluid feel. Overall, a pretty sad IPA, one with very little hop presence to speak of and a bland, overly bitter flavoring.
530 characters

2.69
/5
rDev
-10.9%
look: 4 | smell: 2.5 | taste: 2.5 | feel: 3.5 | overall: 2.5
This poured out as a light orange color, there is a decent retention and a really impressive lacing. The beer looks really good. The smell doesn't really give off the hop aroma that I was hoping for. There are some earthy hops and honey on the nose. The taste of this beer is malty, some earthy bitterness. The mouthfeel of beer is nicely carbonated and light to medium bodied. Overall not the best IPA out there.
413 characters

2.78
/5
rDev
-7.9%
look: 3 | smell: 2.5 | taste: 3 | feel: 3 | overall: 2.5
Beer is a gold/straw color and has a finger depth of fizzy head. The head diminished relatively fast with very little lacing. Sweet aroma with hints of fruit and alcohol. More so as the beer warms a bit. Brief fruit notes in the taste…again with an alcohol feel. Very light...and relatively smooth...with no real after taste...whatever is there fades very quickly. Not much of a hop character...nor really a malt...but not a balanced feel either. Dunno
454 characters

2.48
/5
rDev
-17.9%
look: 3.25 | smell: 2 | taste: 2.5 | feel: 3 | overall: 2.5
bottle into mug
A- pours a medium sized bubbly head that dissolves into a small amount of bubbles on top with moderate lacing. Clear amber color
S- not much smell, malt and toffee
T- Malt, toffee, a little bitter, not much hops or balance
M- light bodied
O- Not an expensive beer, fine for the price if you want to drink a bunch of beers and want something "craft-y" withouth paying much
392 characters
2.14
/5
rDev
-29.1%
look: 3.5 | smell: 2 | taste: 2 | feel: 2.5 | overall: 2
Bottle into nonic pint.
Pretty average looking ipa.... Orangey colored body. White head. Some spotty lacing. The head settled into a thin ring in a rather quick fashion.
Smells of biscuity malt with a dry toast note and some herbal/floral hops. This is the only out of 5 beers from this brewery that I've tried in which I could actually genuinely smell and taste hops! Hooray!
The hops aren't done poorly, but rather I find they are done minimally. Very little bitterness. Slight chalkiness on the finish.
Body is medium-light with decent carbonation.
Overall-- this is a lackluster ipa. Not one I will buy or drink again.
631 characters

2.68
/5
rDev
-11.3%
look: 3.5 | smell: 3 | taste: 2.5 | feel: 2.5 | overall: 2.5
Poured from a 12oz bottle into a pint glass.
A - pours a medium yellow with a small off white head.
S - mostly sweet malts. Barely any hops detected.
T - more sweet with barley any hop flavor. Not much bitterness either. Pretty sad shape for an IPA.
M - medium-low
D - low
Overall a fairly poor IPA that lacks any real characteristics of being an IPA. Fail.
363 characters
2.43
/5
rDev
-19.5%
look: 3 | smell: 2.5 | taste: 2.5 | feel: 2.5 | overall: 2
A- pale amber,light head,decent lacing
S-not very aromatic at all,faint hoppy notes, sweet malts,somewhat tea like aroma
T- Bitter,aspirin like flavors,bare minimum pleasant hop flavors or aromas if any
M- Rather thin with prickly fizzy carbonation
O- hardly a pleasant drink,nothing I want from an IPA,with qualities better better not had.
I would say this is how to not brew an IPA. Really don't try this one too cold,it's unbearably bitter like so,somewhat drinkable as it warms I believe this brew is giving me a headache as I type this review . Not a fan of drain pouring but this one may very well be worthy of that. Many many better choices out there,never again Barrel Trolley. May have to stay away from World Brews altogether,their rating average is not good.
775 characters

3.16
/5
rDev
+4.6%
look: 4 | smell: 3 | taste: 3 | feel: 3 | overall: 3.5
Not much hops here for an IPA, mostly malty sweetness. Leaves an almost sugary stickiness feel in your mouth. There are some nice spicy, apple notes and it most certainly has a full body, but it just doesn't ring true to an IPA. Plain ale, perhaps.
Not a bad beer, its just that I'm a hop-head and love a good IPA.
314 characters

3.16
/5
rDev
+4.6%
look: 4 | smell: 3 | taste: 3 | feel: 4 | overall: 3
Pours a clear golden orange with a tall, sticky white head. Not terribly fragrant. Some spicy hops, a light grass, and some floral hops. Some sweet bread and a hint of biscuit. The flavor is biscuity and semi-sweet. Has a good toast flavor, a little bit of grass, and some spicy hops. There's a mild bitterness on the finish as well. A light fruitiness to the beer gives it the slightest complexity.
399 characters
Barrel Trolley IPA from World Brews
Beer rating:
74
out of
100
with
84
ratings