Steel Kettle Whistle Light
| World Brews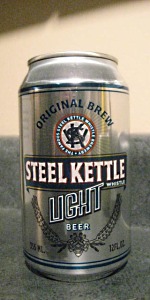 BEER INFO
Brewed by:
World Brews
California
,
United States
wineryexchange.com
Style:
Light Lager
Alcohol by volume (ABV):
3.90%
Availability:
Year-round
Notes / Commercial Description:
No notes at this time.
Added by biboergosum on 11-16-2012
Ratings: 2 | Reviews: 1

1.56
/5
rDev 0%
look: 2 | smell: 1.5 | taste: 1.5 | feel: 1.75 | overall: 1.5
1.84
/5
rDev 0%
look: 3 | smell: 1.5 | taste: 2 | feel: 2 | overall: 1.5
355ml can, a single from the local Liquor Stores N.A. Ltd. (sexy, I know!) chain outlet. Though it sez "Brewed by Steel Kettle Whistle Brewing Company, Rochester, NY' on the label, I'm pretty sure it's really made by this contract brewer, given the import paper trail.
This beer pours a super-pale straw colour, with a ton of puffy, thinly foamy off-white head, which leaves a few amoebic specks of lace around the glass as it quickly sinks away.
It smells of grainy corn grist - moderately stewed - a metallic, plastic industrial complex essence, some drowned pithy apple fruitiness, and a drying musty, um, hoppiness, I suppose. Nah. The taste is hard well water, a consistent plastic wrap chemical 'character', some faint corny huskiness, and the same indistinct, unholy drying notes from the nose.
The bubbles are a tad active, but nowhere near supportive enough, the body a thin, diluted lightweight, and sort of, kind of, LCD smooth. It finishes barely off-dry, the amount of malt in this 97-pound weakling of a beer hardly able to sustain noticeability, let alone actually render effect on the end game. The latent weedy-ish hops, and the lingering industrial run-off can lay claim to that feat. Hah - 'Feet'! I kill me.
A weak, unappealing, pandering to the pork rind masses beer - not even worthy of apprentice lawn-mowing status. At least Coors Light tastes like nothing; this just had to go for less than zero.
1,425 characters
Steel Kettle Whistle Light from World Brews
1.78
out of
5
based on
2
ratings.