Goldmine Light
| World Brews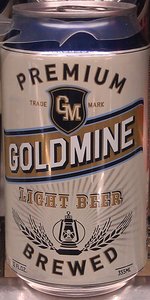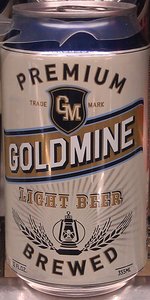 BEER INFO
Brewed by:
World Brews
California
,
United States
wineryexchange.com
Style:
Light Lager
Alcohol by volume (ABV):
3.20%
Availability:
Year-round
Notes / Commercial Description:
No notes at this time.
Added by DM1293 on 03-20-2013
HISTOGRAM
Ratings: 12 | Reviews: 6
Reviews by DM1293:
2.65
/5
rDev
-13.4%
look: 2.25 | smell: 2.25 | taste: 2.75 | feel: 2.75 | overall: 3
I couldn't really believe they made a lighter version of Goldmine; Goldmine already tastes like a light Adjunct.
Appearance - The lightest gold you'll ever see.
Smell - Same as Goldmine, a strange sweet smell; but without the metallic smell.
Taste/Mouthfeel - Less sweet and no real off-putting aftertaste. As thin as it gets, but still carbonated enough to be enjoyable.
Overall - Its better than Goldmine in my opinion, way more drinkable and equally cheap.
471 characters
More User Reviews:
3
/5
rDev
-2%
look: 3 | smell: 3 | taste: 3 | feel: 3 | overall: 3
Nice simple light beer that I purchased from Whole Foods in Savannah, GA. The brew had a slight fragrant aroma a pretty good taste of hops for a light beer and had no bad after taste that can be common for many economy priced beers.
232 characters
2.82
/5
rDev
-7.8%
look: 3.25 | smell: 2.5 | taste: 3 | feel: 2.75 | overall: 2.75
Goldmine Light Beer has a thick, white head, a clear, bubbly straw appearance, and some lacing left behind. The aroma is of sweet, mild, grain, and the flavor is of the same, with a bit of egg white and a shadow of hop bitterness. Mouthfeel is light and watery, and Goldmine Light Beer finishes crisp, refreshing, and drinkable. Overall, this is okay, and I rate it as average.
RJT
383 characters
2.87
/5
rDev
-6.2%
look: 3.5 | smell: 2.75 | taste: 2.75 | feel: 3 | overall: 3
A: Pours a crystal clear pale to medium yellow in color with moderate to heavy amounts of visible carbonation (large bubbles) and some faint light golden yellow highlights. The beer has a three finger tall sudsy fizzy white head that quickly reduces to just a small patch of very thin film and a very thin ring at the edges of the glass. Light amounts of lacing are observed.
S: Light to moderate aroma of sweet grainy malts with some rice and corn adjuncts. Minimal amounts of grassy hops.
T: Upfront there is a light to moderate flavor of sweet grainy malts with some rice adjuncts and just a hint of corn. Minimal flavors of grassy hops which impart a light amount of lingering bitterness.
M: Light bodied with moderate to heavy amounts of carbonation. Slightly thin, watery.
O: Easy to drink and not offensive - more flavorful than a lot of other Light Lagers and certainly better than the majority of the BMC brands in this space. Great cookout beer for the summer, especially when you are surrounded by non BAs that don't understand the fascination with great craft beer (way less questions asked when you are drinking this).
1,135 characters


2.76
/5
rDev
-9.8%
look: 3 | smell: 2.5 | taste: 2.75 | feel: 2.75 | overall: 3
I picked a 6er of this up at a nearby Whole Foods earlier tonight for $2.99 USD plus tax. That makes the cost of this can about 55 cents. [Yes, the tax rate in California really really sucks]. Why did I buy it? I knew what I was getting into. But regular Goldmine really wasn't that intolerable, and Every Beer Gets A Chance. As always, I'll remain open-minded. Honestly, I think World Brews churns out pretty decent stuff for the price point, and I'm glad someone is providing beer for this market sector. 355ml aluminum can with generic label art served into an Oskar Blues pilsner glass in me gaff in low altitude Los Feliz, Los Angeles, California. Reviewed live. Expectations are quite low. The can doesn't list an ABV on the label, so I can't confirm the 3.20% ABV. It does say "Light Beer", but I don't know that that necessarily means this is a "Light Lager" as it's currently classified.
Served cold, straight from the fridge. Side-poured with standard vigor as no carbonation issues are anticipated.
A: Pours a four finger beige colour head. Fairly thin. Slightly creamy. Retention is generally good (~4 minutes) but indicative of overcarbonation. Plus, how hard is it to get a well-retained head on a low ABV beer? Body colour is your run of the mill clear pale yellow. No yeast particles are visible. No bubble show. It is what it is, which is generally crappy. I knew what I was getting into. But it doesn't look awful, in its defense.
Sm: Dirty pilsner malts. Dirty pale malts. Caramalt. Light floral hop character; somewhat dirty. Lackluster. Light in strength. No yeast character or alcohol is detectable. No cream is detectable.
T: Pilsner and pale malts - yes, dirty and muddled. No alcohol or yeast comes through. Minimal floral hop character. Simple as hell. Lacks any complexity or subtlety whatsoever. Empty and weak. Balance is decent.
Mf: Doesn't facilitate the flavours or suit the profile all that well. Adequately carbonated. Not oily or harsh. Weak and pathetic.
Dr: Drinkable but forgettable. Is it an awful beer (in the style or otherwise)? No. Would I get it again? Maybe, actually. It's a solid budget offering and I have no trouble downing it, but I do prefer Simpler Times for an easy drinking budget beer with no frills. I'd recommend trying it if you haven't had it.
Low C
2,322 characters
2.93
/5
rDev
-4.2%
look: 2.5 | smell: 2.5 | taste: 3 | feel: 3.25 | overall: 3.25
I purchases this beer on a lark from Whole Foods. I am led to believe that it is the cheapest non-discounted item in the whole store, not counting the bulk section.
The appearance...I have no idea. I've never poured it out of the can.
The mouthfeel is surprisingly heavy- it is not overly carbonated like some other cheap beers, and it goes down very smoothly. I've had about two six packs in the last three weeks, and these are quite refreshing at the end of a long warm day. It does not get bitter or sour at the bottom of the can.
This is very much a "no BS" kind of beer. No real high or low notes to speak of...but nothing objectionable about it. It's more full-bodied than a typical American light, and it doesn't get skunky on you.
I am not a fan of lager- I'm a white/belgian ale type, but you can't beat the price of this stuff. So for its refreshing characteristics and its dependable drinkability, I give this one a solid overall of 3.2. There are probably better light beers out there, but I highly doubt they will be $.50 a can at a place like Whole Foods.
1,076 characters
2.96
/5
rDev
-3.3%
look: 5 | smell: 4 | taste: 2 | feel: 5 | overall: 2
Goldmine Light from World Brews
Beer rating:
3.06
out of
5
with
12
ratings