Moody Street Stout
| Watch City Brewing Co.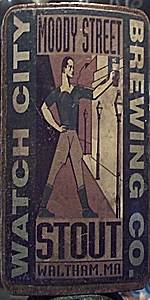 BEER INFO
Brewed by:
Watch City Brewing Co.
Massachusetts
,
United States
watchcitybrew.com
Style:
Foreign / Export Stout
Alcohol by volume (ABV):
5.70%
Availability:
Year-round
Notes / Commercial Description:
No notes at this time.
Added by BeerAdvocate on 10-14-1999
This beer is retired; no longer brewed.
Reviews: 15 | Ratings: 21
3.75
/5
rDev
-7.2%
On nitro-tap 4/5/2014 at Watch City Brewpub, in Waltham, MA served in a US tumbler pint glass.
A: The beer is a deep dark brown color, with a short beige head that fades slowly and leaves a thick lace on the glass.
S: The aroma contains chocolate, coffee, roasted malts and a touch of hops.
T: The taste starts out creamy with flavors of coffee, chocolate and lactose. Then a hearty malt character comes in. The hops presence is mild but complementary and brings a good balance. The after-taste is slightly sweet.
M: Smooth and a little crisp, medium body, light-to-medium carbonation, finish is slightly sticky.
O: Tasty, goes down easily, slightly filling, mild kick, good representation of style, this is a solid beer to drink for a while if you're in the mood for the style.
786 characters
3.49
/5
rDev
-13.6%
look: 3.75 | smell: 3.5 | taste: 3.5 | feel: 3.25 | overall: 3.5
Poured on-tap and served in a tumbler pint, the beer is a dark brown to black coloring with a frothy, dense, tan head. Nose of mocha and roast throughout. Flavors of bitter roast coffee, charcoal/campfire smoke, and a tangy sweetness. Very smooth and light. Bitter roast aftertaste, with a light, hoppy dry finish. Tasty brew.
326 characters

3.83
/5
rDev
-5.2%
look: 4.5 | smell: 4 | taste: 3.5 | feel: 4 | overall: 4
Opened this growler up today, but it's about ten days old. It was pretty well sealed however. Poured lightly chilled into a tulip.
A: Pretty deep looking black. No light gets through this brew. It's got a rich, milky coffee colored head which settles down after a minute or so. It leaves a nice trail of lace as it settles. From the appearance I 'd think this to be a big RIS or something in that vein.
S: Big roasty malts, coffee, a bit of bourbon heat. I get a tiny bit of vanilla as an undertone.
T: There are so many elements of roasted malts. It's overall a huge flavor for a beer of its alcohol content. I get dark and bitter coffee, vanilla, a tiny bit of a sour astringency. There are some slight hints of unsweetened baking chocolate. Also, a decent amount of smoke is present.
M: Big and creamy, I imagine this would be great on a nitro tap. It's rich and feels like a big beer.
This is a great stout which seems like a big stout but is much more sessionable. It's got rich flavors of an export stout but is a bit roastier and smokier. A solid local option.
1,074 characters

4.43
/5
rDev
+9.7%
look: 5 | smell: 4.5 | taste: 4.5 | feel: 3.5 | overall: 4.5
Drank on-tap at Flatbread Company, Somerville, MA
Served in a pint glass
Near pitch black in appearance with a two-finger, super tight and creamy, cocoa-colored head. (The beer looked like it was poured from a nitro tap.) The head very slowly receded, leaving behind a wall of thick, sticky rings all down the glass. Very impressive.
The aroma was remarkably smooth. Initially, it was both sweet and roasty. Powdered cocoa, dark malts, caramel and lactose-like notes came through strong. Some vanilla was also noticeable. As the beer warmed, the roastiness intensified. French press coffee notes appeared, along with a bit of smoke.
Like the nose, the flavor profile was dark and roasty, yet balanced. Roasted malts appeared up front. Cold coffee came through in the center, along with some bakers chocolate notes. The finish was dry and ashy with a bitter (yet not overly so) roastiness that lingered long into the aftertaste.
The mouthfeel was slightly creamy and medium bodied with a very mild effervescence. A touch thinner than I anticipated. Although the appearance resembled a stout which could have been poured from a nitro tap, the texture did not.
Drinkability was terrific. At 5.7% ABV, this beer falls into the low alcohol range for the style. Nevertheless, this is a highly quaffable brew, packed with flavor.
I have been waiting a while to sample Watch City's Moody Street Stout and this beer definitely did not disappoint. Out of all their offerings, this is the best I have yet to try.
1,507 characters
3.91
/5
rDev
-3.2%
look: 4.5 | smell: 3.5 | taste: 4 | feel: 4 | overall: 4
Visited Watch City on January 7th.
This beer is a nice, opaque black. Head was VERY minimal - though that could have been the bartenders pour, off white in nature but lingers throughout. Phenomenal lacing coats the side of the pint glass the entire way down. Nose was slightly dissapointing as it was very muted - some muted notes of coffee and malts. Taste was outstanding though - bitter roasted coffee and chocolate are most overpowering with the malt flavor as an added finish to it. The beer is full bodied but very smooth. I'll be having this one again.
560 characters

4.05
/5
rDev
+0.2%
look: 4 | smell: 4 | taste: 4 | feel: 4.5 | overall: 4
On tap at the brewpub on 07.08.2007.
Pours an opaque black beneath a creamy, off-white head. Good retention on the head leaving ringed lacing around the glass. Peat-smoked malt with rich, dark chocolate and whaffs of mocha. Rich, roasted malts with rather tame chocolate flavors with a bit of espresso and coffee beans. Peat-smoke and touches of floral spices. Medium in bodied; creamy/milk-like on the palate. I was surprised this wasn't a nitro pour, it was so smooth. A flattering Export Stout with a distinct peat and spicy flavor.
538 characters
3.86
/5
rDev
-4.5%
look: 4.5 | smell: 3.5 | taste: 4 | feel: 3.5 | overall: 4
A: Pours a jet black color with a 2 finger caramel colored foamy head that leaves great lace. Foam looks like the top of a root beer float.
S: Aromas of chocolate malts mixed in there with a nice roasty overtone.
T: tastes of roasted and smokey malts with a nice dry finish that also has a slight bitterness to it.
M & D: Mouthfeel is good. Leaves your mouth wanting another sip. Drinkability is also pretty good as its a smooth beer and actually quite an easy drinking stout. Carbonation levels are right on--I would order this and let it sit for awhile as I think it would taste better at a higher temp than a lower one. My first reaction was that it tastes somewhat like a Guinness, but this one is much better than G.
731 characters
4.15
/5
rDev
+2.7%
look: 4 | smell: 4 | taste: 4 | feel: 4.5 | overall: 4.5
An easy drinking stout, especially given that it is 6.7%. Definitely one of the better brews from Watch City. It pours a deep black with a small, but creamy white head. Instant chocolate flavors abound. Hops last but without bitterness. Robust but smooth. A great stout.
270 characters
3.88
/5
rDev
-4%
look: 4 | smell: 3.5 | taste: 4 | feel: 4 | overall: 4
Very dark brown to black beer from the tap with a thick creamy light brown head that leaves a sheet of lace down the side of the glass. The aroma is of roast malt with some chocolate, and a subtle hop flower aroma. The taste has more roast malt and dark chocolate up front with the hops more pronounced here along with a mild alcohol warming. A decent creamy mouth feel provides a good drinkability.
399 characters

4.72
/5
rDev
+16.8%
look: 4.5 | smell: 5 | taste: 4.5 | feel: 4.5 | overall: 5
This beer rocks. Looks great with a black body and a small head that lasted the whole glass through. Smell is beautiful with a yeast presence and a fruity hop note. Taste is a balance of alcohol, raisin, caramel, coffee, espresso, nuts, yeast, and what seem to be American hops. Smooth drinking and creamy mouthfeel.
316 characters
4
/5
rDev
-1%
look: 4 | smell: 4 | taste: 4 | feel: 4 | overall: 4
This beer poured a dark black body with a creamy nitro tap darkoff white, tannish brown head. It was actually quite beautiful, like a the color of cappachino foam made with chocolate milk.
The taste was full bodied but very smooth. Nice even roasted barley, coffee and chocolate flavors. Some slight bitterness balanced against the roasted barley. Very fresh and mellow overall. Almost like what I would imagine guiness tasted like before it became mass produced, but higher in alochol and smoother without the harsh bitterness.
Very nice beer and easy drinking stout.
574 characters

4.45
/5
rDev
+10.1%
look: 4.5 | smell: 4.5 | taste: 4.5 | feel: 4 | overall: 4.5
The menu indicated this stout was 6.7% abv. This stout poured jet black with decent coffee-colored foam. The smell was very nice: dark roasted malt, coffee, and chocolate. The taste was slightly sweet, with toffee, caramel, chocolate, and molasses in the mix. There was some floral hop character in the finish. The mouthfeel was sharp, with moderate body, and some astringency in the finish. The drinkability was very good. I liked this stout very much.
453 characters
3.38
/5
rDev
-16.3%
look: 4 | smell: 3.5 | taste: 3.5 | feel: 3 | overall: 3
Dark brown and opaque, small tan head with ok lacing. Aroma is roasted and burnt malt, a little chocolate in there, too. Flavor is a little burnt, a little chocolatey, and some slightly burnt caramel. A little watery in the mouth, but produces a long-lasting aftertaste of bitter chocolate.
290 characters
4.13
/5
rDev
+2.2%
look: 4.5 | smell: 4 | taste: 4 | feel: 4 | overall: 4.5
Most impressed by the color. Great apperance! Smooth with a sweet touch. Head stayed constant. Chocolate and coffee flavors are very present. This is a full flavored stout that draws you in. Very consistant and one that I go back for time and time again. I would like to try and float this with their Vanilla Cream Ale.
325 characters

4.47
/5
rDev
+10.6%
look: 4 | smell: 4.5 | taste: 4.5 | feel: 4.5 | overall: 4.5
Strong malt nose, very deep for any stout other than an imperial. Look! It's an export style stout at an American brewpub! Spot on the style. Malt flavor is a bit sweet with a slight mocha flavor. Well balanced and a great offering. I only wish more brewpubs looked to this style for their stouts
302 characters
Moody Street Stout from Watch City Brewing Co.
4.04
out of
5
based on
21
ratings.