St. Louis Premium Cassis
| Brouwerij Van Honsebrouck N.V.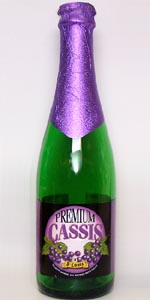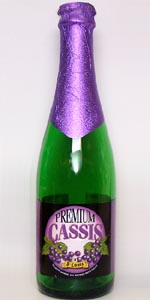 BEER INFO
Brewed by:
Brouwerij Van Honsebrouck N.V.
Belgium
vanhonsebrouck.be
Style:
Lambic - Fruit
Alcohol by volume (ABV):
3.20%
Availability:
Year-round
Notes / Commercial Description:
No notes at this time.
Added by Gueuzedude on 09-14-2008
HISTOGRAM
Ratings: 13 | Reviews: 9
Reviews by matjack85:

More User Reviews:

1.97
/5
rDev
-43.4%
look: 4 | smell: 2 | taste: 2 | feel: 2.5 | overall: 1
Sweet deal, $0.99 discount bin find @ Timer's...the Purple Rain foil just sealed the deal :) 08-2007
Definitely a weird drink, half Lambic, half juicebox. Full purplish foam rises and compresses into an odd floating island on the purple-black liquid. It looks much like the Purple Cow of my youth. Flecks of lacing adhere to the glass. The head breaks up and resembles floating particles of chunky wet fiber. Wet stone aroma, red grape must, communion wine. After a swirl there was a very off medicinal smell, like castor oil. Light tartness, followed by an artificially sweet finish. Strange flavor, old leather and cheap grape juice and franzia box wine. Bleh. It fizzles out quickly, and seems more like some third-rate artificial fruit soda, like blue razzleberry.
An odd novelty impulse buy, I doubt even The Purple One himself would drink this.
853 characters
4.07
/5
rDev
+17%
look: 4 | smell: 4.5 | taste: 4 | feel: 3.5 | overall: 4
Had at Brasserie Beck in Washington, DC.
A: Dark purple bordering on black with a foamy fuchsia head which loves to lace.
S: Strong aroma of tart blackcurrants waft in and pervade the nose.
T: Sour and tart blackcurrants with just enough sweetness to prevent the palate from puckering. Essentially blackcurrant juice with carbonation and alcohol... excellent (what I always wanted in my blackcurrant juice!).
M: Medium bodied, light carbonation.
D: Incredible blackcurrant taste... everything I love about blackcurrant juice in a beer (I used to make cocktails of blackcurrant and perrier to add carbonation and enhance an otherwise delicious juice). Fantastic.
669 characters
3.93
/5
rDev
+12.9%
look: 4 | smell: 3.5 | taste: 4 | feel: 3.5 | overall: 4.5
A: The beer is clear purple in color and has no visible carbonation. It poured with a thin light purple head that died down, leaving a thick ring of large bubbles around the edge of the glass and delicate lacing covering the surface.
S: There are moderately strong aromas of black currants in the nose.
T: Similar to the smell, the taste has tart flavors of black currants and slight hints of sourness and sweetness.
M: It feels light-bodied on the palate and has a low amount of carbonation.
O: I really enjoyed this beer because it was a lot easier to drink compared to other lambics and is neither overly sweet nor sour.
623 characters

2.44
/5
rDev
-29.9%
look: 3.5 | smell: 2 | taste: 2.5 | feel: 3.5 | overall: 2
Appearance: Pours a cassis color and with a fizzy lavender head that quickly fades without leaving much lace behind
Smell: Artificial and chalky aroma, with an overt acetone quality
Taste: Sweet cassis, followed by a tart, but chalky, artificial fruit flavor, almost like a Necco wafer gone wrong; after the swallow, the artificial Necco wafer flavor fades and the sweet and tart flavors are much more well-balanced, but the damage has already been done
Mouthfeel: Medium body with prickly carbonation; very puckerish mouthfeel
Drinkability: Not very, unfortunately; too sweet for a tart lambic and the artificial chalky flavor ruins the tart elements
655 characters
3.11
/5
rDev
-10.6%
look: 3.5 | smell: 3 | taste: 3 | feel: 3.25 | overall: 3.25

4
/5
rDev
+14.9%
look: 4 | smell: 4 | taste: 4 | feel: 4 | overall: 4
Bottle, date stamped 08-2007, poured into my large Duvel tulilp. Appearance is a very dark, brownish inky purple with a tan-tinged light violet colored heard that leaves scattered, foamy lace.
Smell is heavy cassis and a little chalky. A touch of acetic acid, solevant, faint though.
Taste is quite tart, and very fruity. Not sure how much of the tartness is lacto from the wild ferment, or just the fruit, but I'm pleasantly surprised with the intensity of both, especially for a 5 year old beer! A little dry barnyard as well, just a touch, but it's really about the intense blackcurrant.
Mouthfeel is dry, light, a little slick.
Drinkability is pretty good. It's a delicious cassis lambic. Not massive cantillon like funk, but tart and fruity, balanced. Perhaps to fruity for some, but that is what this beer is supposed to be...
840 characters

3.38
/5
rDev
-2.9%
look: 4 | smell: 3.5 | taste: 3.5 | feel: 3 | overall: 3
June 2007 Bottle Date; Sampled September 2008
An average pour into my 25cl tulip glass produces a two-finger thick, dirty, purple stained, cream colored head. The beer is quite dark and is a deep concentrated, purple color that shows a brilliantly clear, ruby hue when held up to the light. The aroma smells of currant and concord grape jam as well as a green, almost woody sort of grape stem like thing. There is also an aromatic note that reminds me of children's aspirin, plus there is something towards the finish that makes me think of a musty, damp cave.
The first sip is surprisingly tart, before it becomes sweet. The sweetness becomes more dominant than the tartness, but at least there is some sour character here to help offset the sweetness. Fruit flavors of concord grapes, cassis liquor, bitter-sour lemons towards the finish, some grape stem sort of thing again and a slight medicinal note are all noticeable. This has a bit of heft to it from the light sweetness, but still remains fairly drinkable, there is also a tannic heft to it and a lingering tannic astringency that sticks to the teeth and palate towards the finish.
While not a traditional interpretation of the style, there is at least a funky, sour base beer here that helps add a lot of complexity underneath the lightly sweet fruitiness. I am certainly enjoying this a bit more than I might normally because of the lame "spontaneously fermented" beer I had just before this.
Purchased: Papago Brewing, Scottsdale AZ
1,504 characters

2.93
/5
rDev
-15.8%
look: 3.5 | smell: 3 | taste: 2.5 | feel: 4 | overall: 3
Poured from a 12.7 oz. bottle into a tulip. Bottled in August 2007.
a - Pours a dark reddish purple color with one inch of red-purple head with little retention.
s - Smells of grapes, dark fruits, and yeast. Smells a lot like grape juice.
t - Taste is grapes and dark fruit. Again, tastes like carbonated grape juice with a little bit of wine mixed in.
m - Medium body with low carbonation.
d - Not a big fan of this one. Tastes like carbonated grape juice with some wine splashed in. Wouldn't try again.
509 characters
3.5
/5
rDev
+0.6%
look: 3.5 | smell: 3.5 | taste: 3.5 | feel: 3.5 | overall: 3.5
I'm not too sure about this one - but I saw it and picked it up on impulse. I've not had a cassis lambic before.
A - Poured into my Ommegang 10th anniversary goblet. Decent pinkish-purple head, body of grape juice.
S - Aroma is mostly vinous, grapey. Also smells like Sweet-Tarts candy.
T - I was wondering where this was going to fall on the scale of lambic dryness - very dry and sour like a traditional Cantillon, or very sweet like the sweetened Lindemans Framboise? Well, my answer is that it's somewhere in between. It is *very sweet*, yet there's also a real mouth-puckering sourness, acidity. Sour black currant juice, and a little cheesy funk. Pretty interesting...if you happened to be looking for something in between traditional fruit lambics and Lindemans Framboise, this just might be it.
F - Very carbonated, as most lambics tend to be.
D - This is actually pretty good. Easy drinking with the low alcohol - it doesn't even really feel like an alcoholic beverage. Refreshing in the hot weather.
1,019 characters
3.7
/5
rDev
+6.3%
look: 4 | smell: 4 | taste: 3.5 | feel: 4 | overall: 3.5
Concord grape with bright cherry highlights. The beer is topped by a wonderful looking foamy crown that can only be described as mauve. For once I don't have to struggle to come up with (arguably) interesting ways to say yellow, orange, brown, black and off-white. A few concentric rings of blurry lace put the finishing touches on this unique looking lambic.
The aroma is akin to something that Brouwerij de Troch (Chapeau lambics) might offer, if they brewed a cassis beer, but with less vinegary oakiness and more fruit. It also smells less sweet and simple than the Lindemans lambics. Sounds like a winning combination.
Premium Cassis isn't as cassis-like as I had hoped. There's no mistaking it for any other flavor, it's just that my buds want more fruit and less fruit-vinegar-stored-in-oak-casks. Although it's coming together a little better in the middle portion of the bottle, it isn't enough of an improvement to earn the next highest score.
The flavor profile should be fairly obvious by now... less sweet grape juice, wood, and small splashes of lemon juice and apple cider vinegar. What is a nice balancing act with respect to the nose probably hurts the beer on the palate. In other words, the lambic geeks will find it too sweet and simple, while the chicks and the sweet tooths won't like the tartness and will want more sugar.
There's nothing amiss with the mouthfeel. It continues the theme of compromise by being both light in the mouth (thanks to an ideal amount of tiny bubbles) and slightly slick and sticky on the back end. One of the highlights for sure.
St. Louis Premium Cassis is a decent take on the fruit lambic style, but it fits into a niche that might not find too many takers. By trying to please both camps, it could end up pleasing neither. Especially at $5.89 per bottle.
1,814 characters
St. Louis Premium Cassis from Brouwerij Van Honsebrouck N.V.
Beer rating:
3.48
out of
5
with
13
ratings