Extinction
| Four Friends Brewing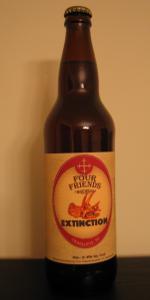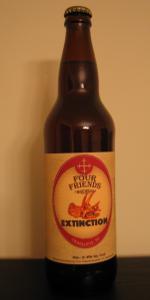 BEER INFO
Brewed by:
Four Friends Brewing
North Carolina
,
United States
fourfriendsbrewing.com
Style:
American Strong Ale
Alcohol by volume (ABV):
9.40%
Availability:
Limited (brewed once)
Notes / Commercial Description:
No notes at this time.
Added by CBlack85 on 12-07-2010
This beer is retired; no longer brewed.
HISTOGRAM
Ratings: 9 | Reviews: 8
Reviews by Apellonious:

3.62
/5
rDev
+24.4%
look: 4 | smell: 3.75 | taste: 3.5 | feel: 3.25 | overall: 3.75
22 oz bomber from FMcD's. No indication as to when it was bottled
A- cloudy orange, thin one finger head, dissipates quickly, with lacing on the side of the glass
S - mild grapefruit and hops
T - like the nose, but with some nutty grains and a touch of bitterness. Scotch ale notes. The alcohol is barely present.
M - slightly thin, has a watery presence.
O - fairly tasty. Wish I knew if this was a new bottling or a cellared version. Very subdued.
456 characters
More User Reviews:


3.2
/5
rDev
+10%
look: 3.5 | smell: 3.5 | taste: 3 | feel: 3.5 | overall: 3
On tap at the brewery
A clear dark orange/copper color with a moderate amount of frothy tan head that slowly recedes leaving behind a decent amount of lacing
Lots of caramel malts with a fair amount of brown sugar sweetness. There is a fairly strong presence of alcohol in the nose. There are some floral hops present, but not a tremendous amount.
Like the nose there is a lot of sweet caramel malt and toasty notes, mixed in with a brown sugar sweetness. There is a small floral hop presence, but not as much as you see in many other examples of the style. The alcohol is not masked at all, almost to the point of being boozy. Medium bodied and moderately carbonated.
This beer was originally labeled as an IIPA, I think it was a good decision on Four Friends part to rebrand it as an American Strong Ale. While it is slightly boozy, I think the beer works well and is a nice contrast to the overuse of hops in nearly every style produced these days. Sometimes it is okay to produce a big malt bomb of a beer and not have to overwhelm it with palate wrecking amounts of hops.
1,081 characters

2.96
/5
rDev
+1.7%
look: 3.5 | smell: 2.5 | taste: 3 | feel: 3.5 | overall: 3
Had this on tap at The Vintner. I had high hopes for these guys. I have to say I was let down a little. I couldn't detect much hop aroma in the nose of this beer. More dry hopping is needed. Also, for a DIPA it was light on hop flavor. There was a detectable bitterness but none of the citrusy, piney characteristics I would hope for. I think the beer would be ok with the level of early boil hops but an additional late boil hopping would give this beer the piney, grapefruity qualities DIPA's are known and loved for. The malt backbone was substantial enough to support the additional hopping. The beer just isn't bright enough. It wasn't bad, certainly not a drain pour or anything but I probably wouldn't order it again. I would classify this more along the lines of an American Strong Ale.
794 characters
4.48
/5
rDev
+54%
look: 4.5 | smell: 4 | taste: 4.5 | feel: 4.5 | overall: 5
I was concerned that this beer was going to be to high gravitity for me but I was surprised how well it drank! It was so smooth. The hop nose was just right. The color was nice and clear. I ended up getting TWO growlers of it so I could enjoy with friends.
256 characters
1.68
/5
rDev
-42.3%
look: 3 | smell: 2.5 | taste: 1 | feel: 2 | overall: 1.5
Pours a medium brown color with a thick off white/brown head and a little lacing. Smells of strong malts, brown sugar, and a ton of sweetness. Tastes of caramel, strong malts, and tons of something like cane sugar or brown sugar or maple syrup. Mouthfeel is medium with a medium carbonation. Overall it is way too damn sweet.
325 characters
2.97
/5
rDev
+2.1%
look: 2.5 | smell: 3 | taste: 3 | feel: 3 | overall: 3
Poured into a 8oz glass -- since it was a higher ABV beer -- instead of a 16oz pint glass. Had orange color but no head or lacing as I drank it. There was no real smell. Taste: this beer seems to be all about the alcohol. It was not masked whatsoever. It's very boozy and difficult to get through. At first I was disappointed that it came in a 8oz glass, but then after the first couple of sips I was happy that it came in a smaller glass. The mouthfeel is a little too thin. Overall: I'm really rooting for this brewery. But, I think they missed it on this beer. I'm a big IPA fan and was really hopeful that it was going to be great.
635 characters

1.83
/5
rDev
-37.1%
look: 2.5 | smell: 2 | taste: 1.5 | feel: 3 | overall: 1.5
I have to admit I was disappointed by this beer. My ratings try to reflect both how I enjoy the beer and how well I think it adheres to the style. This beer disappointed me in both regards.
A - Pours a bit brown for any IPA, imperial or otherwise. Very little head, which was very pale, considering the color of the beer.
S - Not a lot there. Malt is obvious, but where are the hops?
T - Sweet, malty, little else. This beer would not survive the voyage to India. No perceptible pine or citrus, and only a faint hint of bitterness.
M - Heavy, with little carbonation.
D - I could not finish it. This beer is so imbalanced that it becomes a chore to drink.
It is possible that I got a bottle that was old or wasn't stored properly, but I don't think so. That was my first thought when I couldn't detect any hop aroma. But I just drank a year-old Dark Horse Double Crooked Tree that my local beer shop found in their cellar, and it was a great transformation from last year's fresh ones. In that case, the hops were missing from the nose, but the bitterness remained. This beer seemed like it never had many hops to begin with.
1,131 characters

2.97
/5
rDev
+2.1%
look: 2.5 | smell: 3 | taste: 3 | feel: 3 | overall: 3
A bomber purchased at the brewery poured into a Delirium Tremens snifter. Let me start off by saying I was very excited to get this bottle since its local and the only IIPA brewed in town (that I know of)
A- Poured a burnt orange to copper with a VERY thin white head. Just a ring around the glass
S- There is no evidence of hops to speak of. The main thing I get is booze.
T- sweet malty flavor. There is absolutely no citrus flavor at all. There is a pretty strong alcohol flavor also. There is just a slight kiss of hops in the back end.
M- there's not much to it. Very thin and almost no carbonation
D- Seems to be smooth. At this point I'm almost positive this beer is flat, at least I would hope so.
While I was at the brewery I was able to taste the rest of their lineup (excluding the Imperial Stout) and I was impressed by everything else. I was looking forward to trying this beer and I was extremely disappointed. I really hope to have this on tap to see if anything is different, otherwise this beer is classified wrong because it taste nothing like any other IIPA I've ever had.
1,097 characters
Extinction from Four Friends Brewing
Beer rating:
2.91
out of
5
with
9
ratings