Unionist
| Eagle Rock Brewery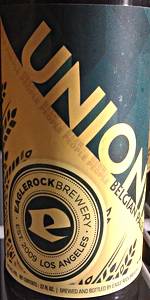 BEER INFO
Brewed by:
Eagle Rock Brewery
California
,
United States
eaglerockbrewery.com
Style:
Belgian Pale Ale
Alcohol by volume (ABV):
5.40%
Availability:
Rotating
Notes / Commercial Description:
A combination of Belgian and English styles, this Belgian Pale Ale has the subtle spice characteristics of cinnamon and nutmeg, produced by the Belgian yeast. The medium body and biscuity malt backbone, common in English ales, support the subtle hop bitterness to make this beer a perfect blend of styles.
Added by UCLABrewN84 on 07-29-2012
Reviews: 6 | Ratings: 21
3.69
/5
rDev
+11.5%
look: 3.75 | smell: 3.5 | taste: 3.75 | feel: 3.75 | overall: 3.75
On-tap at the source itself, on to the beer:
This Belgian pale ale is toasted yellow colored with hues of orange. Solid head on top with acceptable retention and a little lacing off to the side. The aroma has some gum, spice, and a gentle crispness of clean grass. it's a simple Belgian styled ale, but it also seems to have a bit of American accent to keep the Belgian character controlled. The taste of bubblegum, bits of clove, gentle clean bitterness, and a dab of honey are appealing together, and being balanced between, helps make the beer easy to drink.
562 characters

2.51
/5
rDev
-24.2%
look: 2 | smell: 2.75 | taste: 2.5 | feel: 2.25 | overall: 2.5
22 ounce bottle decanted into a tulip. 5.4% ABV.
Appearance: Tarnished gold. Cloudy body. Almost completely flat (2/5).
Aroma: Smells like fermented apple juice. If I dig I can find a little bit of clove and cinnamon. I also pick up a very faint whiff of vinegar (2.75/5).
Taste: Very watery and thin. Not a lot of flavors to describe. There's some of the apple that's in the nose, a bit of pilsner malt, and a hint of Saaz bite on the end. As the beer nears room temperature, the apple and pilsner seem to switch positions on my tongue (2.5/5).
Mouthfeel: Medium body, almost zero carbonation (2.25/5).
Overall: First of all, I'm not sure what happened to the carbonation in this beer. I'm assuming this was the result of a leaky crown, and not the intended volume of CO2. Secondly, I'm struggling with the blatant simplicity. On the label Eagle Rock describes it as "easy-drinking", but I would argue that it has been made so "easy" that it has been stripped of any character or personality. I might as well be drinking the Blue Moon version. Belgian Pale Ales aren't supposed to be an unsolvable enigma, but there's just nothing to this beer. I didn't hate it, but I would never pick up another bomber (2.5/5).
1,237 characters

3.44
/5
rDev
+3.9%
look: 3.5 | smell: 3.25 | taste: 3.5 | feel: 3.5 | overall: 3.5
Handsome orangey amber in the Crooked Line straight tulip. Nice mustache of foam with some lacing along the glass. Tangy and toasty with a hint of berry seeds. A rich mouthful but a lighter sort of body.
Some dry fruity flavors with pomegranate and red grape skins. Yeasty bitterness comes to the front. Dry finish with a bitter edge. Slightly woody.
This starts out like a Wit, with some grainy flavors, but moves along to the celery and toast. Quite likeable mix of flavors and fragrances. Something seedy and herbal in this. Bitter and less interesting than many others of this style but plenty drinkable. From the 22 oz bottle bought at Bottlecraft in San Diego.
668 characters

2.4
/5
rDev
-27.5%
look: 3.25 | smell: 2.5 | taste: 2.25 | feel: 2.5 | overall: 2.25
5.4% ABV. 1 litre swingtop growler acquired an hour ago at the brewery. Cost was $7.00. Expectations are average given the brewery. I highly doubt they can brew this style well.
Served after some time in the fridge to make sure it was still cold. Side-poured with standard vigor as no carbonation issues are anticipated.
A: Pours a 2.5 finger beige colour head of decent cream and thickness, and good retention considering it's a growler fill (albeit a very recent one). Retention is about 4+ minutes. No lacing at all as the head recedes. Body colour is a clear copper-gold. Carbonation bubbles are abundant. Translucent. Generic and typical for the style but nevertheless appealing.
Sm: Abundant floral hop character, with some underlying malty nectary sweetness. Heavy crystal malt. Some butterscotch diacetyl off-flavours. Heavy candi sugar. A mild strength aroma. No yeast character or alcohol is detectable.
T: Floral hop character over top heavy malty sweetness. Unwelcome candi sugar adds heavy sugary qualities to the body. Too damn sweet. It's simple and boring. Off-putting. Imbalanced and poorly built, lacking both subtlety and complexity.
Mf: Smooth and wet. Sugary; I can feel my teeth eroding. Decent carbonation. Poor palate presence. Hardly suits the style at all.
Dr: A poor Belgian Pale from Eagle Rock; yet another bad beer from them. I regret buying a 1 litre growler full, but it's drinkable enough I guess. I'll finish it without significant issue. In any case, it's not at all recommended. Vote with your dollar and leave this one on the shelf. Reminiscent of amateur homebrew.
D+
1,619 characters

3.68
/5
rDev
+11.2%
look: 4 | smell: 3.5 | taste: 3.5 | feel: 4 | overall: 4
The pour is a pale golden color with a white head. Some good spicy notes on the nose along with straw, grain husk, and mild fruity (banana) esters. A light yeast aroma and mild white pepper. Flavor is mild to moderately sweet with banana, bread, and biscuit notes. A hint of white pepper, straw, and grass. There is a mild spice character on the palate.
353 characters
3.53
/5
rDev
+6.6%
look: 4 | smell: 3.5 | taste: 3.5 | feel: 3.5 | overall: 3.5
On tap at The Surly Goat in West Hollywood, CA.
Pours a slightly hazy orange with a foamy tan head that settles to a film on top of the beer. Foamy rings of lace line the glass on the drink down. Smell is of malt, grain, and some citrusy aromas. Taste is of malt, grain, spices, yeast, and some slight citrus flavors. This beer has a lower level of carbonation with a slightly crisp and medium bodied mouthfeel. Overall, this is a pretty good beer that is drinkable but nothing all that exciting in my opinion.
513 characters
Unionist from Eagle Rock Brewery
3.31
out of
5
based on
21
ratings.