El Chupalupalo
| Lagunitas Brewing Company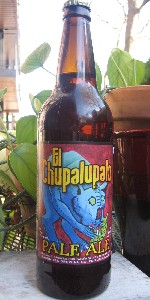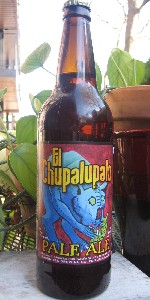 BEER INFO
Brewed by:
Lagunitas Brewing Company
California
,
United States
lagunitas.com
Style:
American Pale Ale (APA)
Alcohol by volume (ABV):
5.80%
Availability:
Year-round
Notes / Commercial Description:
No notes at this time.
Added by scruffwhor on 02-25-2009
This beer is retired; no longer brewed.
HISTOGRAM
Ratings: 8 | Reviews: 7
Reviews by barnzy78:

3.32
/5
rDev
-8%
look: 4 | smell: 4.5 | taste: 3 | feel: 3 | overall: 2.5
22oz. Pours a pale orange color with hues of yellow. White head with decent retention and lacing. Very pleasant floral hop aroma with citrus and pine. Tastes are a slight initial malt, grapefruit, some pine, and a huge hop bitterness that unfortunately reaches a point of no return. Aromas made this seem like it was going to be better than it was. It was an okay APA, but not recommendable - balance is definitely off here.
424 characters
More User Reviews:
4.35
/5
rDev
+20.5%
look: 4 | smell: 4 | taste: 4.5 | feel: 4.5 | overall: 4.5
Special brew by Lagunitas for Sam's of Chicago. Perhaps a bit of age has helped as I believe this brew is a bit better than prior reviews reflect. Could be a matter of subjective taste or maybe this one needed some time in the bottle.
In any event, it pours a bright/clear amber orange with a short white head. Nose of grapefruit skin and fresh lemon/citrus with hints of pine and hints of underlying fruity malt.
Mouthfeel is big and rich with big full flavors and complexities and layers of flavors. Flavors start with big assertive grapefruit, yields to bright oranges and finishes with a pleasant bitter pine.
Finsih is big bitter grapefruit and hops with underlying malt. All around good beer and likely good with almost any food. A good "go to" beer.
760 characters

4
/5
rDev
+10.8%
look: 4 | smell: 4 | taste: 4 | feel: 4 | overall: 4
Brown bomber with interesting artwork, but no freshness dating.
Poured into my SA glass, the beer is a hazy copper with a clumpy off-white head.
Great aroma of pine, caramel and fresh grains.
The beer leads with resiny bitterness, besides the pine notes, there is citrus (grapefruit and maybe lemon), some sweetness from the malts that have an almost toffee undertow. Hops are clearly the dominate partner in this brew.
The mouth is a bit of an odd fellow, but in a good way. It starts slightly oily and coating then the active carbonation blasts the coating away.
This may be a bit unbalanced to session, but I really enjoyed the bottle and would buy again.
668 characters
2.38
/5
rDev
-34.1%
look: 3 | smell: 2.5 | taste: 2 | feel: 3 | overall: 2.5
Got this bottle at Sam's in Chicago. And I'm glad I did, but only because it's another data point. Very average pale ale. Poured with a medium head and a little lace. Color is a hazy medium to gold amber. Aroma is malty, wet cardboard, hoppy, a bit of butterscotch, and a little bitter. Flavor's about the same. Body and carbonation are ok. Finish is bitter. Not one of Lagunita's finest.
388 characters
3.75
/5
rDev
+3.9%
look: 3.5 | smell: 3.5 | taste: 4 | feel: 3 | overall: 4
Specially brewed fo Sam's Wines & Spirits by Lagunitas Brewing Company.
Pours a very clear tea colored, light amber. Mediocre bubbling with a good starting film of head after the pour that slowly recedes to nothing. ai get ctrusy smell akin to when you first dig your fingernails through the skin of an orange. Mixed with a just a touch of crystal and amber malt. The taste is just a little less hoppy, but still citrusy throughout. The malts make the diffrence in the middle of the palate. While the bitter citrus comes in again for the finish. Classic sessionable APA. Hopheads take note.
594 characters

3.92
/5
rDev
+8.6%
look: 4 | smell: 4.5 | taste: 3.5 | feel: 4 | overall: 4
A: An orangey, yellow-amber in color. Cloudy. Pours with about an inch of foamy head that dissipates quickly, but manages to leave some lacing on the way down.
S: Wonderful bouquet of floral and tropical fruit hops. Peach, apricot, and mango.
T: Light malts provide just barely enough support for the hops. Hops are nearly as prevalent as they were in the nose. Actually there is a slightly sour, yeasty flavor to this beer, though it is not necessarily unpleasant. Note some light fruit flavors as well.
M: Light to medium in body. Decent carbonation.
D: For the price ($3.50 bomber) this is a surprisingly good APA, for which I am judging it. This is not an IPA or DIPA. It is not a hop bomb nor is heavy on the malts. But, it's easy to drink, has a great nose, and acceptable flavors. At 5.8%, this could easily be a session beer.
840 characters
3.9
/5
rDev
+8%
look: 4 | smell: 4 | taste: 3.5 | feel: 4 | overall: 4.5
Pours a dusky orange with bubbles twirling up like a tornado in the glass. Decent head retention and nice lacing.
Smell is mildly sweet, slight caramel, lots of bitter hops in the form of citrus and pine.
Taste is a bit milder than the smell. Citrus of mild grapefruit, a bit of grass and pine at the start. A bit dry in the finish and not overly sweet.
Feels a little watery but this is a very drinkable APA. This thing went down way too fast!
445 characters
El Chupalupalo from Lagunitas Brewing Company
Beer rating:
3.61
out of
5
with
8
ratings