Redwood Curtain Brewing Company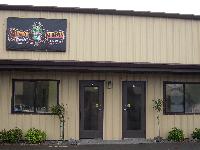 PLACE INFO
Type:
Brewery, Bar
550 South G. Street Suite #6
Arcata
,
California
, 95521
United States
(707) 826-7222 |
map
redwoodcurtainbrewing.com
Notes:
Tasting room sells pints to drink and beer to go.
Added by hobojon on 02-03-2010
Reviews: 10 | Ratings: 25

3.99
/5
rDev
-1%
vibe: 4 | quality: 3.75 | service: 3.5 | selection: 4.75
I visited Redwood Curtain last night and it's a pretty cool place. The build-out is all new-looking and is a mix of old-school bar and hip, trendy brewpub. They have 23 beers on tap, which is gargantuan for a brewery this size. The beer itself was pretty decent, although of course I couldn't sample everything. They seemed to do a really good mix of styles, and I'd love to try more of them if I ever make it back to Arcata. Redwood Curtain is totally worth a visit.
★
472 characters
4.08
/5
rDev
+1.2%
vibe: 4 | quality: 4.25 | service: 3.75 | selection: 4.25
Cool little brewery with a laid back vibe. Visited during low traffic hours so had the bar pretty much to ourselves. Was pleasantly surprised by the sour selection. Any place that has shuffleboard is cool in my book
★
215 characters

4.64
/5
rDev
+15.1%
vibe: 4.5 | quality: 4.5 | service: 4.75 | selection: 4.75
A bit off the way, but well worth the stop. Nice tasting room with indoor and outdoor seating. No on site food, but they offer snacks and happily allow outside food. Really nice vibe and I see them doing well. Very impressed by the quality and diversity of their brews!
★
278 characters

4.14
/5
rDev
+2.7%
vibe: 4.5 | quality: 4.25 | service: 4 | selection: 4
This is a fun and pleasant tap room that partly makes up for its lack of food and bad location with a simple but nice interior feel, outdoor area, nice vibe and atmosphere, and good beer.
One of the two man downsides is that it has no food but they compensate by allowing you to bring your own and they have a menu from a pizza place so one can order pizza to be delivered although we have not tried that.
The other downside is the location - this is a brewery in an unattractive, dodgy industrial area on the southern edge of Arcata, which has its fair share of dodgy people. Arcata has a decently sized, attractive and lively downtown with nice old buildings surrounding a public square and it's too bad the taproom is not closer to there.
The decor, as stated, is simple and spare but attractive and comfortable and they have the outside seating area.
The beer is overall very good, some outstanding, and they have a nice range. The main drawback is lack of cask beer.
Service is good and friendly but they seem to need at least one more person.
★
1,057 characters

3.23
/5
rDev
-19.9%
vibe: 3 | quality: 3.5 | service: 3 | selection: 3.25
This was stop #9 for my wife and I on a 21-day pub-crawl from Michigan to N. CA and OR. We stopped here to try their beers, although a food truck was there sod we also had a snack to go along with the beer. This place is in a multi-occupancy building in an industrial park that is out and away from much of everything else except the industrial neighbors, and the brewery was the only activity that evening among the few buildings in the area. A taproom has been partitioned off from the side of the building where the beer is brewed, and it was a nice evening so a large overhead door was open. A band was getting set up to play, and the table that we had chosen (the only one available because the place was busy) was right in front of a large speaker, so we drank and ate quickly, and left before the music started.
For a relatively new brewery they do a good job of brewing their beers to style. We had a sampler flight of 6 of the 12 beers that were on tap, and we liked them all. A couple of them were well above average, but most were just average of just a cut above, so our point rating system allowed for a C+ grading that was nearly up to a B minus. I'm guessing that the beers will continue to improve over time.
★
1,227 characters
3.97
/5
rDev
-1.5%
vibe: 3.75 | quality: 4 | service: 3.75 | selection: 4.25
New-ish tasting room/brewery in Arcata. Located right across the street from the Arcata Marsh, which is nice. Not much in the way of windows inside, but the back does have a roll up door that opens up onto another parking lot, reasonably nice view above that, though.
Nice redwood tables inside, including a long one in the middle of the space and smaller tables dotted around the side and front. They have lots of games on hand to play, including a cornhole set to play in the back.
11 beers on tap when I visited, including a delicious Belgian Porter and some nice hoppy offerings. There was also a vintage barleywine, dubbel, tripel on tap. I had the sampler of all their beers which was very reasonably priced.
Quality-wise, this was probably the best brewery in the area that I visited while up in Humboldt County. I like what they are doing and hope to see their beers in my neck of the woods someday soon.
Definitely worth a visit if you are in the Arcata/Eureka area.
★
983 characters
4.07
/5
rDev
+1%
vibe: 4 | quality: 4 | service: 4 | selection: 4.25
I usually review food but this brewery on the north coast is worth a mention even though they don't serve food. Very nice atmosphere, new, clean and comfortable casual. Tables are redwood tops over wine barrels with stools. Art work on walls is for sale so probably by a local artist. The quality of our visit was great, we went back a 2nd time cause the beer was so good. Service was friendly and reasonably fast for the crowd. The beer selection was above outstanding, they had a Citra pale ale that was beyond good. I would say their selection was better than what it says on the web site. They don't serve food but there are food wagons that do visit and you can probably bring in food with you. They do have fish crackers and peanuts on the tables. The food wagon that was there on our 2nd visit was the Wandering Weenie Wagon and we all had hot dogs. It has a variety of choices, two that were really good were the Rotweiler and Lebowski. The one that wasn't that great was the Wild Game. Don't get it, yuck! Value is a solid $$.
★
1,035 characters
4.54
/5
rDev
+12.7%
vibe: 3.5 | quality: 5 | service: 4 | selection: 5
Great beer, cool set up. Some what hard to find unless you know what you are looking for. Front area is comfortable with the rear being slightly industrial with the fermenters etc. Small bar with 5+ tap lines, growlers and merc to go at the bar. Hip, some what friendly crowd, no real beer geeks to chat with.
★
309 characters
4.74
/5
rDev
+17.6%
vibe: 4 | quality: 5 | service: 5 | selection: 4.5
I absolutely love this place. Currently Redwood Curtain hasn't garnered much attention outside of the Arcata/Eureka area so I thought I'd do it the service of reviewing it.
This place has become a personal favorite brewery of mine. They offer stellar beers, mainly Belgian style (some of the best outside of Belgium -- their trippel, and Belgian porter are fantastic), great and friendly service, a relaxed (albeit a little too small) environment, and free goldfish.
However, what separates them from the others in my mind (besides free fishies) is their unabashed penchant for switching it up. They frequently hold things like "Dry Hopped Wed" where they offer some of their standards dry hopped with a different hop. They also tend not to stay with any particular beers for too long. They have a few which are always offered but some of my favorites of theirs are but mere memories now (RIP Space Oddity...for now?).
They also like to hold great little release events. Since this place is a true micro, and they don't bottle any of their beers, they can pretty much do whatever they want. They know how to keep this place fresh and keep me coming back.
As of now, this brewery is still a little young. My prediction is that they will just keep getting better and better, as they appear to be doing. Although, as much as I love the little local brewery vibe to this place (this is no fancy family restaurant/sub-par brewery joint) I think what will improve the place most is expansion on all fronts.
These guys could be big. They just need to have enough equipment to be able to create new beers without having to kill others. They 86ed one of the best IIPAs I've ever had so they can experiment with other brews. I love how they aren't afraid to change it up, but I just wish that delicious beer wasn't lost in time. Bottling would be nice. They also need to expand their tasting room as lately it is always packed.
So I guess at the end of the day my only real complaint is that I can't have all of their beers all of the time.
Cheers RC
★
2,049 characters
4.29
/5
rDev
+6.5%
vibe: 4 | quality: 4.25 | service: 4 | selection: 4.75
I reviewed this place back when they opened a few years ago, figured I'd re-review the place since it's changed so much. (for the better!)
RWC is in an industrial park, but the inside is really nicely done. Open, lots of seating, games, (shuffleboard!) and a few seats out back as well. Place was tiny when it first opened, now it holds probably 10 times as many people.
Quality is quite good. I had a few samples and everything was solid to excellent. I think these guys are putting out the best beer in Humboldt now.
Service was good, my server was pretty friendly, attentive and quick.
Selection is great, they had 22 beers on tap. With everything from Belgian styles, Barrel aged barleywines, IPAs, Pale Ales, and sours. Definitely something for everyone.
As mentioned, this is maybe the best brewery in Humboldt now, awesome place.
Original Review below
______________________
3.64 (3.5/3.5/4/3.5)
Small tap room in an industrial park. Sounds like nothing special, but this place felt "cozy" with a few chairs at a bar, good music, and some seating in a small entry room. Felt like a locals place for people that enjoy beer.
Quality is pretty good, I think Redwood Curtain is still figuring things out, and improving their beers. The IPA I had here was solid, but the gold I had before was just so-so.
Service was good, the guy was friendly and quick.
Selection was decent. About 6 or 7 beers, quite a few "Belgian Styles" would have liked a little more variety though.
No food.
Prices are fair. My review might not be glowing, but if you are in Arcata, I'd recommend checking it out and supporting this new place. I know I'll be back again.
★
1,660 characters
Redwood Curtain Brewing Company in Arcata, CA
4.03
out of
5
based on
96
ratings.