OTTO-Optimizer
| Epic Ales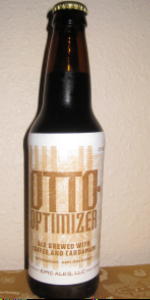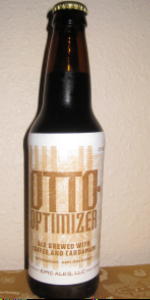 BEER INFO
Brewed by:
Epic Ales
Washington
,
United States
epicales.com
Style:
American Porter
Alcohol by volume (ABV):
not listed
Availability:
Year-round
Notes / Commercial Description:
No notes at this time.
Added by RedDiamond on 02-23-2010
This beer is retired; no longer brewed.
HISTOGRAM
Ratings: 14 | Reviews: 13
Reviews by RedDiamond:
3.55
/5
rDev
+4.4%
look: 3.5 | smell: 3.5 | taste: 3.5 | feel: 4 | overall: 3.5
The concept behind OTTO is that it combines a brown ale with Turkish coffee. This includes the use of actual coffee, cardamom and unmalted roast barley. OTTO is dark rusty auburn with a coffee husk aroma and taste, and suggests something more akin to a porter than a brown. The coffee elements taste a little stale, but the cardamom lends a welcome enhancement and the taste ultimately grows on you, especially after some warming and a release of CO2. An acquired taste you may wish to acquire.
494 characters
More User Reviews:
3.95
/5
rDev
+16.2%
look: 4 | smell: 4 | taste: 4 | feel: 4.5 | overall: 3.5
Was enticed by the encouragement of my beer seller to try this "Turkish" coffee ale. Poured from a 12 oz. bottle into a standard pint glass. Wasn't sure what to expect from the color but looked like a brown ale, a not too dark milk chocolate color with a soft amber hue. Good two finger head that left only a little lacing.
The smell was pretty good. Fresh ground coffee, unsweetened cinnamon, and definitely cardamom.
The taste was unique, not like a coffee porter (which is what I expected). The spices added a flavor I've never had in a beer before and it took getting used to. I drank this fairly cold as I tend to do with porters and browns. It was crisp and dry with a strong flavor of an Asian coffee roast with the malt and hops muted but definitely there.
I could drink one of these every once in a while. It was good but I'm not sure I would even want a 22 oz. of this. I will get this again to share with my BA friends.
Bottom line: This new brewer is living on this edge and making a solid line of beers. I'd like to see what else he produces.
1,060 characters

3.11
/5
rDev
-8.5%
look: 4 | smell: 3 | taste: 3 | feel: 3.5 | overall: 3
Review from 9/2010 notes. Poured into a Gulden Draak tulip. Pours a dark, dark brown with a nice small tan head and lacing. Aroma of coffee and an odd estery odor. Creamy body, starts with some dark malts and coffee, but the cardamom and other odd flavors quickly overwhelm the traditional porter flavors and not in a good way. Interesting, but too odd in flavor to be really enjoyable. I like what this brewery is doing, but I think the off beat yeast is not to my taste.
472 characters

2.97
/5
rDev
-12.6%
look: 3.5 | smell: 4 | taste: 2.5 | feel: 3 | overall: 2.5
12 oz. bottle shared by twig86 - thanks, Derek!
Pours deep, dark brown with a light tan head. Head retention around the edges only with minimal lacing. The smell is very unique with big notes of cardamom and coffee ground...smells a lot like Turkish coffee. The taste is a big letdown - tastes like watered down Turkish coffee with a light toasty malt sweetness. This is quite thin-bodied and carbonation is a bit low. Aside from the smell this just isn't all that pleasant and I wouldn't recommend it.
503 characters
3.16
/5
rDev
-7.1%
look: 4 | smell: 3 | taste: 3 | feel: 4 | overall: 3
Picked this up on a trip to Seattle a few months ago, interesting looking local.
Poured into a tulip pint: Near-black brown with some deep ruby highlights. A finger of mocha head that drops to a thin coating.
Weird smell -- floral but with some heavily roasty, practically burnt background. Like charred flowers. Some seasonings in there, but closer to potpourri than something I'd want to drink. I can't stop smelling it, though -- definitely unique, if not necessarily appetizing.
Whoa -- I kind of forget how smell can translate to taste sometimes but be a way more intense experience. I pretty much get what I was getting from the aroma: the heavy roast coffee, the floral, gingery cardamom. Takes me aback at first, & not in a good way, like the way flowers can make you a little sick. The cardamom is definitely overloading me right now -- it's a very interesting, organic flavor, like some more "afield" teas. I have no doubt it's very clear & feels authentic. A few sips in I can tolerate it, but it's still "interesting" at best.
Feels absolutely fine -- medium-bodied, smooth, kick in the right places. Good.
Gotta give Epic Ales credit for trying something new, & for what it is I think they did a remarkable job -- the intended flavors are very forward & recognizable, they even kind of blend together in a pleasantly peculiar way. This beer is actually...kind of...starting to grow on me. If only they could find a way of delivering your tenth sip first, this would be much better. As it is, I'll say it takes some getting used to. Very glad I tried it, & I might even be up for it again now that I know a little more what to expect. A challenging brew, & I truly mean that in a complimentary way.
P.S. This just occurred to me -- something else I really give the makers credit for is including a non-traditional ingredient & presenting it very prominently in the flavor profile. So often you read a label, that it contains so-and-so, & that thing is virtually undetectable. Definitely NOT the case here, & for that I applaud them. That being said, if there were a rating for "artistic merit," I'd give this a 5. I hate that so many of my ratings translate to "average," because this beer is anything but. I feel I can appreciate it, even if I don't necessarily "enjoy" it all that much.
2,308 characters

3.42
/5
rDev
+0.6%
look: 3 | smell: 3.5 | taste: 3.5 | feel: 3 | overall: 3.5
pours a cloudy dark brown with a red tint, a thin tan head, and some lacing.
smell is of spice, ginger, coffee, a touch of caramel, some dark fruits, and nuts in the back.
taste is of ginger, coffee, some tartness, hops, spice, and a touch of pepper, ends a litle oily, and slightly bitter.
292 characters

4.32
/5
rDev
+27.1%
look: 4 | smell: 4.5 | taste: 4.5 | feel: 4 | overall: 4
Served in a snifter glass, but I think I may just need to revisit this with friends and serve it in small coffee cups a'la proper Turkish Coffee presentation.
Lovely aroma of coffee and cardamom and the roasty, bitter coffee and spicy cardamom flavors remind me of a few of the Turkish coffees I've drank in Seattle.
Well done!
329 characters
3.81
/5
rDev
+12.1%
look: 2.5 | smell: 4 | taste: 4 | feel: 3 | overall: 4
A beer from one of the newest local pico-breweries.
Aroma is lots of coffee. There's a roast in there that may be malts but could just be the coffee addition. Hard to tell.
Pours deep brown with red highlights when held up to light. Very small head, poured normally into a glass. What little head it started out with becomes a wispy tan bit of foam around the edge and a couple little islands in the mittle. Lots of rising carbonation bubbles breaking on the surface.
Flavor is pretty unique. I pick up the cardomom pretty well right off. Then there's a sweet and roasty malt standard porter flavor profile. That gets blown out on the back end by cofee. Black coffee. Strong Black Coffee. The combo of the roast porter flavors and the coffee reminds me of a chain coffee place that overroasts their beans. I've never had a beer that tastes quite like this. The play of the cardamom and cofee is not something I would have thought to put together but it works.
Body is kind of light and the carbonation level is pretty rough. Has a fizzy quality that I'm not really into.
It's a unique beer. I will probably have it again. Pretty easy drinking but with a bunch of flavor.
1,176 characters

3.58
/5
rDev
+5.3%
look: 4 | smell: 3.5 | taste: 3.5 | feel: 4 | overall: 3.5
Poured from 12oz bottle into a pint glass.
Appearance: color is an extremely deep amber with a very thin layer of light tan foam. It's lighter than I'm used to for a Northwest porter, but it's probably a lot closer to a traditional porter recipe than most others.
Smell: rich aroma; the coffee and cardamom are readily noticeable. To me, the overall effect is the same heady aroma that I get when cutting back blackberry bushes and ivy. Very organic, but nice in its way.
Taste: coffee grounds, bushes, gardening implements. All of this atop what seems to be a pretty solid, traditional porter. I have absolutely no frame of reference to use for scoring here, but I'm always one to award points for daring.
Mouthfeel: actually, quite a nice creamy texture. Body is medium and there's that nice bottle-conditioned carbonation which is well-integrated and purposeful.
Drinkability: this is tasty at its base, though I can't get over the mental connection of its aroma with performing heavy landscaping labor. Would I have two of these in a row? Probably not. Will I find myself jonesing for one of these a few months hence? Probably.
1,137 characters
3.75
/5
rDev
+10.3%
look: 4 | smell: 4 | taste: 3.5 | feel: 3.5 | overall: 4
Big Thanks to SeaBass for this little coffee treat. I love coffee beer and this is one of the more unique I have come across.
A: Pours a light brown with a nice tan head. No retention with some chunky lace.
S: Lots of spice, almost earthy chili pepper like. Hints of cinnamon, ginger, and mild chocolate.
T: The coffee is there but it is mild. Very earthy flavors. Cinnamon and the chilis lead the way. Mild chocolate round things out.
M: Sort of thin for a porter.
D: Not bad at all. If the base beer was a bit bigger and bold it would be really good. As it is just good. One of the more unique beers I have come across in awhile.
637 characters

3.81
/5
rDev
+12.1%
look: 3 | smell: 4.5 | taste: 4 | feel: 3.5 | overall: 3
had this on tap at the brewery and enjoyed it. opened a refrigerated bottle tonight. the cardamom coffee combo is intense cold, and a bit disagreeable...i remembered liking the interplay much better the last time i'd had it. i decided to let the brown fluid warm while millady talked of how she really liked it. it sat, i pondered the fate of our nation, the pursuit of happiness.
i let it warm, it starts to taste like a mocha ice cream-turkish coffee float, only thin though, so maybe its fat-free ice cream? it still tastes good, i just want a little more flavor. i vow the next time i hear the ice cream man, i'll make it up to him by paying for my ice cream sandwich in homebrew. i swirl the yeast slurry in the bottom of my glass, huff the coffee, chocolate, cardamom roast one last time, and enjoy.
806 characters
3.32
/5
rDev
-2.4%
look: 3 | smell: 3.5 | taste: 3.5 | feel: 3 | overall: 3
Poueed a brown color with a small dirty white head and average carbonation, nothing inspiring on the pour. Nose is coffee, booze but light. Taste is like others mention, turkish like coffee note with a light booze. I def thought this was one dimensional, lots of cardamom. Mouthfeel is a bit thin, not sure of American Porter best describes this style.Worth a try.
364 characters
3.8
/5
rDev
+11.8%
look: 3.5 | smell: 3.5 | taste: 4 | feel: 3.5 | overall: 4
Poured from a 12oz bottle purchased at Full Throttle.
A - An interesting pour that I could have sworn was a can of Coca-cola. Deep caramel cola colored with very fizzy head. Decent retention, but practically no lacing.
S - Interesting aromas. More coffee than beer and the cardamom adds a pretty unique somewhat medicinal but floral note. Very heavy roasted malt is detectable alongside the coffee.
T - My first sip, probably from a too cold bottle, left me disappointed, with the taste actually being a bit off-putting. But as the beer warmed and my palate adjusted, I came to like this beer for its uniqueness. The cardamom adds a very interesting flavor overall - very aromatic, almost minty, and a hint of smoke as well. Coffee is the main other flavor component and together they work quite well.
M - Medium bodied with a spritzy carbonation level. A bit too fizzy perhaps. Cola-like as the appearance, and you can really feel the carbonation on your tongue.
D - Probably not for everyone, and not a beer I would go back to frequently, it is still unique and unlike any other I have tried. Sure, lots of beers have the coffee element but the cardamom adds something quite special. Bonus points for creativity on this one.
1,231 characters
OTTO-Optimizer from Epic Ales
Beer rating:
3.4
out of
5
with
14
ratings