Debauched - Brunello Barrel-Aged

Stillwater Artisanal Ales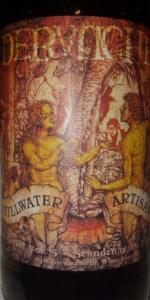 Write a Review
Beer Geek Stats:
| Print Shelf Talker
Style:

ABV:

6.7%

Score:

89

Avg:

4.17

| pDev:

11.27%

Reviews:

14

Ratings:

From:

Avail:

Retired (no longer brewed)

Wants

Gots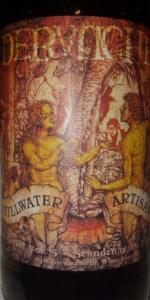 Notes: Scandinavian farmhouse ale brewed with whole juniper bushes
Reviews: 14 | Ratings: 52

3.9
/5
rDev
-6.5%
look: 3.75 | smell: 3.75 | taste: 4 | feel: 3.75 | overall: 4
Bottled reviewed last night to notes.
A- Poured to a few glasses with a slightly hazy golden yellow body. A small white head rises to about a half a finger. Decent retention as the cap falls to a puffy ring. Lacing starts with a nice sheet and some drizzle after that.
S- Brett funk is quite strong here with a barnyard, cherry pie feel. Slight lactic tartness comes to mind but the Brett is fairly dominant for me beyond slight vinous hints.
T- Wine opens up from the barrels a ton here and blends with the large Brett presence. Bretty funk, barnyard, tart cherry pie and mustiness. Lemony lactic and juniper starts to come out with some time. Apple fruitiness.
MF- Dried out light body with a crisp feel. Carbonation is at a moderate level. Fairly tart finish.
Funky brett bomb with a nice tartness and a strong grape/apple fruity feel from the wine and yeast. Juniper seems faded at this point but is slightly there.
924 characters

3.34
/5
rDev
-19.9%
look: 3 | smell: 4.5 | taste: 3 | feel: 2.75 | overall: 3
$11.99 for a bomber. Poured into a tulip.
I must not be a Viking! Not a drain pour but never again. Very much a saison, super funk, but too extreme with the dry bitter finish. Must be the juniper berries. Some hefeweizen characteristics. 3.0
A – Pours a hazy pale yellow with a half-finger short-lived rocky white head, appears thin and watery. 3.0
S – FUNK! Some citrusy/lemon and orange notes, banana and bubblegum esters. 4.5
T – Farmyard, yeasty, a bit of spice, even less sour in the finish at the back of the palate, some apple peel in the finish as well. 3.0
MF – Medium-light body, super dry finish tending towards acrid. 2.75
647 characters
4
/5
rDev
-4.1%
look: 4 | smell: 4 | taste: 4 | feel: 4 | overall: 4
(Served in a teku glass)
A- This beer pours a hazy pale yellow body with a big bubble pushing through a thick snow white head. There is a few tiny bubble trailing slowly up the side.
S- The tart earthy brightness has a flinty aroma and a brett white cheese mold that grows and blends with a raw silage finish.
T- The bright tart flavor leads to a green leaf note and some soft brett cheese rind that lingers. There are a some mellow red wine hints that appear but stay soft. As the beer opens there is some light wine tannin and alcohol note show up in the aftertaste.
M- The light mouthfeel has no astringency and some soft alcohol warmth when it warms a bit.
O- This beer has a very nice balance of tart character and brett funk with some wine barrel hints supporting it. However it doesn't really merit the $10.00 price tag for a small bottle.
856 characters

4.28
/5
rDev
+2.6%
look: 4.5 | smell: 4.5 | taste: 4.25 | feel: 3.75 | overall: 4.25
A: pours a clear gold with two fingers of white head that fades to a frothy ring with good lacing.
S: candy sugar, oak, wine, tart cherries and sour grapes, and some barnyard aromas dominate.
T: light Belgian spices and candy sugar with white wine, oak, and tart cherry flavors. The finish is lightly musty and clean.
M: light body with lowish carbonation, this beer just avoids being watery with the tart bite.
O: an enjoyable and very drinkable saison. Tart, a little sour, sweet, and funky, there's a lotgoing on here.
525 characters
4.24
/5
rDev
+1.7%
look: 4.5 | smell: 4.25 | taste: 4.25 | feel: 4 | overall: 4.25
330ml Bottle
$3.99
Binny's, Bolingbrook
Debauched has an apricot golden body with a lot of haze even on a careful pour. Clumps of carbonation bubbles rush to the surface that's capped off by a handsome pure white head of about one finger in height. With the ample carbonation the creamy head is going nowhere anytime soon. Chunky drink lines are left after each pull.
Although this was brewed with whole juniper branches the nose is intensely saison. Musty green apple, gritty pear, white grapes and underripe peach are all in your face. A little warming brings some spicy juniper forward but it's still overtaken by the bright fruitiness. Mildly spicy esters are thrown off by the yeast and a sugar cookie maltiness lays a welcoming foundation.
Mildly tart pear and peach dominate the flavor while the sugar cookie maltiness is present throughout. A mild, musty, hay-like funk lays atop the entire flavor profile adding nice depth. I get some champagne grapes, which is odd since Brunello is Sangiovese, that add to the saison characteristics. The alcohol is well hidden and the flavors are bright. Damn fine!
The finish is semi-dry, could be a touch drier but it does seem to work with this particular beer. The carbonation is highly active but remains soft. There's a nice fruity tartness on the inside of the cheeks.
I'm highly surprised at the quality of this beer. This is the best, by far, I've had from Stillwater. I wouldn't hesitate picking this beer up again. At $9.99 I would probably pass but at $3.99 I'd clear the shelf. Definitely worth a try.
1,564 characters
4.4
/5
rDev
+5.5%
look: 3.75 | smell: 4.25 | taste: 4.75 | feel: 4 | overall: 4.25
Appearance: Arrives at the bar without much of a head though as the golden liquid is consumed, little squiggles of lace stick to the glass
Smell: Bandaid funk with red wine grape elements and a hint of juniper
Taste: The funk arrives on the front end, with the red wine grape flavors building in the middle along with the juniper; underneath the bolder aspects there is a layer of pear fruit, as well; after the swallow, the Brett adds its funky presence through the finish with the aftertaste alternating between the dry (Brett) and sweeter vinous flavors; the juniper makes a final stand in the aftertaste
Mouthfeel: Medium body with low carbonation
Overall: What a panoply of flavors with each sip bringing out different aspects; a remarkable beer
754 characters
4.55
/5
rDev
+9.1%
look: 4 | smell: 4.5 | taste: 4.75 | feel: 4.25 | overall: 4.5
Poured into a Due South Brewing Co. snifter. No freshness date.
A- Pours a semi-hazy orange color with a 1/4 inch white head that doesn't retain long before becoming a thin ring around the edge of the glass and light, sparse surface foam. Thin, non-resilient lacing slides down the glass.
S- Nice funky aroma of lactic acid that's not too heavy and imparts notes of lemon and apple.
T- Sour in the most subtle way with the yeast playing a heavy part in keeping things balanced and very drinkable. There's also a slight tinge of barrel flavor that rounds everything out. More notes of lemon, granny smith apple, vinegar and even a bit of green olive which leads me to believe there might be some Brett involved.
M- Slightly puckery and a bit dry with medium carbonation and a lightish body.
O- A fantastic beer but I wish it had just a bit more carbonation to drive everything home. Regardless, it's incredibly complex and definitely the best thing I've had from Stillwater thus far. If there were more bubbles and the price was lower (paid $9.29 for a 12 oz), I'd be in love with this beer.
1,095 characters

4.51
/5
rDev
+8.2%
look: 4 | smell: 4.75 | taste: 4.5 | feel: 4.25 | overall: 4.5
12oz bottle poured into a wine glass; purchased around 8 months ago
Big thanks to Jebus3513 for sharing this one.
A faint yellow color with a thin off-white cap. Cap fell slowly, receding to a thin layer of foam over the liquid. Some delicate spider web lacing appears.
Brett has come out to play. Wow. This is easily the best Brett nose I have come across. Layers of saddle leather, sweat, manure, aged cheese, tobacco, and band aid over top of a touch of wine and some damp oak.
Leathery Brett, horse blanket, and aged cheese up front before a clean wave of lightly damp wheat through the middle. Juniper is extremely buried at this point. Wine notes come out in the finish with a dry, slightly peppery finish.
Light bodied and real dry.
Fantastic barrel aged saison. The Brett has taken hold of this beer, and I am by no means complaining. Wine notes are complementary. Excellent.
890 characters
3.73
/5
rDev
-10.6%
look: 3.75 | smell: 3.75 | taste: 3.75 | feel: 3.5 | overall: 3.75
Pours a thick light apricot color, pretty good sized head but doesn't stick around too long.
Smells of sweet white grapes, dry bretty yeast, other sweet fruit like pear and banana. Aroma pretty sweet overall but enough brett that I expect some dryness in the flavor.
Tartness and dry brett up front, fades into a lot of grape flavor but much dryer than the nose. Some banana flavor in the finish. Very dry, but not really acidic sour.
Mouthfeel is good, full body and nice carbonation but not too thick or too bubbly. Works well.
Classic Stillwater, very tasty.
7.5/10
573 characters

4.25
/5
rDev
+1.9%
look: 4.25 | smell: 4.25 | taste: 4.25 | feel: 4.25 | overall: 4.25
Thanks to Coach Kevin for sharing this.
The beer is transparent and pale yellow with a wispy white head. The aroma offers wild yeast, funk, citrus. Smells fantastic. The flavor brings more of he same. Floral notes and a delicate sweetness. Mild tartness finishing with a healthy year presence. Very enjoyable. ---Rated via Beer Buddy for iPhone
345 characters

4.24
/5
rDev
+1.7%
look: 4 | smell: 4.25 | taste: 4.25 | feel: 4.25 | overall: 4.25
On tap at the bridge in St. Louis.
The beer pours a coppery clear amber with no head or lacing. The nose is slightly tart, vinous, oaky, bretty...like a sleeping monster; it's relatively modest until you agitate it vigorously and a lot more funk comes to the surface. The beer drinks similar to a Flanders red with a touch of sweet oak upfront followed by a tart, slightly funky and salty finish. It's mild bodied and highly drinkable, representing great barrel-characteristics, but not slapping you in the face with it. This beer is definitely worth trying and I'm super pleased to see it on tap @ the bridge.
611 characters

4.11
/5
rDev
-1.4%
look: 4 | smell: 4.25 | taste: 4 | feel: 4 | overall: 4.25
On tap at Of Love & Regret yesterday evening. Served in a wine glass.
Pours a clear yellow-golden with a thin white head. Some ringy lace as it goes down.
The nose brings forward nice spice and juniper underneath a really smooth wine presence. Mild oak through the flavor along with the vinous character. Some pepper and phenols.
The body is very light and crisp. Easy to take down with some light vinous character through the finish. Touch of spice in the aftertaste.
Overall, very enjoyable. I'm looking forward to the bottle I picked up.
546 characters

4.12
/5
rDev
-1.2%
look: 4 | smell: 4.5 | taste: 4 | feel: 4 | overall: 4
pour is lighter yellow with a creamy white head. Nose is strong citrus, pineapple, and apricot well balanced with a light dusty Brett presence. Taste is very well balanced, fruity and refreshing. Tons of citrus, pineapple, light dusty Brett and a bit salty in back. Body is light, soft carbonation and smooth feel.
314 characters
4.5
/5
rDev
+7.9%
look: 4.5 | smell: 4.5 | taste: 4.5 | feel: 4.5 | overall: 4.5
big thanks to joefuzz for looking out for me and picking this up for me while on a beer run in NYC. mad props to you my man...VERY much appreciate it!!! enjoyed from my stillwater wine glass.
i was starting to review this under the regular debauched beer and then noticed in fine print on the bottom of the label the key phrase "aged in Brunello wine barrels" SCORE!!!! (image uploaded)
a - popped the cap and filled my glass, brew poured a murky orange with a generous frothy head. to the light i could see some little carbonation bubbles dancing to the surface of the beer. a thin skin of head stayed for the entire time i drank the beer and a swirl brought things to life easily.
s - balanced brett saison. some bubblegum sweetness and a hint of barnyard hay. creamy grapes. subtle vinous qualities. really complex and a gorgeous medley of candied fruit.
t - wow...LOTS going on there. bubble gum sweet saison intertwined with a creamy red wine. the brett funkiness is there as well creating an explosion of different nuances on my tongue. really a wild beer. the brett mixing with the dryness of the finish is almost rubbery. really has more of a red wine feel than a saison feel, but the mix is extremely wild and different.
m - finishes very dry. the wine barrel comes out big time in the feel. creamy and sweet but a dry red wine finish. the brett and saison qualities really dance with the barrel qualities. very tingly.
o - overall this one is puzzling. there is a LOT going on, but it works in a weird way. i've never had a scandanavian farmhouse (that i know of) and i don't think i've ever had a red wine barrel aged saison so it is really perplexing on my taste buds...but i can't seem to put the glass down for more than a second before needing to dive back in for more. the candied sweetness of the saison blends with the creamy red wine in such a wonderful and unique way that the flavor is like nothing else. it is kind of like seeing someone of the opposite sex and looking at them finding yourself perplexed if she is the most gorgeous girl you've ever seen or the most bizarre looking girl you've ever seen...just so exotic that it leaves you unsure of how you feel...and i love it.
2,208 characters
Debauched - Brunello Barrel-Aged from Stillwater Artisanal Ales
Beer rating:
89
out of
100
with
52
ratings