Bel Pils

Brouwerij Duvel Moortgat NV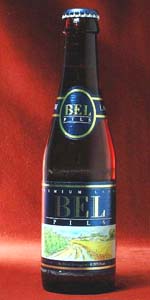 Rate It
Beer Geek Stats
| Print Shelf Talker
Style:

ABV:

5.3%

Score:

Avg:

3.2

| pDev:

13.44%

Reviews:

15

Ratings:

From:

Avail:

Year-round

Wants

Gots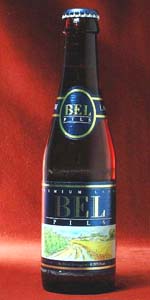 Notes:
FLima from Brazil
3.15
/5
rDev
-1.6%
look: 3 | smell: 3 | taste: 3.25 | feel: 3 | overall: 3.25
Light golden color with a thick fluffy head with decent retention.
Aroma with notes of floral and herbal hops, honey and lemon drops.
Flavor with notes of floral and spicy hops, pale malt sweetness, bread and crude grains. Dry aftertaste with a medium bitterness.
Light body with appropriate carbonation.
Decent, straight forward and easy to drink Pils.
Oct 10, 2019
CalgaryFMC from Canada (AB)
3.44
/5
rDev
+7.5%
look: 3.5 | smell: 3.25 | taste: 3.5 | feel: 3.5 | overall: 3.5
Tried on tap at Beer Revolution, served in a standard tall glass. Can also be found at 1600 or 1410 Bier Haus last time I checked. A Belgian pils brewed by the famous purveyor of Duvel, this is a very pale lemon yellow brew, maybe just a shade darker than straw-colored, with around an inch or so of stark white foam. My initial impression is that this one does have some unique features, even if it falls short of "world beater" standards. Smells almost buttery, with a distinct spicy note that recalls coriander seed even though I am pretty sure there is no such spice in this beer. I also get some standard grainy pale malt and grass notes along with some less standard Belgian yeasty funk, although the latter is so subtle that it could purely be a phantasmal inference of my brain alone. Taste includes all these features as well, along with the fruity character typical of European lagers that registers as "white grape" on my palate, some lemon rind, a tinge of sour berry, and a dull white pepper spice ... Still getting that coriander-type huskiness. Light, crisp, and dry, almost carbolic, with a mellow bitter finish that features the tangy spice note from the initial impression. Body is light and just a little dextrinous, with the requisite aggressive carbonation. Leaves a rather nice lacing on the glass. Can't say this was a negative experience, as I seem to get some unique tastes and smells vis a vis most pilseners.
Feb 06, 2014
biboergosum from Canada (AB)
3.74
/5
rDev
+16.9%
look: 4 | smell: 3.75 | taste: 3.75 | feel: 3.5 | overall: 3.75
500ml tall, skinny bierstein, duly brand-specific, at the Sugarbowl, rated at 5% abv.
This beer appears a clear, medium golden yellow colour, with one finger of puffy, frothy, tightly foamy white head, which leaves a few broad swaths of ornate webbed lace around the glass as things drop away.
It smells of somewhat crisp, warm grainy pale malt, a hint of aged lemon, and earthy, leafy hops. The taste is quite consistent, the graininess getting a bit doughy, though, and the lemon attaining a bit of an acidic edge, all which lifts this beer up, and carries it gently through the fields of laid-back noble hops waiting at the back of the palate.
The bubbles are a tad fizzy, but settle down well enough to a dull hum, the body a decent medium weight, and mostly low-rent smooth. It finishes predominantly on the dry side, the biscuity grain and leafy, earthy hops not really having anything sweet left to give.
Not a bad Pils, especially coming from decidedly non-Pils country. That said, this could use a dose or two of crispness, on both the hop and malt fronts. Worth a try, but further rounds are a no-go at the going rate of 9 bucks apiece.
Jun 14, 2013

JamFuel from Sweden
3.95
/5
rDev
+23.4%
look: 3.75 | smell: 3.75 | taste: 4 | feel: 4.25 | overall: 4
Bel Pils is one of the first "real" beers I tried. Haven't had it for years, but here we go! On tap at ressklubben in Stockholm.
Pours a clear light yellow, fine white foam.
Smell is very clean and malty, with just a hint of hops.
Taste is very crisp and clean. Malty with a hint of rye and backed by a soft floral bitterness.
Mouthfeel is medium, almost a bit creamy.
This was way better than I remembered, but I appreciate a good pilsner more now than I did.
Aug 25, 2012

Kegatron from Pennsylvania
3.58
/5
rDev
+11.9%
look: 4 | smell: 3.5 | taste: 3.5 | feel: 4 | overall: 3.5
On tap @ Bier Circus (Brussels, Belgium) on 7/5/12. Served in Pils glass.
Pours a clear pale gold, with a finger of rich bright-white head. This retains with a foamy ¼ finger cap that leaves back some rich spotty lacing. The aroma smells fresh, grassy, and a bit tart, with a crisp breadiness across the back.
The taste is very crisp on the palate, with green citric hops, a splash of tart lemon, and sweet grains that snap across the back. The finish has a clean and dry feel to it. The mouthfeel is lighter to medium bodied; with a very a drinkable and quenching feel it.
This was a fresh and tasty choice to nimble on while I perused the extensive beer menu here. I think that this was only like 2 euro a glass as well. I was happy with it.
Jul 25, 2012
drpimento from Wisconsin
2.92
/5
rDev
-8.8%
look: 2.5 | smell: 3 | taste: 3 | feel: 2.5 | overall: 3
Poured with a large, foamy, frothy, sudsy, white head and lots of lace. After the head settled a bit the remnants were kind of scummy. Color is a clear, yellow gold with plenty of bubble trails. Aroma is beery, bitter, grain. Flavor is similar to nose with bitterness predominating, followed by a little malt, I think some multiple sweet characteristics, and a bit of tang. Body is good, and carbonation is on the soft side. Finish is like flavor and of average length. Middle of the road pils.
Oct 14, 2011

thierrynantes from France
3.03
/5
rDev
-5.3%
look: 3.5 | smell: 3 | taste: 3 | feel: 3 | overall: 3
Beer bottle (33 cl.), tasted in 2000.
Appearance : a yellow color with a small white head.
Smell : sweet malty aroma.
Taste and mouthfeel : grainy and yeasty flavors, with some bitterness in finish.
Drinkability : an average beer in the style Pilsener.
Dec 25, 2010
SleepyMonk from Australia
2.75
/5
rDev
-14.1%
look: 2.5 | smell: 2.5 | taste: 3 | feel: 3 | overall: 2.5
Chilled bottle poured into a Beck's branded rounded bottom stemmed Pilsner glass.
Very pale straw color that almost compares to a chardonnay or verdelho. One finger worth of creamy head that fades to a thin surface covering. Patches of lacing cling to the glass.
A minute amount of malt and hops move into the nose but one also senses that not a lot of effort was put into building a strong aromatic profile in this one. IMO it smells very similar to a Kronenbourg 1664.
Taste is well rounded without any strong characteristics of anything in particular. The mouthfeel starts of crisp only to fade off yeasty aftertaste. In summary nothing to jump up and down about.
Perhaps something to drink with a pizza or hamburger.
May 12, 2009

Gavage from Nevada
3.02
/5
rDev
-5.6%
look: 4.5 | smell: 2.5 | taste: 3 | feel: 3.5 | overall: 3
Appearance: clear golden yellow in color sporting a bright white one finger head that lasted a while. Mild lacing developed.
Smell: grass tones are very soft and the lone aroma picked up by the nose.
Taste: grainy malt base with some grassy tones. Bitterness levels are mild, and for a pilsner I did not find any refreshing qualities about it.
Mouthfeel: medium bodied beer. Crisp throughout. Clean aftertaste.
Drinkability: this beer's flavor profile seemed weak overall and grew tiring to drink as the glass emptied. Not impressed.
Feb 25, 2009
atis from Finland
3.78
/5
rDev
+18.1%
look: 4 | smell: 3.5 | taste: 4 | feel: 3 | overall: 4
Appearance is golden colour, good and stable head, it is full of small carbonation bubbles. Aroma is mostly floral hops and basic malt. Taste is similar, very well balanced bitterness with a mild and pleasant aftertaste. Medium/thin mouthfeel.
I liked it quite a lot - nothing extremely good, but certainly above average.
Sep 11, 2008
BlackHaddock from England
3.09
/5
rDev
-3.4%
look: 2.5 | smell: 3.5 | taste: 3 | feel: 3 | overall: 3
Brown 25cl bottle drank 17 days before its best before date. Poured into a Veltins Pilsner glass and compared to a Maes Pils (Alken-Maes) poured into a simular glass.
Dull golden colour with bits floating in, not used to lagers/pilsners with floaters! The huge white head retained its size and depth very well, it's the flotsum I was worried about.
This pilsner had an aroma, some hops and yeast smells could be detected, makes a change. Normally I struggle to pick up anything in a lager/pilsner.
This pilsner had a presence, not sure what of, but it was a lot better than its fellow Belgian Maes Pils.
Depth and strength of body was impressive compared to other European lager/pilsner beers. I could drink this if proper beer wasn't available!
Aug 13, 2008
NeroFiddled from Pennsylvania
3.8
/5
rDev
+18.8%
look: 3.5 | smell: 3.5 | taste: 4 | feel: 3.5 | overall: 4
Basic. I paid way too much for this.
It pours a clear yellow-gold beneath a short head of bright white foam that drops shortly leaving an average amount of lace behind.
The nose is basic malt and hops.
The taste is basic with a well-balanced combination of ceral/grainy malt and lightly grassy/floral hops. It's well-balanced by a solid bitterness, and it finishes dry.
Medium bodied and crisp.
Not a bad pilsner, but nothing more than that. Average. Basic. Enoy it in Belgium (if you must), but it's not worth it otherwise... Heineken has more character!
May 27, 2006
bark from Sweden
2.65
/5
rDev
-17.2%
look: 2.5 | smell: 2.5 | taste: 2.5 | feel: 3 | overall: 3
The colour is pale yellow with a tint of gold. The white loose white foam dissolves quite fast.
The smell is rather weak; some hits of fresh hops are present.
The taste is mild with a light body from the pilsner malt. There is a growing bitterness that disappears surprisingly fast for the place of a dry finish.
An average pils. Very average…
Nov 05, 2004
Andreji from Texas
3
/5
rDev
-6.3%
look: 3 | smell: 3 | taste: 3 | feel: 3 | overall: 3
An ok lager, had it at the "Manneken Pis" bar in Brussels, right in front of the, uh, Manneken Pis.
The pour, medium body straw translucid small head that fades easily, no key nose connotations aside from regular malty/hoppy presence. Mediocre taste for a pils, rather watery lacks hoppyness (for a pils, IMO). This certainly is a try-once-in-brussels sorta lager. Not gonna go further on it.
Jan 23, 2004

CRJMellor from Arkansas
3.18
/5
rDev
-0.6%
look: 4 | smell: 3.5 | taste: 3 | feel: 3 | overall: 3
(ed. note - Never had this before so not sure if I got a bad bottle or not, beer was carbonated bt not sure if flavor was off, will write review and pick up another bottle at some point and re-review.)
Pours a hazy red-honey color with no head, few carbonation bubbles and no lace. Unfortunately during my pour some sediment made its way into the glass. Aroma of honey and citrus fruit. Flavor was grassy with little crispness and bittering. Mouthfeel was sticky sweet and somehwat flat. Have to call drinkability average. Expected mch more based on brewery.
Jan 10, 2004
Bel Pils from Brouwerij Duvel Moortgat NV
Beer rating:
76
out of
100
with
39
ratings