Plasma
| Element Brewing Company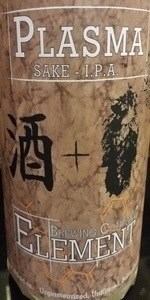 BEER INFO
Brewed by:
Element Brewing Company
Massachusetts
,
United States
elementbeer.com
Style:
American IPA
Alcohol by volume (ABV):
9.30%
Availability:
Rotating
Notes / Commercial Description:
Gluten free Sake IPA.
Added by smcolw on 04-27-2013
Reviews: 12 | Ratings: 67

4.29
/5
rDev
+9.7%
look: 4.75 | smell: 3.75 | taste: 4.5 | feel: 4.5 | overall: 4.25
Gluten-free and bottled conditioned DIPA...yes, please!
Poured from a 750ml bottle (BOD: April 6, 2016) into a Catamount Glassware IPA glass.
A - Pours an attractive, clear sunset orange color which screams DIPA. A conservative pour yielded a full, one finger's worth of a frothy white head. The lack of retention is due to the lack of gluten-rich malts and elevated ABV. (4.5)
S - Not overwhelming, but very pleasant and well balanced. Orange flesh, floral (honeysuckle), mild peach, woody (cedar)/earthy and grassy. The 9+% ABV is nowhere to be found. (3.75)
T - All of the aromas play out in the flavor with a piney finish which grows as it warms. Being rather familiar with Elements beers, the earthiness found in the nose and flavor is most likely contributed to their proprietary yeast stain. Assuming this is a single-hop (Aramis) beer, the bittering is clean and dances playfully atop the very, very unique grain bill (Brown Rice, Malted Millet & Malted Buckwheat). Like the nose, the booze goes undetectable. The more I drink it, the more that woody/earthy characteristic grows to the point that it gives the impression that wood was involved in the conditioning process. Being a fan of Oak-Aged IPAs (Burton Baton, Hop Crisis, Burton IPA/Ale), this is hitting all the marks for me. (4.75)
M - Medium bodied and finishes with an woody/earthy dryness. Absolutely clean, refreshing and highly quaffable. (4.5)
O - Not only does Plasma stand on its own as a well-constructed DIPA, I dare anyone to find a better example of a gluten-free beer...and an Imperial one at that! Although I wish the aroma was more pungent (especially with regard to citrus and stone fruit), this is a really delicious, unique, well-crafted and boundary-breaking beer that I will get whenever available...and no, I am not gluten intolerant. The only other slight knock is its price...at ~$12/750ml bottle, it is not an offering that would constitute an everyday drinker (4.5)
Postscript: I lost track and found another bottle of Plasma lurking in my inventory with a BOD of Sept. 1, 2015! Yikes, 9+ months does not look promising for an IPA. However, I am supremely excited to announce that this tasted as good aged as it did fresh. All of the aroma and flavor remains intact (per my initial review) without any signs of oxidation...no doubt courtesy from the bottle conditioning. For a beer I anticipated to be a drain pour (as most IPA's are after 4-6 months), Plasma reigns supreme and remains a favorite of mine...fresh or "aged" (as IPA's go).
2,538 characters
3.98
/5
rDev
+1.8%
look: 4 | smell: 4 | taste: 4 | feel: 3.75 | overall: 4
From BeerAdvocate Magazine #91 (Aug 2014):
Savory, Musty, Grainy, Yeast
This is where extreme brewing can go, naturally gluten free from a grain base of brown rice, malted millet, and malted buckwheat. All of that and its a sake-hybrid. A bit of funk and a whole lot of unique grainy complexities that are thrown up against a massive Double IPA strength hop character. As interesting as it is amazing.
STYLE: Sake IPA | ABV: 9.33% | AVAILABILITY: Rotating
459 characters
3.56
/5
rDev
-9%
look: 3.5 | smell: 3.75 | taste: 3.5 | feel: 3.5 | overall: 3.5
1 pint, 9 fluid oz. bottle
Served in a tulip glass
It pours hazy with an orange hue and golden highlights. It is topped with two inches of off-white head that leaves little lacing.
I get hints of citrus. It is not a real aromatic beer.
The taste is mostly bitter. I pick up some citrus in the aftertaste.
Highly effervescent
This beer is one of those IPA's that are just bitter for bitter's sake in taste. I wish more citrus would have come through for me. Now it did pair nicely with my sushi. The carbonation cleansed my palate leaving me eager and ready for another bite of food.
588 characters

3.93
/5
rDev
+0.5%
look: 3.75 | smell: 3.75 | taste: 4 | feel: 4 | overall: 4
For a gluten free beer, this is really good. Doesn't taste out seem gluten free at all.
Good hoppiness. Nice and dry cause of the rice. Good body, texture, and carbonation. All in all, I would drink this as a regular drinking IPA.
235 characters
4.5
/5
rDev
+15.1%
Pre-tasting: be careful of the caged cork- it actually works, unlike corked beers from other breweries (e.g Unibroue).
Unloosen the cage and the cork will come out easily - be sure to hold it with a dish towel and obviously point it away from your face and lights.
Beautiful light amber color with a 4F head which resolved itself to 2F which maintained itself.
Unsusual aroma: grapefruit, citrus with resin.- Sake style? The beer is brewed to be Sake-like, but I haven't tasted Sake.
Mouth feel- very pleasant and tangy.
The taste is citrus-spicy, although lighter than the aroma.
The finish is wonderfully dry.
Warming up: the beer is brewed with brown rice and millet- there is a rice whiskey ( or wine) quality to the beer- the rice and millet are more pronounced. The taste is more spicy with subtle citrus.
This is the most unusual IPA I have tasted. Like other beers from Element, the goods come through in the warming. There is an overall rice-grain taste and consistency to this beer, complemented with a citrus-spicy character. This brewery is definitely sailing in uncharted craft brew waters.
1,118 characters
4.57
/5
rDev
+16.9%
look: 4.25 | smell: 4 | taste: 4.75 | feel: 5 | overall: 4.75
I had this at a local brewpub, and all I can say is surprising. The sake addition made me approach this cautiously, however, that caution was not warranted. Very thick mouthfeel, leaving a pleasant smoothness behind. The appearance of the beer, specifically the color, is a little odd at first. This might have been due to the poor lighting though. The scent is also a little alarming, but that is to be expected when choosing such a unique brew. Overall, a very pleasant experience. I wholeheartedly recommend this beer .
522 characters
3.71
/5
rDev
-5.1%
look: 3.5 | smell: 3.75 | taste: 3.75 | feel: 4 | overall: 3.5
Split with rudzud.
Decent fizzy bubbly almost 1 head that fades pretty quickly, then nothing left, hazy slight golden brown apple juice color.
Nose has some double ipa qualities but a strange starchy rice pudding aroma, nice citrus with some candied orange peel too start but that disappears quickly. Then Nice sweet genmai brown rice mash, little sweet candy like, reddish toasty malt that's missing something, little yeasty, earthy rice, touch nutty.
Taste is so-so, nice hop character at first, slight earthy hops, citrus and candied orange peel, light fruity apple like, bit of a spicy hop, little tannin. The background is semi sweet, little syrupy with hint of malt character, but not really malt it's interesting, some brown rice mash and little yeasty flavor, little tannin rice shell like flavor, little rock candy like. Finish is still fairly sweet, nice earthy spicy hop lingering, caramel flavor with more nutty brown rice and little starch.
Mouth is med to fuller bod, nice carb, just a hint of warming booze.
Overall decent but doesn't go as well as I hoped, starts nice in both aroma and flavor but goes south quickly for both.
1,148 characters
3.79
/5
rDev
-3.1%
look: 3.5 | smell: 3.75 | taste: 3.75 | feel: 4.25 | overall: 3.75
Split with JLindros.
A - Poured into a Kate the Great tulip a crystal clear copper hue with a one fiery finger head that fades super fast and levees thin wisps.
S - Aromas of gemai galore, aka brown rice, odd floral hops...not bad but super bright, already initially. Almost immediately it fades into an earthy slightly yeast filed brown rice aka.
T - Taste is slightly sweet, not really malty sweet just sweet. Nice earthy gemai notes and generic hop bitterness. Some light fruity floral hop notes. Light spice notes...very strange. Not bad, just...strange.
M - Mouthfeel is solid, alcohol is hidden wonderfully.
O - Overall I was somewhat unimpressed with this one. I mean, for a glutton free beer it's top notch as it does not have that awful sorghum taste. Was initially real good...bit faded fast just like the head. Not really worth the bottle price.
861 characters

4.1
/5
rDev
+4.9%
look: 4 | smell: 4 | taste: 4.25 | feel: 4 | overall: 4
Had this on tap at The Bodega BK. it's their strongest selection today, as well as a rare find. Glad to have been able to try this today.
A: light copper tone. Looks beautiful in this August sun. Virtually no head. Could be due to the fill or the nature of this DIPA beast. Probably a little bit of both.
S: Pleasantly malty and hoppy. Along the lines of most DIPAs. Doesn't offend yet doesnt surprise either. Average.
T: Now here's where we run into a little bit of trouble. Still nice, because it's a big DIPA, but a bit unbalanced. There is definitely a heavy malt presence, some hoppieness, but an unwelcome alcohol afterburn. Nothing crazy, but just not super pleasent. It's what separates it from a lot of other DIPAs, just not in a good way.
M: Full, low carb, not bad.
I love this ganre, so it's still an ok beer, but far from the best. I regret missing Double Trouble that Bodega had on tap last week.
916 characters
4.85
/5
rDev
+24%
look: 5 | smell: 5 | taste: 5 | feel: 4 | overall: 4.75
From the beer fest in Springfield Massachusetts: Gluten free IPA brewed with, malted millet, malted buckwheat, and brown rice.
Lots of glass lace, perfect head in a 4oz glass.
Plenty of sweet malt in the nose? Lots of hop presence in the aroma, what it is not sure, American, German- not sure.
Surprisingly body for a GF beer. Full bodied. Could have been a 'regular' malt based beer. Lots of hop finish, dry bitter on pallet.
Another win for Element Brewing Company, this malt-ternative beer stands up to any malt based IPA.
Serving type: on-tap, cold-box
561 characters

2.89
/5
rDev
-26.1%
look: 3.75 | smell: 2.75 | taste: 2.75 | feel: 3 | overall: 3
A-Dark amber with a tiny head. The thin, off-white seam leaves little dots and drops of lacing.
S-Really having trouble picking out specifics here; but I can tell that it is lacking necessary hoppy aroma. The malt sticks out more than anything else.
T-I made my buddy try this beer and said to him "This is exactly how I want my IPA/DIPA not to taste". No hop complexity, its not even that bitter. It tastes like a burnt out high gravity Amber Ale.
M-Full and heavy with low carbonation and moderate bitterness. Sipper.
O/D-Apparently from checking out the first review of this beer, its brewed with some wacky stuff. I'll stick to the IPAs/DIPAs brewed with hops and plenty of them.
688 characters
3.72
/5
rDev
-4.9%
look: 3.75 | smell: 3.5 | taste: 3.75 | feel: 4 | overall: 3.75
From the menu at Redbones in Somerville Massachusetts: Gluten free IPA brewed with sake, millet, buckwheat, and brown rice.
Small head but it leaves a blanket of glass lace. Copper colored and clear.
Plenty of sweet caramel to the nose.
Surprisingly good "malt" flavor. Leans toward the sweet side but without reading the description, I would be fooled. The predominant flavor is the white pepper hop. Lingering aftertaste is a combination of sweet and bitter. Full bodied.
485 characters
Plasma from Element Brewing Company
3.91
out of
5
based on
67
ratings.