Holy Moly
| Cathedral Square Brewery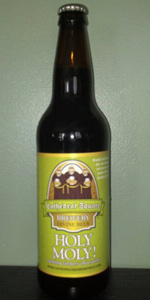 BEER INFO
Brewed by:
Cathedral Square Brewery
Missouri
,
United States
cathedralsquarebrewery.com
Style:
Russian Imperial Stout
Alcohol by volume (ABV):
10.00%
Availability:
Year-round
Notes / Commercial Description:
Brewed in the Russian Imperial Stout style, this offering boasts plenty of malt character and an aggressive amount of hops. A rich, flavorful ale with a finish you won't believe.
Added by zeff80 on 12-10-2011
Reviews: 15 | Ratings: 57
4.18
/5
rDev
+8.6%
look: 4.5 | smell: 4 | taste: 4.25 | feel: 4 | overall: 4.25
Appearance.
Body : Pours chestnut brown forming a nice black appearance.
Head : 3 fingers, mocha colored.
Retention : 1 finger, susained.
Smell.
Initial : Black strap molasses, black licorice, smoked meats
With Agitation : Add barnyard, burnt chocolate, figs.
Taste.
Palate : Roasted figs, plums, dark malts, faint smoked cured meats
Finish : Coffee grounds and toasted chocolates meet a roasty bitterness.
Feel.
Palate : Medium to thick bodied and slick on the tongue.
Finish : Delightfully roasty and the right amount of dryness.
Overall this stout was a pretty good experience. I'm glad I bought the store out at $1.99 a bomber. Will have again for sure, and I'd seek it out if need be.
Edit : adding another 6 months to this has really made this beer explode with flavor and appearance. Scores adjusted.
★
816 characters

4.09
/5
rDev
+6.2%
look: 4.25 | smell: 4 | taste: 4 | feel: 4.25 | overall: 4.25
Had this one on tap, served in a short tulip, which was interesting. Black body, brown head. Nice looking stout. Smell was mostly roasted malt, some chocolate/coffee. Not too strong. Taste was the same. The alcohol was well hidden, and would have never guessed it was 10% by taste. Not a huge depth of flavor, but liked the taste a lot. I didn't experience any aftertaste, bitterness, hops, etc...maybe that was the difference with having it on tap. Tends to smooth everything out in a stout. Never had it from a bottle...yet...but interested to see if that will dilute my rating.
★
590 characters
3.78
/5
rDev
-1.8%
look: 4.25 | smell: 3.75 | taste: 3.75 | feel: 3.75 | overall: 3.75
A: Pours an opaque yet still relatively clear jet black in color with moderate amounts of gentle visible carbonation along the edges of the glass and moderate dark cola brown highlights. The beer has a three finger tall pillowy foamy dark tan head that reduces to a thick layer covering the entire surface of the beer and a thick ring at the edges of the glass. Significant amounts of lacing are observed.
S: Moderate to strong aromas of roasted malts, dark fruits (plum/fig/raisin), and lighter aromas of dark chocolate.
T: Upfront there is a strong flavor of dark roasted malts with a light to moderate flavor of dark chocolate. That is followed by some moderate flavors of dark fruits (plum/fig/raisin) and a light to moderate amount of earthy hops. Moderate amounts of roasty bitterness in the finish.
M: Medium to full bodied with moderate amounts of carbonation. Creamy and smooth though slightly thin in the finish.
O: Enjoyable but not outstanding which is tough in this style as there are a lot of outstanding examples. Easy to drink and the alcohol is well hidden. Worth grabbing, though I would be interested in trying the bourbon barrel aged version.
★
1,166 characters

3.75
/5
rDev
-2.6%
look: 4 | smell: 4 | taste: 3.5 | feel: 3.5 | overall: 4
Black in color with a brownish head. The smell is of highly roasted grain...a touch of smoke, some alcohol, and a hint of rich malt. The flavor is strong...grain, some chocolate, highly roasted malt, and dark fruit. The beer hides its alcohol very well...it is hard to know that it has 9% abv. Full in body. This is a reasonably good imperial stout.
★
354 characters

3.39
/5
rDev
-11.9%
look: 3.75 | smell: 3.5 | taste: 3.25 | feel: 3.25 | overall: 3.5
First of all, I figure this one was going to be play on a Mexican mole. I was wrong....
Black in color with a very large light tan colored head. Very good retention, but far more heady than I'd expect for a RIS. Aroma isn't bad. Roasted malts, coffee and a bit of citrusy hops. Taste is okay. Nothing too impressive. Roasted malts, sour coffee, cola, and pine. Chocolate on the back end. Heavy medium body, but rather thin for the style. Slightly acidic.
A fairly average RIS. Probably not worth the calories.
★
514 characters

3.77
/5
rDev
-2.1%
look: 3.5 | smell: 4 | taste: 3.75 | feel: 3.5 | overall: 3.75
22oz bottle,
A 3.5 - black with a creamy tan head that fades rather quickly
S 4 - sweet nose with dark chocolate, roasted barley, anise, earthy hop
T 3.75 - lots of dark chocolate with caramel, roasted barley, french roast coffee, anise, earth, pine, oats perhaps, some dark fruit especially as it warms
M 3.75 - medium-full body but feels thin at times, creamy and smooth, moderate carbonation
O 3.75 - I liked the abundance of dark chocolate notes, but it all doesn't meld perfectly for me for some reason. Either way, it was still very enjoyable.
★
550 characters
3.61
/5
rDev
-6.2%
look: 5 | smell: 4 | taste: 3.25 | feel: 3.5 | overall: 3.5
Pour an effervescent mahogany with 2+ fingers of mocha colored head. Stellar head retention & lacing
S: A little dark fruit & carob, vanilla & boozeyness once warm
T: Faint smokeyness & prunes, some carob up front. More prunes as this warms, some carob & black currant, a little bit of minty hops & chocolate, plus woodiness. Finishes dry, woody & with a bit of prune & chocolate
MF: Medium body, near flat carbonation, becomes stickier & a bit fuller once warm
Kind of a middleweight in a division of heavyweights, worth a try, but not very memorable. Got a little better once warm
★
586 characters
2.22
/5
rDev
-42.3%
look: 3 | smell: 3.5 | taste: 1.5 | feel: 1.5 | overall: 2.25
The smell is fine and so is the look. However, the roast malts seem completely over powered with the aftertaste with a sweetness. When I drink an imperial stout, I want intense roast malts ... hints of coffee or fruit. This stout lacked this and had a strange aftertaste.
★
271 characters
3.88
/5
rDev
+0.8%
look: 4 | smell: 3.5 | taste: 4 | feel: 4 | overall: 4
Nice take a RIS, pleasing quality matching the middle bracket for the style.
Presentation: 22 oz brown bottle. Pretty poorly designed with a light green label showing a cartoonish image of monks holding brews, and the overall branding. Small side narrative goes over style and main characteristics. Served into a snifter.
A - Black pour with dark brown edges, rich brown head, moderate retention and some lacing.
S - Light nose with roasted malt, chocolate, and a fruity hop insinuation in its bitter-sweet sense…
T - Nice roasted profile, coffee, and a hoppy closing touch, nicely woven. Small grassy hint,
M - Medium to full body with fine carbonation and a smooth and creamy feel.
O - Nothing to come out of one´s way but rather enjoyable...
Notes: And I´m glad to try it, label aside… This brew deserves a different image.
★
841 characters
4.67
/5
rDev
+21.3%
look: 3.5 | smell: 4 | taste: 5 | feel: 5 | overall: 5
This is the most refreshing Russian Imperial Stout I have had to date. The hops in this beer are really a great addition to the beer. The acid from the hops cuts the thickness of the dark beer. It is not an overly hoppy beer although it has a lot of IBUs. I don't get a really big nose on this beer but what is there is nice an stouty with some hop notes as well. Not a tremendous head by any means but what it lacks in appearance it makes up in taste and mouthfeel. Pretty damn delicious!
★
489 characters

3.68
/5
rDev
-4.4%
look: 4 | smell: 3.5 | taste: 3.5 | feel: 4 | overall: 4
Perfectly pitch black. Creamy tan head with descent retention. Lots of sticky lacing.
Roasted aroma, reminiscent of charcoal. Lots of bourbon in the nose. Earthy hops also.
Burnt bitterness of wheat toast, coffee, charcoal and tobacco hits the tongue and lingers for a while. Subtle molasses sweetness attempts to balance but is not match for the roasted malt. Assertive level of earthy hop bitterness compliments the roasted flavor. Finish is dry with a tart flavor.
Luscious full body with good carbonation. Creamy feel mid-drink and dry in the end.
Good stuff. Hard to screw up a Russian Imperial. Very complex and tasty.
★
628 characters
3.78
/5
rDev
-1.8%
look: 4 | smell: 3.5 | taste: 4 | feel: 4 | overall: 3.5
A: Pours a black color with a tan head that fades to nice lacing.
S: Aroma of coffee, dark chocolate with some roasted malt and bit of caramel.
F: Flavor of bittersweet chocolate, coffee with some roasted malt. There is a bitterness throughout with a dry finish.
F: Fairly full body, quite smooth. No hint of the 10% alcohol. nice balance.
O: Very nice Imperial Stout from a local brewer. worth a try.
★
405 characters
3.7
/5
rDev
-3.9%
look: 3.5 | smell: 3.5 | taste: 4 | feel: 3.5 | overall: 3.5
Purchased in St. Louis, MO. Poured from 22oz bomber into a snifter. No date on bottle. A - Dark black with an off white head which leaves extensive lacing. S - Dark chocolate and roasted malt. T - Coffee and dark chocolate flavors. Rich and decadent. M - Light to medium body with a generous carbonation. A good imperial stout. Very dark tasting. Liked the Hail Mary better though.
★
381 characters
4.06
/5
rDev
+5.5%
look: 5 | smell: 4 | taste: 4 | feel: 4 | overall: 4
Looking at this brew... This is the best looking beer from this brewery. Pours perfectly with a two finger thick tan head that has awesome retention. The body is black with dark ruby red hues showing off in normal light.
The aroma is woody, coffee, metallic, cocoa, and vanilla.
The taste has chocolate, tea, and vanilla.
By far this is the best beer from this brewery.
★
375 characters
4.2
/5
rDev
+9.1%
look: 4 | smell: 4 | taste: 4.5 | feel: 4 | overall: 4
A - Poured out an opaque, jet-black color with a two-finger, tan head of thick foam. It had nice retention and left sticky patches of lace.
S - It smelled of coffee, roasted malts and some dark chocolate.
T - Good bitter piney hop bite with a blend of chocolate, roasted malt, coffee and burnt molasses.
M - It was crisp, sharp and smooth. A medium bodied ale with a smooth finish. A nice alcohol heat.
O - Best beer from Cathedral Square yet. I really enjoyed this one.
★
482 characters
Holy Moly from Cathedral Square Brewery
3.85
out of
5
based on
57
ratings.