Dismiss Notice
Wilbur Brewhause Country Mellow Beer
| Wilbur Brewing Co.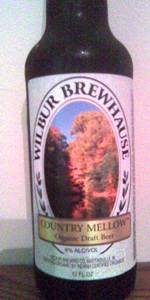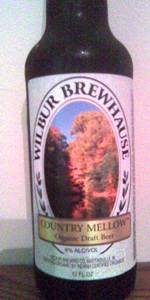 BEER INFO
Brewed by:
Wilbur Brewing Co.
Indiana
,
United States
wilburbrewco.com
Style:
American Strong Ale
Alcohol by volume (ABV):
8.00%
Availability:
Year-round
Notes / Commercial Description:
No notes at this time.
Added by thebarnesbomb on 03-14-2010
This beer is retired; no longer brewed.
HISTOGRAM
Ratings: 10 | Reviews: 10
Reviews by tippebrewcrew2:
3.74
/5
rDev
+6.3%
look: 3.5 | smell: 4.5 | taste: 3.5 | feel: 3.5 | overall: 3.5
This is a hard beer to judge because it has a lot of belgium character to it. It is refreshing though I will say that. Pours a ruby red with little head (I had to force pour it and I didn't mean for that to rhyme.) Very floral that has a lot in common with belgian yeast (I would almost promise they use some sort of belgian strain, wild, or even sour strain.) Upfront sweetness that ends sweet as well will no alcohol presence. It does feel a bit watered down to me and sweetness takes its place. I rated the Drinkability as a session beer. The 8% hides itself all day long but there is a ton of upfront sweetness that carries over. This is not a bad beer but it was on the sweet side. The style was unique and I like that they swung for the fences. I will 100% try their other brews and I am impressed thus far with their beers. They aren't an FFF but who is? Great local brewery, I will make it a road trip to travel to them sometime
936 characters
More User Reviews:
4.13
/5
rDev
+17.3%
look: 4 | smell: 3.5 | taste: 4.5 | feel: 3.5 | overall: 4.5
Tasted at the Indiana Microbrewers Winterfest; this was one of my most unexpected likes of the bunch. Starting gravity of 10.5 and 81 IBU hopping. As the brewmaster Danny Hause told me, it originally started as a stout but then transformed into a hybrid Amber Ale once the Patent and Crystal malts were replaced. The result is a truly unique brew that lives up to it's name of "mellow" (despite the surprising 8% ABV!).
A- Pours a dark copper with ruby hues; hazy, with off-white/cream head that leaves little lacing
S- Scent of buttery caramel toffee, hints of hops but nothing too citrusy/floral
T- Bitter stout hops up front followed by roasty caramel/toffee malts on the palate with a lingering sweet aftertaste
M- Very light on the palate, almost like a lager. Bottle-conditioned, not C02 injected, so less carbonation than most beers
D- Highly drinkable! Not a "session beer" because of higher ABV, but you'd never guess this one weighs in at 8%. Still, very drinkable, and will go surprisingly fast- very light on the palate, and mighty tasty, so they go pretty quick.
A very very solid beer for such a small operation. Only problem is they are tough to find, but I know the owner so please email him if interested @
[email protected]
or get in touch with me and I can get it for you.
Cheers!
1,305 characters
4.2
/5
rDev
+19.3%
look: 4 | smell: 4 | taste: 4.5 | feel: 4 | overall: 4
Reviewed on 3-19-11
Reviewed cold from a bottle to a glass
A - Pours with two fingers of foam, a pretty dark brew with no head retention, decent lacing ring, carbonation is present
S - Smell a bit of rubbing alcohol, brown sugar and some floral notes. Not much in the hop department but still an interesting aroma in this brew
T/M - First taste is a fruity sour taste, like grapes and such. Medium bodied with a malty back bone. A bit tart for an after taste but not detraction anything from the brew
D - Interesting brew! At first a bit sour, smooth brew overall. A nice mix of flavor's and could only drink one of these in a sitting. Got this as an extra so I wouldn't seek this brew out but very glad I had tried it. I recommend this brew if you like strong ales
769 characters

1.99
/5
rDev
-43.5%
look: 3.5 | smell: 2 | taste: 2 | feel: 2 | overall: 1.5
Dark brown with a slight tan head that settles to a creamy film. The aroma is strange and hard to place..unlike any beer I've ever had. This beer is off, soapy and medicinal with a lot off alcoholic heat in the finish. Chalky and thin bodied. This is not my kind beer and is borderline undrinkable.
298 characters
3.08
/5
rDev
-12.5%
look: 4 | smell: 3.5 | taste: 3 | feel: 3 | overall: 2.5
Dark brown pour, much darker than what looked in bottle. Color is close to a porter. Wispy tan head.
Candy sugar nose. A little funk in there too - belgian type yeast nose.
Entry is full - big and sweet midmouth. Not much hops here to balance...the finish gets a bit harsh.
The flavors lean towards maple syrup, carmel candi sugar, a little dirt, funk.
The label describes it as a country beer - as in farmhouse? There is a wild charachter here - but it seems to be from a bottling issue more than intended effect?
Tough to finish - so sweet and the funk takes over.
571 characters
3.76
/5
rDev
+6.8%
look: 4 | smell: 3 | taste: 4 | feel: 4 | overall: 4
A- poured a ruby brown to medium brown color. good solid head, with decent lacing.
S- smells sweet and dark fruit like. malty as well.
T- tastes very sweet. sugars and dark fruits. not much essence of hop at all. but there is alot of malt to it.
M- ehh, medium bodied, a little slippery carbonated nicely.
O- it's maybe one of the most interesting beers i've ever had from indiana. you gotta seek it out folks.
414 characters

3.53
/5
rDev
+0.3%
look: 4 | smell: 3.5 | taste: 3.5 | feel: 3.5 | overall: 3.5
Served in a Dogfish Head shaped pint glass.
And the post-DLD death march haul continues to share its bounty... This one pours a hazy red amber topped by a healthy off-white foamy head. The nose comprises orange peel, hoppy florals, and a twinge of white grapes. The taste holds notes of hoppy citrus, orange peel, coriander, and a light bit of caramel. The bitterness o'eruns whatever lame attempt the maltier notes make. The body is a heavy light/light medium (hard to say, frankly), with a heavy moderate carbonation and a fairly dry finish. Overall, a decent brew: nothing spectacular, nothing objectionable.
612 characters

3.73
/5
rDev
+6%
look: 4 | smell: 3.5 | taste: 3.5 | feel: 3.5 | overall: 4.5
grabbed a growler from the brewer yesterday. very small operation, and the brewer was as friendly a guy as you could ask for.
this one poured into a dogfish head signature glass a rich amber with a solid, off white, creamy, long-lasting head that returns near full force after a couple swirls.
nice smooth drink, especially for an 8% abv. very subtle hops, leaning toward sweet with nice malt and a honey tinge.
413 characters
3.01
/5
rDev
-14.5%
look: 3.5 | smell: 2.5 | taste: 3 | feel: 4 | overall: 3
Pours a good amber color with a TON of very tiny little bubbles that continue to sprout up long after the pour. A huge massive tan head is still subsiding, but no lacy fingers of it are found along the glass.
Slight malt, honey, adjunct-y aroma leaves little of interest to draw me in further. But the goods are delivered on the taste, as a rich, sweet honey flavor gives in to a caramel hint as well.
The carbonation keeps this one interesting in the mouth, but that honey sweetness fights to mellow it out.
That adjunct nose and the relatively high ABV won't allow this to be consumed in large quantities, but that honey sweetness sure mellows it out enough to make you think about having another.
Interesting brew. Not something I would pursue very much, but an enjoyable beer to receive nonetheless. Thanks livewire78 for the bottle
842 characters

4.05
/5
rDev
+15.1%
look: 4 | smell: 4 | taste: 4 | feel: 3.5 | overall: 4.5
Pours a nice deep copper color with some good head and a bit of decent lacing. Very deep malty aroma with hints of caramel in it, and a nice citrus hop bitter zing underneath at the end. Very nice flavor, with a great thick and sweet maltiness (toffee tones, perhaps some Crystal grains) and a wonderfully huge citrus hop hit at the end. Goes down quite well for such a high ABV brew, although there was a bit of an off-extract flavor that could be fixed.
455 characters
Wilbur Brewhause Country Mellow Beer from Wilbur Brewing Co.
Beer rating:
3.52
out of
5
with
10
ratings