IPA
| Lefty's Brewing Company
BA SCORE
76
okay
32
Ratings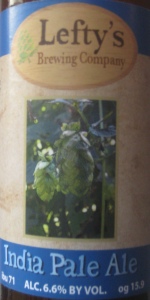 BEER INFO
Brewed by:
Lefty's Brewing Company
Massachusetts
,
United States
leftysbrew.com
Style:
American IPA
Alcohol by volume (ABV):
6.60%
Availability:
Year-round
Notes / Commercial Description:
No notes at this time.
Added by BeerAdvocate on 09-20-2010
Reviews: 13 | Ratings: 32
2.45
/5
rDev
-13.4%
look: 3 | smell: 3 | taste: 2 | feel: 2 | overall: 2.75
Got what I paid for.... Bought a 22 ouncer for $4 bucks and should have spent more... " But the label looks nice" Is what my wife would have said.. Thin taste leaves me longing for the hop. So why bother telling you if the color head or flora is nice if it doesn't taste great. Or even average.
295 characters

2.96
/5
rDev
+4.6%
look: 3.25 | smell: 2.75 | taste: 3 | feel: 3 | overall: 3
Golden colored ale with a head that quickly dissipates. Smells of malt and no hops whatsoever. I just can't taste the Chinook or Cascade hops. I like the malt character but I just wish I could pick up some of the hops you expect in an IPA. Finishes with an slight sour note similar to California Common ale. Overall okay.
322 characters

2.14
/5
rDev
-24.4%
look: 3 | smell: 1.5 | taste: 2.5 | feel: 2 | overall: 2
This is extremely unimpressive. Watery, flavorless, aromaless. Has almost NO hop aroma at all, and very very little in the taste also. Not really sure what they were going for here...it's not good.
Lefty's makes some interesting stouts that aren't too bad, but this will be the last time I try any of their "lighter" offerings.
328 characters

3.13
/5
rDev
+10.6%
look: 3.5 | smell: 3 | taste: 3 | feel: 4 | overall: 3
Got this at a little shop in Northampton, MA
Anything IPA i have to try at least once.
Pour: very first thing is that head dissipates quickly. It looks like a pale ale. light, translucent, light orange yellow in color.
Smell: Orange
Taste: Very light, nothing like an IPA in my opinion. There is nothing striking about it.
Very Orangey, no earthly or caramel flavoring.
I do not recommend this beer. It is not a bad beer, just absolutely nothing special about it.
471 characters
2.63
/5
rDev
-7.1%
look: 3.5 | smell: 3 | taste: 2 | feel: 4 | overall: 2.5
A hazy golden/orange color with a decent white cover that leaves no real evidence of lacing. The aroma offers orange citrus and bready grass tea. It is a bit peculiar but not off putting. I remain open minded here. Not expressing definitive hops but the jury is out still. Okay, the flavor is peculiar and the citrus/grass hop content seems to crash into something rather more of a chemical idea. A bit of the old cardboard quality with toffee and more orange flavors. But this is an odd predominating bitterness that escapes description except to say that it doesn't strike me as highly appetizing. This is drinkable but it's almost as if there's some detergent left in the glass or something. The body is near medium, has a decent constitution and refreshing feel with subtle but effective carbonation. As much as I don't want to spread the hate, I gotta say that I'm going to have to get a proper IPA chaser here to clear my palate. Sorry to say that I bought the growler without checking any references on BA. Afraid I can't disagree with the prevailing sentiments here. What is Lefty thinking here? I'd like to know his/her thoughts. Can't recommend this, I'm pouring the remainder of the growler, but I'll finish the pint....very quickly, like pulling a bandaid.
1,268 characters
3.41
/5
rDev
+20.5%
look: 4 | smell: 3 | taste: 3 | feel: 4.5 | overall: 4
22oz bottle purchased as a single from Spirit Haus, Amherst, MA.
Poured into a CCB pub glass, formed a 1/4" offwhite head over the clear golden amber brew. Froth holds on nicely, with average to good lasting lace. Aroma is negligible.
Taste starts with a somewhat neutral but lightly sweet maltiness, which just coasts on to the close with a light bitterness. Mouthfeel is amazingly smooth, and drinkability is great. Wish it was a bit more standout flavor-wise, but I would have one again if offered. More like an English IPA in my book.
541 characters

2.63
/5
rDev
-7.1%
look: 3 | smell: 2.5 | taste: 2.5 | feel: 3.5 | overall: 2.5
a: pours hazy light orange with a white one finger head that dissipates very quickly; no ring left around the glass, no lacing, not even any bubbles floating at the top of the beer after about 5 min
s: citrusy hops, lots of malt, alcohol is definitely present
t: malty, not too sweet, light citrusy hop notes, some alcohol with a slightly bready almost nutty finish leaving a strange bitter (and not in a good way) aftertaste
m: decent, light mouthfeel, moderate carbonation
o: nothing special here unfortunately and the bitter aftertaste is off-putting
557 characters

3.96
/5
rDev
+39.9%
look: 4.5 | smell: 3.5 | taste: 4 | feel: 4.5 | overall: 4
Pours a golden blonde with a one-finger head into my glass. It's still an IPA so far.
Plenty of hops in the nose that lean towards pine with some citrus notes.
Very mild hop bite that actually compliments the malt bill, allowing the latter to shine towards the back. You could say that it came out of left field.
Ditto for mouthfeel. Sweet, buttery malt makes my taste buds salivate. Wow.
Very good IPA! I should have checked out Lefty's but at least I found a bomber not too far from it (Ryan & Casey). Keep up the good work!
530 characters
3.46
/5
rDev
+22.3%
look: 4 | smell: 3 | taste: 3.5 | feel: 4 | overall: 3.5
Been meaning to try some Lefty's, picked up this bomber last night.
Pours a hazy pale orange, a tall white head eventually reduces to a full cap, some lacing left. Some sediment settled at the bottom.
Mostly earthy hops in the scent, some light fruit and malt. Not great.
Taste is much better than the smell, but not great. A good mix of citrus, earthy and grassy hops with a big bready malt backbone. The malt overpowers a bit, flavors could use more strength. Bitterness is quite low and it feels very light in general, somewhat like a pale ale instead of an IPA.
Good mouthfeel, nice foaminess for an IPA. Feels light and drinks easy.
Previous reviews are quite harsh, maybe they have improved this one from last year bottlings. It was pretty decent, the balance is appreciated but I think it would benefit from some bigger hop flavor.
843 characters

2.99
/5
rDev
+5.7%
look: 4 | smell: 2.5 | taste: 3 | feel: 3.5 | overall: 3
Medium orange color with good clarity and a modest but creamy white head. Leaves moderate lacing. A pretty IPA!
The smell is not strong - when I work at it I can pick up a bit of a soapy aroma that is somewhat offputting, but luckily not too noticeable. The flavor is also somewhat subdued. Some vegetal hops with moderate bitterness that builds to a fairly bitter finish.
Light to medium mouthfeel. Good body and carbonation. A bit stronger malt base seems needed to support the bitter finish.
Not a bad beer. It was certainly not a drainpour. But I'd say there is some work to be done if this brewery is going to compete will all of the IPA's out on the market these days.
678 characters
1.89
/5
rDev
-33.2%
look: 3.5 | smell: 2 | taste: 1.5 | feel: 2 | overall: 2
always looking for new things, always looking for local things, always looking for affordable things, this one quickly found its way into my basket. I also picked up 2 other Lefty's brews to try.
pours a pretty standard copper with a huge cloud-white head that lasts and laces well.
very herbal and spicy with almost a belgian yeast aroma to it. kinda odd. bubble gum, banana, white bread, some herbal hops. very odd aroma.
again, kind of a yeasty spicy flavor. very odd, especially for an IPA. cracked peppercorn, toasted white bread, honey, bubble gum, herbs, band-aids. hops? kinda, but not really. they are there, but hidden behind the off-flavors.
light/medium bodied with little carbonation despite its promising appearance and a terrible aftertaste that refuses to let go of the tongue.
something is just wrong with this. if it were a belgian style ipa it would make more sense, but still not score much higher... its just... I'll pass.
948 characters
1.44
/5
rDev
-49.1%
look: 2.5 | smell: 1 | taste: 1.5 | feel: 1.5 | overall: 1.5
22 oz poured into pint glass:
A - Golden apricot with decent white head.
S - A bit buttery and then kind of stale.
T - Not good. I suspect this beer might be past it's prime and I couldn't finish more than a few sips of it.
Since I don't know much about the brewery and there's little to go on as far as beer reviews about it here, not sure if this is their typical IPA or a dud.
Hope others have better luck with this beer than I did.
436 characters
1.52
/5
rDev
-46.3%
look: 3 | smell: 1 | taste: 1.5 | feel: 3 | overall: 1
The beer was a deep gold in color and very cloudy with medium off white head. Aroma was highly phenolic, strong band aid- not pleasant. Flavor was also mostly band-aid, hops and malt overpowered by the phenols. Medium-bodied with medium carbonation. Drinkability suffers do to the phenolic character. Not sure what is going on here, my impression is that this beer had significant flaws and certainly did not meet the profile of an IPA and I could not drink it. Discussed it with the owner of the establishment where I had it and she said it was what it usually tasted like!? All of the other beers by this company seem to be highly rated so maybe it was an age issue? Would like to try it again in another setting to see if this was just a one shot bad batch.
760 characters
IPA from Lefty's Brewing Company
2.83
out of
5
based on
32
ratings.