Iowa Grown IPA
| Madhouse Brewing Company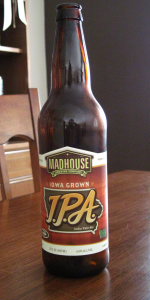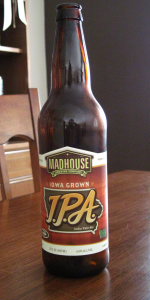 BEER INFO
Brewed by:
Madhouse Brewing Company
Iowa
,
United States
madhousebeer.com
Style:
American IPA
Alcohol by volume (ABV):
6.00%
Availability:
Limited (brewed once)
Notes / Commercial Description:
No notes at this time.
Added by DesMoinesMike on 12-15-2010
This beer is retired; no longer brewed.
HISTOGRAM
Ratings: 10 | Reviews: 8
Reviews by BretSikkink:

2.74
/5
rDev
+1.5%
look: 4 | smell: 2.5 | taste: 2.5 | feel: 3 | overall: 3
Solid orange with a touch of auburn brown, mostly white head has good stick and leaves sheets of lacing.
Malty caramel aroma but a decent pile of hops were thrown in there. Pine and citrus notes for sure, but some soapiness is evident alongside DMS. Hoping for a better flavor outcome.
Caramel malts with a good dose of pale sweetness - almost corn sugar-adjunct sweetness at times. Hops are present and give a surface indication of decent bitterness, but fade quickly. You are left with a pretty weak soapy finish.
A basically bare-bones IPA that is fairly disgraceful anywhere outside of Newton. I wouldn't go back to this one.
635 characters
More User Reviews:
2.86
/5
rDev
+5.9%
look: 3.5 | smell: 2.5 | taste: 3 | feel: 3.5 | overall: 2.5
A - Deep bronze color with an average sized, foamy, smooth white head. Pretty good retention with a small, foamy lace left.
S - Strange hop profile with slight floral and citrus aroma. A lot of wheat and malt. Slightly off flavor. Maybe a phenol type of characteristic? Just odd, and not particularly good.
T - Similar to the aroma in that the flavor is just off. A strong soapy kind of flavor. Some grassy/hay like hops. Very faint citrus. Strong caramel malt, in that the hops are hidden, especially for an IPA. Odd flavor profile with flavors that just don't work together.
M - Mouthfeel is where this beer does a good job. Medium body and great carbonation level. Smooth and creamy and very easy to drink.
D - Given that the flavor profile just seems off, this beer isn't overly drinkable. Mouthfeel is nice and it helps, but not enough to make up for the flavor. I was told it was around 70-75 IBU, but I would not guess that it was anywhere near 70 IBU.
Notes: Just did not work out, not enough hop flavor, and the flavor that is there does not work well. The flavors are just off, too green. Not really worth the $5 for a bomber.
Edit: The second batch that came out at the end of '11 is much improved. Hops stand out more and there is no longer that strange off flavor that was the most off-putting aspect. It still is just an average IPA and nothing to write home about, but it is now drinkable and refreshing. The score has be altered (I bumped it up a bit as it was around a 2.5, and the new batch I would probably give a 3-3.15) in light of this.
1,564 characters
3.14
/5
rDev
+16.3%
look: 3.5 | smell: 2.5 | taste: 3.5 | feel: 3.25 | overall: 3
A - Poured out a clear, copper color with a one-finger, tan head of foam. It had a small head of off-white foam that left minimal lacing.
S - It smelled malty and sweet. It didn't smell bad, but it didn't smell like an IPA should.
T - It was malty with some fruitiness. Eventually a hoppy bitterness emerges as it warms.
M - It was crisp, sharp and smooth. A dry finishing, medium bodied ale.
D - This one simply took too long to taste good. I didn't enjoy the first third of the bottle then in got better. It never really tasted like an IPA, though.
554 characters


2.16
/5
rDev
-20%
look: 3 | smell: 2 | taste: 2 | feel: 3 | overall: 2
This is based on the 2011 release. It was was one of my least favorite beers ever and I poured it.
I had a chance to try a sample of the 2012 release for free and would highly recommend it*
but as for the "Iowa Grown IPA from 2011,"
A- dark IPA via the caramel. Pretty normal looking.
Smell: A little grapefruit, probably utilized some cascade. Some spice.
Taste- Leafy, tannin flavor. Paper bag, idk. Something went wrong I'd guess.
Mouthfeel - slightly thin, but just barely. Well carbed though.
Overall: Mediocre IPA. Probably some kind of technical difficulty. I'm not sure what but it didnt come out well.
618 characters

3.66
/5
rDev
+35.6%
look: 4.5 | smell: 3.5 | taste: 3.5 | feel: 3.5 | overall: 4
I was happy to attend the release of this brew at a local winery. This beer is made from hops all grown in Iowa, probably the first one since prohibition.
It's a dark copper color with a medium amount of carbonation. The aroma kinda sweet, with hints of wheat and cloves. The taste is very different type of IPA. It is kinda sweet, with caramel, a bit of honey, and maybe some ginger. It is exceptionally smooth for an IPA and there is very little dryness in the aftertaste.
It's great to see a local brewery using local ingredients to create a distinctive beer.
Edit: I noticed a significant difference between tap and bottle, so much that I felt it necessary to edit and have the ratings be an average between the two. From a bomber the taste did seem to have a bit of a soap taste to it, nowhere near enough to dump it, but the taste was not up to par with the tap at the release party.
Edit - 12/9/11 - The 2011 version of this brew is even better than the first one. I had it on tap at the release party and it had more of a punch and brought out more of the hop character.
1,080 characters
2.22
/5
rDev
-17.8%
look: 4 | smell: 2 | taste: 2 | feel: 3 | overall: 2
"I had to go to France to appreciate Iowa."
--Grant Wood
Dark pumpkin orange with bright tangerine highlights along the edges of the glass. Three fingers of whipped creamy foam, that is midway between ivory and ecru in color, persists nicely and does a bang-up job when it comes to lace.
The nose is... bizarre. This American IPA smells *nothing* like an AIPA. There's a whiff of caramel malt, some soap and some cooked vegetables. So much for Madhouse's proud claim of 'the first commercial beer to be brewed using only Iowa-grown hops'. This ale couldn't possibly taste as bad as it smells, right?
Not good. Not good at all. Did the brewers taste this stuff before foisting it off on craft beer loving denizens of the Hawkeye State? I've had hundreds of IPAs and Iowa Grown IPA is among the worst. Where to start?
What barley is present tastes like mostly pale with a little caramel. Ain't no way that any guesses about hop varieties can be made since I've never tasted any little green cones anything like this. Flavors include scented soap, root vegetables, iced tea... and who knows what the hell else! Gadzooks, this is terrible beer.
The mouthfeel is APA-medium, yet weirdly slick on the finish, with lazy bubbles that don't add anything of value. This score might have been higher, but it's hard to separate out the sensory perceptions from the taste bud abuse.
Some pretty major mistakes have to have been made somewhere along the line with this inaugural batch of Iowa Grown IPA because, frankly, it's an embarrassment. My humble suggestion is for Madhouse to go back to the drawing board, keeping nothing from this particular recipe. If you feel a need to buy a bomber, don't say you weren't warned.
1,717 characters
2.63
/5
rDev
-2.6%
look: 4 | smell: 3.5 | taste: 2 | feel: 3.5 | overall: 2
Iowa grown hops...as a matter of fact I thought about trying this myself.
This pours a bright clear gold with niice foamy head and lacing. Hmmm. pretty fresh stuff!
Nose at first had hints of hops and malt?
I never met an IPA I didn't like-until now. This stuff tastes like the containers were not rinsed of soap. Really yes really. There is quite a bit of malt here as well, but sorry the aftertaste is bad. If I wasn't so cheap, I would dump this out. Mouth feel is rather slick. Medium alcohol warmth. I would like to think it was just the batch, but not sure I want to spend another 5 to give this another change. It has a long way to go
644 characters

2.56
/5
rDev
-5.2%
look: 3 | smell: 2 | taste: 2.5 | feel: 4 | overall: 2.5
Sampled at the Release Party. I figured since the shindig was actually on my route home from work, and considering all the decent ratings pastime pale ale has been getting as of late, stopping in wouldn't be a huge waste of my time. Pours from draught a deep orange with a small but ever-present head, markedly clear with a fairly low rate of carbonation. The aroma is weird right up front, very akin to the smell of a dairy farm, which gives way to a sweet floral notes and some noticeable caramel. There is a resiny and sort of indistinct hop aroma about it almost like a generic hop aroma if that means anything. Maybe too many varietals? I honestly don't know how you would get a beer to smell like this, so who knows why it's odd? The flavor is similar, and riddled with the same sorts of troubles the first batches out of the brewery had. There is certainly a noticeable chorine character and some sort of dishwater messiness. There are plenty of hops in the flavor, and it's really quite green all together. The beer touts it's use of all Iowa grown hops, which while admirable the hops flavor is very haphazard all together, somewhat harsh with a bit of fruitiness. I made the comment to my wife that it seemed like a "hop train wreck". I've had one too many "fresh hop" flops from homebrewers in recent years, and this tastes exactly like one of those. There is some sweet caramel in the background, and I imagine once those hops fade out this is going to be a caramel bomb... obviously this isn't the intent of the brewer, but at $6 a bomber, you can bet plenty of this will sit on the shelves. The palate is really nicely full and the light carbonation lends to a damn near perfect mouthfeel on it though.
1,716 characters
Iowa Grown IPA from Madhouse Brewing Company
Beer rating:
2.7
out of
5
with
10
ratings