Saphir Hopped Maibock (Venture Series)
| Madhouse Brewing Company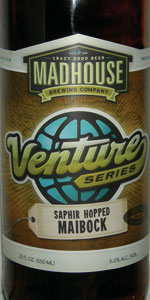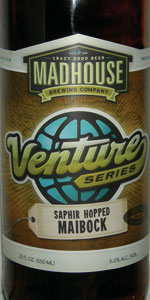 BEER INFO
Brewed by:
Madhouse Brewing Company
Iowa
,
United States
madhousebeer.com
Style:
Maibock / Helles Bock
Alcohol by volume (ABV):
6.00%
Availability:
Limited (brewed once)
Notes / Commercial Description:
No notes at this time.
Added by DesMoinesMike on 05-13-2012
This beer is retired; no longer brewed.
HISTOGRAM
Ratings: 10 | Reviews: 5
Reviews by katan:

3.98
/5
rDev
+4.2%
look: 4.5 | smell: 4 | taste: 4 | feel: 3.5 | overall: 4
22oz into a pint
A - Pours a very clear brown color. Light carbonation, little bubbling and a light off white colored head.
S - Nutty and toffee nose, reminds me of a brown ale. Not much of those saphir hops coming through yet.
T- Starts off lightly malty, some of those lightly toasted malts coming through. Mid-stream gets more bitter, some hopping sneaking in. Finishes with a little more floral hopping. Clean and lightly sweet finish.
M - Moderate body, lighter carbonation - could be more balanced. A little bit sticky in the finish. No alcohol warmth.
O/D - Smooth and easy drinking, although it does seem just a bit heavy at times. ABV is certainly manageable. Flavors here are fairly complex, not too abusive to the palette. Worthy of a try.
757 characters
More User Reviews:

3.77
/5
rDev
-1.3%
look: 3.5 | smell: 4 | taste: 3.5 | feel: 4 | overall: 4
A - Clear, dull gold color with a medium sized, light, creamy, white head. Decent retention leaving a faint patchy lace.
S - Fairly hoppy Maibock. Tangerinie and herbal/tea/floral sweetness from the hops. Nice grainy malt backing up the strong hoppiness. Enticing aroma.
T - Hops reflect what the nose promised, albeit a touch fainter. A bit of a hay like flavor between the hops and malt. Nice malty backbone that is a sweet grainy flavor. Touch of spice (pepper) but not much. Initially it is quite enjoyable, but the more I drink, the less intriguing it becomes.
M - Light to medium body with average carbonation. Crisp and slightly dry.
D - Easy to drink Maibock. Hops are definitely a nice touch although they fade a bit after drinking awhile.
Notes: Interesting, hoppy Maibock. I liked it, but it didn't quite have enough staying power. Saphir hops provided a nice touch (especially on the nose). Alright beer and one of their better ones I think.
958 characters

3.18
/5
rDev
-16.8%
look: 3.5 | smell: 3 | taste: 3 | feel: 3.5 | overall: 3.5
Serving type: 650 ml bottle. No freshness date.
Appearance: Poured into a pilsner glass. The color is pale gold and is on the hazy side. Two fingers of thick, buttery, eggshell-colored head dissipated to leave a foamy lacing and ring around the edge.
Smell: My first impression, from the compressed air released when I popped the cap was: this is maibock for hopheads — or least with hopheads in mind. The tangerine from the hops really stands out and is very enticing. However, it has a farmhouse mustiness/yeastiness reminiscent of saison, which is a turn-off for me. Underneath it, though, are some common helles characteristics: grassy hops and that barnyard hay smell. It is way down underneath, though.
Taste: It is an odd little thing. It tastes a lot like saison, though the tangerine citrus throws a wrench in everything. Lots of sour farmhouse (which I suppose is fitting for an Iowa brew), but the Saphir keeps it interesting with a hoppy dryness and tangerine citrus. The malts are in the background offering hints of caramel, hay, and honey; they act like an accent wall.
Drinkability: Like I said, it is an odd little thing. Maibock it is not — at least in the traditional sense. It is, though, an adventurous offering from Madhouse.
1,255 characters



4.12
/5
rDev
+7.9%
look: 4 | smell: 4.5 | taste: 4 | feel: 4 | overall: 4
Bomber from Hy-Vee in a perfect pour glass.
Pours a medium copper color, foam settles to 1/8 '' and keeps a good amount of carbonation. I smell the hops up front, with spices like cinnamon, and some yeast. The taste is comparable. There's a dry hoppiness with some malt backing, and there's a pleasant sweet/sour mix to it.
It's good to move away from the heavier winter ales and porters to lighter brews with less calories and more lively flavors.
450 characters
3.91
/5
rDev
+2.4%
look: 4.5 | smell: 3.5 | taste: 4 | feel: 4 | overall: 4
Bottle from Beertopia in Omaha, NE
No bottled on date
Poured into an Ayinger willi glass
Madhouse's Maibock is a hop-forward version of the style that will appeal to those willing to look towards an "extreme" interpretation of an original European classic. Happily, the extreme is quite satisfying, with the original malt characteristics, caramel and honey, being notable and accessible. Madhouse's innovation arrives in heavily hopping the beer with Saphir hops, which have recently come into prevalence, and impart the beer with pleasant and not overwhelming amounts of citrus and herb-like flavors. A maibock I enjoyed and hope to see more of.
Pours a 1.5cm head, slightly off-white in color, that has good retention, eventually settling to a thin cap atop the body of the beer. The head leaves some lacing as it declines, a few waves and dots line the glass' sides. Body is a fairly bright copper color with orange tones, light makes it a brighter orange-copper color. Body is semi-hazy, a nice, unfiltered bock, with vigorous and visible carbonation.
Aroma of lightly citrusy and herbal notes from hops over caramel malt and slightly honey-like sweetness. Not amazingly expressive, but certainly above average for the style.
Taste opens with caramel malt and some honey-like sweetness, which is quickly met on the front of the palate by subdued citrus, like orange and grapefruit zest, all of which balance well together. Mid-palate reinforces the caramel malt and honey sweetness, but intensifies the citrus, bringing in additional fruit notes and strengthening the grapefruit bitterness.
Subdued herbal hop bite from mid-palate through close. Finishes with a splash of mildly citrus-like, mildly bitter hops, leading to an aftertaste with a syrupy malt flavor that is just slightly overshadowed by lingering citrus and bitterness. I really enjoyed this heavily hopped maibock, with what is perhaps my favorite hop.
Beer is medium bodied with equally mid-level carbonation. The result is a smooth, fairly easy-drinking beer that's very easy on the palate. The finish is dry and features little residual stickiness.
2,125 characters
Saphir Hopped Maibock (Venture Series) from Madhouse Brewing Company
Beer rating:
3.82
out of
5
with
10
ratings