Say When

Mother Earth Brew Co.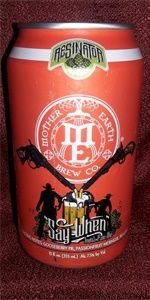 Write a Review
Beer Geek Stats:
| Print Shelf Talker
Style:

ABV:

7.5%

Score:

Avg:

3.85

| pDev:

10.65%

Reviews:

8

Ratings:

From:

Avail:

Rotating

Wants

Gots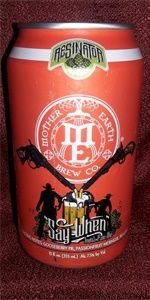 Notes: Using some of the most intensely aromatic hops available, a minimalist malt bill ensures this Resinator installment is hop-focused, brite on the palate, yet contains enough character to avoid being thin. Citrus, tropical fruit, and tea leaf are at the forefront with a clean, bitter finish.

Grain Bill: Pale 2-Row, White Wheat, Acidulated; Hops: CTZ, Galaxy, Citra, Idaho 7; Gravity:
Original: 1.065, Final: 1.010; Color: 6.5 SRM; IBU: 75.
Reviews: 8 | Ratings: 18
4
/5
rDev
+3.9%
look: 4 | smell: 4 | taste: 4 | feel: 4 | overall: 4
a very flavorful and robust ipa, modern but bitter as much as it is dry hopped, resinous and dank, delicious fresh from the brewery in idaho, which i had the chance to visit finally. i tend to look for ipa to be unique these days, you know, use some new hop, employ some new technique, get something else out of it, the style space is so crowded and a lot of them run together, so i was surprised to be so impressed with a beer that could have come from any competent brewer, nothing about it is real new or challenging, its just super well done. there is a simcoe type grapefruit feel up front here, and every bit of other fruitiness from the nose carries right over into the flavor, mango and orange and even melon, before a bit of a spruce tip layer comes up. its oily and sticky and feels properly like a west coast ipa, remember when this is what good ipa tasted like, when bitterness was still allowed and fashionable? this one really brought me back, and i thoroughly enjoyed its intensity. maybe a bit more pungent in the nose than the taste, but its close. really hearty mouthfeel but i dont get a ton of grain flavor pushing through these hops, and i taste it long on the finish. this beer made me happy when i drank it. excellent.
1,241 characters

4.21
/5
rDev
+9.4%
look: 5 | smell: 4.5 | taste: 4 | feel: 3.75 | overall: 4.25
Serving type: 12 oz can into a Chapman Crafted tulip.
Pours a brilliantly clear honey gold. A solid two finger sized head from a semi-aggressive pour. Bright berry aromas, backing pine resin, some tropical fruit (papaya), with some Earl Grey in the background if you really look for it. Flavor reflects the smell, bright berry comes at the forefront of the drink with some pine resin in the middle. The finish is mostly a mixture of berries and tropical papaya with a lingering tea aftertaste, short lived hop bitterness that makes me want to take another drink. Feel is slightly oily, which does diminish from the drinkability. Overall, this is a great IPA that smells slightly better than it tastes, with great berry and supporting pine and tropical notes.
760 characters

4.13
/5
rDev
+7.3%
look: 4 | smell: 4 | taste: 4.25 | feel: 4.25 | overall: 4
Welcome back to my What "New" Beers Have We Here Sunday (Week 750)? They're all new, plus there is a developing theme, as usual. At this point, we CANtinue on The CANQuest (tm) to see what's rilly new & rilly good.
From the CAN: "Tasting Notes: Gooseberry Pie, Passionfruit Meringue, Tea Leaf".
Hahaha! I love their tasting descriptors! I will have to get my duck & swan to help me identify the gooseberries! First, though, a Crack! of the vent was in order. Having acCANplished that monumental task, I proceeded to give it a heavy-handed C-Line Glug that resulted in the formation of just under two fingers of dense, foamy, rocky, eggshell-white head with great retention, leaving nice lacing in its wake. Color was Yellow-Gold (SRM = 4 - 5) with NE-quality clarity & here came The Gelt Gang of Midas, Croesus & Mammon, all clamoring for a taste! Nose had a pronounced herbal, tea-like quality, very mellow as CANpared to their other beers today. Mouthfeel was medium-to-full, not quite creamy, but big for the style. Gooseberry? Ask the duck & swan! Passionfruit? Okay. Tea Leaf? Mos def! It was like drinking a cuppa Celestial Seasoning's SleepyTime Tea. In fact, I … zzzzz. Sorry. This was just so mellow that it was putting me on the nod. Finish was dry and kind of spicy, but very herbal & tea-like. I would not put this in my cooler unless I simply planned to snooze. As a late-night, pre-bedtime nitey-nite beer, though, it would be perfect! YMMV.
1,461 characters
3.5
/5
rDev
-9.1%
look: 3.5 | smell: 3.5 | taste: 3.5 | feel: 3.5 | overall: 3.5
RBSG bus tour stop, draft at the brewery. Bright golden body, frothy white head. Tropical hoppy aroma with some nice caramel malts. Malts move up to the front in the taste, mildly sweet, with the hops finishing it off with a crisp, bitter snap.
244 characters
4.11
/5
rDev
+6.8%
look: 3.75 | smell: 4 | taste: 4.25 | feel: 4.25 | overall: 4
Canned on date of 06/19/17
Appearance - Pours slightly hazy and golden orange in color with an off-white, near finger width head. Sub-par retention results in a thin, broken layer of suds. Not much for lacing.
Smell - Bright and citrusy with notes of orange, tangerine, slight leaf and an underlying breadiness.
Taste - Follows the nose. Huge, bright and citrusy hop character that fall somewhere between orange and tangerine. Light leafy character along with a spice bite that creeps in by mid-taste. Faint breadiness adds some semblance of balance.
Mouthfeel - Light-to-medium in body with a slightly bitey carbonation. Slick, easy drinker with a semi-dry finish.
Overall - Nice drinking IPA with a bright, refreshing flavor profile. This just might be my favorite Mother Earth offering to date. I will definitely keep an eye out for it in the future.
859 characters

4.14
/5
rDev
+7.5%
look: 3.5 | smell: 3.75 | taste: 4.5 | feel: 4.25 | overall: 4
Canned 2 months ago poured into a snifter.
Pours a typical golden color. Not much carbonation or head. Very little lacing to speak of.
The nose is really subtle, some nice dank citrus aroma is all I can pick up. A hint of vanilla is there too.
The taste thankfully has more going on than the aroma. Dank lemon, crisp tangerine, a nice balance of malt and hop bitterness, and a good amount of earthy pine is in there also. Well done. It reminds me of a lesser version of Enjoy By.
Feel is of a lighter easy drinking beer.
Overall this is a very well done IPA. It drinks nice and easy and has plenty of flavor going on also.
628 characters

3.91
/5
rDev
+1.6%
look: 3.5 | smell: 3.75 | taste: 4 | feel: 4 | overall: 4
Appearance: This beer has a genesis date that is 13 days old. The look is a very filtered light orange. It has 1.5 fingers of white big bubble head that dissipates quickly leaving nice lacing.
Smell: Passionfruit, mango, pine.
Taste: Markedly not hoppy. Fruity, mango and passion fruit. Not as fruity as the smell would suggest.
Feel: Carbonation seems a little light.
Overall: This beer seems to be exactly as advertised. I'm not sure of ibu's but it seems a little low on the hops. It's not mother earths best IPA but it is worth trying.
547 characters
3.91
/5
rDev
+1.6%
look: 3.5 | smell: 3.75 | taste: 4 | feel: 4 | overall: 4
Poured from 12oz can into Spiegelau IPA glass. Canning and GENESIS date of June 16th 2017, today. Brand spanking new.
L: Clear gold with an orange tint. Finger and a half off-white head recedes rather quickly.
S: Citrus and herbal hops. Not much else.
T: Very light flavors of citrus and herbal leafy hops. Low bitterness. Nicely different. Similar to Firestone Walker Luponic Distortion No. 006.
F: Light, crisp, semi-dry.
O: Happily give this a thumbs up.
479 characters
Say When from Mother Earth Brew Co.
Beer rating:
86
out of
100
with
18
ratings