Hippy Berliner

8 Wired Brewing Co.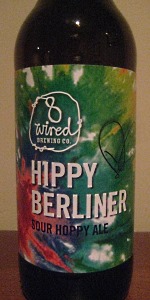 Write a Review
Beer Geek Stats:
| Print Shelf Talker
Style:

ABV:

4.5%

Score:

Avg:

3.89

| pDev:

10.8%

Reviews:

14

Ratings:

From:

Avail:

Rotating/Seasonal

Wants

Gots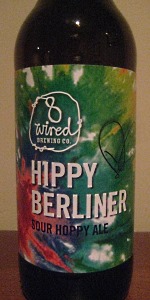 Notes:

rex_4539 from Greece
3.44
/5
rDev
-11.6%
look: 2.75 | smell: 3.75 | taste: 3.5 | feel: 3.25 | overall: 3.25
L: Hazy amber color, two finger white head, messy lacing, loads of carbonation.
S: Sweet, hops, malts.
T: Dry, slightly sour, hops.
F: Champagne-like, light to medium bodied.
O: Not my kind of beer for sure.
May 12, 2019

dcotom from Iowa
3.96
/5
rDev
+1.8%
look: 4.25 | smell: 3.75 | taste: 4 | feel: 4 | overall: 4
Poured from 0.5-litre bottle into a Spiegelau Adina Prestige goblet. Pours a slightly hazy light golden-yellow color, with a two-finger evanescent white head. A burst of hops on the aroma, with notes of Meyer lemon, grapefruit, sour apple, and light malt, along with just a hint of yeast. All of these are present on the palate as well, with some light hop bitterness and a touch of salinity. There is also a very light mineral note. The finish is dry and crisp. Overall, this brings to mind a light and slightly tart Chardonnay. The reviewed sample was about five months past the Best By date, so the hop bite may have been mitigated somewhat. Still, a very good and refreshing beer.
Jul 08, 2017
Everydayoff from Thailand
4.06
/5
rDev
+4.4%
look: 4 | smell: 4.25 | taste: 4 | feel: 4 | overall: 4
On-tap served in a stemmed glass at Mikkeller Bangkok.
Clear gold straw in color, it tops with thick white frothy head that well retains with good retention before gradually sinking to a long-lasting bubble sheet atop and leaving lots of lacing patch and spot here and there.
So mellow aroma, it has good combination of sweet, fruity, sour, and tart profile. Lime, orange, tropical, lychee, passion fruit, cherry, apple cider, sour candy, some grain, and grassy hop.
The taste is led by its puckering tartness and sourness. Fruitiness pleasantly unfolds ranging from notes of lime, orange, lychee, apple cider, and tropical fruits. Malt can also be perceived with its bread and grain touch while hop is also there too with suggestion of grass and very small bitterness.
The body is medium with good crisp and lively carbonation through the palate, smooth mouthfeel, refreshing in feeling with a very dry finish. This one is a truly good Berliner Weisse spawned out of its origin, really worthy.
Jan 23, 2017
patre_tim from Thailand
4.1
/5
rDev
+5.4%
look: 4 | smell: 4.5 | taste: 4 | feel: 3.75 | overall: 4
Straw gold with lots of carbonation and a finger of white head. Clear filtered.
Smells like grassy hops and apple cider. Passionfruit, a hint of citrus.
Sour, passionfruit and grassy catnip herb quality.
Light body, lots of soda like carbonation. Very dry and puckering qualities.
Got on wishbeer, drank in Chiang Mai Aug 31st, 2016. So long since I've had a good version of this style. Really nice with a solid acidity and light hints of hops.
Aug 31, 2016
Tone from Missouri
4.55
/5
rDev
+17%
look: 4.5 | smell: 4.5 | taste: 4.75 | feel: 4 | overall: 4.5
Pours a clear, gold color. 1/3 inch head of a white color. Great retention and great lacing. Smells of fresh lemon, hop oils, hop resin, floral hops, hint of pine, and yeast. Fits the style of a Berliner Weissbier. Mouth feel is sharp and clean, with an average carbonation level. There is also a slight tartness. Tastes of fresh lemon, hop oils, pungent hop resin, floral hops, and a hint of pine. Overall, good appearance, aroma, body, blend, and complexity.
Jul 09, 2016
jzlyo from Iowa
4
/5
rDev
+2.8%
look: 4 | smell: 4 | taste: 4 | feel: 4 | overall: 4
Aroma is tropical fruit,sour fruit and slight lactic notes. The flavor is slightly sweet tropical fruit, hops, wheat, a hint of lactic and a mildly bitter finish.
Jul 01, 2016
Trosevear from Canada (AB)
4.32
/5
rDev
+11.1%
look: 4.25 | smell: 4 | taste: 4.5 | feel: 4.5 | overall: 4.25
L: See through pale yellow with a frothy white head to it that leaves a small amount of lacing but nice head on top.
S: Peaches and banana with a slight tartness from it as well and she little bit of an acidic tone to it as well.
T: Peaches and a very strong tartness to it. Has a slight acidic tone to it but nothing overpowering like some of the beers.
F: High carbonation and doesn't leave the acid taste in your mouth which is nice.
O: A really great sour beer from these guys! Even my fiance liked this beer and that takes a lot!!
Apr 30, 2016

kitch from Hong Kong
4.17
/5
rDev
+7.2%
look: 3.25 | smell: 4.25 | taste: 4.25 | feel: 4 | overall: 4.25
A 500ml bottle from batch #23 with a best before date of 22nd June 2016 and poured into a Duvel tulip glass.
Appearance: It poured a hazy straw yellow colour with less than one finger white head which disappeared almost immediately but left some light lace rings.
Aroma: Strong sour fruitiness with mainly guava, passionfruit, mango and lychee. There was some light grainy malts in the background.
Taste: Quite similar to the aroma, taste starts lightly sour and tropical with passionfruit, mango and pineapple. There was also a hint of grainy malt here and there.
Mouthfeel: Crisp, light to medium bodied with high carbonation.
Overall: A nice and crisp Berliner Weisse. Very easy to drink. It had good flavours but could have been even better if the tropical fruits were even stronger. Having said that, I would get this one again.
Apr 17, 2016
UCLABrewN84 from California
4.02
/5
rDev
+3.3%
look: 3.25 | smell: 4.25 | taste: 4 | feel: 4 | overall: 4
Pours a hazy light yellow with a foamy white head that settles to wisps of film on top of the beer. Small streaks of lace drip into the remaining beer on the drink down. Smell is slightly sour tropical fruit, passionfruit juice, citrus juice, and acidic aromas. Taste is much the same with sour passionfruit juice, tropical fruit, and acidic flavors on the finish. There is a mild amount of acidity on the palate with each sip. This beer has a good level of carbonation with a crisp mouthfeel. Overall, this is a good beer that is tasty, light, and easy to drink.
Serving type: bottle.
Apr 10, 2016

Andrewharemza from Australia
3.9
/5
rDev
+0.3%
look: 4 | smell: 4 | taste: 3.75 | feel: 4 | overall: 4
From bottle, Pours abright hazy yellowish straw colour with a finger of pure white head that dies to nothing leaving a few lacing rings. Aroma is fruity, light pine and resin notes. Taste of tropical mango, passionfruit, stonefruit and pineapple, Sour and tart with lemon notes.
Sep 23, 2015
Andrew_Smith from Canada (AB)
3.6
/5
rDev
-7.5%
look: 3 | smell: 3.5 | taste: 3.5 | feel: 3.75 | overall: 4
Nice job 8 wired! It's a berliner the way I like my ISAs - dry and pungent as fuck. I've also trieed lacto ferments. It tastes lie you guys used soft water or something cause it seems like a dry sour
Not oveetly wheratey like many bernlners/goses might be. Low/non e? caramel/vienna malt. lots o pilsner, oats, carafoam?
i seem to not be able to detect hop or fresh oaK SUPER WELL. i had this beer described as bubblegum-y. if i'm ot getting bubblegum from belgian yeat iam def no getting it from hop additions. either way i wish i ws living in new zealand.
higher ratng overall becausemy personal preference of the belgian yeast expression and hop bubblegum vibe nicy/mildly used (balance)
wish i was better at ratings
Sep 13, 2015
biboergosum from Canada (AB)
3.91
/5
rDev
+0.5%
look: 3.5 | smell: 3.75 | taste: 4 | feel: 4 | overall: 4
500ml bottle - a hoppy New World take on the Berliner Weiss style, and with a label background that I'm pretty certain my toddler could have banged out with ease.
This beer pours a slightly hazy, very pale golden straw colour, with one finger of weakly puffy, somewhat foamy, and mostly just bubbly off-white head, which leaves a bit of ocean plume lace around the glass as it quickly blows off.
It smells of sort of dank pine resin, tart light orchard fruit (white plums and underripe grapes, mostly), some more esoteric pale tropical fruits (lychee and kiwi), zippy yeast, a bit of sour lactic astringency, faint grainy pale malt, and further estery leafy and grassy hops. The taste is bready, lightly doughy pale malt, sharp fleshy fruit (kiwi, gooseberries, and pineapple), a gently lactic sourness, some middling flintiness, and leafy, piney, and somewhat floral hops.
The carbonation is quite light and ineffectual in its plainly-wrought frothiness, the body medium-light in weight, and so-so smooth, the multi-pronged sourness taking a certain tithe here. It finishes off-dry, the understated graininess coming round to bear, while the antipodean fruitiness puts 'er in neutral, and the sourness peters off into that good night.
A decent re-invention of this old-school Teutonic style, the addition of sexy new-ish hops not really hurting anything, but rather invigorating the inherent fruitiness, and obviating that 'need' for a shot of syrup to square things. Worthy of a try, especially if you're big on this sort of deal in the first place.
Aug 29, 2015
CrazyDavros from Australia
3.5
/5
rDev
-10%
look: 4 | smell: 4 | taste: 3.25 | feel: 3 | overall: 3.5
Pours yellow with a large head.
Nose shows elderflower, white wine, lychee and passion fruit.
Somewhat tart flavours but with a grainy cardboard note throughout.
Aug 11, 2015

Phil-Fresh from California
4.34
/5
rDev
+11.6%
look: 4 | smell: 4.25 | taste: 4.5 | feel: 4.25 | overall: 4.25
A: strong citrus, grapefruit aroma with some lactic presence detected
A: Opaque straw color with small amount of head
T: Hops provide a strong fruitness, followed by a clean lactic sour finish with no noticeable hop bitterness on the finish
M: Light Bodied with med-carbonation, no sensation of alcohol
O: Made initially for the Great Australasian Beer SpecTAPular (GABS). Wow this is super tasty. The extra hops provide more tropical notes than are usually present in a standard Berliner. However even with the extra hops, the beer tastes and finishes clean. Impressive.
Jul 01, 2015
Hippy Berliner from 8 Wired Brewing Co.
Beer rating:
87
out of
100
with
46
ratings