Batch 18 Barrel Aged Imperial Stout
| 8 Wired Brewing Co.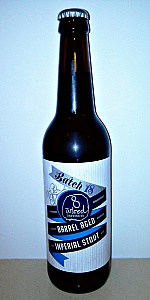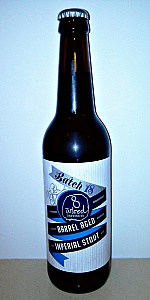 BEER INFO
Brewed by:
8 Wired Brewing Co.
New Zealand (Aotearoa)
8wired.co.nz
Style:
American Double / Imperial Stout
Alcohol by volume (ABV):
12.50%
Availability:
Limited (brewed once)
Notes / Commercial Description:
We always wanted to do something unique for our 8th batch but it came around so fast that we had to meet demand for our existing beers. So we decided to hold out until the 18th batch to produce a seasonal celebration of what 8 Wired has become over the last 18 months. Batch 18 is not for the faint of heart, nor the selfish. It's a huge celebration of flavour that's made to share and to savour. It's the product of our wildest imagination, brewed by hand with one goal - to make the most regal of imperial stouts. Batch 18 uses an enormous amount of malt, hops and a delicious Indian raw sugar, Jaggery. We fermented it with two different yeast strains, infused it with locally roasted fair trade organic coffee, then aged it for three months in American oak barrels. We did this not just for the challenge or the journey, but to showcase our philosophy of creativity and quality. We didn't just make it because we could, but because we had to, and it's the perfect expression of our raison d'être, ingenuity in flavour.
75 IBU
Added by mulder1010 on 07-21-2011
This beer is retired; no longer brewed.
HISTOGRAM
Ratings: 10 | Reviews: 5
2.36
/5
rDev
-41.9%
look: 3 | smell: 2.5 | taste: 2.25 | feel: 2.25 | overall: 2.25

4
/5
rDev
-1.5%
look: 3.75 | smell: 4.25 | taste: 4 | feel: 4 | overall: 3.75
Many thanks to MrKennedy for this. Huge thanks.
A - major blackfest, oily black. Half finger dark tan head. Spotty lace with legs.
S - vanilla bomb, brown sugar.
T - ok this is weird and wonderful, in an RIS I am getting vanillas, caramels, butterscotches.... crazy but true. Quite sweet. The barrel is almost heavy handed tho, and sucking lolly sticks comes to mind briefly. 90s chardonnay also, but in a good way.
M - lightly carbonated, medium to heavy weight, alcohol is certainly there. Warm.
O - a great beer but not an outstanding one. The first few sips are a wonder, but a somewhat heavy roast element takes over from there. Notwithstanding that slight negative this is Seriously Good Beer from DownUnder, and the best attempt at at BA beer from this part of the world.
783 characters
4.7
/5
rDev
+15.8%
look: 4.5 | smell: 4.5 | taste: 5 | feel: 4.5 | overall: 4.5
For me, one cannot do better than this brew. Thick and amazing, with a kick like a Roo socking you in the jaw. I am not kidding... though I have never been socked by a Roo. Goes down a bit too fast ... hits you quite hard on an empty stomach if you do so, and I am not a drinking light weight. Sort of like the ground moves a wee bit. Wonderful complex almost nutty taste, which I found very unique. Have dated a few girls from down under, and would put this little number in their class, the type of girl who can rescue you from a fight and also drag you out of the bar to safety... thicker than the motor oil in my bike. Currently my all time favorite brew, and would have wanted to be weaned on it.
701 characters


4.5
/5
rDev
+10.8%
look: 4.5 | smell: 4.5 | taste: 4.5 | feel: 4.5 | overall: 4.5
Served in a large Duval tulip glass;
A-Black and thick with a nice tan head of about an inch, lacing was also very nice.
S-Powerful, you can definitely smell the alcohol, but no so overwhelming that you can still identify hints of roasted malt, oak, maybe some vanilla, coffee, dark sugars, alcohol.
T-Taste is excellent! Lots of different flavors here; lots of coffee, some chocolate. A sweetness, but he still get a taste of the hops and malts, oak you definitely feel the warmth of the alcohol on the backside, but that carries the flavors between sips. It feels like the ABV could be a little higher; compares to a Black Tokyo Horizon, my all time favorite.
M-Oily smooth almost to slightly syrupy mouthfeel, nice medium carbonation which carried through the large bottle. Again, you definitely feel the ABV, which seems to dance around on the tongue.
O-This is an excellent beer; lots going on here! A nice comination of sweetness with the high ABV making it a nice sipping beer. Will definitely pick up a few more of these as I would like to see how they age. 8 Wire describes as ambitious, I totally agree!
1,119 characters

3.8
/5
rDev
-6.4%
look: 4 | smell: 4 | taste: 3.5 | feel: 4 | overall: 4
Pours a jet kola hue with average carbonation that leaves behind a two finger head that stays and leaves minimal lacing,the smell is dark port,oak,chocolate cherry,strong dark coffee and alcohol,it has a silky smooth medium bodied mouthfeel and has tastes of chocolate coated cherries soaked in brandy,milky coffee,bourbon,oak,roasted malts and finished with a bittersweet twist of fruitcake and dark cocoa nibs,and overall its a nice drop but i think the oak barrel aging was 2 influential and they will get way better with more time.
535 characters
3.28
/5
rDev
-19.2%
look: 4 | smell: 3.5 | taste: 3 | feel: 3 | overall: 3.5
8 Wired Batch 18 Barrel Aged Imperial stout
3 months on American Oak Barrels
500 ML bottle poured into a tulip Thanks to Mr Kennedy for ordering this for me while I was away.
A-- Poured a dark cola color, settled black with just a hint of ruby at the top of the head. Head is a dark brown sugar color. Maybe 1/4 of an inch height, just above film though. Swirling got a half a finger with a lot of big bubbles in the head that quickly die off to the original 1/4 inch, near film look. No lacing and quick running alcohol legs on the sides of the glass.
S-- Warm vanilla, toasted coconut, warm melted brown sugar or molasses, dark fruits and fresh oak. A little bit of an ethanol smell in the back of the nose but think that is the Oak giving that off. Very fresh wood smell.
T-- Fresh oak, vanilla, and coconut. Oak really dominates though. Tastes sort of green and young because of the Oak. Really softens the other flavors a lot.
M-- Silk smooth feel. Lots of brown sugar, milk chocolate and coffee. Does get a bit harsh acidic coffee and more oak in the back of the mouth. Get some really fresh pine in the back of the mouth as well. Alcohol well hidden though. Low carbonation and medium feel. Oak is a hindrance to the rest of the beer as it hides the flavors too well at times,
O-- Not real keen on the barrel as it is harsh and very heavy wooded at times. Barrel hides some really nice flavors that are in this and the base beer seems pretty good. Sneaky ABV on this. Give this some time to develop a bit and should calm down a bit. For a first effort into this type of beer not all that bad.
1,610 characters
Batch 18 Barrel Aged Imperial Stout from 8 Wired Brewing Co.
Beer rating:
4.06
out of
5
with
10
ratings