English Cellar Alehouse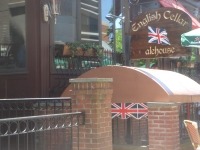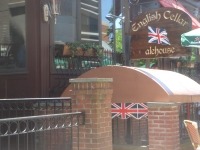 PLACE INFO
Type:
Bar, Eatery
165 Angell St
Providence
,
Rhode Island
, 02906-1235
United States
(401) 454-3434 |
map
englishcellaralehouse.com
Notes:
No notes at this time.
Added by ybnorml on 04-21-2010
PLACE STATS
Reviews:

11

Ratings:

pDev:

21.21%
HISTOGRAM
Ratings: 15 | Reviews: 11

2.7
/5
rDev
-18.2%
vibe: 1.5 | quality: 2 | service: 5 | selection: 2 | food: 2
This was a horrible disappointment. Not a great beer list and very limited pub food. I was served a Stone beer over $8 in a glass jar not a mason jar which still had a bit of label residue on the outside- the reason, it had measurements on the outside. NO prices on the beer menu- forgot to ask but $8.25 for Stone Thunderstruck is steep. Shabby upstairs, no beer or food menu online. The bartender was the only great thing about this visit. Mostly Brown students using mom & dad's credit card who don't care what things cost. Actually thinking about reducing the small food menu because "no one orders food." Came in for the wings due to a local state wide promo-
Food Fights. Try Rogue Island in Downtown PVD Arcade instead.
728 characters

3.7
/5
rDev
+12.1%
vibe: 4 | quality: 3.5 | service: 3 | selection: 4.5 | food: 3.75
2.35
/5
rDev
-28.8%
vibe: 3 | quality: 2 | service: 1 | selection: 4 | food: 2
We worked hard to overlook the consistently HORRIBLE SERVICE years ago (used to come weekly for a long time) because we liked the concept but ultimately couldn't stand it. Forget table-side, good luck getting a beer in under 15 min if you're within a foot from a bartender. Just tried again today, years later, and now remember why we left. Amazingly, it's worse than before. Moved from a booth to the pool table, left server $30 for booth tab, just beers, which server took and agreed to keep serving us while we were shooting pool. We later got the full bill again and she claimed she never received the cash we handed over. So many great restaurants in Providence, don't waste your time (or twice your money).
Update: they tried to charge us even more, lost one of our credit cards, and when we explained the situation the manager yelled at us repeatedly. The other patrons who observed were nice though and came
over to share their own experiences of terrible service this evening. On the way out, another server mocked us loudly as we walked away.
PLEASE TAKE THE TIME to read other reviews about the service and suspect financial transactions, our experience tonight is far from unique and we would like to save others the frustration and expense. An unacceptably long wait time is the best service you can hope for here.
1,338 characters
3.84
/5
rDev
+16.4%
vibe: 4 | quality: 4.25 | service: 3.5 | selection: 3.75 | food: 3.5

4.22
/5
rDev
+27.9%
vibe: 4 | quality: 4.25 | service: 4 | selection: 4.5
Grabbed a beer here while exploring the neighborhood Brown is in. Good little pub.
82 characters
4.08
/5
rDev
+23.6%
vibe: 2.5 | quality: 4.25 | service: 4 | selection: 4.5 | food: 4.25
Fun place to hang out, I stop in whenever I'm in that area. Great beer menu, some interesting food to go with it. Good service, but the place is often packed with kids from the surrounding universities.
202 characters
3.45
/5
rDev
+4.5%
vibe: 3 | quality: 3.5 | service: 3.5 | selection: 3.5 | food: 3.5
Not a bad place for a pint and a pizza when strolling the East Side or when waiting for your wife to get out of work. The selection lives up to the name, but most of the "English" brews are of the usual suspect variety. Still, there's always a few beers that intrigue and worth the trip. Great bottle selection with a book-size list, if that's your thing. Food is good and the flexibility and variety of ordering off of two menus--traditional pub and nouveau Italian (upstairs)--is a plus. Nice brick cellar vibe. Great place to watch the real football matches.
561 characters
3.28
/5
rDev
-0.6%
vibe: 3 | quality: 3.5 | service: 3 | selection: 3.5 | food: 3
this place has the best selection on the East Side, although the balance of the selection lives in the fridge. a dozen taps pour mostly swill and The Irish beers (i think you know what i mean). the last time i was there they were pouring Shakespeare Stout (with nitro, which is just stupid), Green Flash IIPA and Affligem Noel, which were all delicious
i visited a week ago or so when they had "discovered" (according to their facebook page) a lost keg of 2010 Dogfish Sat'Tea. pints went for $11, which the waitress failed to point out, so i was a little shocked when my two pints added up to $22. charging that means seems a little disingenuous to me: they turned an opportunity for excitement among the beer nerds into an opportunity to gouge people (after all, it was a 2010 keg, not 2007)
staff don't seem to know much about good beer. in fact, many of the servers don't seem to be of drinking age
bottle list is long but seems light on the really good ones. i don't have examples at the moment, but i suspect it's because prices are high and no one will pay for the markup on already expensive brews. that said, good beers do not have to be expensive. the bottle menu is organized oddly--one of the sections has the title "Darker Beers"
one thing about this place that really grates is their in-house gimmick, dusting glass rims with brown sugar and pie spices. they love to add this to Shipyard's Pumpkinhead and Applehead. what i find distasteful about the gimmick (people can do whatever they like to their beers) is that it's called the "East Side rim job", which can be found emblazoned on the bar's official t-shirt
this isn't a beer geek haven, it's a bar with more beers than normal. that's okay, though, i suppose. given it's proximity to a university, i should probably be more appreciative than i am initially inclined
1,840 characters
2
/5
rDev
-39.4%
vibe: 2 | quality: 2 | service: 2 | selection: 2 | food: 2
It's been a few months since I was here so things may have changed.
I can't help but chuckle at a place that refers to itself as an "English Ale House" and has exactly two drafts from that country (Young's double choc and OSH, specialty beers which you don't see very much in England itself). Maybe they are counting Guinness.
The wrap and the sandwich we had were fine, not impressive, the service at was fine as well. What wasn't fine was the two waitresses who stood a few feet away, loudly bitching about what awful tippers Brown students were. I myself have no connection to Brown, but if you don't like students, don't set up shop on a campus. And don't complain about customers in front of other ones. What kind of message does that send?
Too bad. As a former resident of the UK I really wanted this place to be what it claimed to be. Shoulda known better.
867 characters
4.14
/5
rDev
+25.5%
vibe: 4 | quality: 4 | service: 4 | selection: 4.5
I was pleasently surprised by my experience at this establishment. I had read some of the prior reviews concerning the disorganization of the beer menu and was delighted to see that someone was listening. The beer menu which the bartender said was brand new that day looked great. It first listed the drafts (the two rotating drafts were not listed) and then listed the bottles which were organized by beer type. The listings included place of orgin, size, alcohol %, price and a brief description. The menu looked professionally done. The layout was great, the pages were laminted and it was bound with a hard cover. My only concern is with so much effort put into the menu I can't imagine them making regular updates and changes.
As for the beer selection it is important to distinguish that this is a beer bar not a craft beer bar. There are tons of beers of various styles (I think they said they had about 180 different bottles at present) including many international beers from around the globe. I had a Wells Banana Bread which at $5.25 was a pretty good value. However, the American craft beer selection is a little boring and there is little to nothing in the way of seasonal and limited release beers. The Belgian line up is ok with about a dozon options but lacks the variety and quality of establishments that feature or specialize in these beers. The draft selections are what you would expect from an English Ale house with selections like Fullers ESB and Old Speckled Hen. I enjoyed a Holy Grail Ale which was one of the rotating drafts. With only two rotating drafts this is not the place to go if you like trying limited releases from American breweries like Dogfish Head, Southern Tier or Heavy Seas.
I thought the place looked great for an English ale house. Basement setting was just right. I was welcomed by the sound of a soccer match as I entered the door and saw multiple matches on the TVs. Knowing little to nothing about English soccer the bartender explained the cup competition that was going on and related it to the NCAA tournament. The TVs are small but you can see the reason for the layout among the breaks in the windows. I personally would rather view a smaller TV directly in front of me than have to look at a larger TV thats centered four stools over. There was an old English style telephone booth which added to the atmosphere. There was a pool room in back. I didn't notice anything in the way of a darts area and would think this would be a priority for an English pub. The bathroom was clean but there was no privacy for the toilet.
I did not try the food and do not consider myself a food critic. If you want a great meal I would suggest going to somewhere other than a bar. If you like English ales I would consider this place a good place to go.
2,799 characters

3.25
/5
rDev
-1.5%
vibe: 3 | quality: 3 | service: 4 | selection: 3 | food: 3
I like the atmosphere with the exposed brick and dark basement feel. The rest of the place needs some work. The beer list is a mess. Not organized at all. They supposedly have 150 beers and there is no way you can find what you want without spending 10 minutes looking at the list. Should be sorted by style. I told the bartender who said he agreed and heard it more than once. Speaking of the bartender, I ordered a Dale's Pale Ale and he had to come back to me to ask who the brewery was as he never heard of it. Hire a bartender that knows there beer if you are going to have 150 in a bottle. It helps when conversing with customers. I also find it odd that not a single IPA was on tap. Not easy to sell drafts when you don't have an IPA. Just my opinion.
We ordered a couple burgers and they were average. I know of many better burgers in RI. Bathroom is like a college bar. Not very pretty and god help you if you have to "use the throne". They are supposedly a soccer bar, but have the smallest TV's you've ever seen. I can't imagine coming here to watch the World Cup on a 10" screen.
I wish them the best of luck, but I'll be surprised if it lasts more than a couple years. Just too many holes to fill.
1,212 characters
3.48
/5
rDev
+5.5%
vibe: 4 | quality: 3 | service: 3 | selection: 4.5 | food: 3
I originally posted this on Yelp, but since BA is the go-to site for sorting out the wheat from the chaff, I think it warrants a re-post here:
Given the dearth of RI beer-bars and the fact that this place just opened, I'm reluctant to give a bad review, but...they need to sort out some things quickly or they won't be around long.
My wife and I went to dinner with two other couples and all six of us were in agreement:
Food - Onion rings were great, so was the buffalo chicken tenders. The rest of the dinners - a few orders of fish and chips, a burger, onion soup, etc., were all acceptable pub-fare. The Sheppard's Pie, however, was inedible; it was a nothing more than a layer of ground beef with sloppy-joe mix, a layer of canned corn, and a layer of mashed potatoes. Granted, that might be an authentic English recipe, but it still sucked. My wife stopped after 4 bites and the only reason there was half of it gone when the waitress came and picked it up was because a few of us tried it. I've had great Sheppard's pie, this is a recipe designed around a price-point.
Service - Attentive to the point of annoyance. I realize that they just opened, but we literally had two, maybe three, people hovering over us all dinner long. There is a rhythm to good service, and nothing stinks worse than being ignored, but having your dinner interrupted over two dozen times is a close second. I think this will eventually improve, as it's most probably a management issue, because the wait staff were definitely competent and very polite.
Beer - (warning beer-snob rant about to begin) Having traveled all over the world solely to drink beer, I can assure you any bar attempting to market itself to a beer crowd but not knowing beer-culture is going to suffer. They claim to offer over 150 beers, and they actually have more than that, but quantity does not always equate to a great experience. The menu, with all beers organized alphabetically (arguably the worst way to list beers), was filled with spelling errors, mislabeled styles, and looks like it was put together by someone who worked with the distributor, but doesn't really know and love beer. The most glaring issue is the price: reasonable on some bottles and completely out of line on others. Would anyone in their right mind pay $17 for a bottle of Orval? How about a $27 for a bomber of Oak-aged Yeti? Both of these beers are available locally at half of those prices. The Houblon Chouffe was more than Rochefort 10...on what planet does that make sense? (ok, beer-snob rant is over). My menu recommendations: first, organize by style or by brewer, or better yet both, that way when you're looking for a stout or an IPA, you see everything that is offered. Second, have a knowledgeable beer geek proof your entire menu, anyone who orders a beer they've never had needs a solid, first-hand description. And third, get out locally to see some of the beer-centric establishments so you can adjust the pricing on the higher-end beers.
In the end I filled out the feedback paper they handed us and then even discussed it in-person with the manager, and to his credit he seemed genuinely interested in hearing the feedback.
So bottom line: I really do hope they get it right, god-knows Providence could use another bar that has something other than 10 crappy beers, but if they don't listen and learn from the folks who love beer then given the expense of a Thayer Street business, I predict they'll be gone in a year or so.
P.S. the Monk's Cafe Pale Ale on the menu is atually from a brewpub in Stockholm that just happens to share the name of our beloved Philly bar.
3,636 characters
3.65
/5
rDev
+10.6%
vibe: 4 | quality: 3.5 | service: 4 | selection: 4 | food: 2
well done English pub atmosphere greets you as you walk in. Not a big place but nice. 12 draft lines and "over 150 bottled beers" (I did not count the bottles on the the list but it could be correct). Loved having an Old Speckled Hen on nitro, liked the Youngs Doubled Chocolate on nitro even more. The barman Adam was moderately knowledgeable. The beer list looks like you took the beer names, put them in a bucket shook it up and poured it on the floor. In talking to Adam he explained that his bar was setup for the unknowledgeable and unexperianced beer drinker. The list is supposed to make the newbie feel like they are reaching into a hat and just randomly picking out a new beer to try. This is not a bar for beer people. One Glaring ERROR on the beer menu listed ; Monks Cafe, American IPA, from Sweden. Nah not even close buddy. I had 2 draughts with a bottle of that Swedish/American IPA...Monks Cafe and a "Londonderry Beef Stew"...$31. the stew was not my idea of stew, stew is not made with a cream sauce. If I'm in the area and want a nice english draught. I might stop in again.
Lastly I dont know how much longer this place will be open..I saw on of the young customers take a bottle of miller lite from the bar and walk out the front door, and no one stopped him!
1,281 characters

3.43
/5
rDev
+3.9%
vibe: 4 | quality: 3.5 | service: 3 | selection: 3.5
I think this place has potential. The draft list is craft-free, but I'm OK with that, considering the place is trying to be an authentic English pub. It was a nice touch to include Young's Double Chocolate on tap.
Honestly, my biggest problem with the bottle list is the organization of the menu. As far as I could tell, it's not in order by alphabet, state, country, beer type, or color. That makes it awfully difficult to navigate and find something specific. The list includes a good balance from New England, other US craft breweries and Europe. Seasoned BAs will likely not find anything new or unusual here. Prices seem to vary wildly by bottle and include a few head-scratchers.
It's encouraging that this much good beer is available in a college neighborhood. The crowd was a mix of students, families, and young professionals, and the vibe became less "pub" and more "scene" as the night got later. My hope is that over time this place will put some more thought and effort into tightening up the bottle list/prices. It will help if the staff becomes more familiar with all the beer.
1,094 characters
English Cellar Alehouse in Providence, RI
Place rating:
3.3
out of
5
with
15
ratings