Eric's Cream Ale
| Quidi Vidi Brewing Company
BA SCORE
76
okay
14
Reviews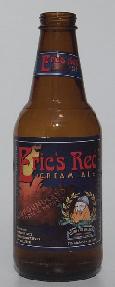 BEER INFO
Brewed by:
Quidi Vidi Brewing Company
Newfoundland and Labrador
,
Canada
quidividibrewery.ca
Style:
Cream Ale
Alcohol by volume (ABV):
5.00%
Availability:
Year-round
Notes / Commercial Description:
This cream ale is crafted with the finest two-row pale, Crystal and Carastan Malts.
Moderately hopped, it imparts a substantial but creamy taste with a truly satisfying finish.
Previously known as Eric's Red, Eric's Cream Ale was the Silver Medal Winner at the 2001 World Beer Championships in Chicago, IL.
Added by the42ndtourist on 08-10-2003
Reviews: 14 | Ratings: 23
3.35
/5
rDev
+11.7%
look: 3 | smell: 3 | taste: 3.5 | feel: 3.5 | overall: 3.5
Appearance- Pours a golden straw yellow with a 1/4 finger width of bubbly white head.
Smell- Sweet malts, grains, apple/pear
Taste- Starts with the toasty grains and malts then transforms into a sweet creaminess. Clean aftertaste.
Mouthfeel- Light to medium bodied with light carbonation. Smooth and slightly creamy texture.
Overall- A refreshing cream ale by Quidi Vidi. The flavours are mild and the body has a nice smooth feel. Nothing fancy but a decent brew overall.
★
476 characters

3.13
/5
rDev
+4.3%
look: 3.5 | smell: 3 | taste: 3 | feel: 3 | overall: 3.5
Clear golden appearance with foamy white head that sticks around for awhile. Smell is sweet caramel with a hint of grain.
Taste is malty and grainy with a sweet taste that is made up of caramel and vanilla. Picked up a hint of fruit as well, but overall the taste is pretty light. Light-moderate body with moderate carbonation. Aftertaste has a lingering vanilla taste.
Not a bad beer, refreshing with a good combination of tastes. Missing a kick to it, but worth a try if you see a single bottle for sale.
★
508 characters
2.99
/5
rDev
-0.3%
look: 3 | smell: 1.5 | taste: 3.5 | feel: 3.5 | overall: 3.5
The "Local Beer Local Company" shtick doesn't really work when it's sold clear across the country, unless it's meant to appeal to all the ex-pat Newfies out here...
This beer pours a clear medium golden hue, with two fingers of foamy off-white head, which leaves some sparse random streaks of lace around the glass as it quickly abates. It smells of steamed corn and acrid boiled veggies, with a muddled grassy, weedy hoppiness. The taste is quite a turnaround - sweet caramel malt, a bit of honey, and earthy, floral, musty hops. The carbonation is moderate, the body medium weight, smooth, and a little sugary. It finishes still quite sweet, the malt ceding little ground to the earthy hops.
Wow, another stanky-smelling beer, that turns out all right. What the hell? Get past the off-aromas, and you're good to go, bye!
★
824 characters
1.68
/5
rDev
-44%
look: 2 | smell: 1.5 | taste: 2 | feel: 2 | overall: 1
341ml brown bottle with a twist-off cap poured in a pint glass. Part of a sampler 6 pack bought at Willow Park in Regina.
Clear and golden. Bright white head is only 1/8 inch on the pour and is gone in an instant leaving no head at all. Very few carbonation streams.
Aroma is barely discernable. Likely due to the minimal head. Corn, cooked veggies and caramel.
A very blah kind of beer. Flavour is inoffensive, but doesn't stand out a whole lot. Very similar to their other beers: Light caramel and malts off the start, the middle is astringent with lots of carbonation. Wet finish with some sharp green apple hints.
Mouthfeel is thin for an ale. Light with lots of carbonation scrubbing your palate.
Drinkability doesn't rate very high because I'm having trouble putting this back. I may not even finish this. Don't waste your time with this one.
★
853 characters
2.18
/5
rDev
-27.3%
look: 3 | smell: 2.5 | taste: 2 | feel: 2 | overall: 2
Pours a light honey colour, very good clarity with a one finger head that quickly dissapears. Nose- sweet corn, slightly grassy. Taste- again a sweet cooked corn flavour with very little backbone of substance. Flacid body, moderate carbonation. Finish is dry from overall lack of flavour. Lacklustre ale to say the least.
★
321 characters
3.8
/5
rDev
+26.7%
look: 3.5 | smell: 3.5 | taste: 4 | feel: 3.5 | overall: 4
Ordered an Eric's Red Cream Ale at Christian's Pub on George Street.
Appearance: A clear, golden color. The thick, bubbly white head quickly died down to leave a small foam ring and some decent lacing.
Smell: Mild grains, with slight hints of vanilla, honey and fruits.
Taste: A malt taste up front, followed by some caramel and vanilla notes, aftertaste is of peaches, very nice.
Mouthfeel: Light to medium bodied beer, fairly smooth.
Drinkability: Great, a few of these go down very well.
*I've had the bottled version, which is not quite as flavorful as on-tap but still worth a try!
★
592 characters

3.17
/5
rDev
+5.7%
look: 3 | smell: 3.5 | taste: 3 | feel: 3.5 | overall: 3
341ml bottle poured into pint glass feb9 2010
A light golden in color with lots of carbonation and a fast falling tiny head that left no lace
S sweet malt and perhaps a little honey and just a little peach
T some more sweet grains and a little fruit
M decent carbonation and enough body to keep it from having a watery feel
D pretty average beer but nothing offensive
I got nothing against this beer it just didn't inspire me in any particular area, try it if your ever in Newfoundland
★
492 characters

3.12
/5
rDev
+4%
look: 3 | smell: 3.5 | taste: 3 | feel: 3 | overall: 3
Quidi Vidi needs either an eye examination or a grammar lesson. This beer, which is named in honour of viking explorer Leif "the Red" Ericson, is certainly not red - as the apostrophe in "Eric's Red Cream Ale" suggests - but is rather a sparkling golden. While we're talking colours, a little more white on the top would also be more befitting for Eric's beer.
It's a funny thing about cream ales: their aroma is actually quite distinctive, even despite that there's nothing necessarily distinct about it. I always find there's some kind of attribute or quality about the smell that makes it distinguishable from that of pale ales or pilsners. It's a really soft, sweet, unusually agreeable corn-like smell... and I kind of like it.
The taste, however, is more bland than it is pleasant, and much more than it is distinctive. The sweet, comfort-food aura of Southern-style cornbread muffins is lost. In its place comes nothing. The malt-bill lists two-row pale, crystal, and carastan malts - I'm honestly surprised there's even that many. This is one wimpy beer, even for a cream ale.
'Eric's Red' may have taken its name from a murderous, adventurous viking but it drinks more like 'Plain Jane'. The flavour - could any really be described - is very plain and humdrum and is not too unlike white bread. The only truly marked aspects are its carbonation and texture, both of which are strikingly similar to a syrupy fountain soda.
Leif Ericson's voyage to North America was an historic, extraordinary milestone - the beer brewed in its honour... not so much. To consider this beer a less than great discovery would be to acknowledge that I'll even remember trying it. On a positive note, I won't be remembering it by any of the bad reasons either.
Which is why I shouldn't be too hard on old Quidi Vidi (although I'd still suggest a proof-reader for the labels). The beer is a fittingly bland, unoffensive example of a suitably bland, unoffensive style. If you like lighter, weaker beers that taste of just a smidgen of malt (and maybe just an inkling of honey) then by all means explore this offering.
★
2,111 characters

2.64
/5
rDev
-12%
look: 4 | smell: 2.5 | taste: 2.5 | feel: 3 | overall: 2.5
Nice rich gold color, certain the Red reference is to that old convicted Viking murderer, Eric vs. the beer. Nice head & lacing.
Even cold the beer has a very grassy, grainy aroma that may speel trouble in the taste department.
Yep, aroma=taste. Very grainy with a hint of cooked veggies. Slight hop bitterness, but mostly the first two..bleh
I'm going out on a limb, but the world championship silver medel was won vs. local brews only. After all I live in a city that boasts the 'World Famous' Whisky creek pub...have you heard of it? Didn't think so...
★
558 characters

3.85
/5
rDev
+28.3%
look: 3.5 | smell: 3.5 | taste: 4 | feel: 4 | overall: 4
2001 World Beer Championship Silver metal winner.
I had a fresh bottle from the brewery, but it was over-carbonated. I much preferred it on draft.
A: Golden yellow, very little retention, some lacing.
S: Grassy, sulfury minerals, light caramel, hints of fruity esters.
T: Grassy, metallic minerals, light caramel, biscuity bread, balanced bitterness. The draft had a nice fruitiness.
M: Moderate body is smooth, moderate carbonation, dry finish.
D: A quaffable draft.
★
474 characters
2.77
/5
rDev
-7.7%
look: 2.5 | smell: 3 | taste: 2.5 | feel: 3 | overall: 3
Purchased single bottle at Bishop's Cellar in Halifax.
Appearance: Pours out a pale amber colour, very clear. Medium fizzy, foamy head dissappears very quickly to almost nothing.
Aroma: Grainy, caramel, grassy and quite floral, some DMS
Taste: Quite a grainy flavour here, more grass coming through, and some more DMS.
Mouthfeel: Light bodied, over carbonation works with the small and not so great flavours.
Final Statement: Not a well crafted cream ale for sure, but not a bad beer for the macro beer drinkers. Not worth seeking out, but worth drinking if in Newfoundland.
★
579 characters
3.48
/5
rDev
+16%
look: 3 | smell: 2.5 | taste: 4 | feel: 3 | overall: 4
While some of the sentiments in the othe reviews I agree with, I will personally state that I enjoy drinking this beer in the pub and I also think it is a highly characteristic beer of the kind that can split opinions. It's a beer that still shocks me every single time I have it.
Pours amber with a head o' oversized pearls that sizzle down to an even doily sitting on top. Eventually, this too will pass...
Aroma is sharp floral grass, some molasses. Mouthfeel is slick and average.
The sour citrus hits you initially, with a slightly roasted and round malt that becomes more evident as the beer warms. This malt is what I consider Quidi Vidi's signature. It's found in most of their brews. The malt has a way of seizing the tongue in the best way possible, rather than in a cheap, soda pop kind of way. Finally, a subdued bitter finish and a nice sour aftertaste.
I'm obviously partial to this brew, but it was a hard battle. I liked it at the bar, hated it at home, then grew to like it again at the cabin. I'm glad I gave it the time.
★
1,051 characters
2.65
/5
rDev
-11.7%
look: 2 | smell: 2 | taste: 3 | feel: 2.5 | overall: 3
Red? It is actually a dark gold. A definite smell of grain comes out as the head appears. Big head that soon disappears. Kinda of mash taste - like a breakfast cereal that has too much milk on it. Sorry that's my best discription. Mind you there is nothing offensive about this beer (including the smell) so its OK. Would I drink another? Sure, if I was in the pub and otta money and a friend bought me one. Why not? Its not that bad. If Quidi Vidi Brewing worked on it a little more it might be just fine. Or maybe its a Newfoundlander thing and it works well if its your culture.
★
581 characters
2.9
/5
rDev
-3.3%
look: 3 | smell: 3 | taste: 3 | feel: 3 | overall: 2.5
Here's an interesting feat. This beer tasted better warm than cool. Don't ask me why, but at about 20 degrees (Celsius) it was better than at about 10.
This tastes like corn. Mmmmmm..... corn.
Eric's Red they call it (referring to the Viking who first discovered Newfoundland), but it's not really red. A brownish, off-golden colour dominates. The head comes up rocky and disappears as quickly as a breaching whale. Sweet corn adjunct dominates taste and aroma. I'm afraid that I woudn't drink this if I didn't have to. (And after that six-pack, I didn't have to).
★
571 characters
Eric's Cream Ale from Quidi Vidi Brewing Company
3
out of
5
based on
23
ratings.