Pale Ale

New Planet Beer Company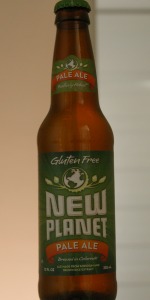 Write a Review
Beer Geek Stats:
| Print Shelf Talker
Style:

ABV:

6.4%

Score:

Avg:

1.89

| pDev:

40.74%

Reviews:

7

Ratings:

From:

Avail:

Year-round

Wants

Gots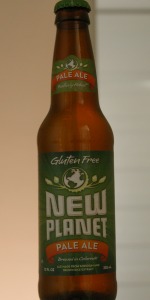 Notes:
WettNutz from Indiana
1
/5
rDev
-47.1%
look: 1 | smell: 1 | taste: 1 | feel: 1 | overall: 1
If a 0 was possible, I would have given it such. This is easily one of the worst beers I have ever tasted. I had to actually pour it down the sink, and I think it worked better as a drain cleaner than a beer. Don't waste your money.
Sep 16, 2016

Wer34truh from Minnesota
1.4
/5
rDev
-25.9%
look: 3.25 | smell: 2 | taste: 1 | feel: 1.25 | overall: 1
At least it looks nice...Taste is awful, among the worst beers I've tasted. Definitely the worst beer I've had considering the price-point. I don't know if I should be sad of the fact that I paid $8 for four of them, or if I should be happy that I only have three left.
Jan 16, 2015

beergoot from Colorado
2.12
/5
rDev
+12.2%
look: 4 | smell: 3.75 | taste: 1 | feel: 3.75 | overall: 1
Bottle label data: none.
A thick, rocky, white head sits atop a golden body while fine carbonation bubbles furiously rise to the top. An interesting aroma of pine, peppermint, and grass; pepper. Powerful, pungent taste like plastic and sour citrus; very bitter. Medium bodied; juicy and slick feel.
My god! How can a beer that looks, smells, and feels so decent have such an off-putting flavor? The flavor is nothing like a pale ale and instead presents an amped version of a bad mix of grapefruit and lime juice. Out of whack (taste-wise) and extremely forgettable unless you just want to look at it...
Nov 15, 2014
Rifugium from North Dakota
2
/5
rDev
+5.8%
Gluten-free beer....totally pointless. But I picked up a bottle anyway.
Poured into a handy teku glass, a darker amber color, with a thin bubbly white head that held as a small ringlet. Nose was mostly subdued, hints of herbal hops and sugary sweetness. In the taste, up front, there was a light flavor of herbal hops, like dried leaves, with a big wave of candy-like sweetness coming in soon after, and lingering into the aftertaste. Tasted more like beer-flavored seltzer. Mouthfeel was thin, body was light-medium.
Gluten sensitivity has pretty much been proven a myth except for the small amount of people with that disease/disorder, so there's really only a small number of people who would actually need a gluten-free beer. Hopefully there's one out there somewhere that tastes good to help out those people that actually want to enjoy the craft beer scene.
Sep 23, 2014

woodychandler from Pennsylvania
2.63
/5
rDev
+39.2%
look: 3 | smell: 2.5 | taste: 2.5 | feel: 3 | overall: 2.75
I had purchased this a while back, thinking that perhaps an article on gluten-free beers might be in the offing. When I could not find a taker, the beers got shunted to the side. I had a colleague who has issues with gluten and she was always curious about beers that were gluten-free. I usually eschew them since I am not gluten-intolerant and prefer to leave them for people who are. In the interim, I am purging my massive backlog of bottles this summer and lo and behold! this one popped up. They will now be part of The Great Bottle Purge of the Summer of 2014.
From the bottle: "Ale made from sorghum and brown rice extract"; "new Palnet Beer chooses to support organizations that help our planet."
I am being driven nuts by these gluten-free beers! I realize that I am not their intended audience since I do not have Celiac, but they just make me feel like drinking a beer after I drink one. My easy-going pour still created a LOT of foam, so I sat back to let it do its thing. It burped, fizzled, off-gassed and generally acted like a baby, except that I have encountered better-behaved babies. It finally settled into a brief finger of rocky, tawny head that was determined to fizzle into wisps. Color was a tea-like deep amber/light copper to copper (SRM = > 13, < 17) with NE-quality clarity. Nose had a flowery, perfume-like sweetness. Mouthfeel was medium. There was no question that this beer contained sorghum once I got some in my mouth. Man, but it imparts a really sharp tartness that might appeal to some people, but for me, it was just not what I want to taste in a beer. I find it kind of difficult to describe, but it is like a diluted molasses with apple vinegar. Woof! Finish was dry, tart, not much unlike other gluten-free beers, but just not my bag.
Jul 27, 2014
diggydoo from Connecticut
1.29
/5
rDev
-31.7%
look: 3.25 | smell: 1 | taste: 1 | feel: 2.5 | overall: 1
This looks like a decent glass of beer with a slightly dark, coppery coloring and a decent head. That is where the positives end unfortunately. The taste is metallic, artificial and incredibly unlike how a beer should taste. It is also proceed like a premium beer which adds insult to injury. If I were gluten free I would gladly give up beer if this were my only choice. Fortunately there are others like Omission IPA that, while not fantastic, are palatable.
May 22, 2014

BryanKetter from Illinois
2.07
/5
rDev
+9.5%
look: 3 | smell: 2.25 | taste: 1.75 | feel: 3 | overall: 1.75
This beer has an artificial taste to it. It is gluten free and very expensive, but shouldn't taste this bad. Prairie Path from Two Brothers is gluten free and terrific. This seems like a company just trying to put one over on people who need gluten free beer.
Dec 11, 2013
Pale Ale from New Planet Beer Company
Beer rating:
61
out of
100
with
40
ratings