Seclusion IPA

New Planet Beer Company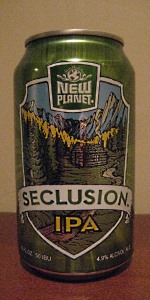 Write a Review
Beer Geek Stats:
| Print Shelf Talker
Style:

ABV:

4.9%

Score:

Avg:

3.61

| pDev:

8.59%

Reviews:

12

Ratings:

From:

Avail:

Rotating/Seasonal

Wants

Gots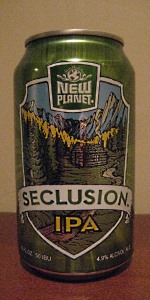 Notes:

dacrza1 from New Jersey
3.61
/5
rDev 0%
look: 4 | smell: 3.5 | taste: 3.75 | feel: 3.25 | overall: 3.5
DATE: February 29, 2020... OCCASION: another sports Saturday winds down with the want of beer... GLASSWARE: Otto's pint... first, the question: what is up with these cans? My first three from this six all exploded despite my growing attempts to coddle them, and this one--opened weeks later, erupted similarly... not whining, but I am losing a few ounces in collateral... nevertheless, it pours a golden yellow body housing microscopic bubbles... its head mesas above the glass before settling into an island surrounded by foam--attractive... lemon, orange, grapefruit, light pepper, equally light toasted pale malts--the standard fare, not much to distract or detract, but also a giveaway that it's an IPA that gave up its strength for drinkability... thin, blunted at the finish, oily and lacking the activity at the teeth customary for other (session) ales... a bit of bitterness, but the aftertaste is rather down-tuned... grapefruit, lemon, and pepper mingle with butter and toasted malts... this works on the session level and a bit of the flavor profile as well... this one wins enough to seek out again, and its non-gluten delivery works for me two seven weeks in...
Mar 01, 2020
NeroFiddled from Pennsylvania
3.7
/5
rDev
+2.5%
look: 3.75 | smell: 3.75 | taste: 3.75 | feel: 3.75 | overall: 3.5
New Planet Beer Company "Seclusion IPA"
12 fl. oz. can without production codes or freshness dating
$2 @ Wegmans, Collegeville, PA
Notes via stream of consciousness: 4.9% ABV? That doesn't even qualify as an IPA does it? Budweiser's now at 5% in the U.S. Anyway, it's poured a hazy amber body with some dark floaties in it, although most have settled to the bottom of the glass. That makes me nervous, I've never seen that in a beer. They look like little seeds, although I'm sure it's just old yeast and protein. The head is a foamy white, or it was, as it's now dropped but if I swirl the glass it comes back and it's nice and creamy. The aroma is malty and caramelish, and I seem to be missing some hops here. Let me check again... there's some piney-ness to it but not much. On to the flavor... just to note first, there are already three checks against this beer: not enough strength for the style; poor appearance; and lack of aroma for the style... ... the flavor is not as malty as the aroma suggests it might be, and I'm guessing that caramelish character might be from the onset of oxidation although I'm not sure as I don't get any real paper or cardboard flavors to it. It's a shame they don't date their cans I could have looked for a possibly fresher example. Anyway, it seems a little thin for an IPA, thin in flavor overall - malt, hops, yeast character - and body. I'd call it medium-light. It is nicely smooth and creamy though, so there's that. Ahh, I skipped right over the actual flavor. It follows the aroma with caramelish malt but it's not quite as full, and there's some piney hop to it. It's got a firm bitterness, and it finishes dry and bitter with a dollop of honeys malt lingering - that I like, that and the creaminess. Ah, so I just noticed this is a "CRAFTED TO REMOVE GLUTEN" beer. I'm not sure if that makes any difference at all but I'm not so fond of it so far. It also lists 50 IBUs and that seems about right. The bitterness is a little harsh though. As it warms a bit I'm starting to like it more, and finding some citrus in there with the piney hops but it's till not great. Overall I'm not impressed, it's just not very nicely balanced. I can see why they're calling it an IPA though as it's so bitter, but drop that by 10 IBUs and you've got a much better pale ale in my opinion. On the other hand, "IPA" sells so they might be doing it for that reason. Any way you cut it, it's just not that great. Average in my book.
Review# 6,014
May 13, 2018
The_Kriek_Freak from Pennsylvania
3.94
/5
rDev
+9.1%
look: 4 | smell: 3.75 | taste: 4 | feel: 4 | overall: 4
It pours golden with a big head composed of both small and big pearly bubbles The aroma is of intense floral bitterness. The taste is similarly bitter with relatively little malt support. Medium body. Not the most sessionable of IPAs, due to the high IBU count, In my opinion.
Jun 20, 2017
superspak from Ohio
3.61
/5
rDev 0%
look: 4.5 | smell: 3.5 | taste: 3.5 | feel: 4 | overall: 3.5
12 ounce can into pint glass, canned on 9/20/2015. Pours slightly hazy golden orange color with a 2 finger dense and rocky off white head with fantastic retention, that reduces to a large cap that lasts. Dense soapy lacing clings down the glass, with a good amount of streaming carbonation retaining the head. Fantastic appearance. Aromas of grapefruit, tangerine, peach, lemon zest, orange peel, light pepper/pine, light caramel, toasted bread, herbal, and floral/grassy earthiness. Nice and pleasant aromas with good balance and complexity of citrus/pine hops and moderate bready malt notes; with solid strength. Taste of grapefruit, tangerine, peach, lemon zest, orange peel, light pepper, pine, light caramel, toasted bread, herbal, and floral/grassy earthiness. Light-moderate pine/herbal/grassy bitterness on the finish; with lingering notes of grapefruit, tangerine, peach, lemon/orange peel, light pepper, pine, toasted bread, and herbal/floral/grassy hop earthiness on the finish for a good bit. Nice complexity, robustness, and balance of citrus/pine hops and moderate bready malt flavors; with a great malt/bitterness balance, and zero hop astringency after the finish. Light-moderate dryness from bitterness, increasing through the glass. Might-high carbonation and light-medium body; with a very smooth, moderately crisp/sticky, and fairly grainy balanced mouthfeel that is nice. Zero warming alcohol as expected of 4.9%. Overall this is good gluten reduced IPA. All around good complexity, robustness, and balance of citrus/pine hops and moderate bready malt flavors; very smooth, crisp, and fairly refreshing to drink. A nicely enjoyable offering.
Sep 18, 2016

woodychandler from Pennsylvania
3.92
/5
rDev
+8.6%
look: 3.75 | smell: 4.25 | taste: 3.75 | feel: 3.75 | overall: 4
If there is one area in which The CANQuest (tm) does not operate, it is in Seclusion! I CANnot CANvision a more visible, open operation than this all-Fuggled-up mess. It CANtinues to be NBS (Week 602) & somehow, my sled has taken a wide left turn into Gluten-freeville, man. There may be no coming back!
From the CAN: "CRAFTED TO REMOVE GLUTEN. New Planet TREAD LIGHTLY ALE is fermented from grains containing gluten and crafted to remove gluten. The gluten content of this product cannot be verified and this product may contain gluten." What a cop-out!
I Crack!ed this bad boy open like nobody's business! The punk had been hiding on the bottom shelf of my reefer all afternoon, hoping that I wouldn't notice him after I grabbed up all of his gluten-free buddies. Pshaw! We CAN't stand the likes of gluten-free amongst all us doughy AmeriCANs & so, he hadda go. He put up a good fight, spitting on my knucks on the Crack! as I peered into his newly-presented innards. He was full to the gills, so I grabbed him by the ankles & emptied him into my awaiting glass. Man, the gurgling gargle came up fast! Who'd a thought that a CAN could hold so much foam? I backed off so that both of us could catch our wheezy breath. Me, because I'm an asthmatic & him ... 'cause he was punching out. The froth raised up to two-plus fingers high before he began his retreat. Too late! I already clocked him as one a them tawny types that ya gotta watch out for. So what if he was scared, it's the scared ones ya gotta watch. Believe me, I know. You think I became this handsome naturally?!? Hah. I had plenty o' help from these CANracters, I'll tell ya! His color had gone to an Amber to Deep Amber/Light Copper (SRM = > 9, < 13) with NE-quality clarity, so I moved in to nose around a little. He smelled like he was wearing a garland of them little Christmas trees that hang offa the rear views in the flivvers I used ta jack before I moved up to mechanic, doin' the wet work. I got my mouth around him, the better to taste the fear, which in this case, tasted like pine needles & sap. He was a soft one, but I gave 'I'm the sap anyway. He slid down real smooth & easy & I was impressed. I figured him to be another one a them cheesy slobs, like that punk earlier today, but he filled the bill. Would I want to spend the day at the beach or in the hills wit' a jagov like this? Hell, no! But ... as a temporary diversion, him & his ilk CAN suffice.
Like this sort of patter? Pick up an edition of Akashic Books' " ... Noir" series & let me know what you think!
Sep 05, 2016
tone77 from Pennsylvania
3.37
/5
rDev
-6.6%
look: 4 | smell: 3.25 | taste: 3.25 | feel: 3.5 | overall: 3.5
A thanks to the sultan of canned beer, woodychandler, for this beer. Poured from a 12 oz. can. Has a golden color with a 1 inch head. Smell is of floral hops, light malts. Taste is floral hops, herbal, very light malts are present. Feels medium bodied in the mouth and overall is a decent beer, but lacking the punch I expect from this style.
May 30, 2016

StephOparka from Colorado
4.13
/5
rDev
+14.4%
look: 4 | smell: 4 | taste: 4.25 | feel: 4.25 | overall: 4
New Planet's gluten-reduced beer - portable for rec sports/camping, etc.
Newly diagnosed with an autoimmune disorder (not Celiac) I've had to remove gluten, dairy and eggs from my diet. This beer is a nice reprive from the typical sorghum derived beers. Tastes like a "real" IPA.
May 16, 2016
Ebla from Colorado
3.02
/5
rDev
-16.3%
look: 4.25 | smell: 4 | taste: 3.75 | feel: 1 | overall: 1
I drink New Planet a lot, but not by choice. There aren't many options for us celiacs (who truly can't have ANY gluten). So I was excited to see a new offering. Snatched up a six pack, cracked one open, sucked it down. Delicious! How can this be? I read the label... Gluten Reduced? WTF is that? A New Planet that's not GF? Pretty soon my tummy was grumbling up a storm. Stomachache, shits, flu symptoms, starting over on trying to heal my gut, and worst of all, 5 tasty beers in my fridge that I can't drink. Wish I had read the label first.
Mar 09, 2016

Omnium from Pennsylvania
3.56
/5
rDev
-1.4%
look: 4 | smell: 3.5 | taste: 3.5 | feel: 3.75 | overall: 3.5
Can > Tulip Glass
A - Clear gold with a two finger fluffy white head, little lacing.
S - Very astringent, some pine, earthy and floral hop notes, kinda herbal too, nothing pronounced.
T - Slight citrus, green pepper, floral tones, crackery malt, straw.
M - Kinda basic feel, light bitterness, medium feel.
O - Even though this isnt a good IPA by any means, if I had a gluten allergy, I wouldnt be opposed to drinking this often.
Mar 01, 2016
Parmesan from Colorado
3.36
/5
rDev
-6.9%
look: 4 | smell: 3.5 | taste: 3.25 | feel: 3.25 | overall: 3.25
L: Golden orange/yellow color, pours nice frothy white head, leaves no lacing on the side of the glass.
S: Not an overly strong aroma. Some flowery hops, a little bit of citrus but mostly floral, little bit of earthiness and toasted malt.
T: Floral hops, little but of citrus, some toasted malt, has a soapy taste near the finish, and isn't very bitter.
F: Light body, the mouth feel is quite watery on this beer.
O: Doesn't really feel like an IPA more like a regular pale ale. Little bitterness and the hops don't overly stand out from each other, a lot of the flavors are kinda muddled.
Jan 05, 2016
biboergosum from Canada (AB)
3.84
/5
rDev
+6.4%
look: 3.75 | smell: 4 | taste: 3.75 | feel: 4 | overall: 3.75
12oz can - all right, this seems to be a departure for New Planet, as the label specifies that they've made this one with the normal gluten-rife ingredients, but have used some method or other (oh, sorry, 'crafted') to remove it.
This beer pours a clear, medium copper amber colour, with three fat fingers of puffy, finely foamy, and mildly creamy ecru head, which leaves some splotchy hoar frost lace around the glass as it slowly and evenly subsides.
It smells of bready, lightly doughy caramel malt, a twinge of biscuity toffee, some pleasantly fruity (pears, apples, and melon) esters, a touch of earthy yeast, and decent leafy, grassy, and piney hop bitters. The taste is semi-sweet, grainy caramel malt, a muddled pale orchard fruitiness, waning buttered biscuits, and a prominent leafy, floral, and wet pine needle hoppiness.
The carbonation is quite light-handed in its somewhat lackadaisical frothiness, the body an adequate middleweight, and generally smooth, the loitering hops not of the overly bitter sort. It finishes on the sweet side, the lingering malt, fruit and floral-forward hops colluding as such.
Wow - I guess this is just another nail in the coffin of gluten-free beers made with 'alternative' grains, which just don't pass muster, I'm afraid. Seclusion IPA looks, smells, and tastes nothing like any other New Planet beer that I've had, and I mean that in the most constructive way possible. If you've made gluten avoidance a lifestyle choice, then I highly recommended this, but for celiacs, I'd still be very wary.
Nov 12, 2015
StonedTrippin from Colorado
3.75
/5
rDev
+3.9%
look: 3.75 | smell: 3.75 | taste: 3.75 | feel: 3.75 | overall: 3.75
as gluten free beers go, or even gluten reduced, this is awesome. brewed with barley like a normal beer, then with whatever that suspicious enzyme added to digest it. you would really never know its missing most of all of its gluten, i found it excellent. the problem i usually have with these is that even if they taste like beer, which is only rarely the case, they feel so watery and dont satisfy the mouthfeel requirements of beer. this one certainly does, its really well carbonated, has plenty of body, and even has a lingering hop oil presence on the tongue. while it might not be the most evolved or complex ipa on the market, it meets all the criteria, its bitter enough in the finish, has the honey sweet as wel as the cut citrus elements in the nose and taste, and honestly is pretty drinkable. not huge into these kinds of beers, im lucky enough i dont have to be yet, but i appreciate this one a lot, and am really glad there are options like this for folks who would otherwise have to forgo beer altogether. entirely acceptable alternative!
Jul 24, 2015
Seclusion IPA from New Planet Beer Company
Beer rating:
84
out of
100
with
26
ratings