Appalachian Trail Extra Pale Ale
| Nantahala Brewing Company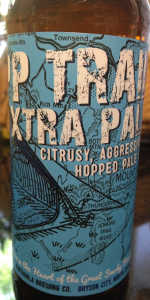 BEER INFO
Brewed by:
Nantahala Brewing Company
North Carolina
,
United States
nantahalabrewing.com
Style:
American Pale Ale (APA)
Alcohol by volume (ABV):
5.80%
Availability:
Rotating
Notes / Commercial Description:
No notes at this time.
Added by Onenote81 on 04-08-2011
Reviews: 10 | Ratings: 32

3.94
/5
rDev
-2%
look: 4 | smell: 3.75 | taste: 4 | feel: 4 | overall: 4
Pours a cloudy pale straw colour with a bright white head.
The smell is citrus, oranges, lemon, some malt.
The taste is also citrus flavours, mildly bitter with a balanced amount of malt.
The mouthfeel is medium bodied with medium carbonation.
A nicely balanced citrus flavoured pale ale.
★
292 characters
4.24
/5
rDev
+5.5%
look: 4 | smell: 4.25 | taste: 4.25 | feel: 4.25 | overall: 4.25
Poured into a Dogfish traditional oversized snifter. Label says 042116.
A- Pours a medium amber color with a 1/2 inch off-white head that retains well before becoming a thick ring around the edge of the glass and a half sheet of surface foam. Semi-resilient lacing leaves small clots behind.
S- Good citrusy hop fume that also displays some dank pine.
T- Well-executed delivery of hop flavor, bitterness and malt. Juicy and zesty with a slight malt sweetness to round things out. Very easy to drink.
M- Sharp from the hops with medium carbonation and a body leaning toward the lighter side.
O- A great hop-forward pale ale. Can't ask for much more in terms of balance and drinkability.
★
696 characters

3.36
/5
rDev
-16.4%
look: 4.25 | smell: 3.25 | taste: 3.25 | feel: 3.75 | overall: 3.25
On tap at the brewpub in NC.
Golden amber body has excellent clarity and is topped by a durable head that leaves a fairly full coat of foam on the glass.
Hop dominant smell and, to a lesser extent, flavor. Mild-moderate bitterness. Hop dominated but some bready malt show through.
★
282 characters
4.07
/5
rDev
+1.2%
look: 4 | smell: 3.75 | taste: 4.25 | feel: 3.75 | overall: 4.25
A: The beer is slightly hazy pale yellow in color and has a slight amount of visible carbonation. It poured with a finger high white head that died down, but consis
S: Light to moderate aromas of citrusy hops are present in the nose along with notes of glass and hints of leaves.
T: The beer has flavors of citrusy hops along with hints of pine resin and a very light amount of bitterness.
M: It feels nearly medium-bodied and slightly crisp on the palate with a moderate amount of carbonation.
O: I found this APA to taste extremely fresh and was loaded with hop flavors but didn't have much in the way of bitterness so it was easy to drink.
★
644 characters
3.7
/5
rDev
-8%
look: 3.5 | smell: 3.5 | taste: 4 | feel: 3.5 | overall: 3.5
Had this one on a past ticking trip to Asheville! Served from tap into a shaker. Poured a slightly hazy golden yellow with a one finger white head that subsided to a minimal amount very slowly. Maintained phenomenal lacing throughout the glass. The aroma was comprised of sweet matl, earth, earth hop, spice, spicy hop, fruit, subtle fruit hop, and grass. The flavor was of sweet malt, earth, earth hop, fruit, fruit hop, spice, subtle banana, and grass. It had a light feel on the palate with medium carbonation. Overall this was a pretty decent brew. This brew could have had quite a bit going for it had it done away with the earthy note slightly. The subtle banana note in the flavor was a nice touch which actually helped elevate the rating there slightly. The rest of the brew was only what I would classify as decent however. Worth trying if you get the chance, but there are better APAs out there in the area.
★
917 characters

3.65
/5
rDev
-9.2%
look: 4 | smell: 4 | taste: 3.5 | feel: 3.5 | overall: 3.5
@ Nantahala
Yellow-gold color under a thin head of pure-white froth. Floral and citrus aromas with a light malty sweetness beneath the hops.
Citrusy hops primarily in the taste...floral and leafy with fresh grain and a softly sweet malt presence. Medium-light bodied, dry, and fairly bitter. Pretty refreshing and tasty. The description at the brewery alluded to tropical characterstcis, which I didn't notice. Still, a nice APA to enjoy after a long day of doing nature-y things in the Smokies.
★
496 characters

3.97
/5
rDev
-1.2%
look: 3.5 | smell: 4 | taste: 4 | feel: 4 | overall: 4
My first beer from this western NC. brewery.Poured from the growler into an imperial nonic a pale lighter golden with thinner white head atop.Grassy and herbal hop notes in the nose along with light fruity esters,citric and grassy hops play nicely up against a caramely somewhat sweet malt base,there is toasted cereal grain-like flavor that lingers in the aftertaste.This is a well made more subdued quaffing pale and I don't mean subdued as a bad thing,I would like to try this on cask.
★
488 characters

4.72
/5
rDev
+17.4%
look: 4.5 | smell: 5 | taste: 4.5 | feel: 4.5 | overall: 5
Served from a growler.
This tastes like an IPA lite....Which is good because some pale ales tend to be pedestrian. This one is not. Floral hop aroma and flavors with a well balanced malt profile. Nice golden color. This is a beer I can drink again and again.
★
258 characters

4.45
/5
rDev
+10.7%
look: 4.5 | smell: 4.5 | taste: 4.5 | feel: 4 | overall: 4.5
Growler poured into a Duvel tulip. Glowing gold body with an impressive meringuelike bright white head. Loads of streaky and soapy lacing.
Super fresh floral nose with light honey sweetness and a touch of citrus. Tastes just as good as it smells; this was my first beer from Nantahala, and a heckuva introduction. The light malt profile features minimal sweetness and a pleasant graininess after the swallow. Loads of floral and sweeter citus hop flavor, with a touch of fresh-picked yellow apple. No small amount of bitterness (put this one under the "IPA Light" column). Exceedingly tasty and refreshing. My favorite offering so far from Nantahala, and highly recommended.
★
675 characters

4
/5
rDev
-0.5%
look: 4 | smell: 4 | taste: 4 | feel: 4 | overall: 4
Another City Beverage (W-S) Freakin' Firkin Friday has come and gone, and this new offering from Nantahala was offered this time around. Came out a deep honey-gold with a thick white head on top. Great retention, lots of sticky lace. The nose was faintly spicy at first then finished with notes of orange, lemon, and fresh flowers. This was an ultra creamy offering, which was to be expected given the cask. This is definitely a toned-down version of their PA, as the flavors were somewhat muted and tame. Mild citrus, faint bittering hops, light graininess on the back end. All-in-all, a good APA that I was pleased to get the chance to try, especially from a cask!
★
666 characters
Appalachian Trail Extra Pale Ale from Nantahala Brewing Company
4.02
out of
5
based on
32
ratings.