Jarrett Payton All-American Wheat Ale
| Argus Brewery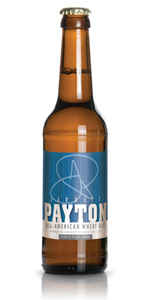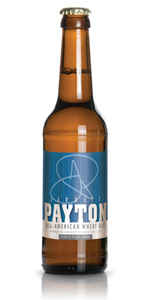 BEER INFO
Brewed by:
Argus Brewery
Illinois
,
United States
argusbrewery.com
Style:
American Pale Wheat Ale
Alcohol by volume (ABV):
5.00%
Availability:
Rotating
Notes / Commercial Description:
None provided.
Reviews: 9 | Ratings: 51

1.75
/5
rDev
-46.8%
look: 1.75 | smell: 1.75 | taste: 1.75 | feel: 1.75 | overall: 1.75
Typical musty wheat taste...the finish is more bitter than most. Poured with an enormous, explosive head that took a while to dissipate. 25 cent single from Winter Haven ABC.
175 characters
3.3
/5
rDev
+0.3%
look: 4 | smell: 3.25 | taste: 3.25 | feel: 3.25 | overall: 3.25
Got this one free so I can't really complain. Bottle dated 2013, hmm.
Don't look a gift horse and all that I guess.
Pours into a can pint with an explosive level of foam, hazy orange body with champagne streams of carbonation. A ton of lacing due to the overcarbonation and supercharged head.
Aroma is yeasty, some sweet apple juice and dried pineapple esters.
Taste is pretty tart, it has a clean lacto pucker, though I highly doubt it's intentional. A bit of dusty wheat and apple in the middle, and a bone dry aftertaste. Light and crisp. Yes the beer is infected, but it's honestly not that bad. Frankly the bland label description is worse.
648 characters
3.16
/5
rDev
-4%
look: 3 | smell: 3.25 | taste: 3 | feel: 3.5 | overall: 3.25
Serving was a traditional shaker pint glass 335ml
ABV...5%
APPERANCE- Average color for a wheat ale. Faintly clouded golden straw in color I would say a 6 srm which is kind of a darker tint than normal. Head retention was low with a lace of lacing on the sides of my glass. Next time I serve this ale I will put my mug in the freezer for a little while then serve this beer into it to maybe spark up the carbonation, I say this because the foam vanishes almost too fast leaving you with no pillow of foam to look at when drinking this ale.
AROMA- Aromas of wheat bread, water crackers(dull cracker) with a hint of sour dough and unmalted grain. Yeasty and Grainy aromas may sometimes be bad in beers but for this ale I like its subtle notes of yeast and grain.
TASTE- On the front, a slight touch of diacetyl(buttery popcorn). In the middle, Faintly tart hitting those tastebuds on the sides of your pallet, grainy and notes of biscuit malt. On the finish or back, is a low perceived bitterness with a crisp, dry and truly refreshing finish.
MOUTHFEEL- Low carbonation, low notes of diacetyl, a sharp grain and crisp mouth feel. A touch of bitternessis complemented by the wheat taste and carbonation that eventhough its not all there, its still enough to cut through the taste of a greasy meal.
OVERALL- Good beer for the end of the spring season and the hot summer days. You can definitely forgive yourself for drinking a mug of this after a long 5k run lol. Good flavor, good appearance and a crisp, dry and refreshing ale
FOOD VS BEER- With any wheat ale I would recommend go light on the dish like a chicken salad with a balsamic vinaigrette and some cranberries and carrots. Also if you tailgating i would recommend making a bratwurst and use sauerkraut as a topping.
Thanks guys don't forget to keep drinking and taking notes goodluck to all taking the cicerone exam i will be taking it this year!
1,910 characters

3.3
/5
rDev
+0.3%
look: 3 | smell: 3 | taste: 3.5 | feel: 3.5 | overall: 3.25
Appearance: Basically looks like a pale version of Blue Moon. Pale orange with no foam or lacing.
Smell: Very musky malt. Maybe this bottle sat around for a while?
Taste/Mouthfeel: Mostly coriander. Not a whole lot of citrus as expected, but the coriander is refreshing. Creamy initially, but flat in the finish.
Overall Drinkability: An ok beer. Not as good as Pegasus or McCaffrey's.
388 characters

3.17
/5
rDev
-3.6%
look: 3 | smell: 3.5 | taste: 3 | feel: 3.5 | overall: 3
I picked this up as part of a build-your-own six pack for $9.99 at the Binbny's store in Bloomingdale, IL. 12oz. long necked brown bottle with no freshness date, and yes, the Jarrett Payton the beer is named after is the son of "sweetness" - Walter Payton.
The beer poured a slightly hazed light gold color and the initial head is enormous, so be careful with the pour. Half the glass was filled with white bubbly foam that sort of looked like dish soap. The head dissapates quickly and lacing is minimal.
Citrusy and yeasty smell with a touch of wheat.
Mild wheat flavor with a hefty dose of lemony citrus along with a slight yeast twang. Hop bitterness is low. Thought it might be sweet being named after the son of "sweetness", but it's not. Clean, dry finish.
Light bodied with slightly higher than average carbonation.
It's OK, but nothing memorable or exciting.
872 characters
3.55
/5
rDev
+7.9%
look: 3.5 | smell: 3.5 | taste: 3.5 | feel: 4 | overall: 3.5
Clear hay with a little bronze color. Some sediment rests on teh bottom of my glass. Pretty good bubbling. Looks poretty good for a filtered wheat ale.
Sweet, light fruitiness mixed with light toasted wheat and barley cereal grins. Smells like a flavorful session ale.
Taste is malt forward and some light fruity, yeasty flavors. Great carbonation making for tastey sessionable flavors and palate. I like this beer. Would buy it again.
437 characters
3.7
/5
rDev
+12.5%
look: 3 | smell: 3 | taste: 4 | feel: 4 | overall: 4
A – Has a straw coloration to it with a light foam on top
S – Has a slightly sweet hop aroma that has hints of citrus
T – Very refreshing beer. Light pilsner taste from a wheat ale
M – Very clean mouthfeel. No real aftertaste that distracts from the beer
O – I really like this beer. It's definitely something I would drink after mowing the lawn. Very smooth and refreshing
Serving Type: On-tap
411 characters
3.7
/5
rDev
+12.5%
look: 3.5 | smell: 3.5 | taste: 4 | feel: 3.5 | overall: 3.5
This was the other beer I got to try while I was at the Argus brewery...most of the things I had to say about the California Steam re: uncharacteristic sweetness compared to the average Wheat Ale also apply here.
a - Darker straw coloration to the beer, very light foam on top.
s - Light and sweeter hop aromatics...somewhat citrusy? Very bright nose to it.
t - I'm not the biggest fan of ales because usually they have too much hops, but I was pleasantly surprised by the taste of this beer. It has a ligher pilsner taste for a Wheat Ale and that is because of the choice of malts. All in all, regarding taste, I enjoyed the fact that it was able to split the difference between the taste of a serious ale and a more subdued session beer.
m - Nice clean mouthfeel. No gummy feeling as you might get with a higher hopped beer.
o - I really like the light, crisp tones that come across from the ale in this beer. The pilsner malts round the taste out to something very smooth and very refreshing. This is definitely a beer to drink during the summer months.
1,061 characters

3.2
/5
rDev
-2.7%
look: 3.5 | smell: 3.5 | taste: 3 | feel: 3.5 | overall: 3
Served in a Local Option glass.
The inclusion of the word "Swheatness" on the side label just plain hurts my head... Anyway, this stuff pours a clear brass topped by a finger or so of white foam. The nose comprises wheat, light lemon zest, light orange peel, and a touch of what may or may not be coriander. The taste surprises with a blast of vague citrus rind and peel, finishing in a slightly sharp twang of appropriate bitterness. The wheat in the background is sorta o'erpowered, shoved to the side, forced into the wake of the not-entirely-pleasant citrus. The body is a hefty light, with a light moderate carbonation and a generally smooth-ish feel. Overall, a sorta ho-hum li'l brew, nothing to write home about unless your day was more boring and tedious than usual.
778 characters
Jarrett Payton All-American Wheat Ale from Argus Brewery
Beer rating:
3.29
out of
5
with
51
ratings