Kohler Lager
| Kohler Brewing Company Inc.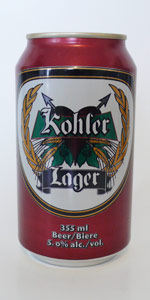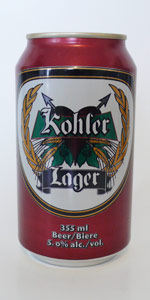 BEER INFO
Brewed by:
Kohler Brewing Company Inc.
Alberta
,
Canada
Style:
American Adjunct Lager
Alcohol by volume (ABV):
5.00%
Availability:
Year-round
Notes / Commercial Description:
No notes at this time.
Added by Shadman on 06-01-2010
HISTOGRAM
Ratings: 6 | Reviews: 5
Reviews by Shadman:

2.06
/5
rDev
-15.6%
look: 3 | smell: 2 | taste: 2 | feel: 2 | overall: 2
Dark amber, decent head, so-so retention, no lacing.
musty sourness, grainy malts.
slight malt vinegar sourness followed by some metallic grain. Bland middle followed by light hop bitterness and finishes with a very clingy, annoying metallic astringency on the tongue
Carbonation doesn't hold up and the finish overpowers everything else.
Can't remember what I paid for 6 of these. I hope for Kohler's sake they priced this cheap because for most it's gonna be 1 and done. Looks like I have some meat tenderizer for BBQ season.
539 characters
More User Reviews:
2.41
/5
rDev
-1.2%
look: 3 | smell: 2 | taste: 2.5 | feel: 2.5 | overall: 2.5
355ml can - Edmonton, AB company, stateside production - now why does that sound so familiar? I actually participated in a pre-release taste test at Hudsons Pub downtown of three different sample brews, the point being to help this marketing firm choose their production offering.
This beer pours a clear, piss-like pale golden yellow colour (like after you've been drinking water all day), with two fingers of puffy, weakly foamy, and mostly fizzy dirty white head, which leaves some decent random creeping ivy lace around the glass as it quickly settles.
It smells of a mild crackery/cereal graininess, untethered yeast, paint thinner, and sulfurous, over-cooked veggies. The taste is pale malt, stale corn on the cob, a weird dull metallic essence, way past their prime orchard fruit, and sour soapy, sort of woodsy hops.
The carbonation is average in its blase and barely palpable frothiness, the body medium-light in weight, and fairly clammy, with a soupcon of pithiness tacked on for good measure. It finishes with a wan drying push - some unpleasant musty flavours the most evident culprit.
Like Mountain Crest continuing to pull one over on Albertan beer drinkers from their Calgary base, leave it to an Edmonton outfit to attempt a smaller-scale imitation. Lots of promise, so very little payoff. If I remember correctly from that focus group tasting, my evaluation was a hearty 'none of the fucking above', so of course, they pushed this crap straight through to market.
1,487 characters


3.02
/5
rDev
+23.8%
look: 2.5 | smell: 3 | taste: 3 | feel: 2.5 | overall: 3.5
Can from trade, Thanks Doug.
Puts a clear pale gold lager in the glass. rocky 2 finger cap, modest retention and lacing.
Aroma is 2 dimensional but clean; bready malts over mild herbal hopping maybe a touch of of musty lemon peel.
mild biscuit malts in front, some detectable herbal-woody hops fast clean finish with a citrus snap at the end.
Although this lager is mild it has some Dortmunder helles character to it and it tastes like a gristed malt beer....good value if it markets at the same price as the national brands.
529 characters
2.11
/5
rDev
-13.5%
look: 3 | smell: 2 | taste: 2 | feel: 2.5 | overall: 2
Two finger off white head which soon dissipates. Bubbly pale straw colour. Some lacing. An odd metallic smell. Corn taste up front with an odd aftertaste. Soapy mouthfeel. Medium body. Clingy. Drinkability was not that good. A step up from BMC but not much.
257 characters
2.53
/5
rDev
+3.7%
look: 3 | smell: 2.5 | taste: 2.5 | feel: 2.5 | overall: 2.5
This showed up in my fridge after my son had some buddies over. No idea how old this must be, but I gave it a whirl. Now I understand why this Edmonton brewery is defunct.
171 characters
Kohler Lager from Kohler Brewing Company Inc.
Beer rating:
2.44
out of
5
with
6
ratings