Wittoen
| Brouwerij Strubbe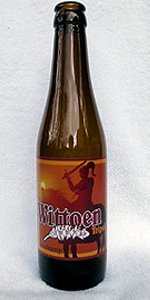 BEER INFO
Brewed by:
Brouwerij Strubbe
Belgium
brouwerij-strubbe.be
Style:
Tripel
Alcohol by volume (ABV):
8.20%
Availability:
Year-round
Notes / Commercial Description:
No notes at this time.
Added by paterlodie on 05-09-2005
Reviews: 9 | Ratings: 15
3.88
/5
rDev
+9.6%
look: 4 | smell: 3.5 | taste: 4 | feel: 4 | overall: 4
5th And final beer in my random tasting evening 12 Aug 2011. The brown 33cl bottle had a plenty of life left when opened: poured into a Westy chalice ensuring no sediment left the bottle.
Good amber body, thick white head of bubbles, which gave lines of lacing as the beer level sank.
The smells were semi-sweet malty molasses with a mini floral feel in there somewhere.
The beer is initially sweet and hearty, becoming drier as the mouth drys between sips, the malts giving way to whatever the other ingrediants might be.
Heavy carbonisation, but not 'fizzy', suited the flavours to be lively rather than flat-ish. The alcohol aslo fitted in well with the overall experience. A long way from a world beater, but a steady Tripel in all respects.
★
749 characters
3.36
/5
rDev
-5.1%
look: 4 | smell: 3 | taste: 3.5 | feel: 3 | overall: 3.5
750ml cork and caged brown bottle. Label proclaims both "Amber ale" and "Tripel".
It pours a pale, clear amber. There are visible carbonation bubbles leading to a massive white head. It recedes at an average pace leaving some nice lacing behind.
The smell is a bit off-putting. There is some fart in there, guess you can trap a fart in a bottle. There is some yeasty spice as well and some grains.
The taste is better. It is pretty dry with a big yeasty fruit presence and some caramel malts. The alcohol adds to the profile as it isn't completely hidden.
The mouthfeel is a bit under-carbonated and watery but not terribly so.
It is okay, perhaps a bit blunt, as are most random Tripels out there.
★
703 characters
3.11
/5
rDev
-12.1%
look: 3 | smell: 4.5 | taste: 2.5 | feel: 2.5 | overall: 3
Sheesh, what a let down. Poured with a kind of a sudsy off white head and a little lace. Color is medium amber. Aroma is really good and wayyy better than the flavor and body. Flavor is shallow and body is even more shallow. Slightly above water. finish is simple and forgettable, just a little malty, sweet and belgian beerish an thats it. yawn.
★
346 characters
3.97
/5
rDev
+12.1%
look: 3.5 | smell: 4 | taste: 4 | feel: 4 | overall: 4
Ripe apricot with a shower of fine yeast and a less than Belgianesque amount of bubbles. Nevertheless, the yellowed bone colored head was at least four fingers on the pour. The foam looks no better than decent and doesn't leave much glass coverage.
Wittoen is interesting beer on paper. The label calls it both a tripel and a Belgian amber ale. However, an argument could be made that it's a gruit. The ingredients list on the Brouwerij Stubbe website indicates that no hops are is use. Instead, the beer contains an 'herb mix' that includes primarily rosemary and bog myrtle (sweet gale).
The brewery's stated aim was to brew 'in memory of' beer that was brewed in the region during the Middle Ages, using ingredients that were 'precursors' to hops. Sounds pretty much like a gruit to me. The nose is pleasant and features lightly toasted bread, light caramel and an herbal quality.
Without being aware of the above, I probably wouldn't have been impressed with Wittoen. It's actually a pretty tasty elixir, once the brewer's intent and some of the ingredients are known. I'm betting that candi sugar is in use as well. Either that or the absence of hops is allowing the malt sugars to have the run of the place. Or both.
The flavor profile includes sweet-tart apricots and peaches swimming in a light candi sugar and caramel syrup, then sprinkled with assorted herbs. Ain't no way I could have identified the rosemary and bog myrtle. Coriander would have been one guess... and would have been wrong.
The mouthfeel is fine and dandy. It's a bit more full than medium (thanks to the sugars) and has a zippy sort of carbonation that keeps mouth energy on the high side. It's odd that very few bubbles can seen rising off the bottom of the glass.
Knowledge is a powerful thing. I'm glad that I took the time to get to know Wittoen before the cork was extracted, because it made all the difference in terms of my enjoyment. Not only is it interesting beer on paper, it's interesting beer in the glass as well.
★
2,012 characters
2.95
/5
rDev
-16.7%
look: 3 | smell: 3 | taste: 2.5 | feel: 2.5 | overall: 4
Simple and drinkable. The motto for so many beers now, and in the past. But we expect so much more from our beer now. 10 years ago I would have loved this, but times change. Expectations change.
Quickly dissapating head with literally no lacing. An odd nose with little of the typical triple aromatics. More in line with a boring domestic amber micro-brew, with some confectioners sugar mixed in.
The palate is quick and one-dimensional with some caramel and roasted malt notes.
The one good thing here is this goes down easy. But so do so many other beers, and if you just want to get a heat on there many beers that will do it much cheaper. I'll drink the bottle, but I just want more from my beer these days. Times are changing...
★
738 characters
4.15
/5
rDev
+17.2%
look: 4 | smell: 4 | taste: 4 | feel: 4.5 | overall: 4.5
750 ml bottle, pulled it from my beer storage rack, but I think I first bought it at City Beer in San Francisco.
Poured into my Culture Biere chalice glass (picked on on Champs Elysee on a recent trip to Paris, check it out if you're there). Nice thick beige head floating atop and amber orange body. Not a lot of lacing.
Great smell, wafts of yeast and hops. Not too many alcohol esters, though. I question whether this is really a tripel, as the alcohol wallop, both to the taste buds and to the head, seems far less than I'd expect from a typical tripel.
Well-balanced taste, mostly malt, with just a hint of hops and banana flavors on the finish.
Great lively mouthful feel, generous (but not excessive) carbonation that drifts up into the nose upon swallowing.
Highly drinkable, especially for the ABV! I've plowed by way through most of the 750 ml without noticing and could go for another.
★
902 characters
3.2
/5
rDev
-9.6%
look: 3.5 | smell: 3.5 | taste: 3 | feel: 3.5 | overall: 3
10/09/08- Purchased at Draeger's in San Mateo, CA.
Presentation-750ml bottle, both caged and corked with a best by stamp on top of the cage. It was Sept '09 if I remember correctly. Poured into my Ommegang chalice.
Appearance- Orange-golden in color with a semi creamy 3/4 inch head on pour...lasting head, but leaves virtually no trace of lacing.
Smell- Smells like a common tripel. Not as much in the corriander territory though with light sweetness and a mild grain nose with the normal yeasty nose.
Taste- If there is such a thing as a macro tripel, this may be it. Had light touches of tripel-like flavors, ie: light corriander, light peppery spices, a bit of musty yeast and some very light candied sugar, but besides a light lingering metallic note, it also has a very grainy flavor.
Mouthfeel- Fairly crisp and hsarp with a mid to higher carbonation level. Kinda dry as well.
Drinkability- Overall it's a pretty easy drinking beer, but the good flavors aren't there like a better than average to great tripel. Average at best.
★
1,040 characters
3.06
/5
rDev
-13.6%
look: 4 | smell: 3 | taste: 3 | feel: 3 | overall: 3
Pours a clear orange with ruby highlights and a generous 2 finger head with some light lacing.
Smell is light and slightly sweet. Sugared orange with a light bitterness?
Taste matches the smell. For a Tripel I was expecting a much more complex and flavorful beer with a bigger smell and taste profile. A little disappointing for me.
★
338 characters
4
/5
rDev
+13%
look: 4 | smell: 4 | taste: 4 | feel: 4 | overall: 4
Best befor 01-07. Poors in with nice head thats lasting ok and has white color. Beercolor is amberbrown and foggy.
Nose is lots of spice from both yeast( dominating) and herbs( gagel is noticeable). Taste is complex giving you nice maltcomplex with the herbs, sweetness and litle hops in aftertaste. Mouthfeel is good to but IMHO litle too sweet and some extra hopadditions would be great. Dinkability is easy but stuffin good.
★
428 characters
Wittoen from Brouwerij Strubbe
3.54
out of
5
based on
15
ratings.