Keyte Dobbel Tripel

Brouwerij Strubbe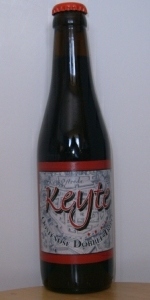 Write a Review
Beer Geek Stats:
| Print Shelf Talker
Style:

ABV:

9.2%

Score:

Avg:

3.63

| pDev:

11.02%

Reviews:

15

Ratings:

From:

Avail:

Year-round

Wants

Gots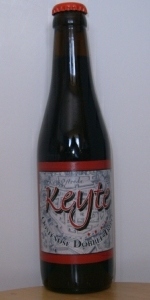 Notes:
4.07
/5
rDev
+12.1%
look: 3.75 | smell: 3.5 | taste: 4.25 | feel: 4.5 | overall: 4.25
L- Very dark chestnut red, clear, pours with 5mm pale tan fine-bubble head, that holds relatively well.
S- Mild to me, but for a moment I wonder if I just got a flash of cherry aroma.
T- Woah! A brief fruity element, then right into a pungent taste and it keeps on growing, rich/fruity toasted malts* with a hint of sourness to it too.
F- It's rich but balanced with a mild somewhat sourish facet. It's big, bold, would work as a winter-warmer, and has a clear identity all of it's own - If this were a regular tipple of yours you wouldn't mistake anything else in it's place. Carbonation in the mouth holds up really well.
O- I was chuckling pondering just how OTT a Dobbel-Tripel might be, both styles can be pungent so.... combining them?...
I imagine this one might better suit colder months, it's quite a beast. I'm very happy to have got to try it and would very happily buy it again.
330ml bottle bought from BeersOfEurope (UK)
* a parallel might found in a slice of cold British Xmas pudding.
1,001 characters

3.5
/5
rDev
-3.6%
look: 3.5 | smell: 3.5 | taste: 3.5 | feel: 3.5 | overall: 3.5
Pours a clear light brown color with dark ivory colored head. Candy, figs, dark fruits, and caramel on the nose; follows onto the palate. Medium bodied. Finishes with a candied nut sweetness and some lingering dark fruit notes.
227 characters

3.87
/5
rDev
+6.6%
look: 4 | smell: 3.75 | taste: 4 | feel: 3.75 | overall: 3.75
Beer bottle (33 cl.) purchased from Chez Clem's, and tasted in 2013.
Appearance : dark brown colorr, with tan foamy head.
Smell : roasted malt aromas.
Taste & mouthfeel : sweet flavour of caramel and spices with notes of dried fruits.
Drinkability : a good beer in the style Belgian strong dark ale
299 characters
3.72
/5
rDev
+2.5%
look: 3 | smell: 3.5 | taste: 4 | feel: 3 | overall: 4
33cl bottle: labelled as 'Strandjuttersbier MONG de Vos', bought with a pack of other brews at a beer shop in Wenduine who have it bottled/labelled for them. I am lead to believe this is the same beer.
Poured into a Westmalle chalice on 10th Oct 2012 @ home: no sediment left the bottle.
Browny red sort of hue to the colour: the thin off-white head didn't even stay as long as it's took to write this!
The smells were/are of stewed plums and candid fruits for a cake mix: this is one alcohol laden fruit cake in a glass.
The taste is very simular to what your nose is telling you: rich, alcoholic and fruity (plums and raisins mostly). Sweet and fairly thin bodied for the alcohol content, the alcohol is present from the start and is barely hidden. It does however give the beer a punch and helps to hide the lack of body.
This is a 'roaring fire' sort of winter beer: I enjoyed it.
889 characters
3.71
/5
rDev
+2.2%
look: 4.5 | smell: 3.5 | taste: 3.5 | feel: 4 | overall: 4
A: Pours a dark, brownish amber with a thick tan head. This is one attractive beer.
S: Surprisingly simple on the nose, with delicate aromas of cocoa, dark fruits, and cream most prominent.
T: Notes of plums, raisins, candy sugar, caramel, figs, Medjool dates, cocoa, heavy cream, and mildly spicy yeast are present on the palate. The finish is sweet and fruity with big cocoa, plum, raisin, and fig flavors.
M: Full bodied and a bit on the dry side. Carbonation is very expressive. There is no alcohol burn whatsoever, which I find surprising since this is such a strong ale.
O: This is a quality Belgian strong dark ale that is slightly different from many other representatives of the style. Keyte Dobbel Tripel is both lighter and sweeter than most beers of this type. In truth, this beer seems torn between being a strong dark ale or a quadrupel, as it demonstrates characteristics I associate with both styles. Overall, this beer didn't blow me away, but I did enjoy it.
980 characters

3.35
/5
rDev
-7.7%
look: 3 | smell: 3 | taste: 3.5 | feel: 3.5 | overall: 3.5
I bought this beer in july when i was @ Vacca's place in Adegem, Belgium. This guy has a beershop with more than 1600 different bottles.
Drank this one together with my cousin Peter.
Be carefull when you open this one. I had a big gusher!!!! Bottles was half empty after the gusher finished.
Poured in a Dutch beerglass the beer looks normal, nothing fancy. Still a big head because of the gusher but that fades away pretty quick.
Rubyred fluid. The beer gives you the feeling of oak and dark soil after the beer is warmed up.
Alcohol is well hidden. Good drinkable but not spectacular.
591 characters

3
/5
rDev
-17.4%
look: 3 | smell: 3 | taste: 3 | feel: 3 | overall: 3
Source/Serving: On tap @ Toronado's
S: Unoaked, almost sour red wine. Quite spicy which makes overall taste reminiscent of a glass of red wine left out for a day to stale. Sour raisins and plum.
T: Moderately sweet but not in a sugary way nor nuanced. Fresh grape compote, slight spice, moderate honey. Sweet toasted caramel and honey in the middle with syrupy fruits and more spice. Slight alcohol. Decent but not exciting. Finish is grape juice, moderate spice and dry.
Note: Fruity and spicy with a touch of red wine but lacking complexity due to just too much sweetness.
577 characters

3.65
/5
rDev
+0.6%
look: 4 | smell: 4 | taste: 3.5 | feel: 3.5 | overall: 3.5
A - Poured with a small, white head that settles quickly and leaves little lace. The body is dark brown with a hint of amber showing through.
S - Aromas of fruit with lots of plum, caramel, some chocolate, and a hint of hops.
T - Caramel and cherry flavors up front. These fruity notes transition to light plum notes and bready malt in the middle. A light, earthy hop note in the finish with some lingering molasses.
M - Moderately thick body, medium carbonation, and a somewhat sweet finish.
D - This beer has a nice level of yeasty complexity with an emphasis on fruity notes of plum and cherry. There is some earthy hop essence that works well with the yeast and makes an effort, albeit a futile one, to balance the malt sweetness. In the end the level of residual sweetness is just overwhelming and eventually becomes cloying to the point of hurting drinkability. Not bad, but it ain't Rochefort 10.
907 characters
3.97
/5
rDev
+9.4%
look: 3.5 | smell: 4 | taste: 4 | feel: 4 | overall: 4
On tap during 72 hours at Max's.
The beer pours an intriguing dark reddish amber color with fair head retention and minimal lacing. The nose is not what I was expecting for a dark triple, as I get a considerable sour component, with some underlying cherry. On the palate.... where in the world did the sour go? This beer is fairly sweet with lots of cherry and honey. There's a hint of sour perhaps, but no more then that. Mouthfeel is surprisingly light for the abv., though there's plenty of flavor. Drinkability is very good for the alcohol, and this beer is not the least bit heavy or tiring on the palate.
Interesting beer and not at all what I was expecting. Much to my surprise, I ended up liking this very much.
722 characters
3.27
/5
rDev
-9.9%
look: 3 | smell: 3.5 | taste: 3.5 | feel: 2.5 | overall: 3
Hmm. Interesting comparison to their blonde tripel. This one poured about the same with a smallish off-white head and no lace. Color is a hazy dark brown with amber highlights. Aroma is mild, malty, and a bit vineous. Flav is a little on the sweeet side. Body is a little on the thin side; carbonation is ok. Finish - ditto.
324 characters
3.53
/5
rDev
-2.8%
look: 4 | smell: 3.5 | taste: 3.5 | feel: 3.5 | overall: 3.5
Pecan shell brown and tangerine orange that becomes a gorgeous russet hue when backlit with afternoon sunshine. The golden cork colored crown is a looker. It's light and airy, with a firm rockiness rather than a soft creaminess. A lack of lace is a minor disappointment.
Medium-dark fruit and a woodsy herbal-earthiness dominate the nose. Spicy phenols from the Belgian yeast (primarily clove) are in the background. There isn't enough intensity for much complexity to be appreciated, a characteristic that will be a score killer if it's present on the palate.
Keyte Double-Triple Ale is similar to this brewery's tripel (Keyte Ostens Belegeringsbier) in that it drinks lighter than the style average. Unfortunately, that has serious implications with regard to complexity, which is something that all world-class BSDAs have in spades. The flavor is pretty good, but it doesn't hit hard enough, dive deep enough or last long enough.
The flavor profile includes steely caramel, a fair amount of fruitiness (figs, mushy apples, tangy raisins), tobacco leaves and a light sprinkling of ground clove. The finish has a cold tea bitterness that is almost certainly due to hops. The barley shortage means very little sweetness, despite the use of brown sugar. On a positive note, the alcohol is hidden exceptionally well.
The mouthfeel is as expected given the circumstances. It's good for a 6.0% Belgian dark ale... not so good for a 9.2% Belgian strong dark ale. A light creaminess from perfectly calibrated carbonation keeps the score above average.
Of the five Belgian ales that I've now had from Brouwerij Stubbe, only Wittoen has been anything to write home about. Keyte Double-Triple Ale doesn't do anything wrong, it just doesn't do enough right to be worth the $9.69 price tag.
1,784 characters

4.03
/5
rDev
+11%
look: 4.5 | smell: 4 | taste: 4 | feel: 4 | overall: 4
Picked up this spring 2008 bottle and have had it sitting in the beer fridge since at 45 degrees. Served at that temp.
Poured from the corked and caped brown 750ml bottle into an oversized snifter. The pour reveals a light tan billowing 3 inch head. The color on this is very nice. As a refermented belgian it is quite clear with no have. The color is a deep ruby red with a shade of darkness in there. The head receeds to a thin cap of retention and a thicker colar. A couple spots of lace, maybe 10 or so random spots with a sticky greasy like coating on the glass.
The aroma is pretty darn good. Hints of rose pedals, fruity sweet grapes, a wiff of chocolate, a far off whiff of spicie hops, some mild alcahol, and a candy suger/ brown sugar aroma.
The taste is very much wine like, similar to a chimay with its berry sweetness, somthing resembling rasberries. It starts out sweet and carbonated with a bit of creamyness from the carbonation. Midway through the carbonation tickles my tounge with a slick feel. Also midway, I get fermented rasberries, and some red wine like flavor, with a touch of untoasted oaky barrel flavor.
Becoming a bit more bitter at the swallow, grassy and piney hops coming in to even out the fermented fruit flavors. A bit of fermented candy sugar flavor and hints of vanilla.
Finishing clean, bitter and dry with hops and oak lingering.
Very delicious quad, I saved this for a rainy day and well, its raining. Thought I'd pop the cork. I recommend this if you enjoy a solid quad. I dont understand how this got such bad reviews.
1,566 characters
2.44
/5
rDev
-32.8%
look: 4 | smell: 2.5 | taste: 2.5 | feel: 2 | overall: 2
Reviewed on 6/22/08. On tap at the Ginger Man. Pours a deep red with a small head. Aroma of raisin, dark fruits. Flavor of Belgian yeast, alcohol, honey. Very hot and gets worse as it warms. Very sweet as well, a real sugary, alcoholic mess. Reminds me of mead or Kasteel Brune. Ick.
5/4/5/2/6 (2.2/5)
301 characters
3.5
/5
rDev
-3.6%
look: 3.5 | smell: 3.5 | taste: 3.5 | feel: 3.5 | overall: 3.5
Had this at BSP as the "Strubbe Double Tripel", so I'm assuming this is the correct beer to review.
A - looks brown head-on, but held up to light dark cherry red highlights appear. Thin white head
S - dark fruit, hints of coffee, and malt
T - initially sweet, quite fruity it seems, some yeastiness, and hints of alcohol
M - medium bodied with a fair amount of carbonation
D - as I recall from my notes I enjoyed this beer. Would have another if given the chance.
468 characters
2.98
/5
rDev
-17.9%
look: 3.5 | smell: 3 | taste: 3 | feel: 2.5 | overall: 3
A dark brown, almost black beer with a thin head.
Smell is light roasted with liquorice notes. Faint caramel notes and light malt notes are followed by a vegetable smell and also some metallic smell.
Taste is light roasted with strong liquorice and vegetables notes. The beer is sweet, but makes a watery impression. The yeast gives some spicy notes and also some light fruit. The carbonation is sizzling.
I don't really like this beer, merely because of the thin body and one dimensional taste.
503 characters
Keyte Dobbel Tripel from Brouwerij Strubbe
Beer rating:
85
out of
100
with
24
ratings