Old Pluto
| Barrington Brewery & Restaurant / Berkshire Mountain Brewery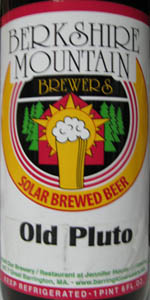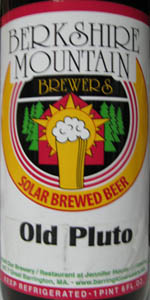 BEER INFO
Brewed by:
Barrington Brewery & Restaurant / Berkshire Mountain Brewery
Massachusetts
,
United States
barringtonbrewery.net
Style:
Old Ale
Alcohol by volume (ABV):
6.00%
Availability:
Rotating
Notes / Commercial Description:
No notes at this time.
Added by plaid75 on 03-02-2008
HISTOGRAM
Ratings: 10 | Reviews: 7
Reviews by RedChrome:
3.42
/5
rDev
-6%
look: 3.5 | smell: 4 | taste: 3 | feel: 3.5 | overall: 3.5
A dark tea colored beer. Inch and a half high tan head faded rapidly. Only a few carbonation bubbles can be seen rising due to the opacity. Big spots of thin lace.
Nice strong grains scents up front. A very strong raisin scent accompanies the grain in a nice balance. Bitterness is pleasant without overpowering.
There is a huge vinegar sourness right up front on the tongue. What few malt flavors are there are quickly overcome by more sourness.
Average viscosity on the tongue. The Carbonation is a bit subdued, but tastes cling nicely a while.
An interesting beer. This one would overpower any food you paired it with. Definitely a sour beer. A nice surprise if your looking for a really sour old ale. However, judging from other reviews, I may have an atypical bottle.
777 characters
More User Reviews:
3.72
/5
rDev
+2.2%
look: 3.75 | smell: 3.5 | taste: 3.75 | feel: 4 | overall: 3.75
22oz brown bottle with no freshness date.
Fig colored brew, sufficient head that lasts. Aromas of toffee, toasted bread, baked apples, faintly buttery, mineral. Slightly creamy body, medium body and very smooth. Very malty with grassy undertones, balance bitterness and a yeasty finish of ripe fruit and faint buttery diacetyl. Light alcohol warmth, hint of chocolate and toasted bread. Semi-sweet toasty finish.
Very tasty and a fitting winter brew, could be considered a form of a non-spiced winter warmer.
510 characters

3.75
/5
rDev
+3%
look: 3.75 | smell: 3.75 | taste: 3.75 | feel: 3.75 | overall: 3.75
Poured into a nonic pint glass, the appearance was a transparent brown color with a slowly moving carbonation rising to fill a slowly dissipating foamy/bubbly white/creamy head. Soft stringy lace with some bubbles. The aroma took sweet caramel and cocoa malts to intertwine with some bready notes, light toast and brown sugar. Sly cherry sweetness. The flavor copies the aroma pretty much spot on with a crisp bready contour aligning into the aftertaste and then has a quick semi-sweet finish. On the palate, this one sat about a light to medium in body with a fair sessionability about it. Moderate carbonation with the ABV seemingly to play appropriately with the feel - good. Overall, nicely done old ale that I would have again.
732 characters
4
/5
rDev
+9.9%
look: 4 | smell: 4 | taste: 4 | feel: 4 | overall: 4
Pours a dark amber with excellent head retention and good lacing.Smell is a very nice blend of malt and grassy hop notes. Taste is a rich, roasted malt eith a light hop undertone. Mouthfeel goes from smooth to dry in the finish..a very nice transition. Very easy to quaff...a definite candidate for another glass.
313 characters

3.88
/5
rDev
+6.6%
look: 4 | smell: 3.5 | taste: 4 | feel: 4 | overall: 4
Poured a deep amber hue with a one finger foamy white head. There was good retention and sticky lacing.
The smell consisted of a sweet malt and a flowery hop.
The taste featured flavors of honey and dark fruit atop a biscuity malt. A nice dose of earthy hop spice as well.
The mouthfeel was toward the fuller side.
Overall a tasty and user friendly old ale.
369 characters
3.68
/5
rDev
+1.1%
look: 4 | smell: 3.5 | taste: 3.5 | feel: 4 | overall: 4
22oz bottle purchased as a single from Domaney's in Great Barrington, MA. Maroon-foiled cap, notched to purchase before November.
Poured into a Harpoon tulip, formed a 1/2" tan head over the clear burgundy brew. Head fades gradually, with lasting legs and average lacing. Aroma is dark fruit and moderate sweetness. Taste begins with a touch of licorice, dark fruits in the middle, and a slightly leathery tannin finish. Mouthfeel is small-bubbled and soft, and drinkability is good for an old ale. Not a bad offering.
519 characters
3.43
/5
rDev
-5.8%
look: 3.5 | smell: 3.5 | taste: 3.25 | feel: 3.75 | overall: 3.5


4.11
/5
rDev
+12.9%
look: 4 | smell: 3 | taste: 4.5 | feel: 4.5 | overall: 4.5
Look - color of a British porter, so a little dark for the style. Red-brown, crystal clear with bright light behind. Poured a pint with a 1/2 inch off-white head that faded quickly. Good lacing but not exceptional.
Smell - not much, some burnt sugar notes and a little malt. No significant hop aroma, which is true to style.
Taste - good depth (intensity) of malt and a long finish. Significant toffee/caramel flavor. A modest diacetyl note, a little roastiness, just a touch of high alcohol flavor. Only a very subtle hop bitterness at the end.
Drinkability - a very enjoyable pint. Very true to style. This is only occasionally brewed by the Barrington folks; if they have it on tap when you visit, get a pint for desert!
Note: ABV not listed, but OG on this batch was 1062. So guess 6.0-6.5%.
800 characters
3.68
/5
rDev
+1.1%
look: 3.75 | smell: 3.75 | taste: 3.75 | feel: 3.5 | overall: 3.5
Old Pluto from Barrington Brewery & Restaurant / Berkshire Mountain Brewery
Beer rating:
3.64
out of
5
with
10
ratings