Viven Bruin
| Brouwerij Van Viven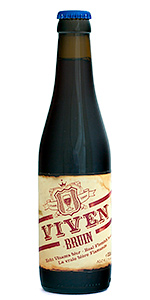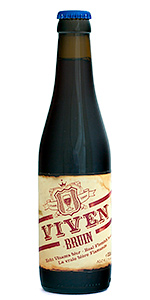 BEER INFO
Brewed by:
Brouwerij Van Viven
Belgium
viven.be
Style:
Belgian Dark Ale
Alcohol by volume (ABV):
6.10%
Availability:
Year-round
Notes / Commercial Description:
None provided.
Reviews: 6 | Ratings: 18
3.49
/5
rDev
-2%
look: 4.5 | smell: 3.5 | taste: 3.5 | feel: 2.75 | overall: 3.5
L:
-pours a hazy ruby-brown with a small to medium,foamy,beige head
-no carbonation visible
S:
-chocolate,raisins,figs,leathery
T:
-Follows the nose plus plums,caramel,cherries and a slight acidity
-finishes dry
F:
-low to medium carbonation
-light body
-slight alcohol warmth
O:
-Belgian Yeast character less pronounced
The Beer was at the end of its BBD,so the low carbonation (for a Belgian Beer) maybe because of that.
Good overall.
436 characters

3.7
/5
rDev
+3.9%
7.5 abv.
Pours dark mahogany with a finger of foam, that disappears in a minute, leaving a thin lace and some floating traces.
Nice dark fruit and caramel combo in the smell, sticky sweet and just a bit boozy. Lots of raisin, fig, some cherry, date, some toffee, candi sugar, butterscotch, light chocolate, with a "festive" kind of spiciness.
Not as sweet as the nose predicted. Starts with dark bread and a light dark fruit zing, a bit acidic, with cherry, dark raisin, dried fig, dusted with a bit of candi sugar. Burnt sugar with bread crust and some cocoa powder, nut, cinnamon, faint licorice, faint nutmeg (in fewer words, Christmas-y spices). Finishes a bit earthy, yeasty, with a low to mild bitterness.
Medium to heavy body, medium carbonation. Aftertaste has some cocoa powder,bit of booze, yeasts and dark bread.
Not a sweet Belgian dark, pretty dense and straightforward, but with decent flavours. The well-handled alcohol also helps, compensating the lack of complexity.
983 characters
4.06
/5
rDev
+14%
look: 3.5 | smell: 4.25 | taste: 4 | feel: 4.25 | overall: 4
Pours a decent fizzy head that fades quickly, very little lacing, murky brown sugar chestnut colored.
Nose has a bold aroma, chestnuts, brown sugar and caramel candies, nutty toffee, tons of sweets!, a faint fruitiness to it, with a touch of dates.
Taste starts with the fruity flavors, dates, candy covered raisins, figs and nuts, then sweet brown sugar, candi sugar, toffee, molasses, etc. no real booze which is surprising, although it wants ot, juicy center with sweetness held in check. Finish is dry actually, not really sticky either, lingering brown sugar covered raisins, dates, etc, but of reddish brown.
Mouth is med bod, the dry finish doesn't get syrupy, nice carb, etc.
Overall a nice bruin, good fruits and sweets, without getting too sweet or boozy, nice finish, not too syrupy, tasty beer that doesn't overpower.
833 characters

3.29
/5
rDev
-7.6%
look: 4 | smell: 3 | taste: 3.25 | feel: 3.75 | overall: 3.25
A: Pours clear copper with an enormous tan compact lovely head. Slow dissipation leaves rich lacings.
S: Smell holds yeast and spice, but a bit artificial and detergent-like from the alcohol. Dark, roasted malts, sweet.
T: Sweet and cherry-kernel-bitter. Dark roasted malts. lots of red forest berries. Spices and yeast.
M: Aftertaste is rather long and bitter. Body is smooth and medium, while carbonation is medium strong and smooth.
O: Not bad, but nothing very special. The best part is the cherry-kernel-like bitterness.
532 characters
3.08
/5
rDev
-13.5%
look: 3.75 | smell: 3.25 | taste: 3 | feel: 3.25 | overall: 2.75
The colour is red-brown (30 EBC), the three finger head is airy and uneven. It leaves lots of lacing while sinking down.
The smell got distinct notes of alcohol, caramel and spicy yeast. Red berries, dried appels and toffee.
The taste got stronger bitter-hoppy flavours than expected. Noticeable warming alcohol. Toffee and caramel, but not much sweetness. Some herbs and spices. Medium body. The aftertastes got notes of ripe bananas, clean alcohol, dried red berries and hints of chloride and Christmas spices. The finish got quite a lot of alcohol and caramel.
The carbonation is medium strong, the small bubbles sharp and short-lived. The liquid is mid-smooth.
A bit sharp and edgy with a little too much alcohol.
722 characters
3.53
/5
rDev
-0.8%
look: 4 | smell: 3.5 | taste: 3.5 | feel: 3.5 | overall: 3.5
This is a different brew to the Bruin already listed, which is an Oud Bruin, with a different ABV. 33cl bottle, a gift from @LaitueGonflable.
Pours, certainly not brown, but a brilliantly deep and clear ruby red hue, with just slight hints of amber at the edges. Head is foamy beige, but it subsides rather quickly, leaving some sudsy lace and a couple of millimetres of froth on the top. Body very light and fluid. Not bad. I love that colour.
Nose is sweet with dark fruits and caramel malts, all laced with a slightly freshening yeast note, giving it subtle hints of dark acidity and carbonation effervescence. Something vaguely sharp and phenolic comes through as well. It's an interesting nose, with some vaguely disconcerting notes. Not bad though.
Taste is good, but a bit flat. Smooth malt characters give it the essence of caramel, toffee and sweetness, without adding much body or depth to the complexity of the beer. The acidity doesn't actually materialise on the palate, which is a shame—it could be a great beer with a touch of Brett, for example. Yeasty, dry notes finish it off, but it doesn't dance in the mouth in the way you'd want a really nice, integrated and complex Belgian to.
Decent, but not great. It's a solid enough Belgian ale, but probably below average for the style from a genuine Belgian brewery. It just doesn't have the depth or complexity I'd like to see, and is too sweet for it to be a refreshing, drinkable brew.
Add some Brett, and we'll talk.
1,490 characters
Viven Bruin from Brouwerij Van Viven
Beer rating:
3.56
out of
5
with
18
ratings