Barrel-Aged Project Brew No. 7 - Ardbeg Whisky
| Brouwerij Hof Ten Dormaal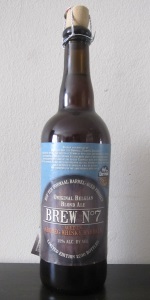 BEER INFO
Brewed by:
Brouwerij Hof Ten Dormaal
Belgium
hoftendormaal.com
Style:
Belgian Strong Pale Ale
Alcohol by volume (ABV):
12.00%
Availability:
Limited (brewed once)
Notes / Commercial Description:
No notes at this time.
Added by MasterSki on 10-17-2012
This beer is retired; no longer brewed.
Reviews: 6 | Ratings: 16
3.68
/5
rDev
+0.8%
look: 3.5 | smell: 3.5 | taste: 3.75 | feel: 3.75 | overall: 3.75
A scotch lovers beer for sure. The nose is one dimensional with the scotch dominating. The peat / smokey aroma does give a hint of bandaid and burning tire. Ultimately the peat and sweatness doesn't work incredibly well for me in large doses.
242 characters
3.75
/5
rDev
+2.7%
An intense amount of whisky taste and nose considering it's only been 'matured for several months on these oak barrels.' A bit over the top with whisky flavor but the EtOH and body of beer tempers the whisky. Hard to believe it's a blond ale.
242 characters
2.36
/5
rDev
-35.3%
look: 3 | smell: 2 | taste: 2.5 | feel: 1 | overall: 3
Cork looks to be barely held on by the cage. Opening results in a lethal explosion of the cork. A part of me is already wondering about the quality of this beer but 12 % beer shouldn't be infected too often.
The pour over flows with carbonation, a full class of thin white foam, cloudy dark beer begins to form at the bottom of the glass. About what I expected from the cork blasting off.
The nose has sharp acidic alcohol notes in it followed by fruit esters and isley smokey oak.
There's a blend of sweet sugar and sharp alcohol esters with a nice smokey finish. Normally alcohol and dryness would fall under the mouth feel area or drinkable or something, but this is just so unique. Alcohol is intense and the 12% doesn't seem possible. The beer is dry and sharp more so than anything I can compare it to. After letting the beer breath and swirling the glass till it was almost flat the heat and the bite of this one starts to fade a bit. The underlying sugars and fruit esters are unique when added with the peat base from the ardbeg, oddly the beer has gone from smoke to peat in the finish.
Given the price on this one, I can't recommend it. I love Ardbg and I think it adds nice elements but the beer as a whole is flawed beyond repair, the base beer that is.
1,272 characters
3.52
/5
rDev
-3.6%
look: 3 | smell: 3.5 | taste: 3.5 | feel: 4 | overall: 3.5
Thanks to jmgrub for sharing this one at drewone's place.
Pours a murky honey orange with a foamy bone colored head that settles to wisps of film on top of the beer. Small dots of lace slowly drip into the remaining beer on the drink down. Smell is of malt, peat, bandaids, and scotch whisky. Taste is much the same with an intense peat and smoke presence on the finish. There is a mild amount of smoke bitterness on the palate with each sip. This beer has a good level of carbonation with a crisp mouthfeel. Overall, this is a pretty good beer but the Ardbeg barrel really takes over the base beer and overpowers any qualities it may have.
642 characters
4.59
/5
rDev
+25.8%
look: 3.5 | smell: 4.5 | taste: 5 | feel: 4 | overall: 4.5
My appreciation for Islay whisky made this one easy to choose from among the brewer's other barrel-aged variations. Pours a light tawny brown with a beautifully thick and frothy eggshell head. After a few moments, the head is reduced to a thin, yet solid, soapy cap that marks the wall of the tulip glass with arches of lacy foam.
The nose is spectacular; in fact, it's the closest thing to scotch that I've ever smelled in a beer. The initial aroma provides no shortage of charred oak, assertive peat, soot and smoke, iodine, seaweed and Himalayan salt. Initially, these elements virtually choke out most other aromas that are only slightly appreciable, like a light semi-sweet biscuity malt, faint earthy hops and a few hints of berries and orchard fruit.
The first sip hits the palate with forceful smoked peat, woody oak, dewy moss and briny flavors. Surprisingly, a light fruity flavor follows closely behind; although the components of which are tricky to define at first. However, with a few more tastes and a little coaxing provided by the warming temperature, juicy berries, crisp apple & pear and dried apricot cut through the formidable whiskey character. On the back end, caramel and toffee are evident. The finish is a touch dry with a suggestion of bitterness and an aftertaste that is all Ardbeg: smokey, woody and nutty. The only thing missing is the somewhat minty note that I pick up in the actual spirit.
Brew No. 7 has a medium-full body with a wonderfully creamy texture, thanks to the moderate amount of effervescence. I was skeptical about the use of a pale ale as the base, reasoning that a darker and more robust style —like a dubbel or quad— would be better suited. However, the pale malt showcases the unique character of Ardbeg perfectly.
If you're looking for a Islay whisky-inspired smoke bomb of an ale, look no further; in my opinion, Hof Ten Dormaal's offering outdoes BrewDog's Paradox 2008 Smokehead and even their Islay cask-aged Storm IPA. Worth seeking out by Ardbeg fans.
2,018 characters
4.64
/5
rDev
+27.1%
look: 4 | smell: 5 | taste: 4.5 | feel: 5 | overall: 4.5
Aroma of ARDBEG! Tastes of ARDBEG, dried fruit, honey, and more ARDBEG! Creamy body, great lacing, with an endless finish of...you guessed it...ARDBEG! Not very balanced, but if you're a heavily peated whisky lover (as I am), this is a must try. Even peatier than the Lagavulin-aged Lee's Harvest, Ola Dubh, or any of the Brewdogs.
333 characters
Barrel-Aged Project Brew No. 7 - Ardbeg Whisky from Brouwerij Hof Ten Dormaal
3.65
out of
5
based on
16
ratings.