Dismiss Notice
Extreme Beer Fest:Los Angeles
Join us December 9th in Los Angeles for the ultimate throwdown of craft beer creativity!
Learn more...
Dismiss Notice
Sainte Source IPA
| Brasseurs De La Mauricie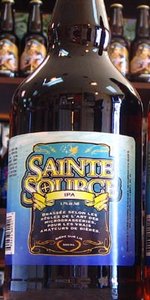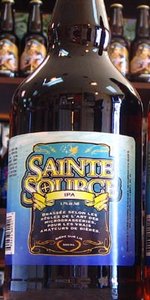 BEER INFO
Brewed by:
Brasseurs De La Mauricie
Quebec
,
Canada
brasseursmauricie.com
Style:
American IPA
Alcohol by volume (ABV):
6.70%
Availability:
Year-round
Notes / Commercial Description:
No notes at this time.
Added by Thorpe429 on 09-20-2009
This beer is retired; no longer brewed.
HISTOGRAM
Ratings: 11 | Reviews: 9
Reviews by Intrinsic:
4.45
/5
rDev
+19%
look: 4.5 | smell: 4.5 | taste: 4.5 | feel: 4 | overall: 4.5
First of all, I don't think this is an American IPA. Its fits the Belgian style much more closely, so I'll review it as such (if you don't agree, check out the description of Belgian IPAs). I'd love to know how long this beer has been sitting on the shelf, because I only just bought this yesterday. It certainly hasn't gone bad, because this might be one of my favourite Quebec beers so far.
As I poured this out of its 500ml bottle, I was expecting it to gradually become darker and darker, towards the characteristic dark amber colour of American IPAs. To my delight, it stabilized around "burnt orange" (thanks Timtim for the perfect description). The head on this beer is incredible! I've been sitting with it for over 10 minutes now and there's still over a centimeter. Off-white in colour, its quite thick and just slightly clumpy. I was amazed at how slowly the carbonation climbs up the side of the glass.
The first Belgian IPA clue was the colour. The next was the smell. This beer screams Belgian yeast, with strong fruit and pine notes from the hops. Its very well blended, and nothing seems out of place. Top notch.
And the grand finale - everything comes together into one amazing tasting beer. The particular strain of yeast used makes its presence known, while the (unknown) American hops fight fiercely to win over your tastebuds. Pine and citrus rule this IPA like monarchs. I'm starting to wish I bought more than one...
The dry finish derived from the hops complements the fine carbonation, making a very drinkable beer. Overall, I think this beer deserves a much higher score than it has. If I didn't know better, I'd think I was drinking a Houblon Chouffe Dobbelen IPA Tripel. If this was in fact discontinued, then I'm buying the rest of the stock at my local store.
1,793 characters
More User Reviews:
4.07
/5
rDev
+8.8%
look: 3.5 | smell: 4 | taste: 4 | feel: 4 | overall: 4.5
Into Sam Adams perfect glass.
A- Almost murky brownish gold. Yellow tint to the big creamy white head. Good retention. Creamy lacing. Great looking head, awful looking liquid.
S- Woody, orange, caramel. Medium strength. Tropical fruit comes out more and more as it warms.
T- Nice. Not really liking the boiled veggie in the finish but the malt and citrus side of the hops are great. A bit of a rubbing alcohol thing going on, especially while aerating but I find it enjoyable. All in all, tastes very fresh and clean except for the boiled veggie in the finish. Grapefruit and even pineapple as it warms.
M- Medium carbonation. Great smooth but crisp mouthfeel. Medium dryness.
D- Very good. Super refreshing and satisfying. Again, only thing stopping this from being incredibly drinkable is the dirty boiled veggie.
I like it. Better than expected (unappealing label maybe?) A bit like a light Double IPA.
Could very well buy this again. Worth trying.
958 characters
3.5
/5
rDev
-6.4%
look: 3.5 | smell: 3.5 | taste: 3.5 | feel: 3.5 | overall: 3.5
Bottle: Poured a dirty yellow color ale with large foamy head with good retention and some minimal lacing. Aroma of bitter hops with a medium dose of citrus. Taste is more floral then I had anticipated with more pronounced hops as well. Citrus undertones was also a pleasant surprise. Body was quite full with limited filtration and good carbonation. Well done overall though lacking some malt backbone.
403 characters

4.2
/5
rDev
+12.3%
look: 4 | smell: 4 | taste: 4.5 | feel: 4 | overall: 4
Pours a slightly-hazed copper color with a decent head. The smell is ripe hops with pine coming out on top. Good malt backing with a bit of caramel and bread crust thrown in. Same with the taste, and there is a fairly-pronounced hop bitterness, fully complemented by the medium body.
283 characters
3.83
/5
rDev
+2.4%
look: 4 | smell: 3.5 | taste: 4 | feel: 3.5 | overall: 4
Beer is an attractive cloudy amber with an ivory head. Not much of an aroma: some hops and a little bit of yeast or bread. Taste is what one would expect from a good IPA. Nothing amazing, but nice and crisp, with a dry and hoppy finish. Not getting a lot of character in the hops -- not much citrus or pine or anything. Mouthfeel is fine. It seems just a touch over carbonated to me, but not much. It's quite drinkable. It's not a complex or nuanced beer, but it's a tasty, very refreshing IPA. Not great, but quite good.
521 characters
3.67
/5
rDev
-1.9%
look: 3 | smell: 3.5 | taste: 4 | feel: 3.5 | overall: 3.5
I had a 500 ml bottle with my brother in law split into two goblets.
This was an IPA on lees which in my notions fits more into a belgian IPA style. The beer was a golden haze with yeast chunks floating around. It had a nice inch of foamy head.
The hops were very present in the smell, they were mostly pine and earth, the yeast (which smelled belge) was also dominant.
The hops gave a good attack in mouth that left a nice sustained bitterness, the yeast also came through with the warming taste of alcool.
It was very creamy with a good amount of carbonation.
It was a very good Belgian IPA not a traditional American IPA, but greatin its class. Definately worth a try!!
674 characters
2.76
/5
rDev
-26.2%
look: 3.5 | smell: 2.5 | taste: 3 | feel: 2.5 | overall: 2.5
Poured from a bottle on 11/12/09
A - Pours a cloudy rusty orange with a big white fluffy foam
S - Slightly funky, earthy, pine
T - Funky with an earthy hoppiness to it, grassy, dirt, slightly bitter finish
M/D - sort of thick, odd mouthfeel, not very drinkable in my opinion, very dry feeling, almost dusty, maybe I had a bad bottle
336 characters
3.2
/5
rDev
-14.4%
look: 4 | smell: 4 | taste: 3 | feel: 2 | overall: 3
500 mL bottle, poured into a pint glass.
A: This is a murky, cloudy beer. TONS of particles floating in the beer. I need to learn French and start reading these labels on the Quebec beer, many ferment in the bottle. Nice thick pillow-like head, 2 fingers worth, dark gold color
S: Sweet citrus, pine, Belgian yeasts, caramelized sugar, tropical fruits
T: Bitter hops, pine, malts, Belgian yeast, slight alcohol. Bitterness lasts throughout the whole taste experience
M: I pulled this beer right out of the fridge and drank it. This beer was cold (40 F, 5 C), but this mouthfeel was warm. I thought that was interesting. Very sticky, coats your mouth, medium carbonation which dies quickly after touching your tongue. Slight dry finish, the sticky coat that is left on your tongue stops it from having a higher dryness. As the beer warms, the mouthfeel is becoming more distracting. This is the most memorable mouthfeel I have experienced, and not in a good way.
O: Not a bad beer, I would buy again. The worse thing about this beer is the mouthfeel. It has a very bizarre feel, which stops me from giving it a higher rating. Also, I didn't taste any citrus fruits, and I prefer that taste in my IPAs.
1,200 characters
4.5
/5
rDev
+20.3%
look: 4.5 | smell: 4.5 | taste: 4.5 | feel: 4.5 | overall: 4.5
nice... hazy burnt orange with a just-so-slightly off-white head that holds very well and leaves big splotches of webby lace. i really love the generously malted, well-balanced UK/US hybrid ipas that seem to be coming out of this part of the world, and the first whiff lets me know this is one for sure. very focused malt flavors lead the way in the nose, followed by a very clean, very distinct hop character that is full of pine, flower and citrus. malty like an english ipa and hoppy like an american ipa. the first sip reveals the harmony of the hop and malt, creating a crystal clear malt profile that carries just a hint of caramelly sweetness to round out the complex hop flavor. Creamy, silky, medium-full body with a long finish that has just the right balance of bitter and sweet. This one has it all for me. The pristinely clean water, locally grown and malted grain and classic north american hop don't hurt a bit either. a refined ipa that is super classy and full of substance. i'll have another please!!
1,018 characters
Sainte Source IPA from Brasseurs De La Mauricie
Beer rating:
3.74
out of
5
with
11
ratings