3 Golden Hairs
| Grimm Brothers Brewhouse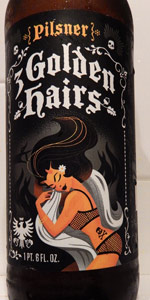 BEER INFO
Brewed by:
Grimm Brothers Brewhouse
Colorado
,
United States
grimmbrosbrewhouse.com
Style:
Czech Pilsener
Alcohol by volume (ABV):
4.60%
Availability:
Year-round
Notes / Commercial Description:
3 Golden Hairs is a clean, crisp, hoppy Pilsner. Brewed in the Czech style this beer features a malty pilsner aroma and flavor. It's perfectly balanced with the floral hoppy character of Saaz hops. With medium light body and a crisp finish Pilsner was invented in 1842 in teh Czech city of Pilsen. It is a very blonde, clear, effervescent lager. The water in the Czech region is very soft which suppresses the hop bitterness and allows the hop aromas and flavors to shine. Our local water is also very soft making it perfectly suited for brewing pilsner beers. We have chosen to use the floral, spicy Saaz hops over German hops as ths beer is always refreshing.
Added by denver10 on 08-05-2013
Reviews: 8 | Ratings: 27
3.87
/5
rDev
+3.5%
look: 4.5 | smell: 3.75 | taste: 3.75 | feel: 4 | overall: 4
A little astringent on the hop character for my personal taste, but very well done and finishes quite dry. Very little sulphor for a euro style pils. 12oz can. Nice head retention.
183 characters
3.74
/5
rDev 0%
look: 3.5 | smell: 3.75 | taste: 3.75 | feel: 3.75 | overall: 3.75
these guys dont get enough credit for their traditional german stuff. i understand some of the more experimental styles have gone off the rails a little bit and perhaps alienated some of their loyal fans, but they really do a very solid job of these older european styles, and this is a nice pils, although as much czech as german, at least as far as it being rather hoppy is concerned. its a little darker in color than many, but just a shade, and its a little fuller bodied too, but just a little bit. i like it being more substantial, it stands up to winter better and is an uncommon point of distinction in the style. the hops arent so bitter, but have a fresh flowery element to them and a hint of citrus, pretty classic saaz, earthy and sort of still growing. the grain is less bready than some, more of a well rounded cereal complexion, not overly dry, but its a perfect set up for the lager yeast they used, which might be more the german part of this. good carbonation and a clean enough finish. not the best pils made in the states, but nothing at all to shake a stick at either, especially if you are one to allow for a very little bit of stylistic leeway...
1,169 characters
3.89
/5
rDev
+4%
look: 4 | smell: 3.75 | taste: 3.75 | feel: 4.5 | overall: 4
Floral, Spicy, Soft, Clean
In the Czech Pilsner style, 3 Golden Hairs drops out of the can with a clear, pale yellow color and a thin white lace. The nose is fresh and pleasing with biscuity malts and floral hops. It hits the palate super crisp, creamy and lively. A mild sweetness upfront with a soft bready malt base is cut by a spicy, floral Saaz hop note and restrained bitterness. Crackery and clean in the finish. Overall a damn solid, refreshing and highly crushable Pils.
As reviewed in BeerAdvocate magazine #107 (December 2015).
540 characters
3.82
/5
rDev
+2.1%
look: 4.75 | smell: 4 | taste: 3.75 | feel: 3.75 | overall: 3.5
Radiant white head; thick, soapy, lathery. Oily looking. Seems to hint at the hops waiting inside. Color is a slightly lackluster light honey color. Superb head and lacing. Aroma is perfumey, musty, fragrant. Reminds me a bit of kolsch. Toasty grainy aromas. Light sweetness. Adheres to style pretty well. Big hits of Saaz hops and cocktail bitters. I am just not a Saaz fan, their spicy characteristics make the sharp bitterness unpleasant to me. This must be a US variety because they are quite aggressive. Despite the hop variety used, the beer is still tasty enough. The brewer recommends serving at ~45 degrees, and I think cold serves the beer well. Its still light, plenty crisp and low-ABV.
I can't fault the beer for personal preference, so I'd say this Czech pils is pretty good; true to style, boldly Coloradon, and easy to drink. Saaz fans, you'll like this one.
876 characters
3.59
/5
rDev
-4%
look: 3.5 | smell: 3.75 | taste: 3.5 | feel: 3.75 | overall: 3.5
Clear, bright, light yellow body; lots of fine carbonation; fair, one-finger thick white head. Mild malt fragrance; grassy aroma. Light cereal flavor with an great, slowly building hop bitterness at the finish. Primarily light body; soft; semi-dry finish.
Overall, a very nice, easy drinking, nicely balanced example of the Czech pils styling. It leans towards the light and delicate spectrum of scents and flavor and makes for a great summer time thirst quencher.
466 characters
3.87
/5
rDev
+3.5%
look: 4 | smell: 3.75 | taste: 3.75 | feel: 4.25 | overall: 4
On-tap at Terminal Bar. Smooth pale malts upfront, but what defines this beer is the crisp, spicy hop burst at the end. Overall, a great, hoppy pils. Very satisfying as a hop lover, but also crisp and drinkable.
211 characters

3.73
/5
rDev
-0.3%
look: 4 | smell: 4 | taste: 3.5 | feel: 3.75 | overall: 3.75
Big yellow brew with a sturdy mouthfeel. Clear color in the Blanche de Chambly flute with a fluffy white head. Attractive brew with a flowery aroma.
Some bitter aftertaste with some of the perfumey notes that a Kolsch or Pilsner would typically have. Grainy and resiny taste seems like typical Pilsner. The hops are quite bright and just bitter enough.
Not a bad gulp, and handsome plus aromatic. It's maybe a little more flabby and coarse somehow than the optimum, but it grows on you as you sip. From the 22 oz bottle purchased at Grapevine Liquor in Denver.
563 characters

3.35
/5
rDev
-10.4%
look: 3 | smell: 3.5 | taste: 3.25 | feel: 3.75 | overall: 3.25
Pours a light yellowish golden with a dirty white head. Aroma is crackers, straw, and grassy with a tease of some fruitiness there. Flavor starts off crackery and straw but quickly transitions into some nice hoppiness with some grassinesss and just a tease of some sweet fruit essence. A crisp, active mouthfeel. Overall, not my favorite style but decent for what it is.
370 characters
3 Golden Hairs from Grimm Brothers Brewhouse
3.74
out of
5
based on
27
ratings.