Vienna Style Lager
| Ruby Mountain Brewing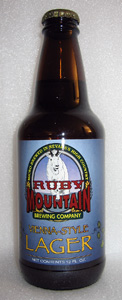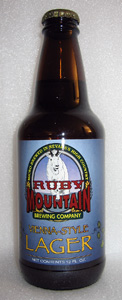 BEER INFO
Brewed by:
Ruby Mountain Brewing
Nevada
,
United States
rubymountainbrewing.com
Style:
Vienna Lager
Alcohol by volume (ABV):
5.00%
Availability:
Year-round
Notes / Commercial Description:
A lighter version of the classic celebration beers known as Marzen and Octoberfest, our Vienna Lager has a nice toasted malt character and a slight amber color. High quality "Noble" hops add classic hop flavor and aroma without the bitterness. Smooth and refreshing, our Vienna Lager is a great change of pace in the classic European Style.
Added by UncleJimbo on 05-04-2005
HISTOGRAM
Ratings: 7 | Reviews: 7

2.65
/5
rDev
-0.7%
look: 3.5 | smell: 3.5 | taste: 2.5 | feel: 2 | overall: 2
Wiseman Zach hooked us up with some beer from his home state.
Poured into a flute.
Appearance: A tall, fizzy white head quickly accumulates on top of this one. Somewhat active carbonation tries to keep it up, but the head dies pretty quickly. Drags some good lacing. Body is hazy and bright gold in color.
Smell: Mango, melon and citrus along with some honey and tons of malt. Hops are hard to find, but otherwise I kind of like it.
Taste: Mango, pineapple, and lemon-lime make themselves known right away, but they're followed by a weird and heavy, bitter malt flavor. Malt dominates the aftertaste and hops are still nowhere to be found. Not at all like the other Vienna lagers I've had. Didn't realize how off I was until I tried a different lager right after this one.
Mouthfeel: Carbonation was pretty active in the beginning, but it's dissipating fast. Medium-light in body and very chewy. Not all too clean. Feels like a carbonated fruit drink.
Drinkability: Not very true to the style and pretty heavy on the malt, but I could throw back a few more of these. EDIT: Drank the last bottle a few nights ago and was surprised how hard it was to finish. Really heavy for a lager.
1,188 characters
3.18
/5
rDev
+19.1%
look: 3.5 | smell: 3 | taste: 3 | feel: 3.5 | overall: 3.5
The last of my ruby mountain beers I would get to try. This one kicked off the mini tasting at my house tonight. Served cold and poured into a pint glass, this one was consumed on 01/16/2009.
The pour was decent enough with a nice mellow amber color with decent clarity and a small white head of foam up over the top. Dcent settling left almost nothing behind.
The aroma was intresting. Mellow grains and touches of bready malts. Hints of some off fruits as well. Really kinda odd. The flavor was more of the same, a little bit fuller then the style would have called for there just seemed to be something off about this one. But still a decent session ale.
Overall not bad, though nothing really great at all going on here, just seemed like too many styles at once for me, and not really true to what it should have been.
825 characters
2.7
/5
rDev
+1.1%
look: 3 | smell: 3 | taste: 2.5 | feel: 3 | overall: 2.5
Appearance: Pours a lightly hazy, orangey body with a thin, white head.
Smell: Vague pale and caramel maltiness with some light floral hints.
Taste: Hint of caramel malt and sweetness, and nothing more maltwise. Bit of spicy hops. Disappointing non-finish.
Mouthfeel: Medium-thin body. Medium carbonation.
Drinkability: Not really much of a vienna and even that likeable for that matter.
391 characters

2.8
/5
rDev
+4.9%
look: 3 | smell: 3 | taste: 2.5 | feel: 3 | overall: 3
Orange-yellow body with a slightly foamy white cap that quickly subsided and didn't lace.
Smell is malt with a slight hop twinge. Flowery and grainy with some light pine.
Tasted like there was a major wheat influence. Light sweet malt with a light bitterness and a wheaty finish.
A bit thicker than I had expected a lager to be, tasted more like a wheat beer than a lager too. Not bad, but not a lager.
411 characters
2.13
/5
rDev
-20.2%
look: 2.5 | smell: 2 | taste: 2 | feel: 3 | overall: 2
12 oz bottle with no freshness date. Thin dissipating lace, hazed orange hue. Faint buttery flavor and aroma, husky with a fruity lemon twang and nutty yeast. Mild fusel alcohol and a bland one sided hop bitterness don't seem to balance out the odd husk sweetness. Not very clean at all for a lager let alone even close to being a Vienna Lager.
344 characters
2.06
/5
rDev
-22.8%
look: 3 | smell: 2 | taste: 2 | feel: 2 | overall: 2
Light orange-y amber color, loads of large-bubbled carbonation cling to the sides of the glass. Thick frothy crowning head that settles to a clinging stick lace.
Slight berry esters in the nose. Buttery in the back. Toasty. Hints of hops.
Full-ish mouthfeel, carbonation tingle. Malty, some slickness, deep and sweet bready and toasty flavor. Little hop character, with a slash of herbal and faint zest, but it's overwhelmed by the malts. Finish is sweetish with bready edges. Esters pull through as the beer warms.
This beer lacks the crispness found in other examples of the style, the malt profile is a bit too much, the esters are out of place, it's way too sweet, and it's simply not a Vienna-style Lager. In fact it's not very "lager" like either.
762 characters

3.15
/5
rDev
+18%
look: 3.5 | smell: 3.5 | taste: 3 | feel: 3 | overall: 3
12 oz brown bottle, twist off cap, no date.
This lager poured a hazy, peach amber color with white foam that dissipated quickly to leave a thin coat on the surface. There was light carbonation from the bottom of the glass. The smell was perhaps the best aspect of this beer: a rich, toasted malty aroma with notes of dry caramel, a touch of yeast, and a hint of hops. The taste was malty with some "lager sourness". There was a light hoppiness in the finish (noble hops). The mouthfeel was dry and smooth with a touch of tanginess (almost sourness). The body was medium with medium-light carbonation. The after taste was very dry and lightly hoppy. This was an OK lager, and the taste improved as it warmed a bit and breathed, but it seemed to have a lot of flavors unexpected for the style.
794 characters
Vienna Style Lager from Ruby Mountain Brewing
Beer rating:
2.67
out of
5
with
7
ratings