Beautiful Blonde
| Knee Deep Brewing Company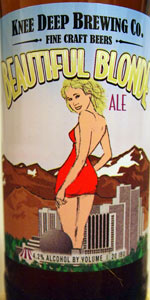 BEER INFO
Brewed by:
Knee Deep Brewing Company
California
,
United States
kneedeepbrewing.com
Style:
American Blonde Ale
Alcohol by volume (ABV):
4.20%
Availability:
Rotating
Notes / Commercial Description:
No notes at this time.
Added by t0rin0 on 05-10-2011
Reviews: 9 | Ratings: 14
Reviews by facundoCNB:

3.97
/5
rDev
+5.9%
look: 3.5 | smell: 4 | taste: 4 | feel: 4 | overall: 4
clean golden yellow pour with small amount of head. smells very bready, slight hint of roasted vanilla bean/butterscotch. a weird vanilla like taste, grassy overtones, with a bit of bitterness on the end.
seltzer like carbonation, light body, smooth - easy drinking beer. overall a very refreshing light blonde ale with great taste and smell. could work on the appearance a bit
377 characters
More User Reviews:



3.92
/5
rDev
+4.5%
look: 3.5 | smell: 4 | taste: 4 | feel: 3.5 | overall: 4
Bought a 1 PINT 6 FL OZ bottle of this from Broulin's in Driggs, ID for $6.49. Poured from the California scened label with an absolutely UGLY blonde in a red skirt on the front into a 16oz Table Wine Glass. Does not have a freshness date.
Aroma- Malts and banana hit the nose very strong. Sweet and light floral hops.
Appearance- Pours a 2 finger head that lasts for an average amount of time. Has a dark orange colored body that is semi-hazy. Leaves very light suds behind.
Flavor- Tons of malt and spice come upfront. Great! Banana attributes hit the palate also. Light bitterness level.
Mouthfeel-Light-Medium Bodied, Light Carbonation, Subtle and Smooth, and finishes sweet.
Overall Impression- A very approachable Blonde ale! Would definitely go back to and besides the ugly woman on the front, don't let this one scare you away!
842 characters


3.83
/5
rDev
+2.1%
look: 4 | smell: 3.5 | taste: 4 | feel: 3.5 | overall: 4
I wouldn't call it beautiful, but a clean pale beer with a crisp touch. Best feature is a clear biscuit taste. A little toasty and that hint of malt. Label says 20 IBUs, but there is just a slight hop flavor and faint bitterness. Not much aroma, but a hint of beeriness. Looks nice, with a slightly darker amber color than most blondes.
Have to give this stuff some respect for being pretty good in a pretty uninspiring category. If this was a no-alcohol beer, it would be great!
481 characters
3.65
/5
rDev
-2.7%
look: 4 | smell: 3.25 | taste: 3.75 | feel: 3.75 | overall: 3.75
Creamy white head over slightly hazy dirty blonde.
Flinty grain, a speck of crystal and grassy hops on the nose - all very muted.
Wheat cracker with apricot jam and butter toffee then mildly spicy hops.
Grainy finish with a fruity little comeback before a dry linger.
Light, surprisingly chewy, clingy.
Lines up as a decent English blonde ale. Mild all around, though could do with being a touch lower in ABV for the flavors that are there. Balanced, but no one will appreciate that.
487 characters
3.35
/5
rDev
-10.7%
look: 3.5 | smell: 3.5 | taste: 3 | feel: 4 | overall: 3.5
I bought a bomber of Beautiful Blonde Ale at a beer store in Las Vegas, NV. Poured in to a pint glass.
Pours a rich gold color, a shade darker than expected. Frothy 1 finger head caps the beer, but is not particularly sticky or resilient. The first glass was clear, the second slightly hazy.
Smell is sweet and fruity. Soft fruits like cantaloupe, melons, grapes and an herbal scent like hay.
Taste has a bit of a honey flavor to it. Sweet bread and honey. very mild almost undetectable bitterness.
Mouthfeel is light and clean.
Not a bad blonde ale, but not great. The taste is just a bit off somehow.
608 characters
3.53
/5
rDev
-5.9%
look: 4 | smell: 3.5 | taste: 3.5 | feel: 3.5 | overall: 3.5
Sampled 5/3/2011 on tap.
Pours crystal clear light yellow, lots of carbonation, tall white head, leaves a bit of lacing, no retention.
Aroma is an American blonde meets a Kolsch. Corn, grape, grass, and plenty of malt.
Flavor is moderately corn-like with some grape juice, grass, malt, and a hint of cardboard.
Body is lightish medium, drinkable but not that good.
Ƭίcƙ.
389 characters
3.5
/5
rDev
-6.7%
look: 3 | smell: 3 | taste: 3.5 | feel: 4 | overall: 4
22 ounce bottle - $3.99 at Total Wine & More in Kennesaw, Georgia. The bottle features what appears to be a new label, dumping the broad in favor of a little yellow Labrador pup.
Appearance: Pours out a clear, deep, dark golden body with a smallish, evaporating, white head.
Smell: Moderate scent of butterscotch candy over the basic two-row barley notes and faint hints of lemon and florals.
Taste: Lightly grainy, particularly pale malts. Pinch of powdered sugar. Very slight diacetyl rolling the sweetness into a little taste of butterscotch. Mildly floral, citrusy hops with a passable amount of bitterness, enough to balance things out. A bit more of the butterscotch escorts you to the drying finish.
Mouthfeel: Light-bodied. Medium carbonation.
Overall: Actually, even with the diacetyl, I thought it was an OK blonde.
830 characters

3.97
/5
rDev
+5.9%
look: 3.5 | smell: 4 | taste: 4 | feel: 4 | overall: 4
Pale copper, medium off-white head soon thinning to foamy ring.
Aroma is nice fruity (appley-raisiny) barley and bread, hint of leafiness, hay.
Taste is lightly caramelly-raisiny barley, light grassy-leafy bitterness, light juiciness. It is simple and light but has a firm character, is well rounded, solid, and nicely balanced. It has a lto of nice character of 4.2% abv and its very drinkable.
397 characters
3.89
/5
rDev
+3.7%
look: 3 | smell: 4 | taste: 4 | feel: 3.5 | overall: 4
Pours a pretty clear amber with a decent white head. Strong aroma has fruity and hoppy notes - quite a bit of hops, in fact, approaching an IPA. Satisfying flavor has a malty core, a fairly bitter overtone of hops, and an underpinning of pear plus a touch of caramel. Firm texture has a decent amount of fizz.
309 characters
Beautiful Blonde from Knee Deep Brewing Company
3.75
out of
5
based on
14
ratings.