Imperial Tanilla Aged In Bourbon Barrels
| Knee Deep Brewing Company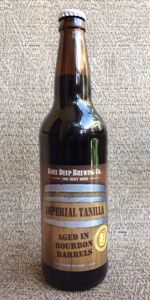 BEER INFO
Brewed by:
Knee Deep Brewing Company
California
,
United States
kneedeepbrewing.com
Style:
American Porter
Alcohol by volume (ABV):
10.00%
Availability:
Rotating
Notes / Commercial Description:
No notes at this time.
Added by kojevergas on 02-14-2013
Reviews: 3 | Ratings: 25

1.12
/5
rDev
-57.4%
look: 3 | smell: 1 | taste: 1 | feel: 1 | overall: 1
Bottle may have been infected - it had that apple juice / cider taste that I've always associated with infected beers. Giving this a low rating to warn others of possible infection. I should have noted bottling date / lot code here, but I no longer have the bottle.
265 characters

2.77
/5
rDev
+5.3%
look: 4 | smell: 4.5 | taste: 2 | feel: 1.5 | overall: 2.5
2013 (I believe) 22 oz bottle poured into a large wine tulip shaped wine glass.
A: A reddish hint coco brown with a nice 1.5 finger fluffly dark brown/khaki color head.
S: Oh yeah, this beer delivers on the aroma. Huge hazelnut coffee, chocolate aromas. Reminds me of a BA Frangelic Mountain. Barrel characteristics from the wood shine through, nice dark cherry sweetness interlaced with vanilla. Just a great smelling beer.
T: *Facepalm* SMH, this beer does not follow the wonderful complex aroma AT ALL. All the wonderful aromas are muted and turned down a very low office environment volume. Nothing stands out, syrupy, that wonderful hazelnut coffee aroma you liked? Well sorry, its not on the taste what so ever. Man talk about disappointing.
M: RULE #1, when you have an imperial porter/stout the MOST important thing is full body mouthfeel. This is thin as shit. Mouthfeel of a Guinness. THIN THIN THIN! Watery. No wonder the flavor is all but gone, it has no body to let the flavors come out.
O: I'm a big Knee Deep fan, every beer I've had from them has been excellent, including non BA Imperial Tanilla. This beer however is a major disappointment. If I'm drinking a 10% BA beer I expect some body. One could argue this is a sessionable less in your face beer, but at 10% you're not going to drink that. Now this is Knee Deep's first BA beer far as I know so perhaps there is a chance to learn from this mess. At $17 I would not advise picking this up, even at $5 I wouldn't pick this up again.
1,514 characters

3.25
/5
rDev
+23.6%
look: 3.5 | smell: 3.5 | taste: 3.25 | feel: 3 | overall: 3
Knee Deep Imperial Tanilla Aged in Bourbon Barrels. For sake of clarity, this has a brown label (depicting a barrel) and clearly says "Aged In Bourbon Barrels" on the front of the label. Moreover, the lable also includes a yellow circle/symbol in the lower right corner which says "Barrel Aged Series." This is not to be confused with "Imperial Tanilla" (Porter), which has an off-white label. 10.00%. 48 IBUs. January 2013 release according to http://kneedeepbrewing.com/meps-2013/
Aged in bourbon barrels for 6 months. 1 pint 6 fl oz brown glass bottle with standard pressure cap acquired at an LA area beer store last week. Reviewed live. Served into a New Belgium stem-goblet in me gaff in low altitude Los Feliz, Los Angeles, California. Expectations are above average; the imperial tanilla was nothing special and I'm not entirely convinced of Knee Deep's brewing prowess.
Served chilled and allowed to come to room temperature over the course of consumption. Side-poured initially with standard vigor as no carbonation issues are anticipated.
No beer surging out or other issues upon opening. Carbonation seems fine.
I upped the vigor as I poured because not much of a head was forming.
A: Pours a 1.5 finger khaki-tan colour head of nice smooth frothy thickness, good cream, soft texture, light lacing, and rather good (~3 minute) retention considering the high ABV. Body colour is a solid nontransparent black. Opaque. No yeast particles are visible. No bubble show. Right on the money for the style, with an appealing inviting head. There's nothing unique here, but there's only so much you can do with an imperial porter's appearance. Still, I remember being more impressed with the appearance of Victory At Sea, for example. In any case, there are no overt flaws - just nitpicky criticisms.
Sm: Vanilla does come through, though it's a bit artificial - more like added vanillicin flavouring than actual vanilla bean. A bourbon tone is there along with some light caramel notes. The bourbon grows more pronounced as it warms, eventually approaching parity with the otherwise dominant vanillicin. Dark malts. There's a bit of alcoholic heat there, to its slight detriment. I get a hint of buried dry graininess, opposing the smooth creamy vanilla up front. Seems a bit imbalanced, but overall it's a pleasant inviting aroma. I don't detect any yeast. A moderately strong aroma.
T/Mf: Somewhat artificial vanilla up front along with some welcoming smooth cream. It coarsens quite a bit as it approaches the climax, then reverts back to the smooth texture for the third act and finish. Quite wet. Soft. Too thin, but it's not weak or unsupportive of the flavours. Good body filled out by unobtrusive yet somewhat bland dark malts. Maybe there's some chocolate malt there, but I don't get any true chocolate. No coffee here, either. Lacks roast, which would do it well. I don't get any yeast. The alcohol is better hidden the aroma made me expect, but it does come through a touch. A chewy graininess is there beneath the late second act and climax; I don't like that and it works against the balance. What isn't here enough is the bourbon, which remains all too well hidden even as it warms, though it might be partially masked by the vanilla. The creamy character is a highlight here. Sadly the vanilla is not as evocative or genuine as it is in other better brews; Victory At Sea is an easy comparison because it too is a California brewed vanilla imperial porter. This lacks the complexity and subtlety of that, but it's still a tasty pleasant brew. I do like it, but it's comparitively bland.
Dr: I'd take Victory At Sea over this any day if I'm in the mood for an imperial vanilla porter, but Knee Deep by no means does a bad job with this. It's an easy drinking beer for its decently hidden ABV. I doubt I'd get it again unless it was the best beer on a mediocre menu or if the price was stellar. Its sweetness does damage its drinkability; I won't enjoy drinking the entirety of the bomber by myself for that reason. It's not Southern Tier Creme Brulee, but it's certainly a touch too sweet, and the effect becomes more annoying the more of it you consume. I imagine most drinkers will be a bit let down by this; you expect more from a bourbon barrel aged imperial porter, vanilla or not. All around, it's decent for the style, but it doesn't bring anything unique or special to the table and will likely get lost amidst the multitude of superior offerings out there.
High C+
4,508 characters
Imperial Tanilla Aged In Bourbon Barrels from Knee Deep Brewing Company
2.63
out of
5
based on
25
ratings.