Grassroots Papsø's Puppy Love Sorachi Ace IIPA
| Grassroots Brewing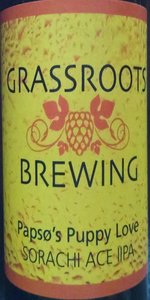 BEER INFO
Brewed by:
Grassroots Brewing
Vermont
,
United States
Style:
American Double / Imperial IPA
Alcohol by volume (ABV):
10.20%
Availability:
Limited (brewed once)
Notes / Commercial Description:
No notes at this time.
Added by GONZALOYANNA on 05-03-2011
This beer is retired; no longer brewed.
Ratings: 10 | Reviews: 9
Reviews by thepeter:
3.25
/5
rDev
-10.5%
look: 4 | smell: 4 | taste: 2.5 | feel: 4.5 | overall: 3
Poured a hazy straw blonde color with small head that lasted. Smelled spicy, earth, orange peel. Tastes of the citrus peel, very earthy and extremely spicy. Not sure what it was but the spice flavors were not to my liking. Mouth feel was good, light to medium bodied with nice carbonation. I know that this is a well crafted beer but it was just not my thing. I guess I do not like the straight Sorachi hops.
408 characters
More User Reviews:
3.58
/5
rDev
-1.4%
look: 4 | smell: 3.5 | taste: 3.5 | feel: 4 | overall: 3.5
Thanks to bu11zeye for sharing this bottle. Here's to Henrik for for being one of the top beer raters in the world.
The beer pours a yellow color with a white head. The aroma is full of yeast and bread with some citrus and lemon notes mixed in. The flavor is more of the same. I get a lot of lemon and grass notes from the hops, as well as some toffee notes. Low bitterness level. Medium mouthfeel and medium carbonation.
422 characters
3.9
/5
rDev
+7.4%
look: 4 | smell: 4 | taste: 3.75 | feel: 4 | overall: 4
Snowed in brew! This is fitting as Henrik stated this one was brewed during a blizzard back in 2010. Served from bottle into a Boulevard Smokestack tulip. Pour a vibrant red-orange with a one finger white head that subsided to a minimal amount slowly. Maintained excellent lacing thought the glass. The aroma was comprised of sweet makt, earth, caramel, fruit, and subtle spicy hop. The flavor was of sweet malt, fruit, caramel, earth, caramel hop, spicy hop, and subtle grain. It had a medium feel on the palate with medium-high carbonation. Overall this was a fairly good brew. Despite the age on this one, I was surprised it held up this well. It was stored in my fridge from the time I received it by the way. The look on this brew prior to any dregs being introduced was simply wonderful for the style with a nice bold color going on. The nose was really quite nice and inviting as well. The flavor was a little more sweet than I'm sure it was originally but the hop presence was still there. A really well done brew that you would never guess was 10.2%. Very glad I got to try the bottle that was brewed to celebrate Papsoe's 20,000th review on RateBeer. Cheers my friend!
1,178 characters
3.92
/5
rDev
+8%
look: 3.5 | smell: 4 | taste: 4 | feel: 3.5 | overall: 4
Bottle: Poured a cloudy golden color ale with a large foamy head with good retention and some lacing. Aroma consists of floral and light citrus notes dominating. Taste is also dominated by floral hops with some herbal notes typical of Sorachi hops. Malt backbone is there to support the hops onslaught and is not too sweet or too caramel-like to reduce the hops intensity. Well brewed and quite enjoyable even if Sorachi are not my favourite hops.
447 characters

4.23
/5
rDev
+16.5%
look: 4.5 | smell: 4 | taste: 4.5 | feel: 4 | overall: 4
Enjoyed on 05/03/11.Snifter glass. Pours deep golden color. Cloudy. White crown, dense, close & lasting. Nice lacing rings. Yeast, hop & subtle fruit aromas. Extremely dry hop but kindy tasting. Citrus peel, rough bitterness mouthfeel. Dry mint hints. Medium body. High but not bothering carbonation. Complex bitter aftertaste. High ABV is very well hidden so drinkability is very good. Refreshing.
398 characters


3.53
/5
rDev
-2.8%
look: 4 | smell: 3.5 | taste: 3.5 | feel: 3.5 | overall: 3.5
A - Yellowish orange colored body with a pretty big head that left behind a lot of sheets and lace on the sides.
S - Some earthy hops and pale malts. Little bit of honey and some booze.
T - Pretty sweet with some honey and lemon. Some sugar malts, basically a sweet IIPA with a bit of an earthy hops presence, but mostly just sweet.
M - Medium bodied, slightly lowered carbonation.
O - Pretty sweet, but not a great picture of a DIPA. Too much malt and honey, not enough hops.
481 characters

3.36
/5
rDev
-7.4%
look: 1.5 | smell: 3 | taste: 4 | feel: 3.5 | overall: 3
Served on draught at the Mikkeller bar in Copenhagen into a Mikkeller 20cl stem-glass. Cost was 35 DKK (for 20cl!). Reviewed from notes. I noted it was 'single hop series' if that makes any difference.
A: Pours a one finger head of soft slight cream, fair thickness, and terrible retention. Colour is a cloudy yellow-gold.
Sm: Bittering hops, cream, and barley. Aroma is mild in strength.
T: Butterscotch is fecking rampant. Sweet mother bejaysus! Cream, sweets (perchance candy sugar), some light spice, maybe buried peppermint, and a full barley foundation. Very unconventional. Complex, bold, creative, well built, and nicely balanced. Slight orange peel comes through as well.
Mf: Smooth and wet. Not too thick or too thin. Complements the flavours.
Dr: It's easy to drink but is high ABV. It's very bold and different, which luckily pays off. The price, however, is obscene (this doesn't affect my rating). Give her a spin if you can find her.
958 characters

3.54
/5
rDev
-2.5%
look: 4 | smell: 2.5 | taste: 4 | feel: 4 | overall: 3.5
Hand bottle brought to the 2011 RBSG.
Pours a hazy light golden yellow color with a one finger frothy white head that slowly settles into a thin ring.  Nice spotty lacing.
Floral perfumy aroma with earthy hops and lots of booze.  Very dry and resinous with a  dank, earthy, soil-like character with not much else.  Faint pale malts underneath.
Medium bodied with a nice dry, dank, earthy hop bitterness that lingers throughout over the pale malts into a lingering dry finish.  A bit one dimensional but very tasty.  Pale malts balance things out.
556 characters

3.61
/5
rDev
-0.6%
look: 4.5 | smell: 3.5 | taste: 3.5 | feel: 4 | overall: 3.5
Bottle(s) shared by Kristina, acquired from Henrik himself. Served in a taster pint. Bottled about three months ago, so on the tail end of freshness.
A - Big creamy foam that settles to a thick cap, leaving glass-coating lace behind. Hazy pale yellow-orange body.
S - Honey, lemons, some earthy and grassy hop notes, and a decent amount of caramel malt in the background. Very sweet - reminds me a little of a Hot Toddy minus the cloves.
T - Taste is again quite sweet, with tons of honey and sugary malts. There's some lemon from the Sorachi Ace hops, but not much else in the way of hop flavor. Gets kind of cloying after a while. Negligible bitterness.
M - Medium-full body, with lower carbonation, and a resinous dry finish. Texture is slightly gritty. Alcohol is very well-hidden though, I would have guessed 8% at most.
D - I'm curious what this tasted like in April, although I suspect it was fairly malt-forward even then. There's too much honey sweetness - far more than something like Hopslam. I kind of enjoyed the flavors, but it was a disappointment as a DIPA.
1,078 characters
Grassroots Papsø's Puppy Love Sorachi Ace IIPA from Grassroots Brewing
3.63
out of
5
based on
10
ratings.