XHOPS Pale Ale (Green Label)
| Toppling Goliath Brewing Company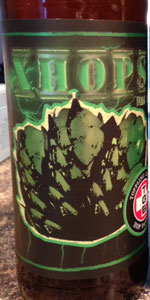 BEER INFO
Brewed by:
Toppling Goliath Brewing Company
Iowa
,
United States
tgbrews.com
Style:
American Pale Ale (APA)
Alcohol by volume (ABV):
not listed
Availability:
Limited (brewed once)
Notes / Commercial Description:
Deep in the labs at Toppling Goliath, through the vaulted door, down the steps, and past the room labeled "Beware the Leopard" lies a series of experiments long forgotten. The Xhops series - a biological hybrid of many experimental hops. Each color a unique flavor of pale ale. Released throughout 2013 and 2014, this beer begs to make a return, but can you handle it?
Added by nickapalooza86 on 12-17-2013
This beer is retired; no longer brewed.
Reviews: 13 | Ratings: 101
3.9
/5
rDev
-6.5%
look: 3.75 | smell: 3.75 | taste: 4 | feel: 3.75 | overall: 4
Bottle pour at the pre-FWIBF bottle share held at the Adelaide Inn in Paso Robles, CA.
Thanks to Wowcoolman for sharing this one.
Pours a hazy honey orange with a foamy bone head that settles to a partial film on top of the beer. Tiny dots of lace form around the glass on the drink down. Smell is of malt, brown sugar, citrus fruit, and citrus zest aromas. Taste is much the same with sweet citrus zest flavors on the finish. There is a mild amount of hop bitterness on the palate with each sip. This beer has a lower level of carbonation with a slightly crisp mouthfeel. Overall, this is a good beer that is tasty and easy to drink.
636 characters
3.84
/5
rDev
-7.9%
look: 3.75 | smell: 4 | taste: 3.75 | feel: 3.5 | overall: 4
650 mL bottle poured into a snifter.
Appearance - Hazy pale orange body. Small white head. Faint surface wisps, very little lacing, and a thin collar.
Smell - Peachy and oniony hops. A little tropical. Faint grain.
Taste - Less peachy. Less oniony too. More grapefruit. Still some tropical fruits. Cracker malt. Minimal bitterness.
Mouthfeel - Light. Medium carbonation.
Overall - The best of this series so far. The best aroma from the hops.
448 characters
3.85
/5
rDev
-7.7%
look: 4 | smell: 4 | taste: 3.75 | feel: 4 | overall: 3.75
obviously a quality pale ale here, hops from iowa from what i gather, very cool. this comes in a few leagues below the zeelander, the pseudo sue, and the other real awesome hoppy toppling goliath brews. its pale and hazy in color with a soapy white head with fine retention, but the nose just doesn't have that high alpha fruity pop that their better ones do. it is fresh as they come, zesty and bright, but i miss the uniqueness of whatever this varietal is. the flavor has a citrus note to it, more orange than anything else, but not quite that sweet or acidic. pale malt back it up ably. the hop profile is very good, its just not particularly distinct to me, nothing new or brazen, just a well made pale ale with more of an east coast hopping. i enjoy the creamy feel and kicking carbonation, and the finish too is nice with a ton of hop flavor and minimal bitterness, but this just didn't floor me the way their others have. look forward to trying the others in this series though.
986 characters
4.24
/5
rDev
+1.7%
look: 4.25 | smell: 4.5 | taste: 4 | feel: 4.5 | overall: 4.25
We did the blue, red, green, and yellow xhops side by side last Wednesday.
All these xhops have a similar light straw golden color.
Excellent strong pineapple mixed with citrus smell
Smooth creamy mouthfeel.
Similar taste to smell. Somewhat harsh cloying and minty finish. The worst part. Really sticks with you. The taste does not live up to the smell sadly.
I did a little blending and really like this blended with the yellow.
435 characters
4.01
/5
rDev
-3.8%
look: 3.5 | smell: 3.75 | taste: 4.25 | feel: 4 | overall: 4
A - Pours a very hazy light orange color, half-full finger of head, decent lacing
S - Smell is grapefruit, citrus fruit-like... A little Citra-like but not as good.
T - Taste is grapefruit, citrus, flavor with a subtle, dry, earthy finish,
M - Mouthfeel is medium light, good carbonation, somewhat dry.
O - Reminds me of PsuedoSue a little, but a little drier, not as good of taste and smell and a slight earthy finish. Not bad overall, but not outstanding either.
468 characters

4.13
/5
rDev
-1%
look: 4.5 | smell: 4 | taste: 4 | feel: 4.5 | overall: 4.25
22 ounce bomber picked up at Casanova's in Hudson, WI for $8. I haven't actively reviewed on BA in years, but think the consumer reach out Toppling Goliath is doing is worth taking the time to review. Very cool idea from an emerging brewery. If you guys are looking for an investor, give me a call.
A - Like most Toppling Goliath beers, a strong pour releases the typical opaque orange body with a one finger head white head that has good retention. Steady streams of carbonation can be seen, more than I can recall in some of their other beers. Or maybe I am just analyzing this beer more closely. If the head retention continues and a nice lace is left behind I may have to bump this score.
S - More subdued than a typical TG beer that I am used to having. This is no Psuedo Sue or Golden Nugget, at least in terms of how intense the nose is. That's not to say the nose isn't pleasant, just more subdued. Grapefruit and citrus notes are in the foreground. Do these guys make a beer that doesn't have that characteristic? Ten minutes after pouring and the head has turned into a thick, frothy half inch lace. Might be time to consider bumping that appearance. Back to the smell. Piny notes are there as well, but just don't come to life quite like I would expect. Despite the lack of overpowering hop nose, one thing I can appreciate is the balance the malts give off. A deep whiff lets you know they are there to provide balance, but never come close to standing out like the hops do.
At least twenty minutes after starting this review I can say the aroma comes to life given time to warm. Pineapple and mango take center stage with a faint piney aroma sticking around. Definitely more inviting than when I first smelled it.
T - Much like the nose, the taste will leave the true hop head wanting more. That's not to say this isn't extremely drinkable and incredibly smooth, but this beer isn't going to blister the palate or even rival what Psuedo Sue does. Citrus notes abound. Grapefruit tickles the tongue and announces it's arrival right away, while a slight piney resinous note leaves you wanting to take another sip. Maybe my palate doesn't fully appreciate this beer given the time of year. I know during a 90 degree summer afternoon this would be a beer I would love to turn to.
M - This is where this beer excels. Given the beautiful lacing this beer has left behind, it should come as no surprise this beer is silky smooth. Hell, a frothy quarter inch head still rests atop this beer over fifteen minutes after pouring. A perfect level of carbonation compliments, but doesn't overpower this beer. Perfect. Although there is a lack of walloping hop taste, the carbonation and creaminess of the beer let what is there shine. Just right on the carbonation and creaminess of the beer; no doubt these guys can do this with just about any beer they make. Had this been a more potent hop, it would have had the perfect stage to shine. As I empty the remainder of the bottle into my pint glass the head erupts into a white, frothy head that slowly fades, leaving lace clinging to the glass. Beautiful. Kick the appearance up another notch. This is well balanced regardless of the strong hop flavor. Citrusy up front with a slight piney, resinous finish that is carried away by the amazing creaminess and carbonation in this beer. Have I mentioned how great the creaminess and carbonation is in this beer?
O - I think the guys at TG did the best with what they were given with this experimental hop. Is it good? Yes. Drinkable? Hell yes. But does it compare to Psuedo Sue? Not close IMO. The hop itself is a let down if you ask me and the fact that this beer is so good is a testament to the guys at TG and their ability to brew top notch beers. The appearance and mouthfeel of this beer are as good as anything they have ever made and as good as anything I can recall having in quite some time. Absolutely fantastic. I'm not really sure where I would see this hop being used. Others have suggested it as a bittering hop, but the piney, resinous aspects of this beer aren't overwhelming either. I could see a beer like this being quite popular during hot summer afternoons, and an especially big hit with new comers to the craft scene looking for an introduction to hops.
Good stuff. Keep 'em coming guys.
4,321 characters

4.57
/5
rDev
+9.6%
look: 4.25 | smell: 4.75 | taste: 4.75 | feel: 4.25 | overall: 4.25
poured 22oz bottle into snifter. This was bottled over a week ago.
A - Hazy light orange in color with a 2 finger white head. Fades into a thin collar around the glass and leaves many spots of lacing.
S - Big aromas of citrus, tropical, and some dank hops hit the nostrils. I pick up a sweetness akin to Pilsner malt and honey.
T - Tastes like sweet orange and very bitter grapefruit. As I mentioned, there is a slight sweetness akin to Pilsner malt and a bit-o-honey. The finish is citrus and bitter.
M - Well carbonated with a medium body and slick oily feel.
O - On par with the other TG brews I have had. Very full tropical flavor with the bitterness to quench thirst. IPA's are certainly their signature beers. Always worth hunting these down when they appear in Madison.
786 characters

4.13
/5
rDev
-1%
look: 4 | smell: 4 | taste: 4.25 | feel: 3.75 | overall: 4.25
Poured into a snifter.
Green XHOPS pours a hazy gold with deep amber highlights. One-finger of bright white foam with decent retention that leaves behind a solid sheet of lace.
Aromas are citrusy, some pine, a little dank, this has a mainly sweet bouquet of scents. The citrus is not tangy enough to remind me of grapefruit, more like tangelos. Clean and bright.
Wheat is bigger mid-palate, more dank garlic and green onion than was on nose, but not overpowering. The citrus is much softer, still more like tangelos or blood oranges. Pine is in the swallow with light bitterness. Mid-palate also has a nice herbal spiciness that could be interpreted as peppery. The flavors err more on the sweet side with a noticeable wheaty malt and some herbal spiciness.
Medium to light bodied and on the watery side of the spectrum. There is a good amount of carb fizz when XHOPS gets swished around the mouth.
Green label XHOPS has a solid dose of sweet citrus with notes of herbal spiciness and a kiss of dank hops. Even though the wheat base is noticeable, the hops play around on the palate for much longer. Of course this was a joy to drink, would have a again.
1,161 characters
4.85
/5
rDev
+16.3%
look: 4.75 | smell: 4.75 | taste: 5 | feel: 4.75 | overall: 4.75
The beer pours a hazy honey orange golden in color. There is a tall, thick head of off-white foam that leaves layers of sticky lacing down the glass.
The aroma is pleasantly strong, lots of piney hops, passion fruit; dank, funky, hoppiness; with a bit of lime citrus.
The taste includes the aromas of the hops, particularly the pine at first, bleeding into an astringent passion fruit and light grapefruit, with a tinge of the lime. All of this hoppiness sits on a bed of malt that lets the hops shine, but still comes through, giving a second level of flavors, like a malty, unfiltered, lager filled with notes of fresh straw and a nice, earthy, funky note from the yeast. All of these flavors run in and out, but it holds together as a harmonious whole.
The finish is somewhat dry and quite bitter. It is medium bodied and moderately carbonated, just right.
865 characters
4.19
/5
rDev
+0.5%
look: 4.75 | smell: 3.75 | taste: 4.25 | feel: 4.5 | overall: 4.25
Here we go--time for the green version. Beer pours like the red version, which pours like Pseudo, which pours kind like Sosus...you get the picture. They all look about the same. It's hazy light orange with a fluffy eggshell head. The retention is a bit stronger than the red version.
The smell is isn't too large, but still present and full. I get some pineapple and some piney bitterness. The malt character is also a little muted here, which I wasn't predicting. Additionally, there is a softer fruit smell which seems to come out stronger in the red version. Mango, perhaps? I like the smell, but it could use a bit of a boost. I don't know. Maybe I have a cold.
The flavor is pretty clean and mild. I get that pineiness up front, but it's a very soft and delicate flavor. The attack is not resiny or in your face. There are some tropical fruits on the backend. Overall, there is a pretty robust malt presence. There is some resin and bitterness on the backend. It's not huge, but it is noticeable and a tad puckering.
Just like HF, TG kills their mouthfeel. Xhop Green is soft, medium-bodied, and creamy. I don't think it's quite as full bodied as the red, although this might be the same base-beer. I'm unsure.
Overall, I liked this quite a bit. It was quite different than the red, IMO. Where the red's hop would make a great primary element in an ipa, this hop seems more secondary. It would be good for bittering if you are going for a soft bitterness that doesn't overwhelm. It would also add a nice piney character in the flavor. I don't know if I would use this hop for aroma, however. For a single-hop apa, I unfortunately don't think either of these hops (red or green) really fit the bill. Regardless, this is a well above average apa. The experiment is fascinating and I look forward to trying more of the Xhops offerings!
1,846 characters
4.24
/5
rDev
+1.7%
look: 4 | smell: 4.25 | taste: 4.25 | feel: 4.25 | overall: 4.25
Green labeled bottle spends about twenty four hours in my fridge. Excited for the opportunity and thankful that Kyle took time from his day to grab this for me. Thanks buddy.
Pours a clouded pineapple juice with some clumpy islands.
Smells of sappy pine, orange marmalade, baby aspirin, and a touch of lemon.
Taste is honeydew melon right up front that moves into a dank and herbal-tangerine mix. Moderately bitter through the middle and the finish. The back end is all peppermint and menthol. Very minty, tingly, and lingering along the finish. I'd guess there's some southern hemisphere hopping here...along the Sierra Nevada hemisphere lines.
Per TG standards, this is a nice hoppy beer with appropriate but not overbearing malt support. It's crushable, affordable, and appreciated.
791 characters
4.11
/5
rDev
-1.4%
look: 4.5 | smell: 3.5 | taste: 4.5 | feel: 4 | overall: 4
Pours out a nice deep orange in color with a two finger white head with great retention. Smell is tropical with a little bit of pine and slightly more earthy malt in the nose. Definitely more malt in the nose than the RED. Taste is less tropical and slightly more piny than the RED. Really tastes more like and APA than the red as it seems more balanced. Mouthfeel is thicker than I would expect for an APA with decent carbonation (more than the red) as I could see when it was poured into a snifter. Overall this is a pretty nice beer. I think I like the RED better but not buy much. They are both pretty good. As I mentioned in my review for the RED, the taste is a little one dimensional but that is typically what I think of single hop APAs.
Edit: Ironically after drinking a little more of the GREEN I think I like the taste more than the RED. The hops seem to let off a little more and doesn't hang in the throat quite as much which is neither a good or a bad thing.
973 characters
4.61
/5
rDev
+10.6%
look: 4.25 | smell: 4.5 | taste: 4.75 | feel: 4.75 | overall: 4.5
Pours a hazy grapefruit/orange color, half finger of head, nice lacing
Smell is grapefruit, guava, orange juice. sweet tropical notes... Kind of reminds me of Citra hops just a little more subdued.
Taste is tangerine, blood orange, grapefruit, pine sap, caramel, citrus peel, a little minty like flavor, with all that going on it is very subtle, dry grapefruit on the finish,
Mouthfeel is medium light, good carbonation, not to dry but dry enough to let you know the hops are in charge.
Really cool concept behind these beers, they are truly one of a kind, a bit pricey but hey who knows if I will ever have a beer with this hop in it again!
Reminds me of a mellower PsuedoSue, not quite up to Sues level but no slouch either!
732 characters
XHOPS Pale Ale (Green Label) from Toppling Goliath Brewing Company
4.17
out of
5
based on
101
ratings.