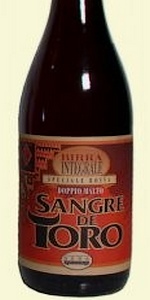 BEER INFO
Brewed by:
Beba
Italy
birrabeba.it
Style:
English Strong Ale
Alcohol by volume (ABV):
7.50%
Availability:
Year-round
Notes / Commercial Description:
No notes at this time.
Added by stcules on 03-01-2005
Ratings: 4 | Reviews: 4

2.22
/5
rDev
-27.2%
look: 2 | smell: 2.5 | taste: 2 | feel: 3 | overall: 2
Translucent, dark pumpkin color with a fingers width white head. Quick to fade to a laceless, foamless puddle in my glass. Boo.
Aroma is odd: a little bit of golden pear fruity esters and then a wayward sour character. Sour like a cross between a white wine barrel aged beer sour and a underdeveloped Brett sour.
Tates features, again, more golden fruit as a side dish but the main course is sour grapes. That is both literal and metaphorical as it really does taste like sour grapes. No malt, no hops, just sour, sour grapes. Again, boo.
My cousin picked me up a few Italian beers from Eataly in NY and so far my impression of Italian brewing is that of a wine country with some extra time on its hands. Granted, if an Italian came America and sampled a Bud, Coors Light and Steele Reserve, I don't think he/she would be impressed either. So while not exhaustive, since I'm 0 for 3, I think I'll give my Italian beer journey a rest.
938 characters
3.32
/5
rDev
+8.9%
look: 3 | smell: 3.5 | taste: 3 | feel: 4 | overall: 3.5
Poured a big light tan head that quickly subsides and no lace. Color is a hazy medium amber. Aroma is very malty earth leather a bit roasty some toffee and tanin. Flavor is similar but has some fruitiness that dominates the bitter and dry characteristics. Body is ok but the high carbonation really helps this beer and makes it much more drinkable. Finish is like flavor + good burps!
384 characters
3.3
/5
rDev
+8.2%
look: 3.5 | smell: 3.5 | taste: 3 | feel: 3.5 | overall: 3.5
Was in the mood for something new/unusual, so thought I'd give this a try. The bartender at Max's recommended against it. Should have listened to the bartender.
The beer pours a solid amber color with fair head retention and no lacing to speak of. On the nose I get some sweet malt aroma, consisting of some light cola and cherry flavors. The beer smells moderately sweet and comes across as pretty simple. Flavors on the palate replicate the nose. The beer is moderately sweet, with some simple flavors of cherry and malt. It has a medium bodied mouthfeel and a decent finish. Alcohol is pretty well disguised.
If there's one word that defines this beer, it's boring with a capital B. Half way through the glass I just pushed it away. There are too many other exciting beers in the world to waste my time drinking this stuff.
828 characters

3.37
/5
rDev
+10.5%
look: 3.5 | smell: 4 | taste: 3 | feel: 3 | overall: 3.5
A really neat 750ml bottle. Pours with thorough coating of head. A spark coloured amber in colour. A spicy, rustic aroma. Taste fair bit of a let down from what the aroma would have you anticipate. Way too light a mouthfeel. Taste is nearly void with exception of some nice caramel malt. Works fairly well as an amber ale. Balance a little off, and alcohol fairly noticeable. Finish a little off-putting as well. Laregly this is pieced together fairly well. I would place this in the middle in terms of the Italian beers I've tried.
532 characters
Sangre De Toro from Beba
3.05
out of
5
based on
4
ratings.